New Picture Book Releases We Want to Read: March 2021
March is another great month for new picture book releases!
I have enjoyed making these monthly lists again this year. In case you missed it, you can see the picture books I have been excited to read with my kids from previous months:
And if you have kids that read middle grade (or are an adult that reads middle grade, I am!) here are some new releases for middle grade books as well.
If you know of any good books being published this year I would love it if you would let me know, I would like to check them out!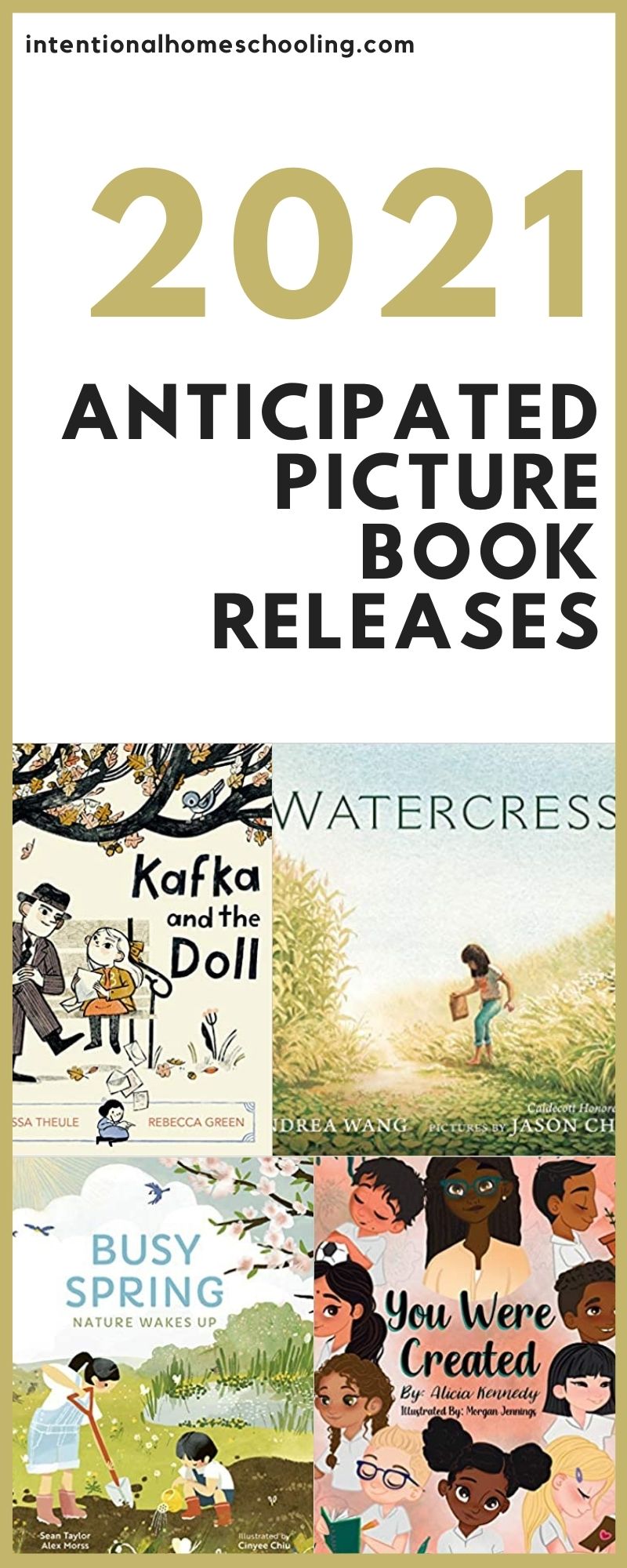 New Picture Book Releases We Want to Read: March 2021

March 1st
When Justice approaches her teacher, Ms. DoWright, with tears in her eyes, upset about a recent argument with friends, an important conversation about kindness and acceptance is immediately underway in this faith-based children's book, You Were Created. You Were Created, by Alicia Kennedy, shares the heartfelt story about a group of children who discover that their differences embody special qualities God has created in them to make them unique. Readers will learn the valuable lesson that they were created with purpose, especially for this world, and will be encouraged to embrace one another's differences, a timeless lesson all children deserve to uncover.

March 2nd
A coming-of-age middle-grade graphic novel featuring a girl with severe allergies who just wants to find the perfect pet!
At home, Maggie is the odd one out. Her parents are preoccupied with the new baby they're expecting, and her younger brothers are twins and always in their own world. Maggie thinks a new puppy is the answer, but when she goes to select one on her birthday, she breaks out in hives and rashes. She's severely allergic to anything with fur!
Can Maggie outsmart her allergies and find the perfect pet?
March 8th
If you give a girl a bike, she will ride and ride and ride. She may also ask for a skateboard, climbing shoes, and a surfboard!
Follow these adventurous girls as they learn new sports. They may fall every now and then, but they aren't afraid of a few scrapes or bruises!
March 9th
Anne Frank was a young Jewish girl who lived during World War II, when people like her were killed just for being Jewish. Anne and her family were forced to hide in a tiny, secret space to try and survive, and Anne began keeping a diary to practice her love of writing and pass the time.
In her writing, she described what life was like as a Jewish person during the war. She also wrote about her hopes, dreams, and the future she wanted when she could live a normal life again. Even though she was scared, Anne believed in the goodness of people and never gave up hope that life would get better again.
March 9th
Inspired by a true story, Kafka and the Doll recounts a remarkable gesture of kindness from one of the world's most bewildering and iconic writers. In the fall of 1923, Franz Kafka encountered a distraught little girl on a walk in the park. She'd lost her doll and was inconsolable. Kafka told her the doll wasn't lost, but instead, traveling the world and having grand adventures! And to reassure her, Kafka began delivering letters from the doll to the girl for weeks.
The legend of Kafka and the doll has captivated imaginations for decades as it reveals the playful and compassionate side of a man known for his dark and brooding tales. Kafka and the Doll is a testament to living life to the fullest and to the life-changing power of storytelling.
March 9th
Lively Sloane loves to make up dances, put on shows, and do art. But as she heads into first grade, nothing frustrates her more than reading. In math, the numbers go together right in her brain, but no matter how hard she looks at letters, and no matter how many times her teacher and parents say "focus," she would much rather do cartwheels. She feels sad that she isn't keeping up with her class and isn't reading the "right way." Then, she finds out that she has dyslexia. Join Sloane on her journey to learn to read, gain confidence, and find her own special kind of smart.
I grew up on the Highlights Hidden Picture pages and I want to get this book for nostalgia's sake but also because I think my kids would really like it!
March 9th
Hidden Pictures puzzles just got even harder! This collection includes all types of challenging Hidden Pictures puzzles, including photo puzzles, puzzles without clues, unscrambles, and more. Find more than 1,500 objects hidden in 125+ pages of puzzles. A great gift for anyone who loves a puzzle challenge!
March 15th
Did you know dandelions thrive on all seven continents? The cheery blooms are among the most resilient and adaptable in the world. In this lyrical book, learn how the crafty plant travels on the wind and hitches rides in all manner of ways in order to spread far and wide. Includes a map and backmatter on dandelions.
March 16th
After a long sleepy winter, the trees, flowers, and animals are getting ready for a busy spring. Discover all the different ways nature wakes up when spring arrives in this fresh and fun story of a family exploring their garden.
With further non-fiction information about animals and plants at the back, this picture book is the perfect introduction to the science behind spring.
March 16th
Miguel's pet frog, Coquí, is always with him: as he greets his neighbors in San Juan, buys quesitos from the panadería, and listens to his abuelo's story about meeting baseball legend Roberto Clemente. Then Miguel learns that he and his parents are moving to the U.S. mainland, which means leaving his beloved grandparents, home in Puerto Rico, and even Coquí behind. Life in New York City is overwhelming, with unfamiliar buildings, foods, and people. But when he and Mamá go exploring, they find a few familiar sights that remind them of home, and Miguel realizes there might be a way to keep a little bit of Puerto Rico with him–including the love he has for Coquí–wherever he goes.
A heartfelt picture book based on the author-illustrator's own experiences, about a boy who moves to the U.S. mainland from Puerto Rico and realizes that New York City might have more in common with San Juan than he initially thought.
March 23rd
The world is big, my little brave girl.
It's all here for you.

A poetic text encourages girls to reach higher, dream bigger, and approach the world with their hearts wide open. This love letter to little girls was inspired by Hilary Duff's own experience as a mother as she considered all the ways her daughter had to be brave even as an infant. With lush illustrations and an empowering message, My Little Brave Girl is the perfect gift for baby showers, birthdays, Mother's Day, graduation, and any time a girl—or woman—is embarking on a new chapter of her life!
March 30, 2021
Driving through Ohio in an old Pontiac, a young girl's parents stop suddenly when they spot watercress growing wild in a ditch by the side of the road. Grabbing an old paper bag and some rusty scissors, the whole family wades into the muck to collect as much of the muddy, snail covered watercress as they can.
At first, she's embarrassed. Why can't her family get food from the grocery store? But when her mother shares a story of her family's time in China, the girl learns to appreciate the fresh food they foraged. Together, they make a new memory of watercress.
March 30th
Hugo has one goal – to conquer the Impossible Thing.
At the edge of the forest stood the Impossible Thing. All the animals in the forest often wondered what was beyond the Impossible Thing, but since everyone said getting through it would be impossible, no animal ever tried.

Until a brave little dog named Hugo decides he just might be up to the challenge. With determination and some unexpected help from his friends, Hugo learns that what may seem impossible might just be possible after all.
---
Once again, here are some more great lists of books being released this year: