New Picture Book Releases We Want to Read: January 2021
Last week I shared a list of middle grade books coming at in the first few months of the year and this week I thought I would share some new picture book releases that sound really good.
Originally I was going to make this list include picture books that were coming out January through to March but I got started with the list and realized there were enough good sounding books to make separate monthly lists!
I actually did this a few years ago and so I guess this year I am bringing back the monthly picture book releases lists.
I've spent quite a bit of time sifting through picture books that are being released and I think I've found some really good winners! Obviously, I haven't actually been able to read these books yet so I can't promise they are going to be amazing but I hope so!
I hope to read as many of these as I can so that throughout the year I can share which books have been our favorites.
I'll have the list of February picture books up in about two weeks so be sure to check back soon!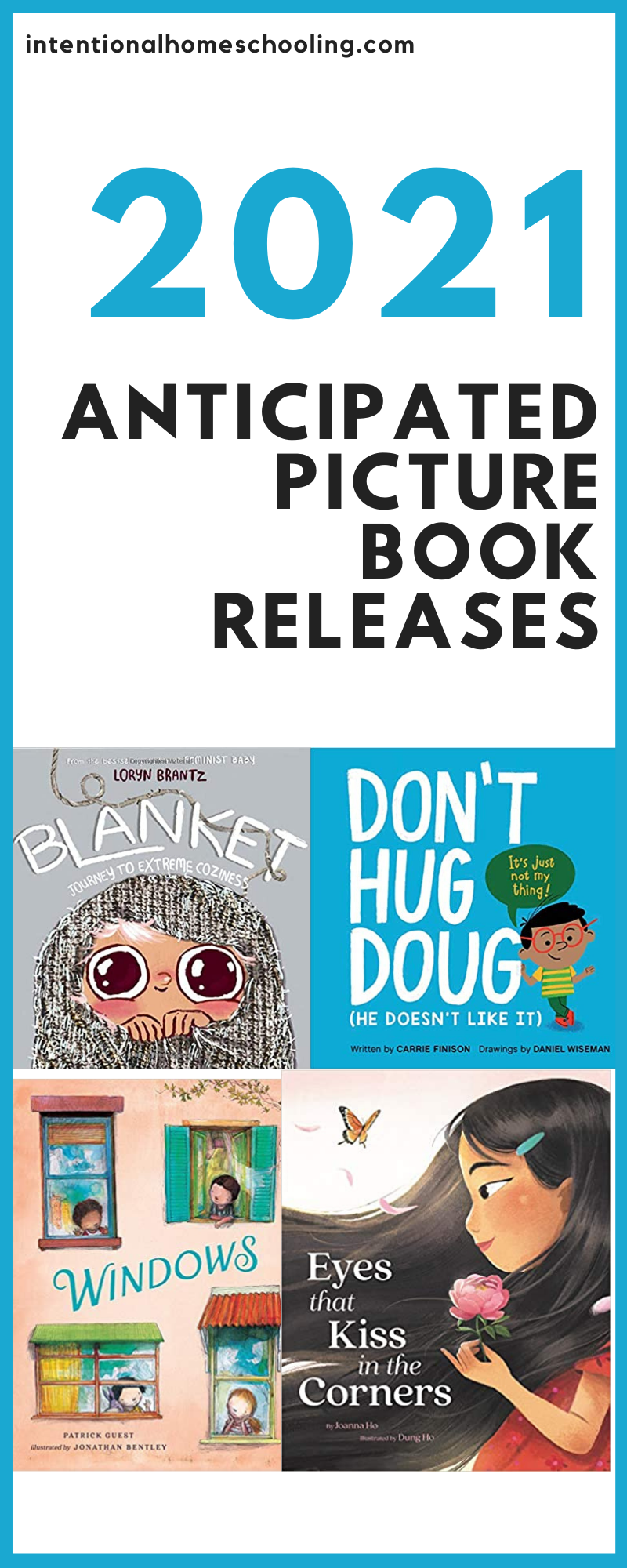 New Picture Book Releases We Want to Read: January 2021
I am raising three different kids from three different races, we love to recognize and celebrate the differences.
January 5th
A young Asian girl notices that her eyes look different from her peers'. They have big, round eyes and long lashes. She realizes that her eyes are like her mother's, her grandmother's, and her little sister's. They have eyes that kiss in the corners and glow like warm tea, crinkle into crescent moons, and are filled with stories of the past and hope for the future.
Drawing from the strength of these powerful women in her life, she recognizes her own beauty and discovers a path to self-love and empowerment. This powerful, poetic picture book will resonate with readers of all ages.
This book looks so cozy!
Behold, the powers of your blanket are REAL.
Readers will learn how to make their own snuggly, cuddly cocoon and all the things you can do when you feel safe and warm. Your blanket might take you to space, under the deep blue sea, or anywhere you can imagine. But what happens when you leave your blanket? Not knowing is scary, but also exciting!
This adorable and exuberant story is filled with open-ended questions that encourage readers to be true to themselves, both inside and outside of their blankets.
I can totally picture my daughter on the cover of this book.
January 5th
Something strange happened on an unremarkable day just before the season changed.
Everybody who was outside . . .
. . . went inside.
Outside, it was quieter, wilder, and different. Inside, we laughed, we cried, and we grew.
We remembered to protect the ones we love and love the ones who protect us.
While the world changed outside, we became stronger on the inside and believed that someday soon spring would come again.
I like owls and I like picture books that have lots of facts and good information.
January 12th
Welcome to Owl School! Professor Olaf Owl is here to tell you everything you need to know about being an owl, from hunting to camouflage to seeing in the dark. Study hard, and soon you'll be a first-rate member of Team Owl! This engaging nonfiction picture book is full of vibrant, humorous illustrations and owl lessons that will have readers eagerly practicing their hoots, toe swivels, and alertness (even if they can't grow feathers).
I'm excited for another great sounding picture book biography!
January 19th
Ever since Williamina Fleming was little she was curious, and her childhood fascination with light inspired her life's work. Mina became an astronomer in a time when women were discouraged from even looking through telescopes. Yet Mina believed that the universe, with its billions of stars, was a riddle—and she wanted to help solve it.
Mina ultimately helped to create a map of the universe that paved the way for astronomers. Newbery Honor–winning Kathryn Lasky shares her incredible true story.
I love helping my children have a strong vocabulary and this book sounds like a good one for it!
Go on a snowy, sandy shore walk in a story where every single word starts with the letter S!
Explore the beach in winter in this story told through clever language. During a sunset beach saunter, a girl stumbles and drops her doll into a tidal pool. Soaked! Celebrating the natural silence of an off-season location, the surf and sand are brought to life through this engaging story.
Oooh, this is a good one after the last year!
January 19th
Out the window, I can see
a new world looking back at me.
The streets are still,
there are no crowds …
but looking up, I see the clouds.
Told through the voices―and windows―of children from around the world, this story's comforting message and bright illustrations bring hope into your home even as our world changes outside. The book's beautiful design reveals similarities―"In different windows everywhere, I see rainbows, hearts, and teddy bears"―that can comfort and unite us, even in hard times.
Author Patrick Guest was inspired to write this story when he was forced to isolate from his family as a medical worker. His lyrical writing gives hope to our shared experience. In addition, Jonathan Bentley, award-winning illustrator of more than 30 children's books, infuses the book with warmth and delight.
When you look out your window, don't forget that we're all looking out―together.
This one sounds really sweet.
January 19th
Everyone loves everyone in Tess's house, but when Tess has to leave for school for the very first time, she is worried that her family's love might not stretch that far. Mom explains that love is like a string, it connects people together even when they are far away. At school Tess notices that all the children have strings! Some are new, some are old, some stretch a long way, and some even stretch right up into the sky. But what happens when a string breaks?
Love is the third in a trio of feel-good picture books from author Corrinne Averiss (Joy (2018), Hope (2019)) – a pure delight from start to finish. A wonderful story that subtly tackles difficult topics of death, grief, separation, and overcoming anxiety.
January 26th
Louise and her family are sad over the loss of their beloved dog, Charlie. "Life will not be the same," Louise says, as she visits a little island that Charlie loved.
But on a visit to the island after Charlie's death, something strange happens: She meets a bear. At first, she's afraid, but soon she realizes that the bear is sad, too. As Louise visits more often, she realizes that getting over loss takes time. And just when she starts to feel better, it's time for Bear to bed down for the winter.
Once again, Louise believes that life will not be the same. But sometimes, things can change for the better, and on the first warm day of spring, her family welcomes a new member. Here is a lovely, poignant story about loss and healing that will bring comfort to even the youngest readers.
January 26th
Marsha is a scientist who has never met a problem she couldn't solve. But when it comes to making friends to invite to her birthday party, she is stumped.

Luckily, Marsha knows the solution to being stumped: the scientific method.

With equal parts creativity, determination, and humor, Marsha sets out to attract as many friends as she can—what could possibly go wrong?
In this hilarious celebration of friendship and ingenuity, Beth Ferry and Lorena Alvarez show readers that the best way to attract friends is to simply be yourself.
As someone who is NOT a hugger I want this book for myself!
January 26th
Doug doesn't like hugs. He thinks hugs are too squeezy, too squashy, too squooshy, too smooshy. He doesn't like hello hugs or goodbye hugs, game-winning home run hugs or dropped ice cream cone hugs, and he definitely doesn't like birthday hugs. He'd much rather give a high five–or a low five, a side five, a double five, or a spinny five. Yup, some people love hugs; other people don't. So how can you tell if someone likes hugs or not? There's only one way to find out: Ask! Because everybody gets to decide for themselves whether they want a hug or not.
January 26th
Bear is in his room. He is sad. He wants a best friend to play with. "Go outside," says Daddy. "You'll meet a friend to play with."
Bear takes his ball and goes to the forest. But where will he find a best friend? He looks everywhere(behind the trees, between bushes, etc.).
Rabbit sees Bear and Bear says he is looking for a best friend. So Rabbit joins in on the search. Owl flies down and asks what they are doing.
So Owl joins in the search but only sees Fox & thinks she can help. Squirrel sees them and she joins in the quest to go to Fox.
Badger is the last one to join them. But when they got to Fox's house, Fox tells them Owl was wrong and she doesn't know where to find a best friend.
Bear is sad. As he sits on the rock, Squirrel tells him he is not alone, all the animals are there. Bear thinks about it and he lights up. He realizes he not only found one best friend but 5!
January 26th
Marlo and Coco are best friends. They do everything together―they read together, laugh together, and play games together. After all, they're best friends. And that's what best friends do.
But one day, when Coco asks Marlo to play, he doesn't answer. Instead, Marlo turns away ignoring Coco, until he's lost in his anger. Coco is worried about her friend, but then she remembers she can always find Marlo.
In this charming, thoughtful picture book, author-illustrator Andrew Arnold explores empathy and sadness, and how friends can help each other navigate big emotions. Because that's what best friends do.
We just spent all of November and December listening to Rend Collective's A Jolly Irish Christmas Volume 2 album and so now I want to visit Ireland and this book sounds like a fun alternative for the moment.
The Great Irish Farm Book
January 31st
Everything your child needs to know about Irish farms!
Did you know that there are almost 2,000,000 pigs in Ireland?
And that sheep have rectangular pupils, which means they have amazing vision?
Would you believe only 10 per cent of the milk produced in Ireland is consumed here?
And that hens are pregnant for 21 days, but a horse can be pregnant for up to 345 days?
How about the fact that despite our love of spuds, grass is Ireland's top crop, covering 3,700,000 hectares, while potatoes cover only 9,000 hectares?
From the farmer's day to the changing of the seasons, from animals and crops to machinery and technology, and from ancient times to the modern day, The Great Irish Farm Book will take you on a fascinating journey through life on an Irish farm.
Do you know of any good sounding picture books coming out in January? (Or other months of the year?)
Check back soon for February's list!