Anticipated Middle Grade Releases in 2021: January-March
For the first time this year I am paying attention to release dates of new books.
I am blaming it on the fact that for the last year I have been in the depths of BookTube sharing about what I've been reading and hearing about the books everyone else is excited about.
I shared on my YouTube channel about some of the books I am excited to read in the first bit of this year and I thought it would be fun to make a list of solely middle grade books that are coming out this year that I am excited about.
Obviously I've never read any of these books before so I can't say they are great but they are either on this list because the description sounds really good or I've read something by the author or a previous book in the series. I'll try to make share why each book sounds interesting to me.
Do you know about any good sounding middle grade books that are coming out this year? If I've missed a good one, let me know! I would also love to hear if there are some from this list that sound good to you!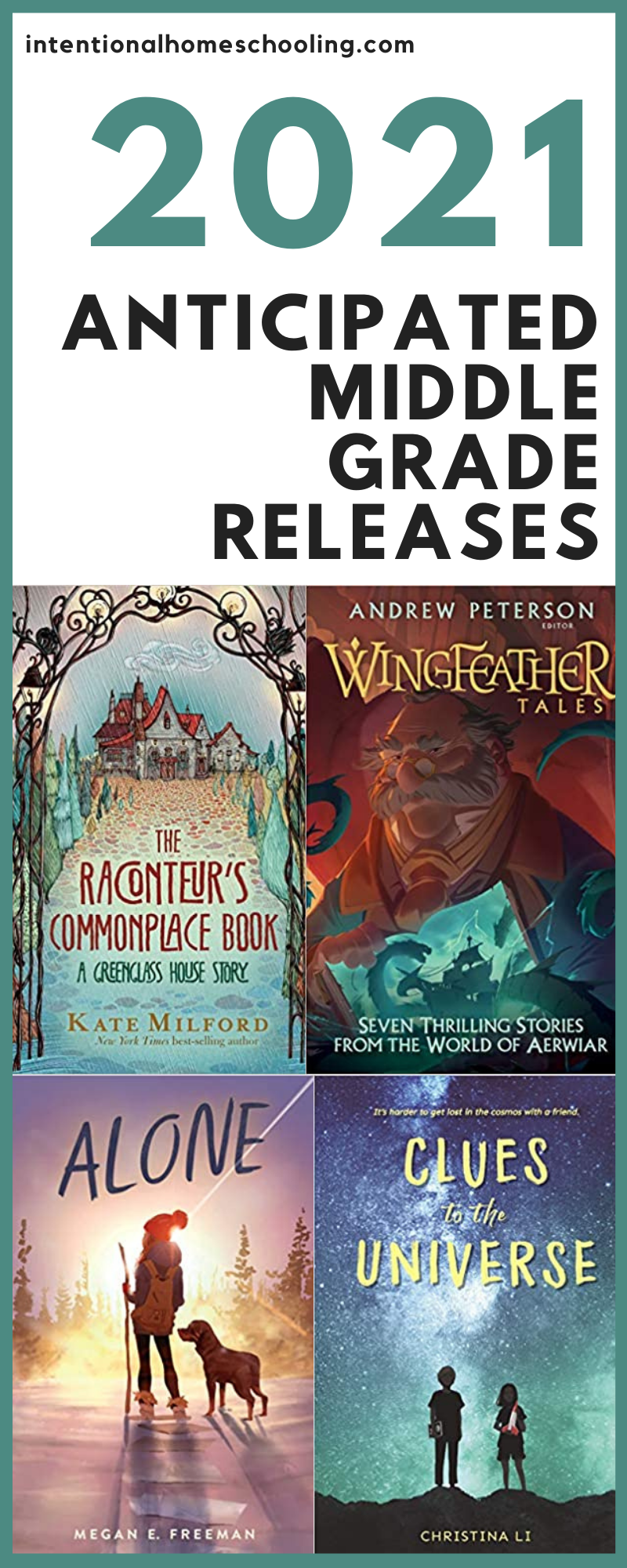 Anticipated Middle Grade Releases in 2021: January-March
I love Gary D. Schmidt's writing and am looking forward to this book!
January 5th, 2021
Following the death of her closest friend in summer 1968, Meryl Lee Kowalski goes off to St. Elene's Preparatory Academy for Girls, where she struggles to navigate the venerable boarding school's traditions and a social structure heavily weighted toward students from wealthy backgrounds. In a parallel story, Matt Coffin has wound up on the Maine coast near St. Elene's with a pillowcase full of money lifted from the leader of a criminal gang, fearing the gang's relentless, destructive pursuit. Both young people gradually dispel their loneliness, finding a way to be hopeful and also finding each other.
I'm always drawn to middle grade books with kids that like science because both of my kids love it!
January 12, 2021
The only thing Rosalind Ling Geraghty loves more than watching NASA launches with her dad is building rockets with him. When he dies unexpectedly, all Ro has left of him is an unfinished model rocket they had been working on together.
Benjamin Burns doesn't like science, but he can't get enough of Spacebound, a popular comic book series. When he finds a sketch that suggests that his dad created the comics, he's thrilled. Too bad his dad walked out years ago, and Benji has no way to contact him.
Though Ro and Benji were only supposed to be science class partners, the pair become unlikely friends: Benji helps Ro finish her rocket, and Ro figures out a way to reunite Benji and his dad. But Benji hesitates, which infuriates Ro. Doesn't he realize how much Ro wishes she could be in his place?
As the two face bullying, grief, and their own differences, Benji and Ro must try to piece together clues to some of the biggest questions in the universe.
We listened to Barbara O'Connor's "Wish" as a family and love it. I'm hoping this one is just as good!
January 12, 2021
Walter Tipple is looking for adventure. He keeps having a dream that his big brother, Tank, appears before him and says, "Let's you and me go see my world, little man." But Tank went to the army and never came home, and Walter doesn't know how to see the world without him.
Then he meets Posey, the brash new girl from next door, and an eccentric man named Banjo, who's off on a bodacious adventure of his own. What follows is a summer of taking chances, becoming braver, and making friends―and maybe Walter can learn who he wants to be without the brother he always wanted to be like.
Halfway to Harmony is an utterly charming story about change and growing up.
This book sounds fun, it reminds me a lot of the game, Outfoxed, my kids have played for years, I especially think my son will like this one.
January 12, 2021
When an animal is in trouble, there's only one place to turn: the Animal Rescue Agency!
Dashing Esquire Fox used to organize the world's most elaborate chicken raids until the day she encountered Mr. Pepper. Meeting the blustery old rooster changed her heart, convincing her to turn from a life of crime and instead form the Animal Rescue Agency, which masterminds rescue operations across the globe.
Esquire and her unlikely chicken business manager coordinate their far-flung agents to get them to the Arctic. In that frozen land they learn that what happened to the polar bear cub was no accident—and that saving him will pit them against the scariest predator in the world: a human.
I love dystopian books plus it sounds like this one is written in verse!
January 12, 2021
When twelve-year-old Maddie hatches a scheme for a secret sleepover with her two best friends, she ends up waking up to a nightmare. She's alone—left behind in a town that has been mysteriously evacuated and abandoned.
With no one to rely on, no power, and no working phone lines or internet access, Maddie slowly learns to survive on her own. Her only companions are a Rottweiler named George and all the books she can read. After a rough start, Maddie learns to trust her own ingenuity and invents clever ways to survive in a place that has been deserted and forgotten.
As months pass, she escapes natural disasters, looters, and wild animals. But Maddie's most formidable enemy is the crushing loneliness she faces every day. Can Maddie's stubborn will to survive carry her through the most frightening experience of her life?
This is a debut novel that I'm interested in!
January 19, 2021
Eleven-year-old Rigel Harman loves her life in off-the-grid Alaska. She hunts rabbits, takes correspondence classes through the mail, and plays dominoes with her family in their two-room cabin. She doesn't mind not having electricity or running water—instead, she's got tall trees, fresh streams, and endless sky.

But then her parents divorce, and Rigel and her sisters have to move with their mom to the Connecticut suburbs to live with a grandmother they've never met. Rigel hates it in Connecticut. It's noisy, and crowded, and there's no real nature. Her only hope is a secret pact that she made with her father: If she can stick it out in Connecticut for one year, he'll bring her back home.

At first, surviving the year feels impossible. Middle school is nothing like the wilderness, and she doesn't connect with anyone . . . until she befriends a crow living behind her school. And if this wild creature has made a life for itself in the suburbs, then, just maybe, Rigel can too.
My daughter loves fantasy books so I'm always looking for new ones for her to read!
January 19, 2021
Amari Peters has never stopped believing her missing brother, Quinton, is alive. Not even when the police told her otherwise, or when she got in trouble for standing up to bullies who said he was gone for good.
So when she finds a ticking briefcase in his closet, containing a nomination for a summer tryout at the Bureau of Supernatural Affairs, she's certain the secretive organization holds the key to locating Quinton—if only she can wrap her head around the idea of magicians, fairies, aliens, and other supernatural creatures all being real.
Now she must compete for a spot against kids who've known about magic their whole lives. No matter how hard she tries, Amari can't seem to escape their intense doubt and scrutiny—especially once her supernaturally enhanced talent is deemed "illegal." With an evil magician threatening the supernatural world, and her own classmates thinking she's an enemy, Amari has never felt more alone. But if she doesn't stick it out and pass the tryouts, she may never find out what happened to Quinton.
This is book five in the Greenglass House series – I've only read book one but I enjoyed it!
February 23, 2021
The rain hasn't stopped for a week, and the twelve guests of the Blue Vein Tavern are trapped by flooded roads and the rising Skidwrack River. Among them are a ship's captain, tattooed twins, a musician, and a young girl traveling on her own. To pass the time, they begin to tell stories—each a different type of folklore—that eventually reveal more about their own secrets than they intended.
As the rain continues to pour down—an uncanny, unnatural amount of rain—the guests begin to realize that the entire city is in danger, and not just from the flood. But they have only their stories, and one another, to save them. Will it be enough?
This is book three in the series. Rae loved book one and got book two for Christmas.
February 23rd
When Kari Baxter is assigned an essay about what she wants to be when she grows up, her mind goes blank. She doesn't want to grow up; she wants everything to stay just like it is. But Kari comes to realize that while making time stand still isn't possible, she can enjoy every moment with her best family ever.
Meanwhile, Ashley Baxter feels the same way. She is worried her siblings are growing up too fast. When she wins the role of Wendy in her school performance of Peter Pan, Ashley gets an idea. Maybe she and her siblings can pledge to never grow up at all!
This third story in the Baxter Family Children series shares the reassuring message that even though growing up can be tough, family and friends are always there with support and love.
Jennifer A. Nielsen has really proven herself as an author to me so I'm excited about this one!
March 2
Six hundred and fifty-seven days ago, Meg Kenyon's father left their home in France to fight for the Allies in World War II, and that was the last time Meg saw him. Recently, she heard he was being held prisoner by the Nazis, a terrible sentence from which Meg fears he'll never return. All she has left of him are the codes he placed in a jar for her to decipher, an affectionate game the two of them shared. But the codes are running low, and soon there'll be nothing left of Papa for Meg to hold on to at all.
Suddenly, an impossible chance to save her father falls into Meg's lap. After following a trail of blood in the snow, Meggie finds an injured British spy hiding in her grandmother's barn. Captain Stewart tells her that a family of German refugees must be guided across Nazi-occupied France to neutral Spain, whereupon one of them has promised to free Meg's father. Captain Stewart was meant to take that family on their journey, but too injured to complete the task himself, he offers it to Meg, along with a final code from Papa to help complete the mission — perhaps the most important, and most difficult, riddle she's received yet.
As the Nazis flood Meg's village in fierce pursuit, she accepts the duty and begins the trek across France. Leading strangers through treacherous territory, Meg faces danger and uncertainty at every turn, all the while struggling to crack her father's code. The message, as she unravels it, reveals secrets costly enough to risk the mission and even her own life. Can Meg solve the puzzle, rescue the family, and save her father?
This is book two in a series, so we'll check out book one first but this one sounds fun!
March 2
Five orphans. Two sword-wielding vigilantes. One mansion. No rules.
April thought she had her happy ending. After all, she has her new house and new friends and new guardian. But she also has a very big new secret.
The kids of Winterborne House are the only ones who know that Gabriel Winterborne—famous billionaire and terrible cook—is really a sword-wielding vigilante.
What they don't know is that he's not the only one.
When a masked figure breaks in, looking for something—or someone—it's clear that Gabriel has met his match, and now no one is safe. April and her friends will have to solve a decades-old mystery in order to hang on to the most important thing in the world: each other.
March 16th
After thwarting a notorious villain at an eco-summit in Paris, the City Spies are gearing up for their next mission. Operating out of a base in Scotland, this secret team of young agents working for the British Secret Intelligence Service's MI6 division have honed their unique skills, such as sleight of hand, breaking and entering, observation, and explosives. All of these allow them to go places in the world of espionage where adults can't.
Fourteen-year-old Sydney is a surfer and a rebel from Bondi Beach, Australia. She's also a field ops specialist for the City Spies. Sydney is excited to learn that she'll be going undercover on the marine research vessel the Sylvia Earle. But things don't go exactly as planned, and while Sydney does find herself in the spotlight, it's not in the way she was hoping.
Meanwhile, there's been some new intel regarding a potential mole within the organization, offering the spies a lead that takes them to San Francisco, California. But as they investigate a spy who died at the Botanical Gardens, they discover that they are also being investigated. And soon, they're caught up in an exciting adventure filled with rogue missions and double agents!
This mission is hot! The City Spies are a go!
I am so very excited about this book, we love The Wingfeather Saga!!
March 23, 2021
Immerse yourself in a land of bomnubbles and quarreling cousins, sea dragons and book publishers, thieves and Fangs and secret maps. Here within these pages lie six stories of the distant past, lost adventures, forgotten songs, and heartbreaking histories. The Shining Isle is restored, but Aerwiar is vast–and these authors have tales yet to tell:
• Explore the inner walls of Yorsha Doon, just West of the Woes of Shreve, on the edge of the Dark Sea of Darkness, from the eyes of young Safiki in "The Prince of Yorsha Doon" from the creator of Aewiar, Andrew Peterson.
• Jennifer Trafton's warm and whimsical writing brings to life a publishing nightmare populated by the many beasts of Skree in "The Wooing of Sophelia Stupe."
• Learn the origins of Ollister Pebmrick's mysterious entry in the Creaturepedia about his encounter with a raggant in "Willow Worlds" by N. D. Wilson.
• Travel with young Podo Helmer on an epic hunt for sea dragons in "From the Deeps of the Dragon King" from A. S. Peterson.
• Jonathan Rogers presents "The Ballard of Lanric and Rube," sung by Armulyn the Bard, tale-spinner of the imaginary Shining Isle of Anniera, in On the Edge of the Dark Sea of Darkness.
• Discover what life was like for Maraly and Gammon in post-war Skree in "Shadowblade and the Florid Sword"—the first-ever Wingfeather comic—by Andrew Peterson.
• Douglas McKelvey's epic, heartbreakingly hopeful novella "The Places Beyond the Maps" recounts a father's journey to redemption.
You'll also find delightful illustrations by Justin Gerard, Hein Zaayman, Cory Godbey, John Hendrix, Nicholas Kole, Aedan Peterson, Joe Sutphin, Jay Myers, and Doug TenNapel.
Enter a rich, imaginative world that becomes more real, more mysterious, more dangerous, and more beautiful with each story's telling.