So, I thought we'd do a reading wrap up for the last two months and since my ten year old has read so many books lately this video is all about what she has read.
I recently shared a list of books that I wanted her to read in grade six and even though the summer has just begun, she's digging into that stack already!
Let me know in the comments if you have some recommendations for her for future reads!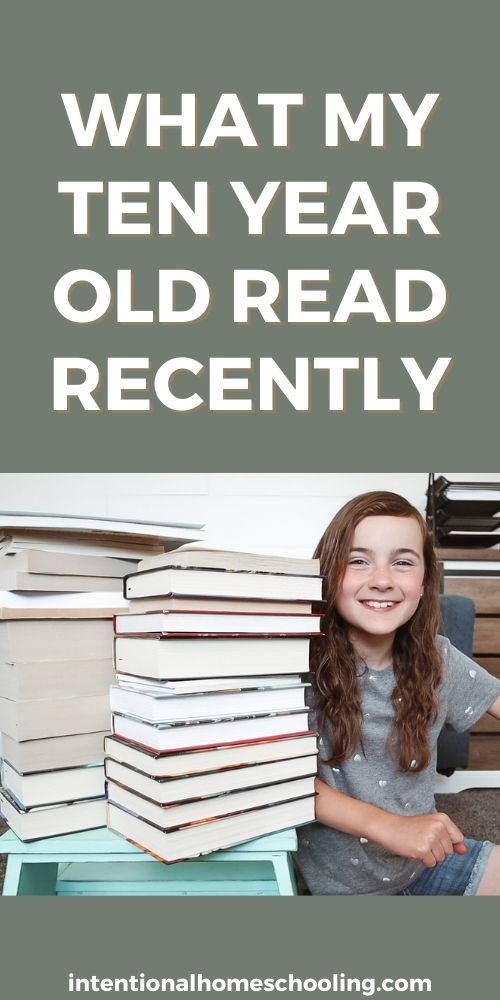 MIDDLE GRADE BOOKS MY TEN YEAR OLD RECENTLY READ
It can definitely be hard to keep up with good book recommendations for her, so if you have any great middle grade book recommendations, please let me know!
You can watch the video to see all her books and hear her thoughts or scroll past to see a lot of the books listed.
*For my own sanity sake, when a book was a part of a series that she read I've only posted the first book in the series.
Here's the video:
Here are the books!
The stage is set. It's war. Morbin Blackhawk, slaver and tyrant, threatens to destroy the rabbit resistance forever. Heather and Picket are two young rabbits improbably thrust into pivotal roles.
The fragile alliance forged around the young heir seems certain to fail. Can Heather and Picket help rescue the cause from a certain, sudden defeat?
My Place Beside You
My Blood For Yours
Till The Green… Ember Falls
Rosemary Bliss's family has a secret. It's the Bliss Cookery Booke—an ancient, leather-bound volume of enchanted recipes like Singing Gingersnaps.
Rose and her siblings are supposed to keep the Cookery Booke locked away while their parents are out of town, but then a mysterious stranger shows up. "Aunt" Lily rides a motorcycle and also whips up exotic (but delicious) dishes for dinner. Soon boring, non-magical recipes feel like life before Aunt Lily—a lot less fun.
So Rose and her siblings experiment with just a couple of recipes from the forbidden Cookery Booke. A few Love Muffins and Cookies of Truth couldn't cause too much trouble . . . could they?
Nancy, Bess, and George are cruising dangerous waters on a tour of Alaska. Becca Wright, an old friend of Nancy's, is the Assistant Cruise Director of the Arctic Star, a posh new ship. But Becca needs Nancy's help when strange things keep happening aboard the opulent ocean liner: The swimming pool becomes a floating grave; a famous passenger is threatened; and even the seemingly innocent mini-golf course becomes a perilous playground. With the majestic and mysterious Alaskan scenery as a backdrop, Nancy and company have to find out who's trying to sabotage the maiden voyage and why.
Twelve-year-old Sophie has never quite fit into her life. She's skipped multiple grades and doesn't really connect with the older kids at school, but she's not comfortable with her family, either. The reason? Sophie's a Telepath, someone who can read minds. No one knows her secret—at least, that's what she thinks…
But the day Sophie meets Fitz, a mysterious (and adorable) boy, she learns she's not alone. He's a Telepath too, and it turns out the reason she has never felt at home is that, well…she isn't. Fitz opens Sophie's eyes to a shocking truth, and she is forced to leave behind her family for a new life in a place that is vastly different from what she has ever known.
But Sophie still has secrets, and they're buried deep in her memory for good reason: The answers are dangerous and in high-demand. What is her true identity, and why was she hidden among humans? The truth could mean life or death—and time is running out.
It's a familiar story: In spite of the obstacles put in her way by her wicked stepmother, Ella goes to the ball, sweeps Prince Charming off his feet, and is chosen to be his bride. Now she's comfortably ensconced in the palace, awaiting marriage to the man of her dreams. It's happily ever after time, right?
Wrong! Life for Ella has become an endless round of lessons and restrictions; even worse, Prince Charming turns out to be more like Prince Boring. Why can't she talk with him the way she can with Jed, her earnest young tutor?
Slowly, Ella comes to realize she doesn't want the life she fought so hard to win. But breaking her engagement proves more difficult — and dangerous — than escaping her stepmother's tyranny.
In this middle-grade fantasy, perfect for fans of Nevermoor and The School for Good and Evil series, humor, heart, and a symphony of magic take center stage.
Amelia Jones has always dreamed of attending the Mystwick School of Musicraft, where the world's most promising musicians learn to create musical magic. Unfortunately, Amelia botches her audition and her dream comes crashing down—until the school agrees to give her a second chance. Amelia vows to do whatever it takes to make her dream come true.
However, between a teacher who really dislikes her and a roommate who wants to see her expelled, Amelia has her hands full. On top of that, supernatural powers are threatening Mystwick, and Amelia might be the only person who can save the school…but only if she can remain true to herself. The combination of Jessica Khoury's storytelling mastery, the highly-nuanced performance by award-winning narrator Suzy Jackson, and the songs, musical interludes, and original compositions included in this audio (all performed by the NJSO Youth Orchestras) makes it a treat for all fans of the fantasy genre.
Morgan and Eli, two Indigenous children forced away from their families and communities, are brought together in a foster home in Winnipeg, Manitoba. They each feel disconnected, from their culture and each other, and struggle to fit in at school and at their new home — until they find a secret place, walled off in an unfinished attic bedroom. A portal opens to another reality, Askí, bringing them onto frozen, barren grounds, where they meet Ochek (Fisher). The only hunter supporting his starving community, Misewa, Ochek welcomes the human children, teaching them traditional ways to survive. But as the need for food becomes desperate, they embark on a dangerous mission. Accompanied by Arik, a sassy Squirrel they catch stealing from the trapline, they try to save Misewa before the icy grip of winter freezes everything — including them.
April didn't mean to start the fire. She wasn't the one who broke the vase. April didn't ask to go live in a big, creepy mansion with a bunch of orphans who just don't understand that April isn't like them. After all, April's mother is coming back for her someday very soon.
All April has to do is find the clues her mother left inside the massive mansion. But Winterborne House is hiding more than one secret, so April and her friends are going to have to work together to unravel the riddle of a missing heir, a creepy legend, and a mysterious key before the only home they've ever known is lost to them forever.
Kristy, Mary Anne, Claudia, and Stacey are best friends and founding members of The Baby-sitters Club. Whatever comes up — cranky toddlers, huge dogs, scary neighbors, prank calls — you can count on them to save the day. Baby-sitting isn't always easy, and neither is dealing with strict parents, new families, fashion emergencies, and mysterious secrets. But no matter what, the BSC have what they need most: friendship. Raina Telgemeier, using the signature style featured in her acclaimed graphic novels Smile and Sisters, perfectly captures all the drama and humor of the original novel!
Five years.
That's how long Coyote and her dad, Rodeo, have lived on the road in an old school bus, criss-crossing the nation.
It's also how long ago Coyote lost her mom and two sisters in a car crash.
Coyote hasn't been home in all that time, but when she learns that the park in her old neighborhood is being demolished―the very same park where she, her mom, and her sisters buried a treasured memory box―she devises an elaborate plan to get her dad to drive 3,600 miles back to Washington state in four days…without him realizing it.
Along the way, they'll pick up a strange crew of misfit travelers. Lester has a lady love to meet. Salvador and his mom are looking to start over. Val needs a safe place to be herself. And then there's Gladys…
Over the course of thousands of miles, Coyote will learn that going home can sometimes be the hardest journey of all…but that with friends by her side, she just might be able to turn her "once upon a time" into a "happily ever after."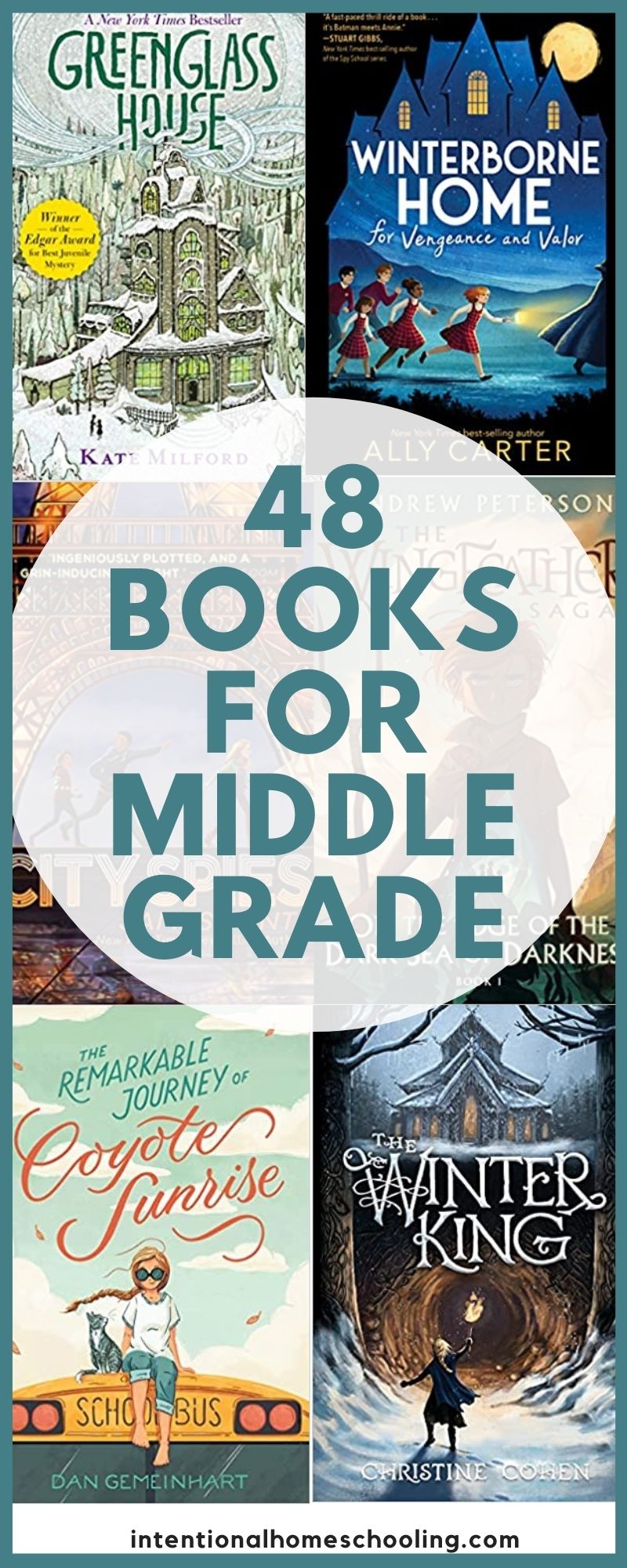 It's wintertime at Greenglass House. The creaky smuggler's inn is always quiet during this season, and twelve-year-old Milo, the innkeepers' adopted son, plans to spend his holidays relaxing. But on the first icy night of vacation, out of nowhere, the guest bell rings. Then rings again. And again. Soon Milo's home is bursting with odd, secretive guests, each one bearing a strange story that is somehow connected to the rambling old house. As objects go missing and tempers flare, Milo and Meddy, the cook's daughter, must decipher clues and untangle the web of deepening mysteries to discover the truth about Greenglass House—and themselves.
Sara Martinez is a hacker. She recently broke into the New York City foster care system to expose her foster parents as cheats and lawbreakers. However, instead of being hailed as a hero, Sara finds herself facing years in a juvenile detention facility and banned from using computers for the same stretch of time. Enter Mother, a British spy who not only gets Sara released from jail but also offers her a chance to make a home for herself within a secret MI6 agency.
Operating out of a base in Scotland, the City Spies are five kids from various parts of the world. When they're not attending the local boarding school, they're honing their unique skills, such as sleight of hand, breaking and entering, observation, and explosives. All of these allow them to go places in the world of espionage where adults can't.
Before she knows what she's doing, Sara is heading to Paris for an international youth summit, hacking into a rival school's computer to prevent them from winning a million euros, dangling thirty feet off the side of a building, and trying to stop a villain…all while navigating the complex dynamics of her new team.
No one said saving the world was easy…
For most of her twelve years, Astrid has done everything with her best friend Nicole. But after Astrid falls in love with roller derby and signs up for derby camp, Nicole decides to go to dance camp instead. And so begins the most difficult summer of Astrid's life as she struggles to keep up with the older girls at camp, hang on to the friend she feels slipping away, and cautiously embark on a new friendship. As the end of summer nears and her first roller derby bout (and junior high!) draws closer, Astrid realizes that maybe she is strong enough to handle the bout, a lost friendship, and middle school… in short, strong enough to be a roller girl.
In this graphic novel debut that earned a Newbery Honor and five starred reviews, real-life derby girl Victoria Jamieson has created an inspiring coming-of-age story about friendship, perseverance, and girl power!
I've known it since last night:
It's been too long to expect them to return.
Something's happened.
May is helping out on a neighbor's Kansas prairie homestead—just until Christmas, says Pa. She wants to contribute, but it's hard to be separated from her family by 15 long, unfamiliar miles. Then the unthinkable happens: May is abandoned. Trapped in a tiny snow-covered sod house, isolated from family and neighbors, May must prepare for the oncoming winter. While fighting to survive, May's memories of her struggles with reading at school come back to haunt her. But she's determined to find her way home again. Caroline Starr Rose's fast-paced novel, written in beautiful and riveting verse, gives readers a strong new heroine to love.
To the Gregg family, hunting is just plain fun. To the girl who lives next door, it's just plain horrible. She tries to be polite. She tries to talk them out of it, but the Greggs only laugh at her. Then one day the Greggs go too far, and the little girl turns her Magic Finger on them. When she's very, very angry, the little girl's Magic Finger takes over. She really can't control it, and now it's turned the Greggs into birds! Before they know it, the Greggs are living in a nest, and that's just the beginning of their problems….
Times change for Samantha when she moves to New York City to live with Uncle Gard and Aunt Cornelia. They change for Nellie, Samantha's servant friend in Mount Bedford, too. But Nellie's changes aren't as happy as Samantha's. When her friend disappears, Samantha thinks Nellie has been lost forever. But after a long and scary search, Samantha finds Nellie and her sisters in a New York orphanage. The orphanage is not a good place, so the girls plan a daring escape.
The Ladderless Window-Cleaning Company certainly doesn't. They don't need a pail, either, because they have a pelican with a bucket-sized beak. With a monkey to do the washing and Billy as their manager, this business is destined for success. Now they have their big break—a chance to clean all 677 windows of the Hampshire House, owned by the richest man in all of England! That's exciting enough, but along the way there are surprises and adventures beyond their wildest window-washing dreams.
Mr. and Mrs. Twit are the smelliest, nastiest, ugliest people in the world. They hate everything—except playing mean jokes on each other, catching innocent birds to put in their Bird Pies, and making their caged monkeys, the Muggle-Wumps, stand on their heads all day. But the Muggle-Wumps have had enough. They don't just want out, they want revenge.
Janner Igiby, his brother, Tink, and their disabled sister, Leeli, are gifted children as all children are, loved well by a noble mother and ex-pirate grandfather. But they will need all their gifts and all that they love to survive the evil pursuit of the venomous Fangs of Dang, who have crossed the dark sea to rule the land with malice. The Igibys hold the secret to the lost legend and jewels of good King Wingfeather of the Shining Isle of Anniera.
Full of characters rich in heart, smarts, and courage, On the Edge of the Dark Sea of Darkness is a tale children of all ages will cherish, families can read aloud, and readers' groups are sure to enjoy discussing for its many layers of meaning.
How can a babysitter entertain a fidgety kid, lull a toddler to sleep, or comfort a child who's feeling sad or upset? From finding clients and snagging the job to dealing with emergencies and accidents, The Babysitter's Survival Guide has all the advice you'll need. This fully revised edition includes updated information on using social media to build your business, keeping yourself and the children safe, cool activities to occupy your charges, and kid-friendly recipes to tempt reluctant eaters. With its fresh new design and illustrations, along with perforated business and emergency cards, it's perfect for enterprising young babysitters!
Sacagawea was only sixteen when she made one of the most remarkable journeys in American history, traveling 4500 miles by foot, canoe, and horse-all while carrying a baby on her back! Without her, the Lewis and Clark expedition might have failed. Through this engaging book, kids will understand the reasons that today, 200 years later, she is still remembered and immortalized on a golden dollar coin.
Orphan Elizabeth Somers's malevolent aunt and uncle ship her off to the ominous Winterhouse Hotel, owned by the peculiar Norbridge Falls. Upon arrival, Elizabeth quickly discovers that Winterhouse has many charms―most notably its massive library. It's not long before she locates a magical book of puzzles that will unlock a mystery involving Norbridge and his sinister family. But the deeper she delves into the hotel's secrets, the more Elizabeth starts to realize that she is somehow connected to Winterhouse. As fate would have it, Elizabeth is the only person who can break the hotel's curse and solve the mystery. But will it be at the cost of losing the people she has come to care for, and even Winterhouse itself?
Mystery, adventure, and beautiful writing combine in this exciting debut richly set in a hotel full of secrets.
A village trapped in winter, a tyrannical god, and a girl who will do anything to keep her family alive…
Ever since Cora's father disappeared through the ice, whispers about her family's "curse" have grown increasingly louder. Desperate to help her mother and siblings survive another bleak season in the Winter King's frozen grasp, Cora begins to bend (and even break) the rules she has kept since she was a little girl. But when she discovers a secret that's much bigger than herself, she realizes too late that she has put herself–and those she loves–in even greater peril.