GRADE 6 BOOK LIST – middle grade books I'm recommending my 6th grader read in our homeschool
Every year I like to make a book list for my kids.
Not really required reads but highly recommended reads.
I am excited about this list for my daughter who will be going into grade six in the fall because I enjoy middle grade books and have read most of them on this list and think she'll really enjoy them!
She prefers fantasy and mystery stories but also likes a hard hitting story from time to time.
Actually, I think I'm doing pretty well with this list because she's already snuck a few off my pile and read and enjoyed them.
If you have other books to add to this list, let me know, I'd love to hear them!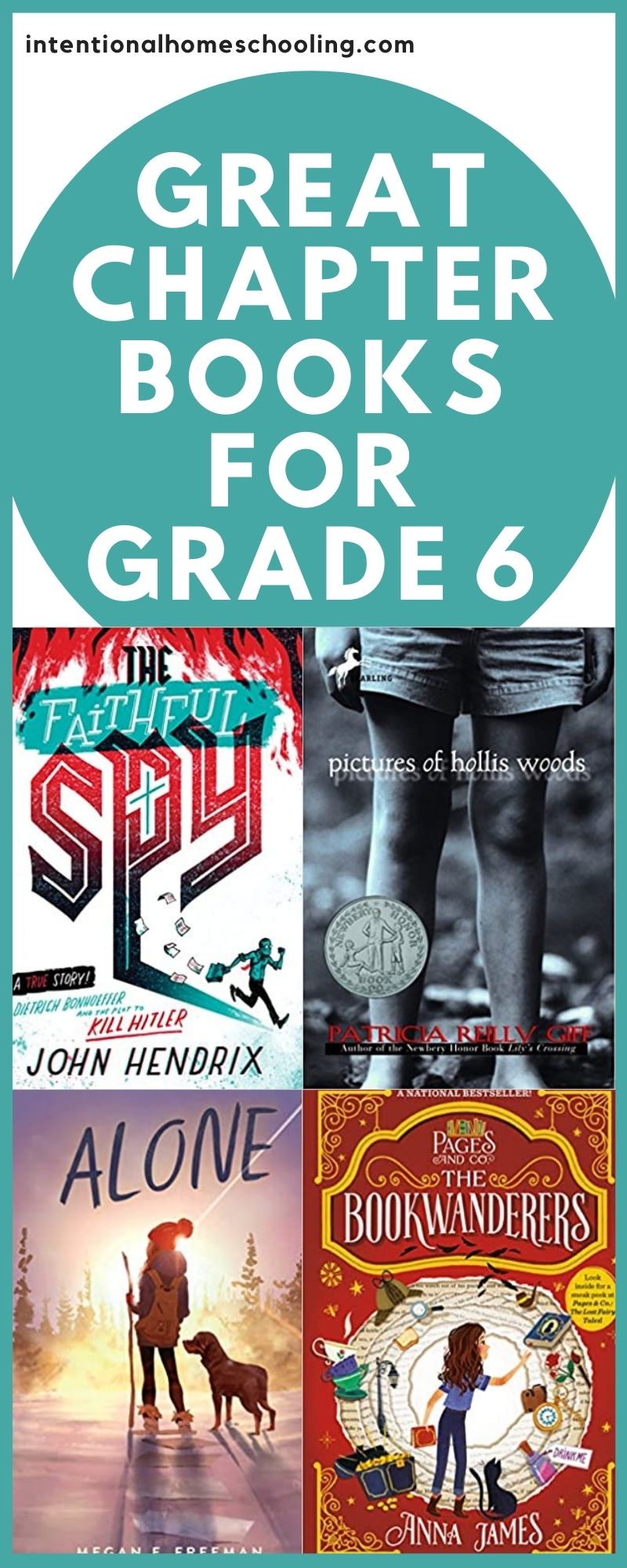 MIDDLE GRADE BOOK RECOMMENDATIONS FOR GRADE SIX
Here's the Fablehaven book review that I wrote a few years ago that I mentioned in the video.
Orphan Elizabeth Somers's malevolent aunt and uncle ship her off to the ominous Winterhouse Hotel, owned by the peculiar Norbridge Falls. Upon arrival, Elizabeth quickly discovers that Winterhouse has many charms―most notably its massive library. It's not long before she locates a magical book of puzzles that will unlock a mystery involving Norbridge and his sinister family. But the deeper she delves into the hotel's secrets, the more Elizabeth starts to realize that she is somehow connected to Winterhouse. As fate would have it, Elizabeth is the only person who can break the hotel's curse and solve the mystery. But will it be at the cost of losing the people she has come to care for, and even Winterhouse itself?
Mystery, adventure, and beautiful writing combine in this exciting debut richly set in a hotel full of secrets.
I've known it since last night:
It's been too long to expect them to return.
Something's happened.
May is helping out on a neighbor's Kansas prairie homestead—just until Christmas, says Pa. She wants to contribute, but it's hard to be separated from her family by 15 long, unfamiliar miles. Then the unthinkable happens: May is abandoned. Trapped in a tiny snow-covered sod house, isolated from family and neighbors, May must prepare for the oncoming winter. While fighting to survive, May's memories of her struggles with reading at school come back to haunt her. But she's determined to find her way home again. Caroline Starr Rose's fast-paced novel, written in beautiful and riveting verse, gives readers a strong new heroine to love.
For all of her nine years, fragile Elizabeth Ann has heard her Aunt Frances refer in whispers to her "horrid Putney cousins." But when her aunt can no longer care for her, Elizabeth Ann must leave her sheltered life to live in the wilds of Vermont with those distant relatives.
In the beginning, Elizabeth Ann is shocked by country living–pets are allowed to sleep in the house and children are expected to do chores! But with country living comes independence and responsibility, and in time, Elizabeth Ann finds herself making friends and enjoying her new family. When the year is up and Aunt Frances comes to get her niece, she finds a healthier, prouder girl with a new name–Betsy–and a new outlook on life.
Hollis Woods
is the place where a baby was abandoned
is the baby's name
is an artist
is now a twelve-year-old girl
who's been in so many foster homes she can hardly remember them all.

When Hollis is sent to Josie, an elderly artist who is quirky and affectionate, she wants to stay. But Josie is growing more forgetful every day. If Social Services finds out, they'll take Hollis away and move Josie into a home. Well, Hollis Woods won't let anyone separate them. She's escaped the system before; this time, she's taking Josie with her. Still, even as she plans her future with Josie, Hollis dreams of the past summer with the Regans, fixing each special moment of her days with them in pictures she'll never forget.
For centuries mystical creatures of all description were gathered into a hidden refuge called Fablehaven to prevent their extinction. The sanctuary survives today as one of the last strongholds of true magic. Enchanting? Absolutely. Exciting? You bet. Safe? Well, actually, quite the opposite.
Kendra and her brother, Seth, have no idea that their grandfather is the current caretaker of Fablehaven. Inside the gated woods, ancient laws keep relative order among greedy trolls, mischievous satyrs, plotting witches, spiteful imps, and jealous fairies. However, when the rules get broken — Seth is a bit too curious and reckless for his own good — powerful forces of evil are unleashed, and Kendra and her brother face the greatest challenge of their lives. To save their family, Fablehaven, and perhaps even the world, Kendra and Seth must find the courage to do what they fear most.
Bright Dawn was a teenaged Eskimo girl. Black Star was her part-husky, mostly wolf, pet. Together they were about to begin the famous Iditarod dogsled race through the bitter cold of Alaska. Bright Dawn knew they would win, but she didn't count on the cold, blinding whiteout, the belligerent bull moose, or ice that could crack and splinter at any time. And she soon realized that she was not only depending on Black Star for the race, but for her life.
When twelve-year-old Maddie hatches a scheme for a secret sleepover with her two best friends, she ends up waking up to a nightmare. She's alone—left behind in a town that has been mysteriously evacuated and abandoned.
With no one to rely on, no power, and no working phone lines or internet access, Maddie slowly learns to survive on her own. Her only companions are a Rottweiler named George and all the books she can read. After a rough start, Maddie learns to trust her own ingenuity and invents clever ways to survive in a place that has been deserted and forgotten.
As months pass, she escapes natural disasters, looters, and wild animals. But Maddie's most formidable enemy is the crushing loneliness she faces every day. Can Maddie's stubborn will to survive carry her through the most frightening experience of her life?
Stella lives in the segregated South—in Bumblebee, North Carolina, to be exact about it. Some stores she can go into. Some stores she can't. Some folks are right pleasant. Others are a lot less so. To Stella, it sort of evens out, and heck, the Klan hasn't bothered them for years. But one late night, later than she should ever be up, much less wandering around outside, Stella and her little brother see something they're never supposed to see, something that is the first flicker of change to come, unwelcome change by any stretch of the imagination. As Stella's community—her world—is upended, she decides to fight fire with fire. And she learns that ashes don't necessarily signify an end.
Since her mother's disappearance, eleven-year-old Tilly Pages has found comfort in the stories at Pages & Co., her grandparents' bookshop. But when her favorite characters, Anne of Green Gables and Alice from Wonderland, start showing up at the shop,Tilly's adventures become very real. Not only can she follow Anne and Alice into their books, she discovers she can bookwander into any story she chooses. Tilly's new ability leads her to fun and exciting adventures, but danger may be lurking on the very next page…
When new secrets are uncovered, it's up to Tilly to solve the mystery of what happened to her mother all those years ago. From debut author Anna James comes a charming and exciting adventure about a bookish young heroine, a mysterious librarian, and a magical bookshop that will delight book lovers everywhere.
It's wintertime at Greenglass House. The creaky smuggler's inn is always quiet during this season, and twelve-year-old Milo, the innkeepers' adopted son, plans to spend his holidays relaxing. But on the first icy night of vacation, out of nowhere, the guest bell rings. Then rings again. And again. Soon Milo's home is bursting with odd, secretive guests, each one bearing a strange story that is somehow connected to the rambling old house. As objects go missing and tempers flare, Milo and Meddy, the cook's daughter, must decipher clues and untangle the web of deepening mysteries to discover the truth about Greenglass House—and themselves.
Adolf Hitler's Nazi party is gaining strength and becoming more menacing every day. Dietrich Bonhoeffer, a pastor upset by the complacency of the German church toward the suffering around it, forms a breakaway church to speak out against the established political and religious authorities. When the Nazis outlaw the church, he escapes as a fugitive. Struggling to reconcile his faith and the teachings of the Bible with the Nazi Party's evil agenda, Bonhoeffer decides that Hitler must be stopped by any means possible!

In his signature style of interwoven handwritten text and art, John Hendrix tells the true story of Dietrich Bonhoeffer, a pastor who makes the ultimate sacrifice in order to help free the German people from oppression during World War II.
Do you have any books to add to this list? I would love to hear them!