19 Picture Book Biography Stories
It's never too early to introduce kids to biographies.
I love the increase of the number of biographical picture books in the last number of years.
It's not even just the number, it's the quality as well.
Even I have learned a lot about history thanks to some well written picture books.
In this list I've included mostly books we have read but there are also a few I've heard really good things about that I want to check out.
I'm sure there will be a part two to this list because I can already guarantee I've forgotten some really good ones.
If I've missed a great biographical picture book you love, let me know in the comments, I may just add it to the list for part two!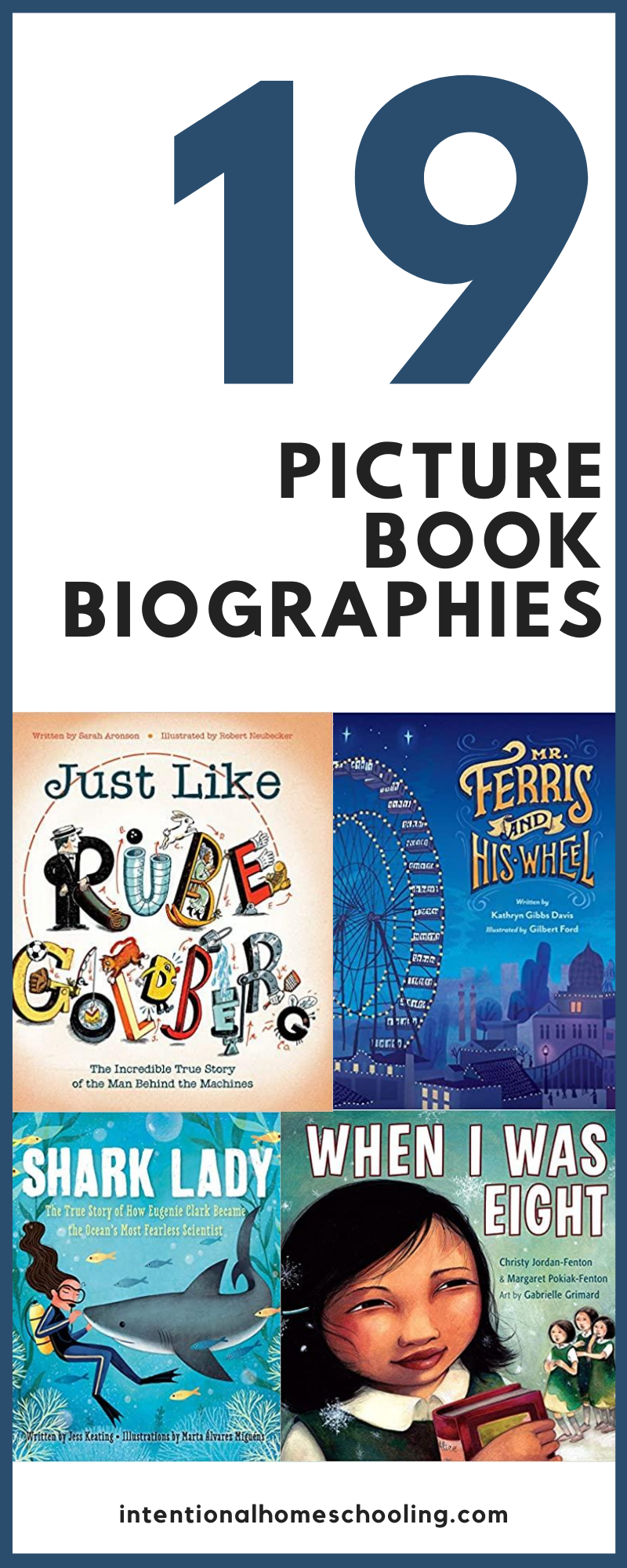 19 Picture Book Biography Stories
You've likely heard of the historic Apollo 13 moon landing. But do you know about the mathematical genius who made sure that Apollo 13 returned safely home?
As a child, Katherine Johnson loved to count. She counted the steps on the road, the number of dishes and spoons she washed in the kitchen sink, everything! Boundless, curious, and excited by calculations, young Katherine longed to know as much as she could about math, about the universe.
From Katherine's early beginnings as a gifted student to her heroic accomplishments as a prominent mathematician at NASA, Counting on Katherine is the story of a groundbreaking American woman who not only calculated the course of moon landings but, in turn, saved lives and made enormous contributions to history.
After touring a German submarine in the early 1940s, young Raye set her sights on becoming an engineer. Little did she know sexism and racial inequality would challenge that dream every step of the way, even keeping her greatest career accomplishment a secret for decades. Through it all, the gifted mathematician persisted―finally gaining her well-deserved title in history: a pioneer who changed the course of ship design forever.
The Girl With a Mind for Math: The Story of Raye Montague is the third book in a riveting educational series about the inspiring lives of amazing scientists. In addition to the illustrated rhyming tale, you'll find a complete biography, fun facts, a colorful timeline of events, and even a note from Montague herself!
purple mountains' majesty, mauvelous, jungle green, razzmatazz…
What child doesn't love to hold a crayon in their hands? But children didn't always have such magical boxes of crayons. Before Edwin Binney set out to change things, children couldn't really even draw in color.
Here's the true story of an inventor who so loved nature's vibrant colors that he found a way to bring the outside world to children – in a bright green box for only a nickel! With experimentation, and a special knack for listening, Edwin Binney and his dynamic team at Crayola created one of the world's most enduring, best-loved childhood toys – empowering children to dream in COLOR!
Dorothy Vaughan, Mary Jackson, Katherine Johnson, and Christine Darden were good at math…really good.
They participated in some of NASA's greatest successes, like providing the calculations for America's first journeys into space. And they did so during a time when being black and a woman limited what they could do. But they worked hard. They persisted. And they used their genius minds to change the world.
In this beautifully illustrated picture book edition, we explore the story of four female African American mathematicians at NASA, known as "colored computers," and how they overcame gender and racial barriers to succeed in a highly challenging STEM-based career.
When Little Mae was a child, she dreamed of dancing in space. She imagined herself surrounded by billions of stars, floating, gliding, and discovering.
She wanted to be an astronaut.
Her mom told her, "If you believe it, and work hard for it, anything is possible."
Little Mae's curiosity, intelligence, and determination, matched with her parents' encouraging words, paved the way for her incredible success at NASA as the first African American woman to travel in space.
This book will inspire other young girls to reach for the stars, to aspire for the impossible, and to persist with childlike imagination.
Most people think of mathematicians as solitary, working away in isolation. And, it's true, many of them do. But Paul Erdos never followed the usual path. At the age of four, he could ask you when you were born and then calculate the number of seconds you had been alive in his head. But he didn't learn to butter his own bread until he turned twenty. Instead, he traveled around the world, from one mathematician to the next, collaborating on an astonishing number of publications. With a simple, lyrical text and richly layered illustrations, this is a beautiful introduction to the world of math and a fascinating look at the unique character traits that made "Uncle Paul" a great man.
From the time he was a small boy in Vermont, Wilson Bentley saw snowflakes as small miracles. And he determined that one day his camera would capture for others the wonder of the tiny crystal. Bentley's enthusiasm for photographing snowflakes was often misunderstood in his time, but his patience and determination revealed two important truths: no two snowflakes are alike; and each one is startlingly beautiful. His story is gracefully told and brought to life in lovely woodcuts, giving children insight into a soul who had not only a scientist's vision and perseverance but a clear passion for the wonders of nature. Snowflake Bentley won the 1999 Caldecott Medal.
Eugenie Clark fell in love with sharks from the first moment she saw them at the aquarium. She couldn't imagine anything more exciting than studying these graceful creatures. But Eugenie quickly discovered that many people believed sharks to be ugly and scary―and they didn't think women should be scientists.
Determined to prove them wrong, Eugenie devoted her life to learning about sharks. After earning several college degrees and making countless discoveries, Eugenie wrote herself into the history of science, earning the nickname "Shark Lady." Through her accomplishments, she taught the world that sharks were to be admired rather than feared and that women can do anything they set their minds to.
An inspiring story by critically acclaimed zoologist Jess Keating about finding the strength to discover truths that others aren't daring enough to see. Includes a timeline of Eugenie's life and many fin-tastic shark facts!
As a girl coming of age during the Civil Rights Movement, Patricia Bath made it her mission to become a doctor. When obstacles like racism, poverty, and sexism threatened this goal, she persevered―brightening the world with a game-changing treatment for blindness!
The Doctor with an Eye for Eyes: The Story of Dr. Patricia Bath is the second book in a brand new educational series about the inspirational lives of amazing scientists! In addition to the illustrated rhyming tale, you'll find a complete biography, fun facts, a colorful timeline of events, and even a note from Dr. Bath herself!
Acclaimed picture book biographer Jeanette Winter has found her perfect subject: Jane Goodall, the great observer of chimpanzees. Follow Jane from her childhood in London watching a robin on her windowsill, to her years in the African forests of Gombe, Tanzania, invited by brilliant scientist Louis Leakey to observe chimps, to her worldwide crusade to save these primates who are now in danger of extinction, and their habitat. Young animal lovers and Winter's many fans will welcome this fascinating and moving portrait of an extraordinary person and the animals to whom she has dedicated her life.
When young Temple was diagnosed with autism, no one expected her to talk, let alone become one of the most powerful voices in modern science. Yet, the determined visual thinker did just that. Her unique mind allowed her to connect with animals in a special way, helping her invent groundbreaking improvements for farms around the globe!
Capturing an engineer's creative vision and mind for detail, this fully illustrated picture book biography sheds light on how the American inventor George Ferris defied gravity and seemingly impossible odds to invent the world's most iconic amusement park attraction, the Ferris wheel.
A fun, fact-filled text by Kathryn Gibbs Davis combines with Gilbert Ford's dazzling full-color illustrations to transport readers to the 1893 World's Fair, where George Ferris and his big, wonderful wheel lifted passengers to the skies for the first time.
Mary Anning loved scouring the beach near her home in England for shells and fossils. She fearlessly climbed over crumbling cliffs and rocky peaks, searching for new specimens. One day, something caught Mary's eye.
Bones. Dinosaur Bones.
Mary's discoveries rocked the world of science and helped create a brand-new field of study: paleontology. But many people believed women couldn't be scientists, so Mary wasn't given the credit she deserved. Nevertheless, Mary kept looking and learning more, making discoveries that reshaped scientific beliefs about the natural world.
Dinosaur Lady is a beautiful and brilliant picture book that will enlighten children about the discovery of the dinosaurs and the importance of female scientists. It also includes a timeline of Mary Anning's life and lots of fantastic fossil facts!
Once upon a time in France, a baby was born under the summer sun. His parents named him Jacques. As he grew, Jacques fell in love with the sea. He dreamed of breathing beneath the waves and swimming as gracefully as a fish. In fact, he longed to become a manfish. Jacques Cousteau grew up to become a champion of the seas and one of the best-known oceanographers in the world. In this lovely biography, now in paperback, poetic text and gorgeous paintings come together to create a portrait of Cousteau that is as magical as it is inspiring.
Want to become an award-winning cartoonist and inventor? Follow your dreams, just like Rube Goldberg! From a young age, Rube Goldberg had a talent for art. But his father, a German immigrant, wanted Rube to have a secure job. So, Rube went to college and became an engineer.
But Rube didn't want to spend his life mapping sewer pipes. He wanted to follow his passion, so Rube got a low-level job at a newspaper, and from there, he worked his way up, creating cartoons that made people laugh and tickled the imagination. He became known for his fantastic Rube Goldberg machines—complicated contraptions with many parts that performed a simple task in an elaborate and farfetched way. Eventually, his cartoons earned him a Pulitzer Prize and his own adjective in the dictionary. This moving biography is sure to encourage young artists and inventors to pursue their passions.
Before Terry Fox become a national hero and icon, he was just a regular kid. But even then, his characteristic strength, determination and loyalty were apparent and were the foundation for his friendship with Doug. The two first met at basketball tryouts in grammar school. Terry was the smallest – and worst – basketball player on the court. But that didn't stop him. With Doug's help, Terry practiced and practiced until he earned a spot on the team. As they grew up, the best friends supported each other, challenged each other, helped each other become better athletes and better people. Doug was by Terry's side every step of the way: when Terry received a diagnosis of cancer in his leg, when he was learning to walk – then run – with a prosthetic leg and while he was training for the race of his life, his Marathon of Hope.
Michael Jordan.
The mere mention of the name conjures up visions of basketball played at its absolute best. But as a child, Michael almost gave up on his hoop dreams, all because he feared he'd never grow tall enough to play the game that would one day make him famous. That's when his mother and father stepped in and shared the invaluable lesson of what really goes into the making of a champion — patience, determination, and hard work.
Deloris Jordan, mother of the basketball phenomenon, teams up with his sister Roslyn to tell this heartwarming and inspirational story that only the members of the Jordan family could tell. It's a tale about faith and hope and how any family working together can help a child make his or her dreams come true.
Bestselling memoir Fatty Legs for younger readers. Olemaun is eight and knows a lot of things. But she does not know how to read. Ignoring her father's warnings, she travels far from her Arctic home to the outsiders' school to learn. The nuns at the school call her Margaret. They cut off her long hair and force her to do menial chores, but she remains undaunted. Her tenacity draws the attention of a black-cloaked nun who tries to break her spirit at every turn. But the young girl is more determined than ever to learn how to read. Based on the true story of Margaret Pokiak-Fenton, and complemented by stunning illustrations, When I Was Eight makes the bestselling Fatty Legs accessible to younger readers. Now they, too, can meet this remarkable girl who reminds us what power we hold when we can read.
From a very young age, Sue Hendrickson was meant to find things: lost coins, perfume bottles, even hidden treasure. Her endless curiosity eventually led to her career in diving and paleontology, where she would continue to find things big and small. In 1990, at a dig in South Dakota, Sue made her biggest discovery to date: Sue the T. rex, the largest and most complete T. rex skeleton ever unearthed. Named in Sue's honor, Sue the T. rex would be placed on permanent exhibition at the Field Museum of Natural History in Chicago. When Sue Found Sue inspires readers to take a closer look at the world around them and to never lose their brave, adventurous spirits.
What are some of your favorite picture book biographies?