Today I thought I would show you a little library haul!
Since our library has a limit of 100 books per card we make good use of our library.
I know not everyone has such a great library service so I thought it may be helpful to see inside some of the books we've gotten recently.
There really is no theme to the books I'm sharing, it's just some we've been enjoying, there are some graphic novels, non-fiction, STEM books, poetry and more!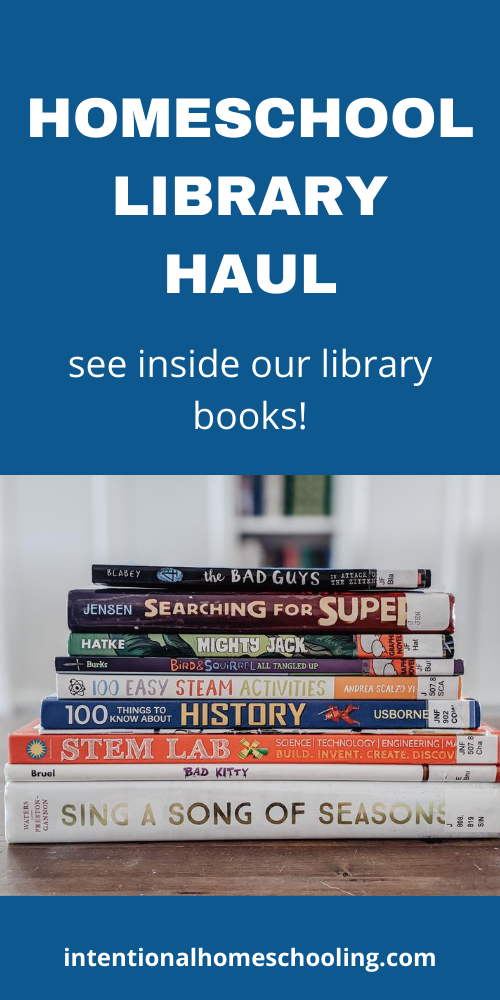 BOOKS MENTIONED
Jack might be the only kid in the world who's dreading summer. But he's got a good reason: summer is when his single mom takes a second job and leaves him at home to watch his autistic kid sister, Maddy. It's a lot of responsibility, and it's boring, too, because Maddy doesn't talk. Ever. But then, one day at the flea market, Maddy does talk―to tell Jack to trade their mom's car for a box of mysterious seeds. It's the best mistake Jack has ever made.
In Mighty Jack, what starts as a normal little garden out back behind the house quickly grows up into a wild, magical jungle with tiny onion babies running amok, huge, pink pumpkins that bite, and, on one moonlit night that changes everything…a dragon.
Savvy meets The Incredibles in this engaging, laugh-out-loud sequel to the critically acclaimed Almost Super. Filled with heart and humor, Searching for Super is a family adventure of heroic proportions.
The superheroes of Split Rock are hunkering down, which is really just a fancy way of saying they're hiding. Ever since those supervillainous Joneses took away their real powers, the Baileys and the Johnsons have been living in fear. But Rafter has had a taste of what saving the day feels like, and now he's desperate to do something important.
So when he gets an opportunity to fight with a real superpower—as long as he promises not to tell his parents—he is going to take it, no questions asked. With the help of his brother Benny, his cousin Thimon, and his best friend, Juanita, Rafter Bailey is searching for super.
Bird and Squirrel add a new member to the adventuring team: Squirrel's daughter, BIRDIE!!!
When Red has to go spend the night helping Grandmole, Bird and Squirrel are put in charge of taking care of Squirrel's daughter, Birdie. But Birdie wants to go with her mom because staying home is so BORING! So Bird convinces Squirrel (despite his better judgment) to have some fun while Red is gone. And as far as Bird is concerned, nothing is more fun than setting off in search of the most elusive creature of the forest: Bigfoot! And even though Squirrel teaches Birdie that being prepared is always best, nothing can prepare them for the crazy adventures ahead!
They may look like Bad Guys, but these wannabe heroes are doing good deeds…whether you like it or not! This New York Times bestselling illustrated series is perfect for fans of Dog Man and Captain Underpants.
It's a zombie kitten apocalypse!
Can the Bad Guys save the world from evil Dr. Marmalade's meowing monsters?!? They'll need help from foxy Agent Fox, a swampy secret zombie antidote, and the feistiest, toothiest, hungriest granny around. Get ready to watch the fur fly!
In their fourth adventure, the Flying Beaver Brothers set off in their sailboat to enjoy some well-deserved rest and relaxation at nearby the island. But the birds and bunnies who live on Little Beaver Island have other ideas. Before long, Ace and Bub find themselves embroiled in an all-out war between the feathers and the fuzz. Can the Flying Beaver Brothers bring peace to Little Beaver Island?
Did you know that mammoths and pharaohs walked the earth at the same time? Or that over 30 types of gladiators fought in ancient Rome? This fascinating book is filled with 100 historical facts, bright, infographic-style illustrations, a glossary and index. There are also links to specially selected websites with video clips and more information.
Spark your curiosity with these fun games and creative projects to learn early concepts in Science, Technology, Engineering, Art and Math. These incredible activities from Andrea Scalzo Yi, creator of Raising Dragons, make learning such a blast, you'll forget you're doing it!
Feeling bored on a rainy day? Now you can pick a project, gather your supplies and let the magic happen. Try far-out science experiments like making Shaving Cream Rain Clouds or Lava Lamps. Make math-time snack-time with delicious Cream-Filled Cookie Fractions. Unlock boundless creativity with art projects like Marbled Paper or Monster Bugs. With seasonal activities like the Pool Noodle Obstacle Course and Erupting Pumpkins, there are games to love year-round.
Have fun learning early ideas in chemistry, physics, computing, color-mixing and so much more, all while problem-solving and working together with friends. With projects that use common household items and require little adult supervision, 100 Easy STEAM Activities is the ultimate resource for an amazing, creative day of learning.
Farmer Brown
has a problem.
His cows like to type.
All day long he hears
Click, clack, MOO.
Click, clack, MOO.
Clickety, clack, MOO.
But Farmer Brown's problems REALLY begin when his cows start leaving him notes….
Doreen Cronin's understated text and Betsy Lewin's expressive illustrations make the most of this hilarious situation. Come join the fun as a bunch of literate cows turn Farmer Brown's farm upside down.
From the creator of The New York Times bestseller Boing! comes the riotous story of a cat gone berserk — four times over an in alphabetical order each time. Kitty is not happy when she's told that her favorite foods are all gone and all that's left are Asparagus, Beets, Cauliflower, Dill…and 22 other equally unappealing vegetables. So she: Ate my homework, Bit grandma, Clawed the curtains, Damaged the dishes, and so on, through Z. Only when tastier things arrive (An Assortment of Anchovies, Buffalo Burritos, Chicken Cheesecake…) does she Apologize to Grandma.
STEM Lab is packed with 25 exciting STEM activities, perfect for firing up kids' imaginations. Explore and discover beautifully illustrated science activities with an easy to follow guide that will explain how science, technology, engineering and math shape the world around us.
A perfect balance between education and fun, STEM Lab teaches young readers through each experiment, describing the science behind it and providing engaging STEM facts. The richly illustrated activities promote further thinking by suggested "Test and Tweak" notes. Encourage young readers to take their projects to the next level, while furthering their understanding of the science behind it.
Each activity has its own 'How It Works" section covering STEM principles to help young minds understand answers to their science curiosity, exercising cognitive thinking and problem-solving skills.
Sing a Song of Seasons is a lavishly illustrated collection of 366 nature poems — one for every day of the year. Filled with familiar favorites and new discoveries written by a wide variety of poets, including William Shakespeare, Emily Dickinson, John Updike, Langston Hughes, N. M. Bodecker, Okamoto Kanoko, and many more, this is the perfect book for children (and grown-ups!) to share at the beginning or the end of the day.