A couple times a year I like to make a list of the books my kids have each been reading in the last few months.
Today I'm going to share some great middle grade books. These are some that my daughter, who is in grade five, has been enjoying lately.
Some of these she's on to the second, third or fourth book in the series already but I'll just share the info for book one since it doesn't make sense to share about books that are later in the series.
I think these books would be good for most kids from grade four through six (and up, honestly, I'm an adult and I really enjoy some of the books on this list, some of them made it onto my list of middle grade books adults will like).
If you are looking for middle grade book lists, here are a few more you may want to check out: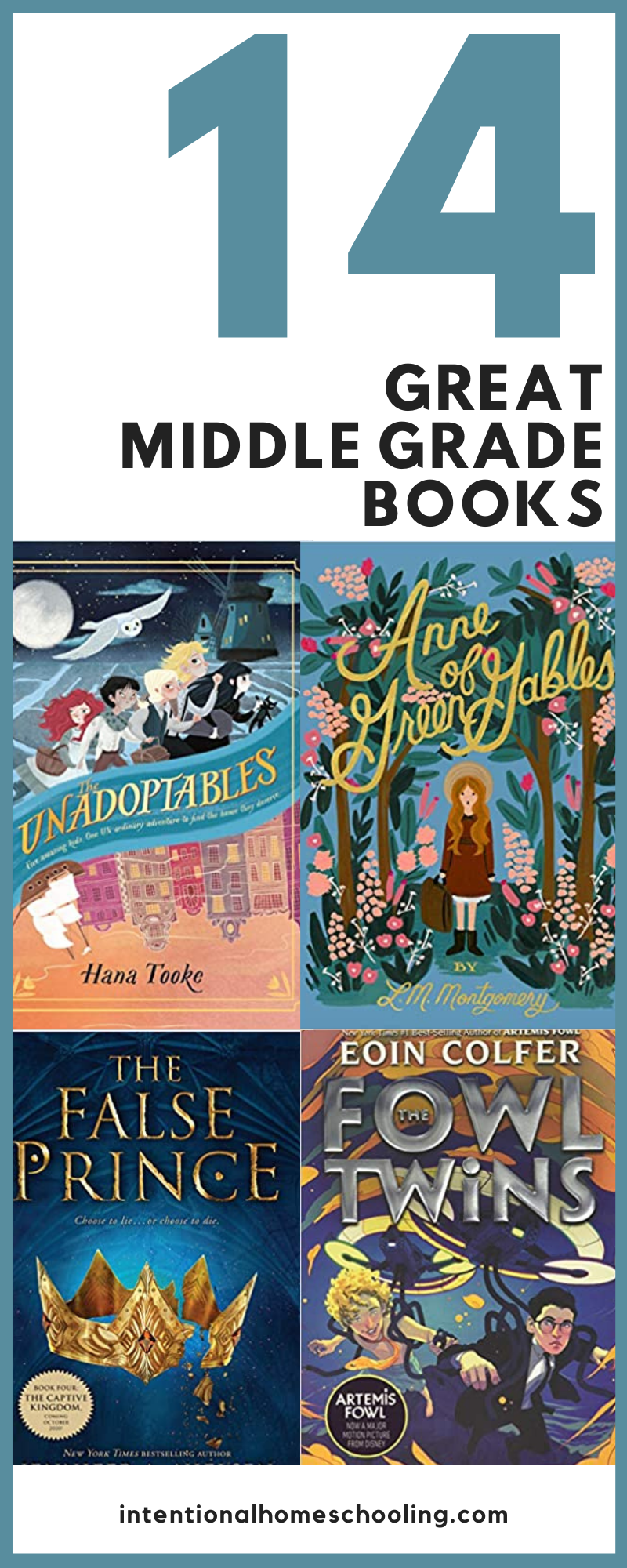 14 Great Books for Grades 4, 5 & 6
My daughter read this book a few months ago and just got book two for Christmas.
Brooke is the perfect older sister. For that reason, Kari and Ashley work hard to make their parents just as proud of them as they are of Brooke. Each girl has her own talents. Brooke is an excellent student. Kari is a great soccer player. Ashley, a talented artist. And they are always there for each other. But when the news comes that Dr. Baxter is moving the family from Ann Arbor to Bloomington, Indiana, and the Baxters need to leave the only home and friends they've ever known, no one is happy. Saying goodbye is hard but the family still has what's most important—their faith and their love for each other.
She just flew through this book and enjoyed it so much.
In all the years that Elinora Gassbeek has been matron of the Little Tulip Orphanage, not once have the Rules for Baby Abandonment been broken. Until the autumn of 1880, when five babies are left in outrageous circumstances; one in a tin toolbox, one in a coal bucket, one in a picnic hamper, one in a wheat sack, and finally, one in a coffin-shaped basket.
Those babies were Lotta, Egg, Fenna, Sem, and Milou. And although their cruel matron might think they're "unadoptable," they know their individuality is what makes them special–and so determined to stay together.
When a most sinister gentleman appears and threatens to tear them apart, the gang make a daring escape across the frozen canals of Amsterdam. But is their real home–and their real family–already closer than they realize?
This is a fun and quick read.
It's been five years since Livy and her family have visited Livy's grandmother in Australia. Now that she's back, Livy has the feeling she's forgotten something really, really important about Gran's house.
It turns out she's right.
Bob, a short, greenish creature dressed in a chicken suit, didn't forget Livy, or her promise. He's been waiting five years for her to come back, hiding in a closet like she told him to. He can't remember who―or what―he is, where he came from, or if he even has a family. But five years ago Livy promised she would help him find his way back home. Now it's time to keep that promise.
Clue by clue, Livy and Bob will unravel the mystery of where Bob comes from, and discover the kind of magic that lasts forever.
My daughter read this entire series and loved all of the books!
In a discontented kingdom, civil war is brewing. To unify the divided people, Conner, a nobleman of the court, devises a cunning plan to find an impersonator of the king's long-lost son and install him as a puppet prince. Four orphans are recruited to compete for the role, including a defiant boy named Sage. Sage knows that Conner's motives are more than questionable, yet his life balances on a sword's point — he must be chosen to play the prince or he will certainly be killed. But Sage's rivals have their own agendas as well.
As Sage moves from a rundown orphanage to Conner's sumptuous palace, layer upon layer of treachery and deceit unfold, until finally, a truth is revealed that, in the end, may very well prove more dangerous than all of the lies taken together.
A fun fantasy story!
Morrigan Crow is cursed. Having been born on Eventide, the unluckiest day for any child to be born, she's blamed for all local misfortunes, from hailstorms to heart attacks–and, worst of all, the curse means that Morrigan is doomed to die at midnight on her eleventh birthday.
But as Morrigan awaits her fate, a strange and remarkable man named Jupiter North appears. Chased by black-smoke hounds and shadowy hunters on horseback, he whisks her away into the safety of a secret, magical city called Nevermoor.
It's then that Morrigan discovers Jupiter has chosen her to contend for a place in the city's most prestigious organization: the Wundrous Society. In order to join, she must compete in four difficult and dangerous trials against hundreds of other children, each with an extraordinary talent that sets them apart–an extraordinary talent that Morrigan insists she does not have. To stay in the safety of Nevermoor for good, Morrigan will need to find a way to pass the tests–or she'll have to leave the city to confront her deadly fate.
It's such a classic!
As soon as Anne Shirley arrives at the snug white farmhouse called Green Gables, she is sure she wants to stay forever . . . but will the Cuthberts send her back to to the orphanage? Anne knows she's not what they expected—a skinny girl with fiery red hair and a temper to match. If only she can convince them to let her stay, she'll try very hard not to keep rushing headlong into scrapes and blurting out the first thing that comes to her mind. Anne is not like anyone else, the Cuthberts agree; she is special—a girl with an enormous imagination. This orphan girl dreams of the day when she can call herself Anne of Green Gables
She had a lot of fun with this story.
A girl discovers her boarding school is actually an elite spy-training program, and she must learn the skills of the trade in order to find her mother in this action-packed middle grade debut that's perfect for fans of Stu Gibbs.
After a botched escape plan from her boarding school, Abigail is stunned to discover the school is actually a cover for an elite spy ring called The Center, along with being training grounds for future spies. Even more shocking? Abigail's mother is a top agent for The Center and she has gone MIA, with valuable information that many people would like to have—at any cost. Along with a former nemesis and charming boy from her grade, Abigail goes through a crash course in Spy Training 101, often with hilarious—and sometimes painful—results.
But Abigail realizes she might be a better spy-in-training than she thought—and the answers to her mother's whereabouts are a lot closer than she thinks…
A Beverly Cleary that isn't shared much but she really enjoys.
Mitch and Amy both think being twins is fun, but that doesn't stop them from squabbling. Amy is good at reading. Mitch is a math whiz. Amy likes to play pretend. Mitch would rather skateboard. They never want to watch the same television show. And they always try to get the better of each other.
Then the school bully starts picking on Mitch — and on Amy, too. Now the twins have something rotten in common: Alan Hibbler. This twosome must set aside their squabbles and band together to defeat a bully!
Another fantasy series, there are a few of them on this list!
An extraordinary debut weaving magic and heroism into a classic tale of good and evil, featuring a heroine you'll never forget. Inquisitive twelve-year-old Alexa Daley is spending another summer in the walled town of Bridewell. This year, she is set on solving the mystery of what lies beyond the walls. Legend says the walls were built to keep out an unnamed evil that lurks in the forests and The Dark Hills. But what exactly is it that the townspeople are so afraid of? As Alexa begins to unravel the truth, pushing beyond the protective barrier she's lived behind all her life, she discovers a strange and ancient enchantment — and exposes a danger that could destroy everything she holds dear.
One week after their eleventh birthday, the Fowl twins–scientist Myles, and Beckett, the force of nature–are left in the care of house security (NANNI) for a single night. In that time they befriend a troll who has clawed his way through the earth's crust to the surface. Unfortunately for the troll, he is being chased by a nefarious nobleman and an interrogating nun, who both need the magical creature for their own gain, as well as a fairy-in-training who has been assigned to protect him.
The boys and their new troll best friend escape and go on the run. Along the way they get shot at, kidnapped, buried, arrested, threatened, killed (temporarily), and discover that the strongest bond in the world is not the one forged by covalent electrons in adjacent atoms, but the one that exists between a pair of twins.
Alex and Conner Bailey's world is about to change, in this fast-paced adventure that uniquely combines our modern day world with the enchanting realm of classic fairy tales.
The Land of Stories tells the tale of twins Alex and Conner. Through the mysterious powers of a cherished book of stories, they leave their world behind and find themselves in a foreign land full of wonder and magic where they come face-to-face with fairy tale characters they grew up reading about.
But after a series of encounters with witches, wolves, goblins, and trolls alike, getting back home is going to be harder than they thought.
When Brystal Evergreen stumbles across a secret section of the library, she discovers a book that introduces her to a world beyond her imagination and learns the impossible: She is a fairy capable of magic! But in the oppressive Southern Kingdom, women are forbidden from reading and magic is outlawed, so Brystal is swiftly convicted of her crimes and sent to the miserable Bootstrap Correctional Facility.
But with the help of the mysterious Madame Weatherberry, Brystal is whisked away and enrolled in an academy of magic! Adventure comes with a price, however, and when Madame Weatherberry is called away to attend to an important problem she doesn't return.
Do Brystal and her classmates have what it takes to stop a sinister plot that risks the fate of the world, and magic, forever?
What if you could find a way to enter another reality full of wild and life changing adventure? And what if every time you fell asleep you woke up in that other reality? Welcome to the world of Theo Dunnery, a twelve year-old boy who feels alone and full of fear when he stumbles on an ancient book that draws him into another world.
In that world, he learns he must complete a quest to find the Five Seals of Truth if he is to conquer his fears. Facing great odds and many enemies, Theo sets off on the adventure of a lifetime to discover who he really is as the son of Elyon, and overcome the darkness that has haunted him for so long.
Join Theo on The Dream Traveler's Quest, one story told in four chapter books. Read all four and discover the truth for yourself.
Twelve-year-old Sophie has never quite fit into her life. She's skipped multiple grades and doesn't really connect with the older kids at school, but she's not comfortable with her family, either. The reason? Sophie's a Telepath, someone who can read minds. No one knows her secret—at least, that's what she thinks…
But the day Sophie meets Fitz, a mysterious (and adorable) boy, she learns she's not alone. He's a Telepath too, and it turns out the reason she has never felt at home is that, well…she isn't. Fitz opens Sophie's eyes to a shocking truth, and she is forced to leave behind her family for a new life in a place that is vastly different from what she has ever known.
But Sophie still has secrets, and they're buried deep in her memory for good reason: The answers are dangerous and in high-demand. What is her true identity, and why was she hidden among humans? The truth could mean life or death—and time is running out.
What are some other great books you think my daughter would enjoy?
If you are looking for middle grade book lists, here are a few more you may want to check out: