12 of the Best Chapter Books for Grade Four
Back in my short lived school teaching career I always thought grade four was the best age.
Kids are still young enough where they liked school but old enough they caught on to sarcasm.
It was like the sweet spot as far as ages go.
Well, now my oldest is officially done grade four and I have to say, it was a great year!
Since we added fostering into the mix this year things looked a lot different than I imagined they would, but one thing stayed the same: she read (and listened to) a lot of books.
I asked her to share her favorite books from the year and this list is the result!
She chose these twelve books as her favorite reads from the year and that's pretty high praise since she had a lot of books to choose from.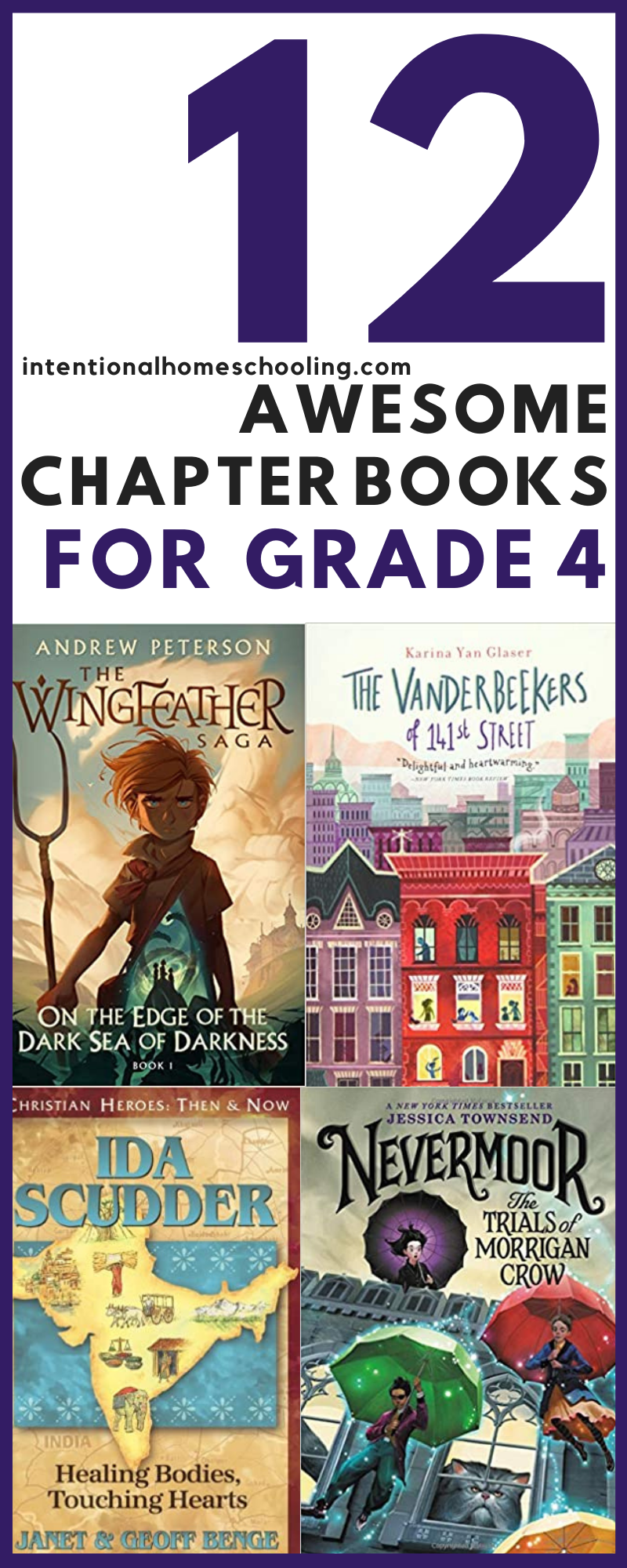 12 of the Best Chapter Books and Read Alouds for Grade Four
This is one of her absolute favorite books/series'. She hasn't stopped raving about it and has listened to the whole series multiple times (this year alone).
Heather and Picket are extraordinary rabbits with ordinary lives until calamitous events overtake them, spilling them into a cauldron of misadventures. They discover that their own story is bound up in the tumult threatening to overwhelm the wider world.
Kings fall and kingdoms totter. Tyrants ascend and terrors threaten. Betrayal beckons, and loyalty is a broken road with peril around every bend.
Where will Heather and Picket land? How will they make their stand?
Another one of her favorites, she says out of the whole series Penderwicks in Spring is her favorite though you really should read the series in order.
This summer the Penderwick sisters have a wonderful surprise: a holiday on the grounds of a beautiful estate called Arundel. Soon they are busy discovering the summertime magic of Arundel's sprawling gardens, treasure-filled attic, tame rabbits, and the cook who makes the best gingerbread in Massachusetts. But the best discovery of all is Jeffrey Tifton, son of Arundel's owner, who quickly proves to be the perfect companion for their adventures.
The icy-hearted Mrs. Tifton is not as pleased with the Penderwicks as Jeffrey is, though, and warns the new friends to stay out of trouble. Which, of course, they will—won't they? One thing's for sure: it will be a summer the Penderwicks will never forget.
She's gone through Narnia a few times and I love that it is still one of her favorites.
Fantastic creatures, heroic deeds, epic battles in the war between good and evil, and unforgettable adventures come together in this world where magic meets reality, which has been enchanting readers of all ages for over sixty years. The Chronicles of Narnia has transcended the fantasy genre to become a part of the canon of classic literature.
We listened to this series as a family and I think I would put this as my favorite middle grade series ever.
Janner Igiby, his brother, Tink, and their disabled sister, Leeli, are gifted children as all children are, loved well by a noble mother and ex-pirate grandfather. But they will need all their gifts and all that they love to survive the evil pursuit of the venomous Fangs of Dang, who have crossed the dark sea to rule the land with malice. The Igibys hold the secret to the lost legend and jewels of good King Wingfeather of the Shining Isle of Anniera.
I love the mix of pictures and text in Brian Selznick's books.
Orphan, clock keeper, and thief, Hugo lives in the walls of a busy Paris train station, where his survival depends on secrets and anonymity. But when his world suddenly interlocks with an eccentric, bookish girl and a bitter old man who runs a toy booth in the station, Hugo's undercover life, and his most precious secret, are put in jeopardy. A cryptic drawing, a treasured notebook, a stolen key, a mechanical man, and a hidden message from Hugo's dead father form the backbone of this intricate, tender, and spellbinding mystery.
This is one of those books she hasn't stopped talking about since reading, she keeps telling me I need to read it (so I should really get on that).
Esperanza thought she'd always live a privileged life on her family's ranch in Mexico. She'd always have fancy dresses, a beautiful home filled with servants, and Mama, Papa, and Abuelita to care for her. But a sudden tragedy forces Esperanza and Mama to flee to California and settle in a Mexican farm labor camp. Esperanza isn't ready for the hard work, financial struggles brought on by the Great Depression, or lack of acceptance she now faces. When Mama gets sick and a strike for better working conditions threatens to uproot their new life, Esperanza must find a way to rise above her difficult circumstances-because Mama's life, and her own, depend on it.
This was a fun fantasy series, she flew through book one and two and book three is being released later this year!
Morrigan Crow is cursed. Having been born on Eventide, the unluckiest day for any child to be born, she's blamed for all local misfortunes, from hailstorms to heart attacks–and, worst of all, the curse means that Morrigan is doomed to die at midnight on her eleventh birthday.
But as Morrigan awaits her fate, a strange and remarkable man named Jupiter North appears. Chased by black-smoke hounds and shadowy hunters on horseback, he whisks her away into the safety of a secret, magical city called Nevermoor.
It's then that Morrigan discovers Jupiter has chosen her to contend for a place in the city's most prestigious organization: the Wundrous Society. In order to join, she must compete in four difficult and dangerous trials against hundreds of other children, each with an extraordinary talent that sets them apart–an extraordinary talent that Morrigan insists she does not have. To stay in the safety of Nevermoor for good, Morrigan will need to find a way to pass the tests–or she'll have to leave the city to confront her deadly fate.
My kids both love Roald Dahl, apparently this one was her favorite this year.
Danny has a life any boy would love—his home is a gypsy caravan, he's the youngest master car mechanic around, and his best friend is his dad, who never runs out of wonderful stories to tell. But one night Danny discovers a shocking secret that his father has kept hidden for years. Soon Danny finds himself the mastermind behind the most incredible plot ever attempted against nasty Victor Hazell, a wealthy landowner with a bad attitude. Can they pull it off? If so, Danny will truly be the champion of the world.
We love this series and she picked two of her favorites from this year.
Ida stamped her foot. Her friends were wrong. "I will not be a missionary to India like my parents!" she retorted. "Don't any of you say I will be, because I won't — never, ever, ever." Ida had never forgotten the faces of starving Indian children. She hated India — it was full of horrible situations she could do nothing about.
Ida Scudder was sure she would never follow in the footsteps of her medical missionary father. But when she witnessed Indian women dying because their religious beliefs didn't allow male doctors to treat them, Ida heard herself pray, "God, if You want me to, I will spend the rest of my life in India trying to help these women."
Serving for nearly sixty years, Dr. Ida Scudder lived out the truth and compassion found in Christ. She pioneered a first-rate medical school and hospital, brought life-saving health care to rural people, and left an inspiring legacy that still touches missions of people each year with healing and hope.
"Do you mean to say you have no food for tomorrow?" the Egyptian man sputtered. "Well, yes," Lillian replied. The man exclaimed, "How awful! Will you be able to sleep tonight?" One of the orphan girls laughed out loud and said, "Why, Mama never has any food for tomorrow, and she never loses sleep over it!"
"When Lillian Trasher founded Egypt's first orphanage, others thought that a lone American woman with no means of support would surely be killed or starve to death. But Lillian – certain of God's guidance – stood by her earlier promise to Him, 'If ever I can do anything for You, just let me know – and I'll do it.'
In the midst of poverty, war, and deadly epidemics, Lillian faced each day with a heart of trust, modeling the life she hoped her children would someday live in their own homes. During fifty tumultuous years, the Mother of the Nile cared for thousands of desperate children, with unwavering faith that God does indeed look after the orphans.
We listened to book one together as a family and then she continued on with the rest of the series. Book one takes place just before Christmas and so it makes a good read aloud in December.
The Vanderbeekers have always lived in the brownstone on 141st Street. It's practically another member of the family. So when their reclusive, curmudgeonly landlord decides not to renew their lease, the five siblings have eleven days to do whatever it takes to stay in their beloved home and convince the dreaded Beiderman just how wonderful they are. And all is fair in love and war when it comes to keeping their home.
Her and I both flew through Furthermore recently. She's currently reading book two and I'm waiting for her to be done so I can get to it.
There are only three things that matter to twelve-year-old Alice Alexis Queensmeadow: Mother, who wouldn't miss her; magic and color, which seem to elude her; and Father, who always loved her. The day Father disappears from Ferenwood he takes nothing but a ruler with him. But it's been almost three years since then, and Alice is determined to find him. She loves her father even more than she loves adventure, and she's about to embark on one to find the other.
But bringing Father home is no small matter. In order to find him she'll have to travel through the mythical, dangerous land of Furthermore, where down can be up, paper is alive, and left can be both right and very, very wrong. It will take all of Alice's wits (and every limb she's got) to find Father and return home to Ferenwood in one piece. On her quest to find Father, Alice must first find herself–and hold fast to the magic of love in the face of loss.