Our 12 Favorite Family Read Alouds from 2018
Here's my first list of our favorite books form 2018! Soon I'll share my favorite reads as well as our favorite picture books, but today it's the chapter books.
If you've read any of my chapter book lists in the past you'll know that I have struggled with reading chapter books aloud in the past and while I wouldn't say that I am great at it now I would say I improved by leaps and bounds this last year.
It turns out I now know the secret to getting better at reading chapter books aloud: practice. No real surprise there.
If you have struggled with with reading aloud in the past, one my favorite tricks is audiobooks. A lot of our favorites from this year we listened to on audio and you can read my best audiobook tips.

We really enjoyed a lot of books this year and a fairly wide variety too. We read everything from silly fiction to serious non-fiction and thoroughly enjoyed both types.
I would love to hear if any of these are your favorites as well!
OUR FAMILY FAVORITE READ ALOUDS FROM 2018

This book actually made it on to our list of Ten Funny Chapter Books, it has been one of Ephraim's favorites from this year.
The story of what happens when a small town house painter receives a penguin from Antarctica as a gift. A silly story that involves a troop of penguins and a show they take across the country.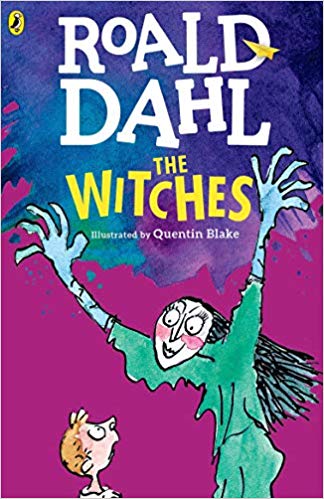 I read this book to the kids in October, I had not read it previously and I wondered if it would be kind of creepy but we read it and had a lot of fun with it and it turns out it was just completely hilarious.
This is not a fairy tale. This is about real witches.
Grandmamma loves to tell about witches. Real witches are the most dangerous of all living creatures on earth. There's nothing they hate so much as children, and they work all kinds of terrifying spells to get rid of them. Her grandson listens closely to Grandmamma's stories—but nothing can prepare him for the day he comes face-to-face with The Grand High Witch herself!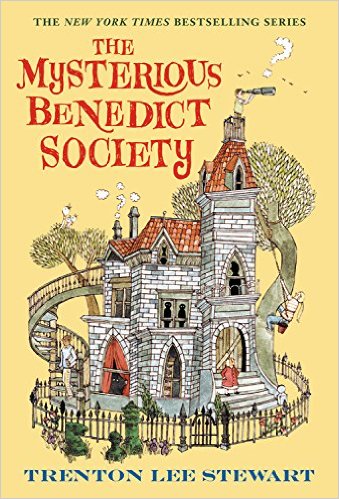 We enjoyed this one so much that we continued on to book two!
"Are you a gifted child looking for special opportunities?" Dozens of children respond to this peculiar ad in the newspaper and are then put through a series of mind-bending tests, which readers take along with them. Only four children–two boys and two girls–succeed. Their challenge: to go on a secret mission that only the most intelligent and inventive children could complete. To accomplish it they will have to go undercover at the Learning Institute for the Very Enlightened, where the only rule is that there are no rules. But what they'll find in the hidden underground tunnels of the school is more than your average school supplies. So, if you're gifted, creative, or happen to know Morse Code, they could probably use your help.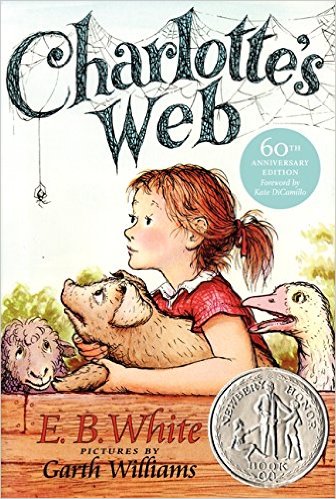 This is actually our second time through this book, it's one that I recommend as a great first read aloud novel.
Some Pig. Humble. Radiant. These are the words in Charlotte's Web, high up in Zuckerman's barn. Charlotte's spiderweb tells of her feelings for a little pig named Wilbur, who simply wants a friend. They also express the love of a girl named Fern, who saved Wilbur's life when he was born the runt of his litter.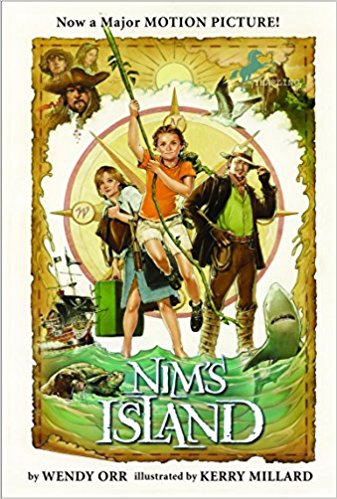 I can't believe this was my first time reading this book, it was so fun and while the book is better than the movie we enjoyed the movie as well.
A girl. An iguana. An island. And e-mail. Meet Nim–a modern-day Robinson Crusoe! She can chop down bananas with a machete, climb tall palm trees, and start a fire with a piece of glass. So she's not afraid when her scientist dad sails off to study plankton for three days, leaving her alone on their island. Besides, it's not as if no one's looking after her–she's got a sea lion to mother her and an iguana for comic relief. She also has an interesting new e-mail pal. But when her father's cell-phone calls stop coming and disaster seems near, Nim has to be stronger and braver than she's ever been before.
And she'll need all her friends to help her.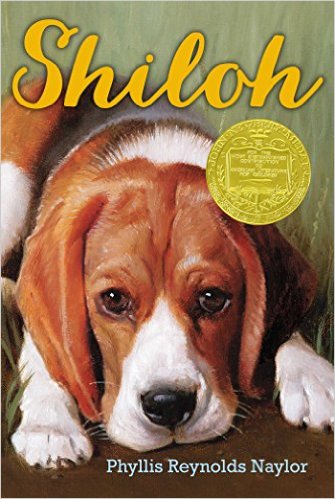 This one may have choked me up a little, why did I decide to read this one aloud??? Oh yeah, cause it's so good. Disclaimer: there are a few minor swear words in this book, another reason I was glad I was reading it aloud, I just skipped over those or inserted my own, more appropriate words.
When Marty Preston comes across a young beagle in the hills behind his home, it's love at first sight—and also big trouble. It turns out the dog, which Marty names Shiloh, belongs to Judd Travers, who drinks too much and has a gun—and abuses his dogs. So when Shiloh runs away from Judd to Marty, Marty just has to hide him and protect him from Judd. But Marty's secret becomes too big for him to keep to himself, and it exposes his entire family to Judd's anger. How far will Marty have to go to make Shiloh his?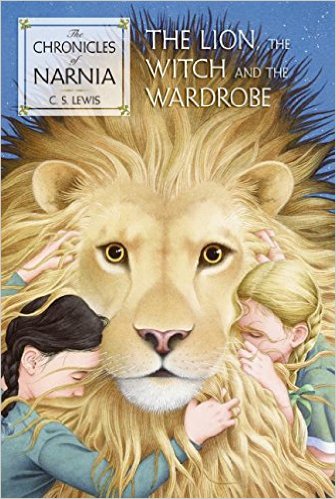 This was another book we went through for the second time, it's one of my absolute favorites.
The Lion, The Witch and The Wardrobe
Four adventurous siblings—Peter, Susan, Edmund, and Lucy Pevensie—step through a wardrobe door and into the land of Narnia, a land frozen in eternal winter and enslaved by the power of the White Witch. But when almost all hope is lost, the return of the Great Lion, Aslan, signals a great change . . . and a great sacrifice.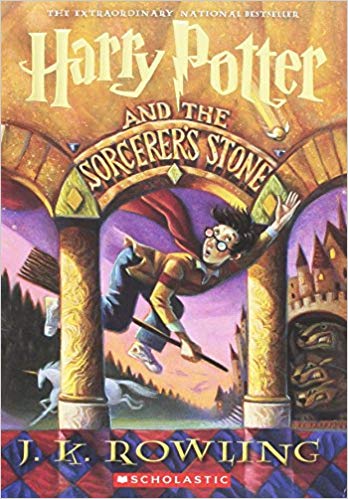 This year was my first time reading this book. I read it on my own first because I felt like I had heard such conflicting views on it for so long. I though my fantasy-loving girl would enjoy the book and I was right! After doing a little research I am going to let her read the first three books for now and then wait a little before she is allowed to move along.
Harry Potter has no idea how famous he is. That's because he's being raised by his miserable aunt and uncle who are terrified Harry will learn that he's really a wizard, just as his parents were. But everything changes when Harry is summoned to attend an infamous school for wizards, and he begins to discover some clues about his illustrious birthright. From the surprising way he is greeted by a lovable giant, to the unique curriculum and colorful faculty at his unusual school, Harry finds himself drawn deep inside a mystical world he never knew existed and closer to his own noble destiny.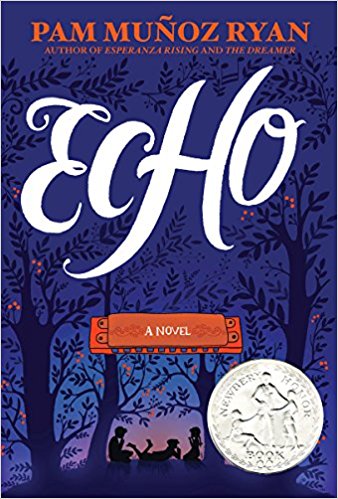 I cannot say enough good things about this book. This one that you HAVE TO listen to on audio, it is absolutely stunning. This would definitely go down as my favorite "read aloud" (okay, audiobook) from the year.
Lost and alone in a forbidden forest, Otto meets three mysterious sisters and suddenly finds himself entwined in a puzzling quest involving a prophecy, a promise, and a harmonica.
Decades later, Friedrich in Germany, Mike in Pennsylvania, and Ivy in California each, in turn, become interwoven when the very same harmonica lands in their lives. All the children face daunting challenges: rescuing a father, protecting a brother, holding a family together. And ultimately, pulled by the invisible thread of destiny, their suspenseful solo stories converge in an orchestral crescendo.
Richly imagined and masterfully crafted, Echo pushes the boundaries of genre, form, and storytelling innovation to create a wholly original novel that will resound in your heart long after the last note has been struck.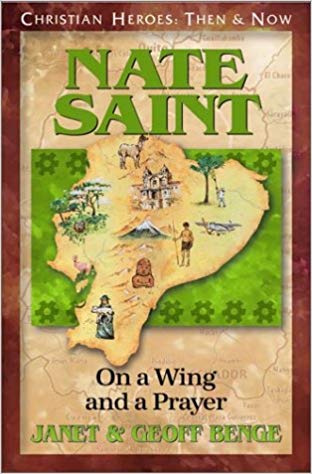 We love the Christian Heroes series, this story is one of my personal favorites.
"Seven-year-old Nate Saint peered wide-eyed over the cockpit of his older brother Sam's Challenger biplane. The eastern Pennsylvania countryside was spread out neatly below him like a fine tablecloth. Nate was determined to remember every moment of this first high-flying adventure."
Flying soon captured Nate's heart. His air service ministry to isolated missionaries put him on a path of destiny that would ultimately end with a final airplane flight with 4 missionary friends to the "Palm Beach" landing strip in the jungles of Ecuador.
The men's lives given that day not only opened a door to the gospel for the unreached "Acucas"; it has been said that possibly no single event of the twentieth century awakened more hearts to God's call to serve in missions.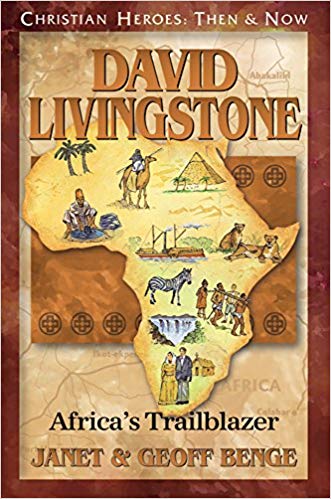 This was a fascinating read for us because of our family ties to South Africa.
The lion's jaws gripped David Livingstone's arm. Razor-sharp teeth pierced his flesh as the lion savagely shook David in the air like a rag doll. A gunshot rang out. "God help us," David moaned, as the lion dropped him and turned to charge David's friend Mebalwe.
With the heart of an explorer and the passion of an evangelist, David Livingstone mapped vast, unexplored areas of Africa, sharing the gospel with whomever he encountered. His stamina, perserverance, and dogged determination created the legacy of a trailblazing explorer with an undying hunger to make Christ known wherever his steps led him.
David Livingstone's captivating adventures and tireless zeal continue to inspire countless men and women to bring the gospel message of God's love to those souls who have never heard.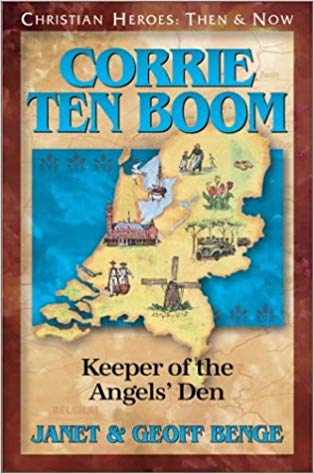 Another one of my favorites in this series!
Suddenly, Corrie's ordered life was lost in the insanity of war. With bravery and compassion, her family and countless other Dutch citizens risked everything to extend God's hand to those innocents marked for certain execution in a world gone mad.
Corrie ten Boom's life of determination, faith, and forgiveness in the face of unimaginable brutality and hardship is a stunning testimony to the sustaining power of God.
What were your favorite family read alouds from the last year?