Anticipated Middle Grade Releases: June-December 2021
At the beginning of the year I shared a list of middle grade books releasing for the first few months of the year and now I wanted to do a new list for books releasing in the second half of the year!
I really like middle grade books as an adult which I think is a good thing because then I can proof-read a lot of books for my kids.
There are a number of books coming out in the next few months that are a continuation of a series and I'm doubly excited about most of these because they are in series that I've really been enjoying.
Before we dive into the list though, I want to give an honorable mention to The Jane Austen Investigates: The Abbey Mystery, I recently read this book and it just came out in April but I didn't have it on my previous anticipated releases list because I didn't know about it then. If you have a kid that likes mysteries, that one was a lot of fun!
If you know about more middle grade books that are being released in the next half of the year, let me know!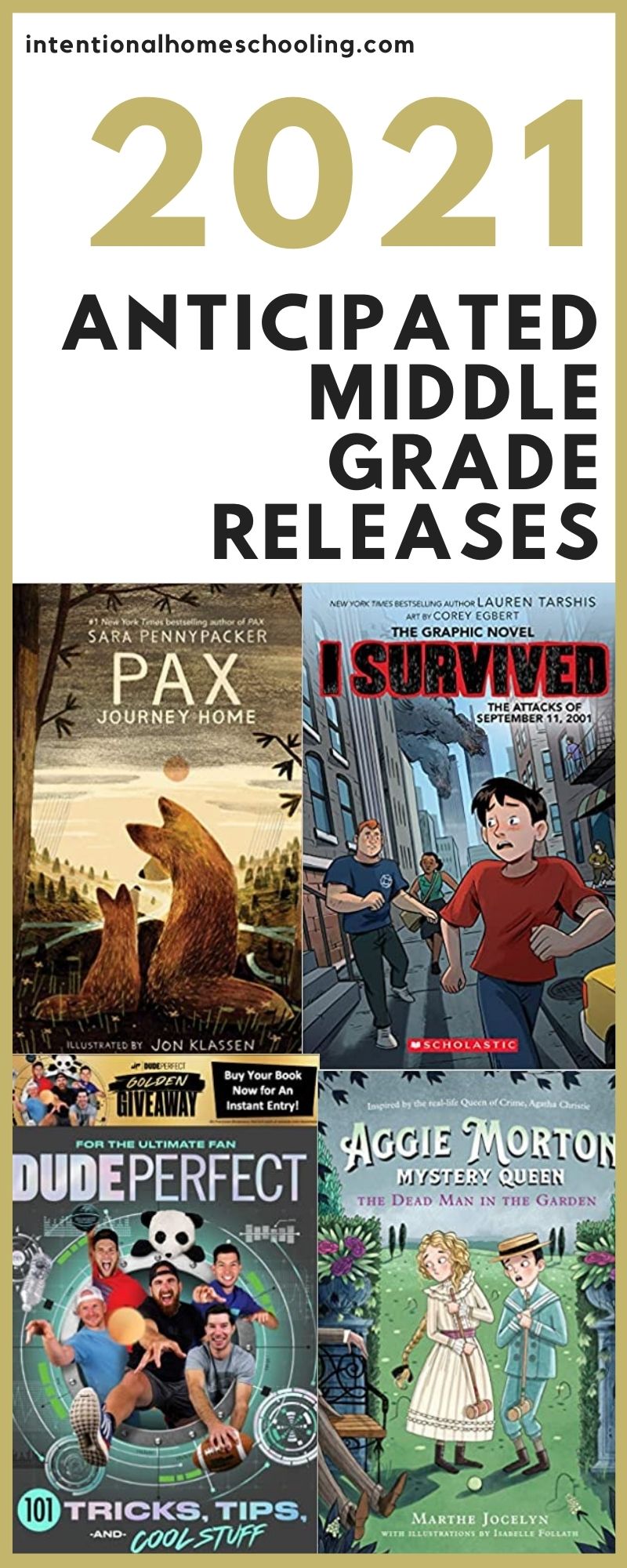 Anticipated Middle Grade Releases: July-December 2021
JUNE 2021 RELEASES
We are Dude Perfect fans in our family so this one is on our to-buy list!
You may know Dude Perfect from their mind-blowing, world record-breaking, viral trick shot videos and hilarious Overtime videos! NOW, with the guys' new, massive, photo-intensive book Dude Perfect 101 Tricks, Tips, and Cool Stuff, you'll experience a behind-the-scenes look at their stunts and their personal lives, PLUS step-by-step instructions so you can attempt their tricks at home!
At Dude Perfect, we do everything we can to bring families closer together, and that's why we're excited to share this book with you. Follow our step-by-step instructions to have your own Dude Perfect–style fun!
Tweens and teens, ages 8 to 12, will enjoy complete panda-monium with this in-depth look at Dude Perfect: five guys who are kickin' it, throwin' it, tossin' it, and shootin' it for more than 55 million YouTube subscribers and more than twelve billion views.
With an oversize format and fun, informative graphics, Dude Perfect 101 Tricks, Tips, and Cool Stuff includes . . .
Step-by-step instructions to perform your own real life trick shots using everyday objects.
A behind-the-scenes view of those hilarious Overtime videos and extreme sports moments.
Dude Perfect teaching about what a blast patience, perseverance, teamwork, friendship, and faith can be.
Fun science facts behind the seemingly impossible tricks—because really, how did they do that?!
Infographics with "No way!" truths from the inspirational to the absurd.
A deeper look into each Dude's personal life, including stats, favorite stunts, and insights.
Each trick in Dude Perfect 101 Tricks, Tips, and Cool Stuff is the perfect combination of challenging and doable to keep your young reader off-screen for hours. This interactive book is a great gift for birthdays, Easter baskets, holiday gift giving, or just because.
Whether your own trickster wants to perform solo, challenge a friend, or host a family date night, this visually engaging book is a slam dunk for anyone who is young at heart.
JULY 2021 RELEASES
I can tell you right now, I have a kid that I plan on buying this for and then having them use it in our homeschool in the fall.
Written for kids ages 8-12, this Bible-based book draws on content from Max Lucado's bestselling book Anxious for Nothing to help young people overcome the anxiety and pressures of today's world and come to a deeper understanding of God's constant, loving presence.
In this chaotic age of social media, packed schedules, and an increasing awareness of the world's problems, it's normal for young people to feel overwhelmed sometimes. But the good news of the gospel has not changed. This encouraging, let's-start-now book is the perfect tool to help tweens take control of their feelings and choose to focus on God's truth.
This much-needed book adapts content from You Are Not Alone as well as from Anxious for Nothing, which has sold over 900,000 copies. With the warmth and authenticity that has made him a beloved pastor and writer, Max Lucado offers young readers:
biblical hope and powerful strategies to help them flourish under the mounting struggles of the middle grade years
encouragement that God is near, He cares, and He listens
truths to claim for themselves in difficult moments
practical ways to work through their worries and rely on God's faithfulness
This special edition of Anxious for Nothing also includes:
a note to kids from the author
age-appropriate application questions, journal prompts, and activities that guide kids in Christ-focused mindfulness
callouts and infographics featuring key verses, facts, and takeaways
sidebars addressing technology-related stress
Practical, motivating, and biblically grounded, Anxious for Nothing (Young Readers Edition) is a timely book for any tween who sometimes feels overwhelmed, lonely, or anxious, or who simply wants to know more of God's abundant joy and peace.
AUGUST 2021 RELEASES
The Enola Holmes series is in the upper middle grade range in my opinion but I have read the first book and really enjoyed it. I'm actually planning on reading the rest of the series this summer in anticipation of this release!
Enola Holmes is the much younger sister of her more famous brothers, Sherlock and Mycroft. But she has all the wits, skills, and sleuthing inclinations of them both. At fifteen, she's an independent young woman–after all, her name spelled backwards reads 'alone'–and living on her own in London. When a young professional woman, Miss Letitia Glover, shows up on Sherlock's doorstep, desperate to learn more about the fate of her twin sister, it is Enola who steps up. It seems her sister, the former Felicity Glover, married the Earl of Dunhench and per a curt note from the Earl, has died. But Letitia Glover is convinced this isn't the truth, that she'd know–she'd feel–if her twin had died.
The Earl's note is suspiciously vague and the death certificate is even more dubious, signed it seems by a John H. Watson, M.D. (who denies any knowledge of such). The only way forward is for Enola to go undercover–or so Enola decides at the vehement objection of her brother. And she soon finds out that this is not the first of the Earl's wives to die suddenly and vaguely–and that the secret to the fate of the missing Felicity is tied to a mysterious black barouche that arrived at the Earl's home in the middle of the night. To uncover the secrets held tightly within the Earl's hall, Enola is going to require help–from Sherlock, from the twin sister of the missing woman, and from an old friend, the young Viscount Tewkesbury, Marquess of Basilwether!
My kids love the I Survived series and have learned so much history as a result. I love that they are coming out with a graphic novel of this one!
A gripping graphic novel adaptation of Lauren Tarshis's bestselling I Survived the Attacks of September 11, 2001, in time for the 20th anniversary of 9/11.
The only thing Lucas loves more than football is his Uncle Benny, his dad's best friend at the fire department where they both work. Benny taught Lucas everything about football. So when Lucas's parents decide the sport is too dangerous and he needs to quit, Lucas has to talk to his biggest fan. The next morning, Lucas takes the train to the city instead of the bus to school. It's a bright, beautiful day in New York. But just as Lucas arrives at his uncle's firehouse, everything changes — and nothing will ever be the same again. Lauren Tarshis's New York Times bestselling I Survived series comes to vivid life in bold graphic novels. Perfect for readers who prefer the graphic novel format, or for existing fans of the I Survived chapter book series, these graphic novels combine historical facts with high-action storytelling that's sure to keep any reader turning the pages. Includes a nonfiction section at the back with facts and photos about the real-life event.
SEPTEMBER 2021 RELEASES
Oh man, the first book, Pax, had me tearing up, I'm slightly afraid what this one will do to me (in a good way, mostly).
It's been a year since Peter and his pet fox, Pax, have seen each other. Once inseparable, they now lead very different lives.
Pax and his mate, Bristle, have welcomed a litter of kits they must protect in a dangerous world. Meanwhile Peter—newly orphaned after the war, racked with guilt and loneliness—leaves his adopted home with Vola to join the Water Warriors, a group of people determined to heal the land from the scars of the war.
When one of Pax's kits falls desperately ill, he turns to the one human he knows he can trust. And no matter how hard Peter tries to harden his broken heart, love keeps finding a way in. Now both boy and fox find themselves on journeys toward home, healing—and each other, once again.
Brian Selznick's books are so unique! They are massively thick but that is because more than have the pages are sketches. And not just illustrations to enhance the story, many of the pages tell the story in between the text pages. I am so excited that he is coming out with another book!
A ship. A garden. A library. A key. In Kaleidoscope, the incomparable Brian Selznick presents the story of two people bound to each other through time and space, memory and dreams. At the center of their relationship is a mystery about the nature of grief and love which will look different to each reader. Kaleidoscope is a feat of storytelling that illuminates how even the wildest tales can help us in the hardest times.
Possibly my favorite book find this year has been this series! Inspired by young Agatha Christie, Aggie Morton is a mystery solver! I love the line up of characters/suspects at the beginning of each book, it's such a fun addition.
Aspiring writer Aggie Morton is ready to enjoy an invigorating trip to a Yorkshire spa, where her widowed mother can take the waters and recover from a long mourning period. Having solved yet another murder and faced extreme peril with her best friend Hector over Christmas, Aggie's Morbid Preoccupation is on alert when rumors abound about the spa's recently deceased former patient . . . and then another body appears under mysterious circumstances. Together with Grannie Jane, and often in the company of George, a young patient at the spa, Aggie and Hector take a closer look at the guests and staff of the Wellspring Hotel, and venture into the intriguing world of the local undertaker. Has there been a murder—or even two? As Aggie and Hector ignite their deductive skills, their restful trip takes a sudden, dangerous turn.
OCTOBER 2021 RELEASES
Admittedly, I've only read book one in this series and this is book five coming out this fall but the first book was a five star for me and I've heard such good things about the rest of the series. Mostly from my daughter, it's her favorite series of all time.
King Jaron has outwitted the Prozarians and returned to his own kingdom with one secret in his pocket that not even his friends know about. He's hoping that secret will help him finally bring stability to Carthya.
But a surprise attack on his own land — on the castle itself — reminds Jaron that nothing is easy. The Prozarian Monarch threatens to crumble Jaron's entire kingdom. And that's not the only thing in danger: With old enemies and new rumors circling around him, even Jaron's relationship with Imogen is uncertain.
This former False Prince will need his best tricks and many allies at his side to hold Carthya together.
Like Aggie Morton, Myrtle Hardcastle is another middle grade mystery series I found and have loved this year! And I really appreciate the puns in each of the titles in this series.
Myrtle Hardcastle—twelve-year-old Young Lady of Quality and Victorian amateur detective—is back on the case, solving a string of bizarre murders in her hometown of Swinburne.
When the proprietor of Leighton's Mercantile is found dead on the morning his annual Christmas shop display is to be unveiled, it's clear a killer had revenge in mind. But who would want to kill the local dry-goods merchant? Perhaps someone who remembers the mysterious scandal that destroyed his career as a professor and archaeologist. When the killer strikes again, each time manipulating the figures in the display to foretell the crime, Myrtle finds herself racing to uncover the long-buried facts of a cold case—and the motivations of a modern murderer.
Leave a comment below if you know of other middle grade books coming out in the second half of 2021!