FAMILY READ ALOUDS: 13 books we want to read in our homeschool in the 2021-2022 school year
We love a good read aloud in our family and today I am sharing thirteen (not twelve like I said in the video) books we want to read aloud (aka listen to) in the next school year.
Now, when I say read alouds what I actually mean is listen tos because I am terrible at reading aloud so we usually listen to our book together as a family while we eat our meals.
We use an amazing Bluetooth speaker, we've had it for years and only have to charge it about twice a year. Here's an updated version of our Bluetooth speaker.
My plan is for us to pick and choose from this list throughout the year. When we are done one book we'll come back to this list and pick another.
Oh, and while we have little ones as well, it's the big ones we are catering this list to, they are going to be in grade 3 & 6 in the fall.
I would love to hear what is on your read aloud list for this next year!
And if you want to see what was on our list from last year, you can do so here!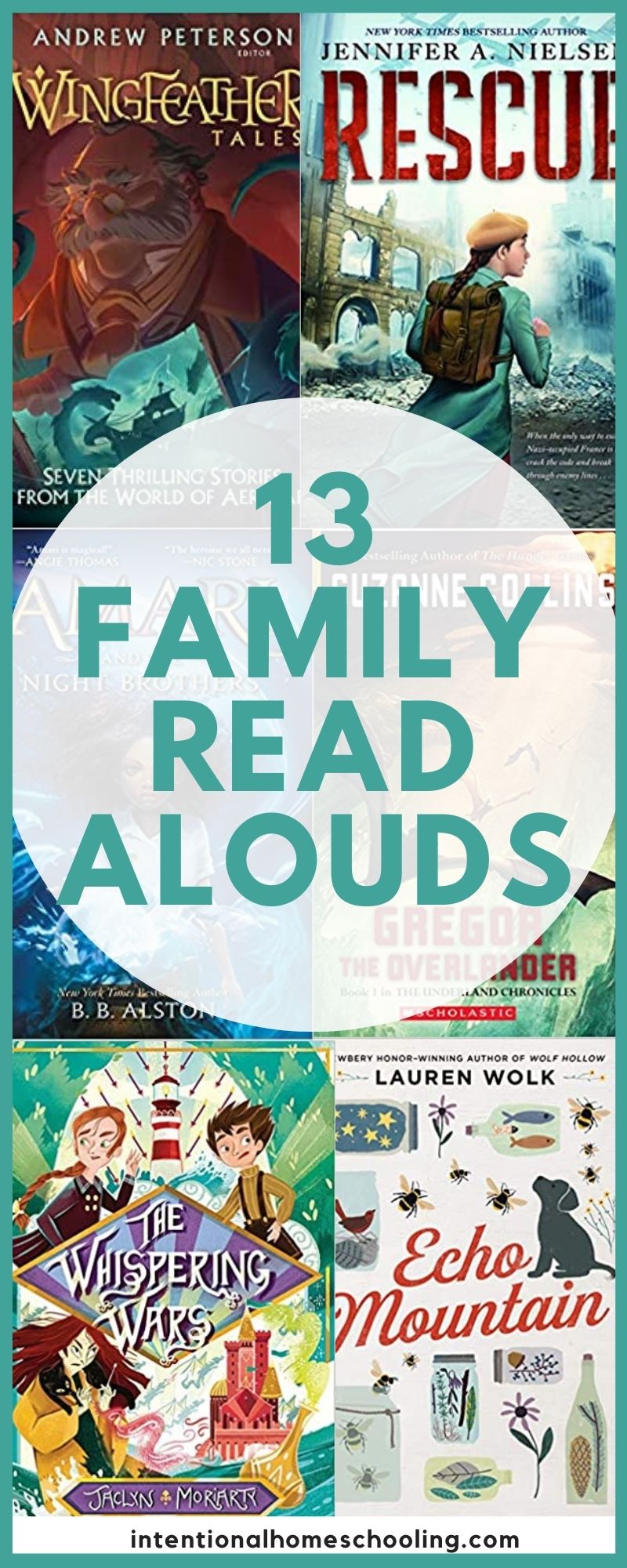 13 FAMILY READ ALOUDS
An unsent letter in a first edition copy of Charlotte's Web leads to a hunt for treasure in this heartwarming middle grade mystery from the author of The Mother-Daughter Book Club.
Now that Truly Lovejoy's father has been injured by an IED in Afghanistan and is having trouble finding work back home, the family moves from Texas to tiny Pumpkin Falls, New Hampshire, to take over Lovejoy's Books, a struggling bookstore that's been in the family for one hundred years.
With two older brothers and two younger sisters clamoring for attention, her mother back in school, and everyone up to their eyebrows trying to keep Lovejoy's Books afloat, Truly feels more overlooked than usual. So she pours herself into uncovering the mystery of an undelivered letter she finds stuck in a valuable autographed first edition of Charlotte's Web, which subsequently goes missing from the bookshop. What's inside the envelope leads Truly and her new Pumpkin Falls friends on a madcap treasure hunt around town, chasing clues that could spell danger.
"Are you a gifted child looking for special opportunities?" Dozens of children respond to this peculiar ad in the newspaper and are then put through a series of mind-bending tests, which readers take along with them. Only four children–two boys and two girls–succeed. Their challenge: to go on a secret mission that only the most intelligent and inventive children could complete. To accomplish it they will have to go undercover at the Learning Institute for the Very Enlightened, where the only rule is that there are no rules. But what they'll find in the hidden underground tunnels of the school is more than your average school supplies. So, if you're gifted, creative, or happen to know Morse Code, they could probably use your help.
Written specifically to challenge readers with the powerful lives of missionaries who have profoundly shaped history, the books in the Christian Heroes: Then & Now series answer today's call for positive role models and for opportunities to see how God works through the lives of those who follow him.
The exciting life stories of these heroes will inspire readers as they witness the drama of faith and character being tested under the most extreme circumstances.
Readers of all ages love these fast-paced adventures that take them to the heart of a nation, an era, and what it means to live a life dedicated to serving God and those He loves. Parents report that even kids who have never liked to read have eagerly read all of these – sometimes more than once!
Immerse yourself in a land of bomnubbles and quarreling cousins, sea dragons and book publishers, thieves and Fangs and secret maps. Here within these pages lie seven stories of the distant past, lost adventures, forgotten songs, and heartbreaking histories. The Shining Isle is restored, but Aerwiar is vast—and these authors have tales yet to tell:
• Explore the inner walls of Yorsha Doon, just West of the Woes of Shreve, on the edge of the Dark Sea of Darkness, from the eyes of young Safiki in "The Prince of Yorsha Doon" from the creator of Aewiar, Andrew Peterson.
• Jennifer Trafton's warm and whimsical writing brings to life a publishing nightmare populated by the many beasts of Skree in "The Wooing of Sophelia Stupe."
• Learn the origins of Ollister Pebmrick's mysterious entry in the Creaturepedia about his encounter with a raggant in "Willow Worlds" by N. D. Wilson.
• Travel with young Podo Helmer on an epic hunt for sea dragons in "From the Deeps of the Dragon King" from A. S. Peterson.
• Jonathan Rogers presents "The Ballard of Lanric and Rube," sung by Armulyn the Bard, tale-spinner of the imaginary Shining Isle of Anniera, in On the Edge of the Dark Sea of Darkness.
• Discover what life was like for Maraly and Gammon in post-war Skree in "Shadowblade and the Florid Sword"—the first-ever Wingfeather comic—by Andrew Peterson.
• Douglas McKelvey's epic, heartbreakingly hopeful novella "The Places Beyond the Maps" recounts a father's journey to redemption.
You'll also find delightful illustrations by Justin Gerard, Hein Zaayman, Cory Godbey, John Hendrix, Nicholas Kole, Aedan Peterson, Joe Sutphin, Jay Myers, and Doug TenNapel.
Enter a rich, imaginative world that becomes more real, more mysterious, more dangerous, and more beautiful with each story's telling.
Janner Igiby, his brother, Tink, and their disabled sister, Leeli, are gifted children as all children are, loved well by a noble mother and ex-pirate grandfather. But they will need all their gifts and all that they love to survive the evil pursuit of the venomous Fangs of Dang, who have crossed the dark sea to rule the land with malice. The Igibys hold the secret to the lost legend and jewels of good King Wingfeather of the Shining Isle of Anniera.
Full of characters rich in heart, smarts, and courage, On the Edge of the Dark Sea of Darkness is a tale children of all ages will cherish, families can read aloud, and readers' groups are sure to enjoy discussing for its many layers of meaning. Extra features include new interior illustrations from Joe Sutphin, funny footnotes, a map of the fantastical world, inventive appendices, and fanciful line art in the tradition of the original Frank L. Baum Wizard of Oz storybooks.
Six hundred and fifty-seven days ago, Meg Kenyon's father left their home in France to fight for the Allies in World War II, and that was the last time Meg saw him. Recently, she heard he was being held prisoner by the Nazis, a terrible sentence from which Meg fears he'll never return. All she has left of him are the codes he placed in a jar for her to decipher, an affectionate game the two of them shared. But the codes are running low, and soon there'll be nothing left of Papa for Meg to hold on to at all.
Suddenly, an impossible chance to save her father falls into Meg's lap. After following a trail of blood in the snow, Meggie finds an injured British spy hiding in her grandmother's barn. Captain Stewart tells her that a family of German refugees must be guided across Nazi-occupied France to neutral Spain, whereupon one of them has promised to free Meg's father. Captain Stewart was meant to take that family on their journey, but too injured to complete the task himself, he offers it to Meg, along with a final code from Papa to help complete the mission — perhaps the most important, and most difficult, riddle she's received yet.
As the Nazis flood Meg's village in fierce pursuit, she accepts the duty and begins the trek across France. Leading strangers through treacherous territory, Meg faces danger and uncertainty at every turn, all the while struggling to crack her father's code. The message, as she unravels it, reveals secrets costly enough to risk the mission and even her own life. Can Meg solve the puzzle, rescue the family, and save her father?
After losing almost everything in the Great Depression, Ellie's family is forced to leave their home in town and start over in the untamed wilderness of nearby Echo Mountain. Ellie has found a welcome freedom, and a love of the natural world, in her new life on the mountain. But there is little joy after a terrible accident leaves her father in a coma. An accident unfairly blamed on Ellie.
Ellie is a girl who takes matters into her own hands, and determined to help her father she will make her way to the top of the mountain in search of the healing secrets of a woman known only as "the hag." But the hag, and the mountain, still have many untold stories left to reveal.

Historical fiction at its finest, Echo Mountain is celebration of finding your own path and becoming your truest self. Lauren Wolk, the Newbery Honor– and Scott O'Dell Award–winning author of Wolf Hollow and Beyond the Bright Sea, weaves a stunning tale of resilience, persistence, and friendship across three generations of families.
Amari Peters has never stopped believing her missing brother, Quinton, is alive. Not even when the police told her otherwise, or when she got in trouble for standing up to bullies who said he was gone for good.
So when she finds a ticking briefcase in his closet, containing a nomination for a summer tryout at the Bureau of Supernatural Affairs, she's certain the secretive organization holds the key to locating Quinton—if only she can wrap her head around the idea of magicians, fairies, aliens, and other supernatural creatures all being real.
Now she must compete for a spot against kids who've known about magic their whole lives. No matter how hard she tries, Amari can't seem to escape their intense doubt and scrutiny—especially once her supernaturally enhanced talent is deemed "illegal." With an evil magician threatening the supernatural world, and her own classmates thinking she's an enemy, Amari has never felt more alone. But if she doesn't stick it out and pass the tryouts, she may never find out what happened to Quinton.
Can a robot survive in the wilderness?
When robot Roz opens her eyes for the first time, she discovers that she is all alone on a remote, wild island. She has no idea how she got there or what her purpose is–but she knows she needs to survive. After battling a violent storm and escaping a vicious bear attack, she realizes that her only hope for survival is to adapt to her surroundings and learn from the island's unwelcoming animal inhabitants.
As Roz slowly befriends the animals, the island starts to feel like home–until, one day, the robot's mysterious past comes back to haunt her.
From bestselling and award-winning author and illustrator Peter Brown comes a heartwarming and action-packed novel about what happens when nature and technology collide.
Ralph Moody was eight years old in 1906 when his family moved from New Hampshire to a Colorado ranch. Through his eyes we experience the pleasures and perils of ranching there early in the twentieth century. Auctions and roundups, family picnics, irrigation wars, tornadoes and wind storms give authentic color to Little Britches. So do adventures, wonderfully told, that equip Ralph to take his father's place when it becomes necessary.
This irresistible novel by Suzanne Collins tells the story of a boy who embarks on a dangerous quest in order to fulfill his destiny — and find his father — in a strange world beneath New York City.
Gregor the Overlander joins the Scholastic Gold line, which features award-winning and beloved novels. Includes exclusive bonus content!When Gregor falls through a grate in the laundry room of his apartment building, he hurtles into the dark Underland, where spiders, rats, cockroaches coexist uneasily with humans. This world is on the brink of war, and Gregor's arrival is no accident. A prophecy foretells that Gregor has a role to play in the Underland's uncertain future. Gregor wants no part of it — until he realizes it's the only way to solve the mystery of his father's disappearance. Reluctantly, Gregor embarks on a dangerous adventure that will change both him and the Underland forever. This unforgettable novel by Suzanne Collins, the international bestselling author of the Hunger Games series, is rich in suspense and brimming with adventure.
Benjamin Pratt's school is about to become the site of a new amusement park. It sounds like a dream come true! But lately, Ben has been wondering if he's going to like an amusement park in the middle of his town—with all the buses and traffic and eight dollar slices of pizza. It's going to change everything. And, Ben is not so big on all the new changes in his life, like how his dad has moved out and started living in the marina on what used to be the "family" sailboat. Maybe it would be nice if the school just stayed as it is. He likes the school. Loves it, actually. It's over 200 years old and sits right on the harbor. The playground has ocean breezes and the classrooms have million dollar views…MILLION DOLLAR views. And after a chance—and final—run-in with the school janitor, Ben starts to discover that these MILLION DOLLAR views have a lot to do with the deal to sell the school property. But, as much as the town wants to believe it, the school does not belong to the local government. It belongs to the CHILDREN and these children have the right to defend it!
From the award-winning Jaclyn Moriarty comes a spellbinding tale of unlikely friendship, unexpected magic and competitive athletics.
The town of Spindrift is frequented by all kinds of Shadow Mages and charlatans. It's also home to the Orphanage School, where Finlay lives with Glim, Taya, and Eli. Just outside town is the painfully posh Brathelthwaite Boarding School, home to Honey Bee, Hamish, and Victor, Duke of Ainsley. When the two schools compete at the Spindrift Tournament, the stakes are high, tensions are higher, and some people are out to win at any cost. Before long, the orphans and the boarding school kids are at each other's throats. And then the Whispering Wars break out, and Spindrift is thrust onto the front lines. Children are being stolen; witches, sirens, and a deadly magical flu invade the town; and all attempts to fight back are met with defeat. Finlay, Honey Bee, and their friends must join forces to outwit the encroaching forces of darkness, rescue the stolen children, and turn the tide of the war. But how can one bickering troupe outwit the insidious power of the Whisperers?
I would love to hear what is on your read aloud list for this next year!