12 Books on Our List for Family Read Alouds This Year
With a new school year approaching I wanted to compile a list of books for family read alouds.
For us the term family read aloud mostly means family audiobooks since we still mostly just listen to a book together as a family at meal times.
But, I think some of the books on my list for this year don't have audiobooks, so maybe this will be the year that I finally learn how to read chapter books aloud (if you have tips, let me know! I think my biggest problem is that I am reading ahead in my head way further than where my voice is).
We've actually gotten a head start on this list and have already finished a book so I may need to make a part two in a few months and add some books to our list.
What are you reading as a family this year? Are there any good books you've finished lately?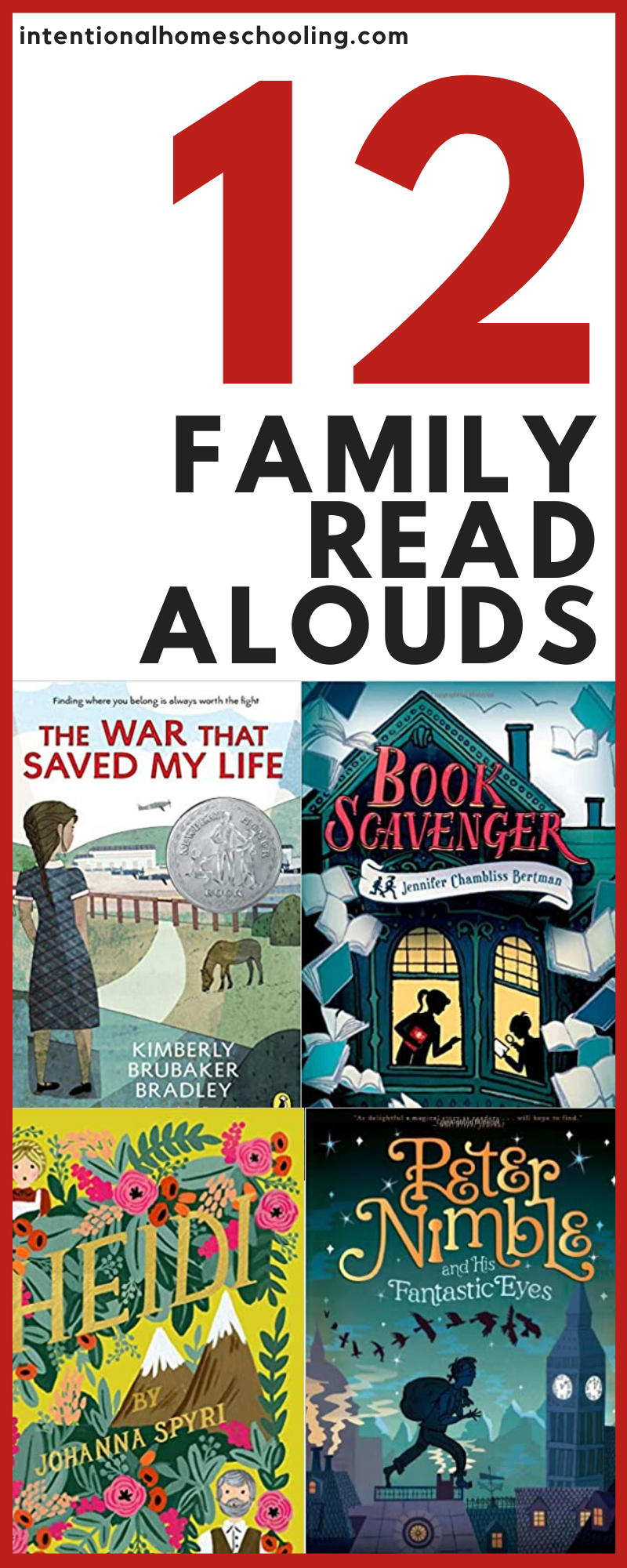 12 Books on Our List for Family Read Alouds This Year
We just finished Book Scavenger and all enjoyed it, the Book Scavenger game sounds so fun and we are determined to do it where we live!
For twelve-year-old Emily, the best thing about moving to San Francisco is that it's the home city of her literary idol: Garrison Griswold, book publisher and creator of the online sensation Book Scavenger (a game where books are hidden in cities all over the country and clues to find them are revealed through puzzles). Upon her arrival, however, Emily learns that Griswold has been attacked and is now in a coma, and no one knows anything about the epic new game he had been poised to launch. Then Emily and her new friend James discover an odd book, which they come to believe is from Griswold himself, and might contain the only copy of his mysterious new game.
This is actually our current audiobook, I read the book earlier this month and just knew we need to do this one as a family.
It's been five years since the Sweep disappeared. Orphaned and alone, Nan Sparrow had no other choice but to work for a ruthless chimney sweep named Wilkie Crudd. She spends her days sweeping out chimneys. The job is dangerous and thankless, but with her wits and will, Nan has managed to beat the deadly odds time and time again.

When Nan gets stuck in a chimney fire, she fears the end has come. Instead, she wakes to find herself unharmed in an abandoned attic. And she is not alone. Huddled in the corner is a mysterious creature—a golem—made from soot and ash.
This is by the same author as Sweep and I want to give this one a try.
Peter Nimble and His Fantastic Eyes is the utterly beguiling tale of a ten-year-old blind orphan who has been schooled in a life of thievery. One fateful afternoon, he steals a box from a mysterious traveling haberdasher—a box that contains three pairs of magical eyes. When he tries the first pair, he is instantly transported to a hidden island where he is presented with a special quest: to travel to the dangerous Vanished Kingdom and rescue a people in need. Along with his loyal sidekick—a knight who has been turned into an unfortunate combination of horse and cat—and the magic eyes, he embarks on an unforgettable, swashbuckling adventure to discover his true destiny.
We love this series and this is one of the few we haven't listened to yet.
When Charles Mulli was a child, his family repeatedly abandoned him, and he lived in fear of his abusive, alcoholic father. With an extraordinary will, the young Kenyan struggled to feed and educate himself and, encountering hope in the gospel, found a reason to live and to forgive.
Later, as a multimillionaire and father of eight, the entrepreneur sold his businesses to devote himself to caring for street children throughout Kenya. Since 1989, Charles and his wife, Esther, have taken into their protection thousands of the most vulnerable through Mully Children's Family, revealing in the midst of brokenness God's astonishing redemptive power (1949 – ).
I read this one a few years ago and think my kids are at a good age for it now.
Ten-year-old Ada has never left her one-room apartment. Her mother is too humiliated by Ada's twisted foot to let her outside. So when her little brother Jamie is shipped out of London to escape the war, Ada doesn't waste a minute—she sneaks out to join him.

So begins a new adventure for Ada, and for Susan Smith, the woman who is forced to take the two kids in. As Ada teaches herself to ride a pony, learns to read, and watches for German spies, she begins to trust Susan—and Susan begins to love Ada and Jamie. But in the end, will their bond be enough to hold them together through wartime? Or will Ada and her brother fall back into the cruel hands of their mother?
During the summer of 1793, Mattie Cook lives above the family coffee shop with her widowed mother and grandfather. Mattie spends her days avoiding chores and making plans to turn the family business into the finest Philadelphia has ever seen. But then the fever breaks out.
Disease sweeps the streets, destroying everything in its path and turning Mattie's world upside down. At her feverish mother's insistence, Mattie flees the city with her grandfather. But she soon discovers that the sickness is everywhere, and Mattie must learn quickly how to survive in a city turned frantic with disease.
As the Revolutionary War begins, thirteen-year-old Isabel wages her own fight…for freedom. Promised freedom upon the death of their owner, she and her sister, Ruth, in a cruel twist of fate become the property of a malicious New York City couple, the Locktons, who have no sympathy for the American Revolution and even less for Ruth and Isabel. When Isabel meets Curzon, a slave with ties to the Patriots, he encourages her to spy on her owners, who know details of British plans for invasion. She is reluctant at first, but when the unthinkable happens to Ruth, Isabel realizes her loyalty is available to the bidder who can provide her with freedom.
Shelby Holmes is not your average sixth grader. She's nine years old, barely four feet tall, and the best detective her Harlem neighborhood has ever seen–always using logic and a bit of pluck (which yes, some might call "bossiness") to solve the toughest crimes.
When eleven-year-old John Watson moves downstairs, Shelby finds something that's eluded her up till now: a friend. The easy-going John isn't sure of what to make of Shelby, but he soon finds himself her most-trusted (read: only) partner in a dog-napping case that'll take both their talents to crack.
Eleven-year-old Charlie Reese has been making the same secret wish every day since fourth grade. She even has a list of all the ways there are to make the wish, such as cutting off the pointed end of a slice of pie and wishing on it as she takes the last bite.
But when she is sent to the Blue Ridge Mountains of North Carolina to live with family she barely knows, it seems unlikely that her wish will ever come true. That is, until she meets Wishbone, a skinny stray dog who captures her heart, and Howard, a neighbor boy who proves surprising in lots of ways. Suddenly Charlie is in serious danger of discovering that what she thought she wanted may not be what she needs at all.
We listened to this one a few years ago and I think it's time for a re-listen!
Lost and alone in a forbidden forest, Otto meets three mysterious sisters and suddenly finds himself entwined in a puzzling quest involving a prophecy, a promise, and a harmonica.
Decades later, Friedrich in Germany, Mike in Pennsylvania, and Ivy in California each, in turn, become interwoven when the very same harmonica lands in their lives. All the children face daunting challenges: rescuing a father, protecting a brother, holding a family together. And ultimately, pulled by the invisible thread of destiny, their suspenseful solo stories converge in an orchestral crescendo.
I'm realizing this is the only classic I put on this list, part two will definitely need more classics!
At the age of five, little orphan Heidi is sent to live with her grandfather in the Alps. Everyone in the village is afraid of him, but Heidi is fascinated by his long beard and bushy grey eyebrows. She loves her life in the mountains, playing in the sunshine and growing up amongst the goats and birds. But one terrible day, Heidi is collected by her aunt and is made to live with a new family in town. Heidi can't bear to be away from her grandfather; can she find a way back up the mountain, where she belongs?
This one sounds cute, we may try this around Christmas time.
Eleven-year-old Nikolas-nicknamed "Christmas"-has received only one toy in his life: a doll carved out of a turnip. But he's happy with his turnip doll, because it came from his parents, who love him. Then one day his father goes missing, and Nikolas must travel to the North Pole to save him.
Along the way, Nikolas befriends a surly reindeer, bests a troublesome troll, and discovers a hidden world of enchantment in the frozen village of Elfhelm. But the elves of Elfhelm have troubles of their own: Christmas spirit and goodwill are at an all-time low, and Nikolas may be the only person who can fix things-if only he can reach his father before it's too late. . . .