Eleven Chapter Books with Positive Female Characters for Young Girls
In the last year or two I've really been paying attention to the type of books we have been reading as I've been focusing a lot on making sure I am raising children with good character. Books with inspiring, courageous and positive characters are becoming more and more important to me.
As parents we are given this gift of these tiny humans that come with their own personalities, all of which need some shaping, some a little more than others.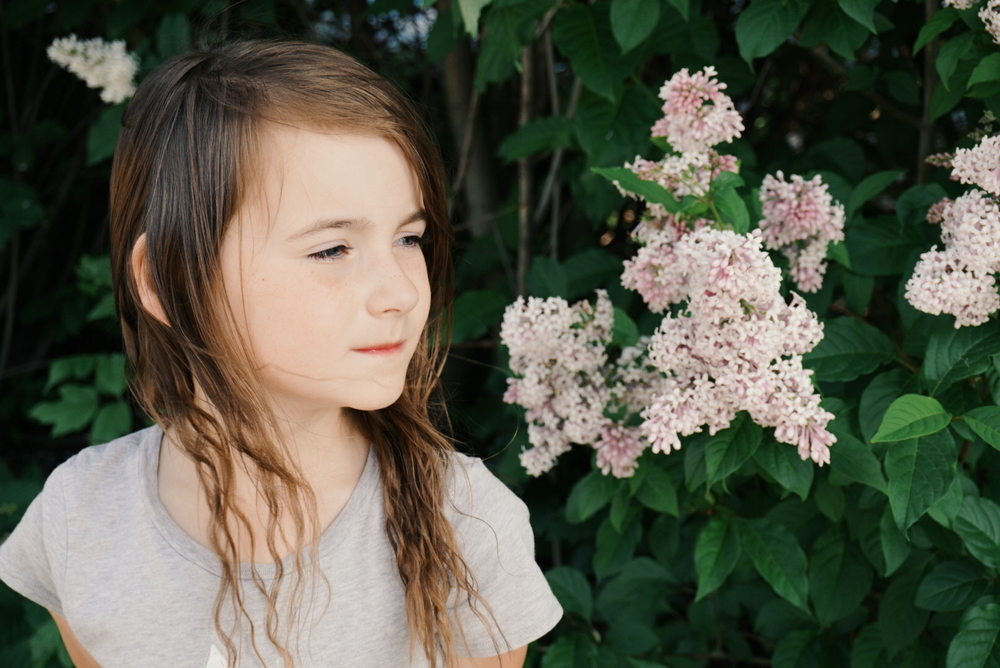 There are many books that I weed out or refuse to read aloud to my children. I don't want to read books with whiny characters because whining is so easy for children to default to as it is. I'm personally not even a fan of the character Ramona because she is always getting into what appears to me as intentional trouble that never really results in any consequences. My daughter really enjoys Ramona though, she has listened to the whole series on audio at least twice and is currently on her second read through of the series in the last year. Ramona's struggles are not my daughter's struggles so I am more okay with her reading that book, but characters like Junie B. Jones I have refused to introduce her.
So, it is very important for me to make sure we have a good selection of books with characters who can be positive role models, especially female characters. The following book list includes some of my favorites in the area of positive female characters. If you have other books you would add to the list I would love for you to include them in the comments!
(While I don't include books from the Christian Heroes Then & Now series in the list because the are not fiction books, they are some of my favorites for men and women of courage and inspiration, if you haven't read or listened to them with your kids yet, I would go as far as saying that you need to.)
OTHER POSTS YOU MAY ENJOY: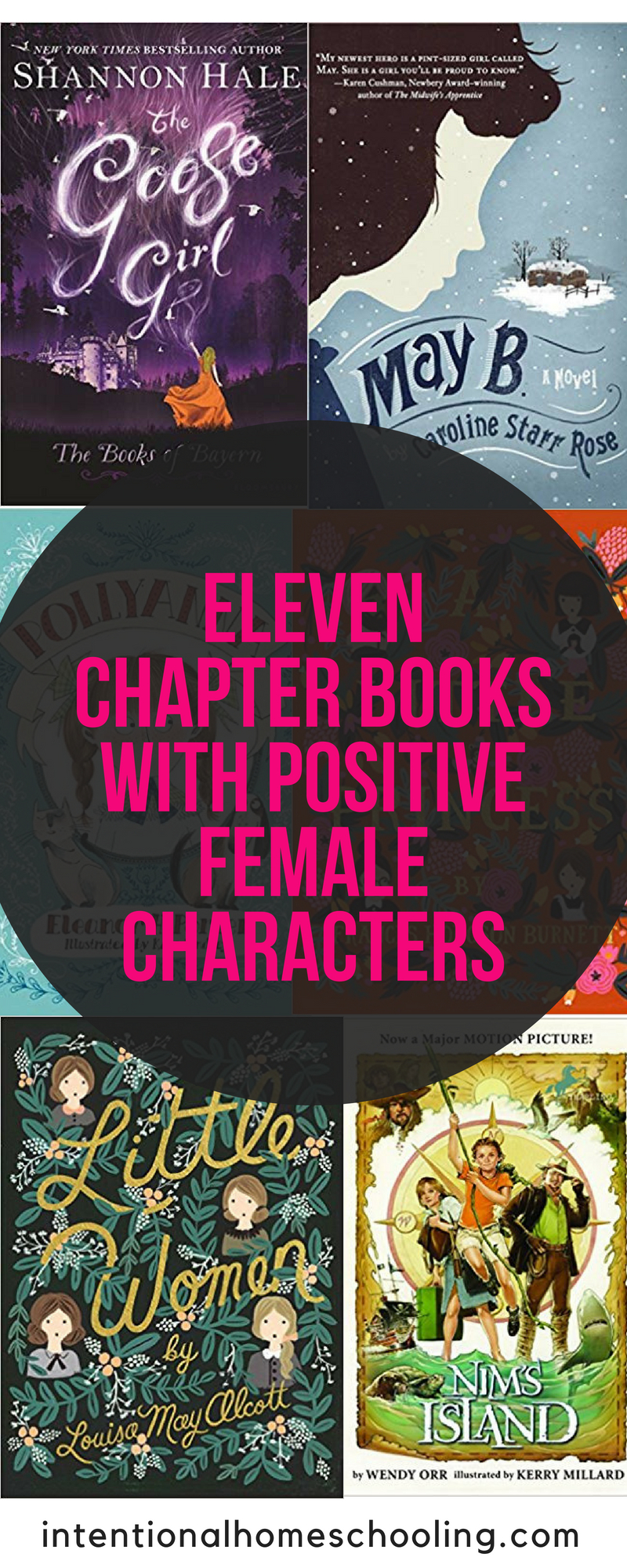 ELEVEN CHAPTER BOOKS WITH POSITIVE FEMALE CHARACTERS FOR YOUNG GIRLS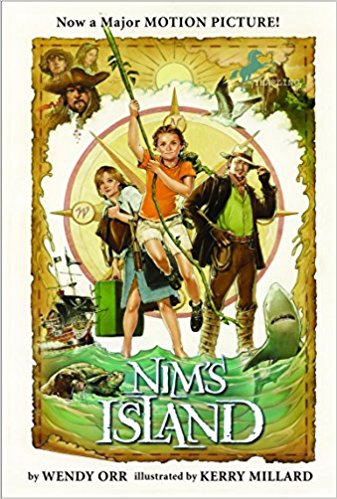 We just recently listened to this one on audio and I thoroughly enjoyed it, it reminded me a lot of Swiss Family Robinson. Nim is a brave girl and an inspiring role model. (If you are thinking about watching the movie, just heed my warning that the book is 100 times better and then maybe you won't be as disappointed as I was.)
A girl. An iguana. An island. And e-mail. Meet Nim–a modern-day Robinson Crusoe! She can chop down bananas with a machete, climb tall palm trees, and start a fire with a piece of glass. So she's not afraid when her scientist dad sails off to study plankton for three days, leaving her alone on their island. Besides, it's not as if no one's looking after her–she's got a sea lion to mother her and an iguana for comic relief. She also has an interesting new e-mail pal. But when her father's cell-phone calls stop coming and disaster seems near, Nim has to be stronger and braver than she's ever been before.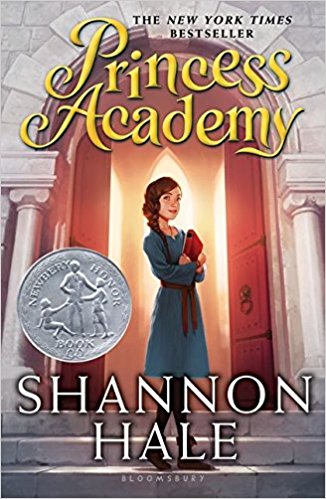 Don't let the name of this book fool you, it's not "princess" as in fancy balls and ditzy girls. Plus, the book has all sorts of twists and turns and did not end in the way I expected. The main character is tough, smart and resourceful.
Miri lives on a mountain where, for generations, her ancestors have lived a simple life. Then word comes that the king's priests have divined her village the home of the future princess. In a year's time, the prince will choose his bride from among the village girls.
The king's ministers set up an academy on the mountain, and every teenage girl must attend and learn how to become a princess. Soon Miri finds herself confronted with a harsh academy mistress, bitter competition among the girls, and her own conflicting desires. Winning the contest could give her everything she ever wanted-but it would mean leaving her home and family behind.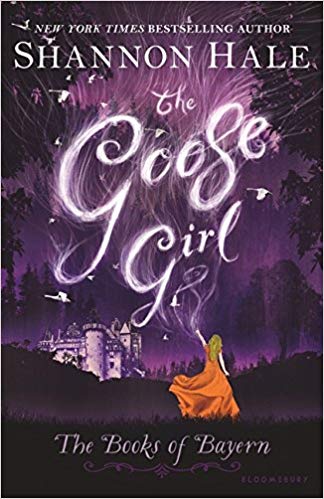 I found out after reading this book that it is based off of one of the Grimm's fairy tales, which made me like it even more. The main character goes through a lot of character development during the book and is kind and compassionate to others.
Anidori-Kiladra Talianna Isilee, Crown Princess of Kildenree, spends the first years of her life listening to her aunt's stories and learning the language of the birds, especially the swans. As she grows up, Ani develops the skills of animal speech, but she never feels quite comfortable speaking with people.
So when Ani's mother sends her away to be married in a foreign land, she finds herself at the mercy of her silver-tongued lady in waiting, who leads a mutiny that leaves her alone, destitute, and fleeing for her life. To survive, Ani takes on work as a royal goose girl, hiding in plain sight while she develops her forbidden talents and works to discover her own true, powerful voice.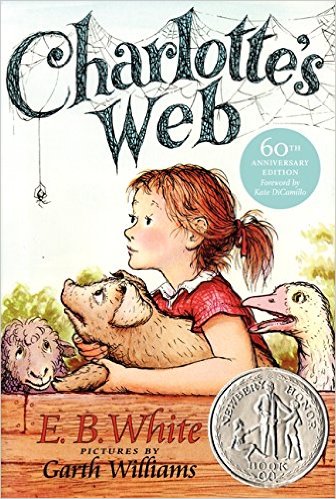 I realize Fern isn't the main character of this book, nor is she really in it for long, but she was bold in standing up for a little runt pig and was a good friend to him.
Some Pig. Humble. Radiant. These are the words in Charlotte's Web, high up in Zuckerman's barn. Charlotte's spiderweb tells of her feelings for a little pig named Wilbur, who simply wants a friend. They also express the love of a girl named Fern, who saved Wilbur's life when he was born the runt of his litter.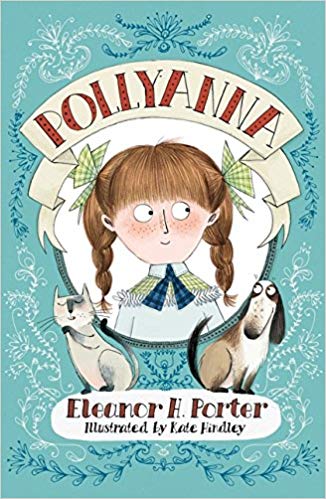 While I had watched the Pollyanna movie many times as a child I had no idea it was a book until a few years ago! Pollyanna's optimism and positivity are two characteristics most people could use some more of.
The orphan girl Pollyanna moves in with her strict aunt in New England. Despite a difficult start, Pollyanna's exuberance and positivity affect everyone who meets her, and she spreads joy and love wherever she goes. But when tragedy strikes, Pollyanna finds her optimistic attitude tested, and she must learn to find happiness again.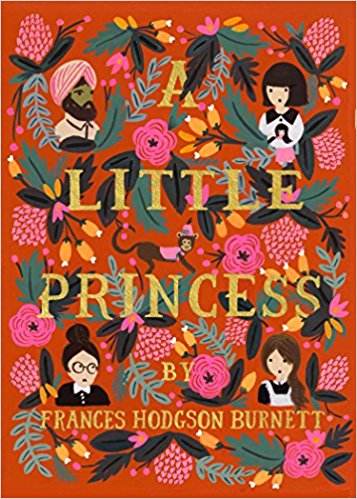 Another one that I watched the movie when I was a child but didn't read the book until adulthood. Sara Crewe is a great role model, she is kind to everyone, even the servants, when she is rich and is just as kind when she is penniless. If you are going to watch a movie for this one you have to watch the 90's version, skip over Shirley Temple, that one doesn't follow the book nearly as well and her character is not nearly as sweet.
Alone in a new country, wealthy Sara Crewe tries to settle in and make friends at boarding school. But when she learns that she'll never see her beloved father gain, her life is turned upside down. Transformed from princess to pauper, she must swap dancing lessons and luxury for hard work and a room in the attic. Will she find that kindness and generosity are all the riches she truly needs?
I read this one myself and I haven't read it with my daughter yet but we will read it soon since we will be covering WWII. Annemarie shows that young girls can be brave too.
As the German troops begin their campaign to "relocate" all the Jews of Denmark, Annemarie Johansen's family takes in Annemarie's best friend, Ellen Rosen, and conceals her as part of the family.
Through the eyes of ten-year-old Annemarie, we watch as the Danish Resistance smuggles almost the entire Jewish population of Denmark, nearly seven thousand people, across the sea to Sweden. The heroism of an entire nation reminds us that there was pride and human decency in the world even during a time of terror and war.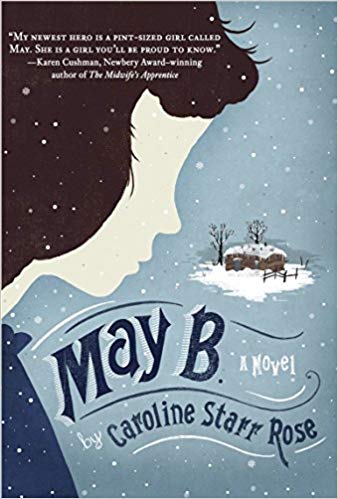 This is one of my favorite free verse novels, and the main character just happens to be a girl who gets put in a position that teaches her how strong she really is.
I've known it since last night:
It's been too long to expect them to return.
Something's happened.
May is helping out on a neighbor's Kansas prairie homestead—just until Christmas, says Pa. She wants to contribute, but it's hard to be separated from her family by 15 long, unfamiliar miles. Then the unthinkable happens: May is abandoned. Trapped in a tiny snow-covered sod house, isolated from family and neighbors, May must prepare for the oncoming winter. While fighting to survive, May's memories of her struggles with reading at school come back to haunt her. But she's determined to find her way home again. Caroline Starr Rose's fast-paced novel, written in beautiful and riveting verse, gives readers a strong new heroine to love.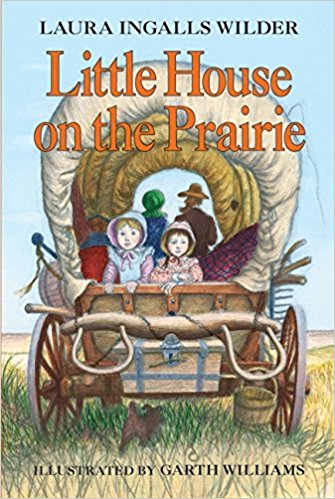 Reading this series as a parent has given me an appreciation for Ma that I never had when I read these books as a child. She works hard to make sure her daughters are well educated, hard working and kind.
Laura Ingalls and her family are heading to Kansas! Leaving behind their home in the Big Woods of Wisconsin, they travel by covered wagon until they find the perfect spot to build a little house on the prairie. Laura and her sister Mary love exploring the rolling hills around their new home, but the family must soon get to work, farming and hunting and gathering food for themselves and for their livestock. Just when the Ingalls family starts to settle into their new home, they find themselves caught in the middle of a conflict. Will they have to move again?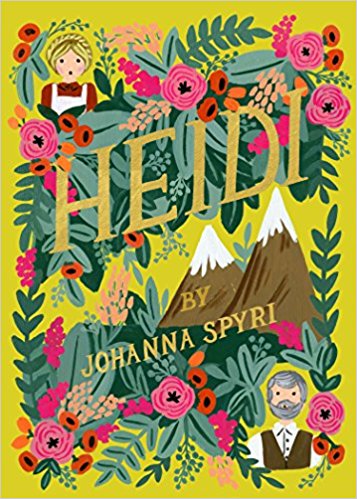 It takes the right kind of person to melt a cranky old man's heart and Heidi is that kind of person.
At the age of five, little orphan Heidi is sent to live with her grandfather in the Alps. Everyone in the village is afraid of him, but Heidi is fascinated by his long beard and bushy grey eyebrows. She loves her life in the mountains, playing in the sunshine and growing up amongst the goats and birds. But one terrible day, Heidi is collected by her aunt and is made to live with a new family in town. Heidi can't bear to be away from her grandfather; can she find a way back up the mountain, where she belongs?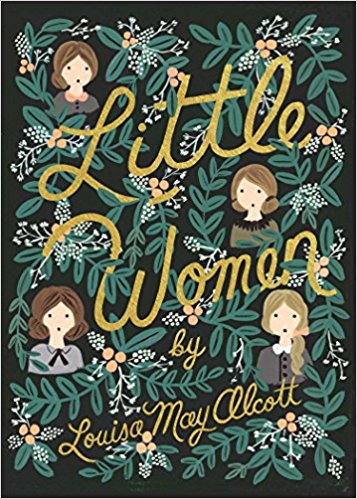 Little Women has so many positive female characters to choose from! Each girl has their own struggles but grow throughout the book.
Grown-up Meg, tomboyish Jo, timid Beth, and precocious Amy. The four March sisters couldn't be more different. But with their father away at war, and their mother working to support the family, they have to rely on one another. Whether they're putting on a play, forming a secret society, or celebrating Christmas, there's one thing they can't help wondering: Will Father return home safely?
Do you have any other books you would add to the list? Let me know!