Ten Tips for Getting the Most out of Your Library – and Saving You Thousands
We use the library a lot. Like a LOT, A LOT.
So much so that they usually give us our own shelf for our holds. #jobsecurity #yourwelcomelibrarians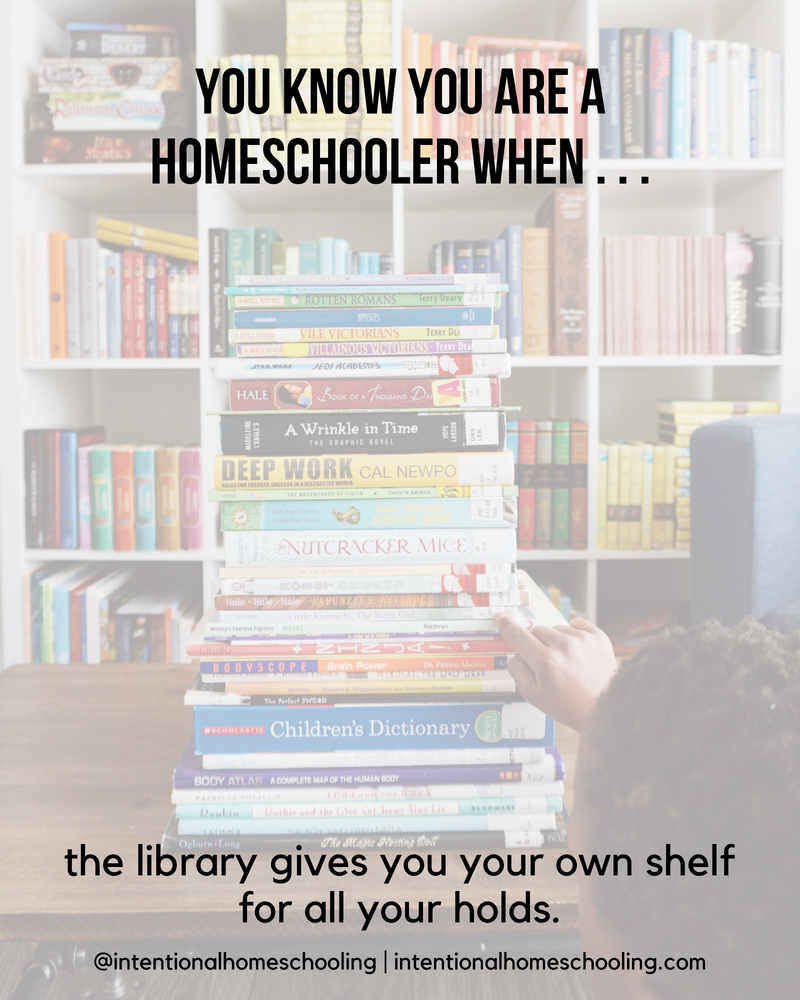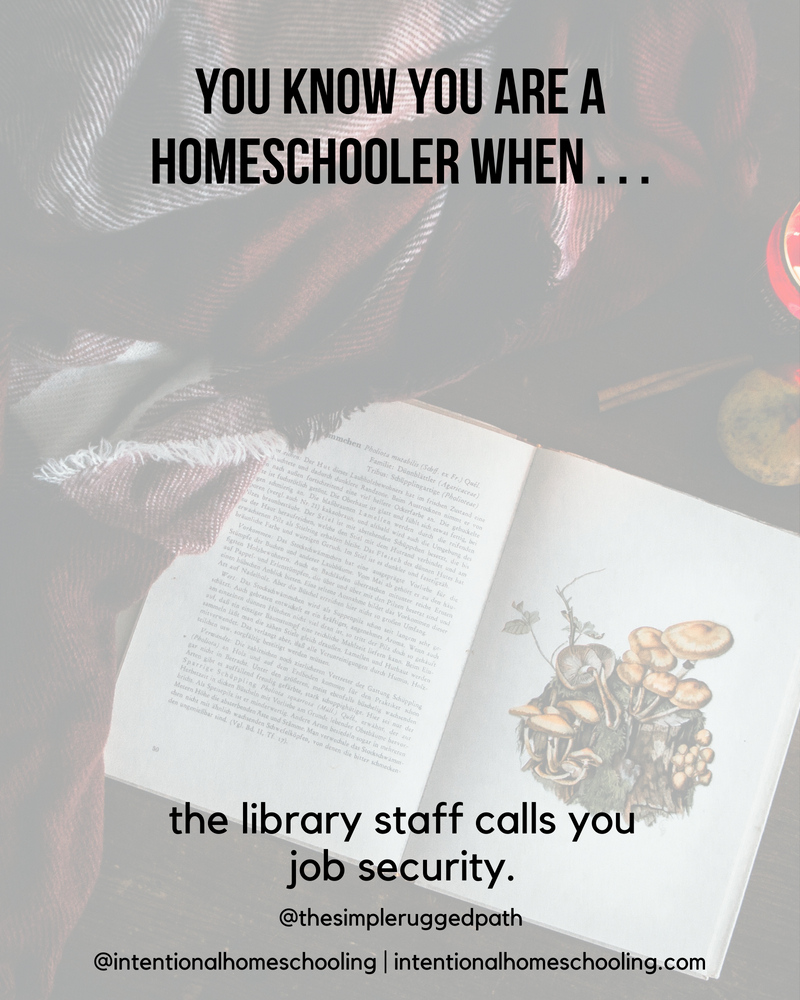 We have an awesome library system where we live, I used to take it for granted and then I started sharing some of our library hauls over on Instagram (I usually share them on my personal account @anintentionallife.me but you can also follow me at the Intentional Homeschooling account @intentionalhomeschooling), our library allows us to have 100 books out and 100 holds per card! I know some people on Instagram have told me before that they have a limit of 22 or 5! I'm not sure how we would deal! (Oh yeah, I know, we would just go to the library every.single.day.)
No matter your library card limit, the tips in this post should help you to use your library more efficiently!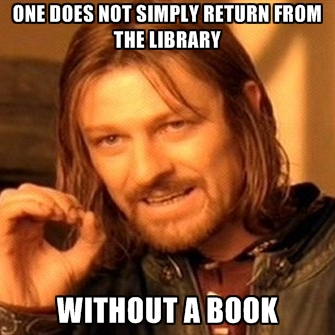 WE TOOK OUT OVER $23,000 IN BOOKS LAST YEAR
Our library has this handy feature where each receipt tells you the cost of all the books you took out and "how much you saved" in your visit, plus our total amount saved for the year, last year our total came out to just over $23,000 saved! (And that doesn't count ebooks and audiobooks which we go through quite a few of.) Granted, we definitely wouldn't have bought all those books, but we sure were able to use a lot of resources for free.
We are now in July and this year we have only saved $8,993.31 by using the library, but our last trip to the library included over $1,000 in books, so it can go up pretty quickly. I'm curious to see what number we hit this year.
We use the library to save us money and also to "test drive" books before purchasing, if I am going to pay for a book I want to make sure it is something we will get our use from and the library helps us with that.
OTHER POSTS YOU MAY ENJOY: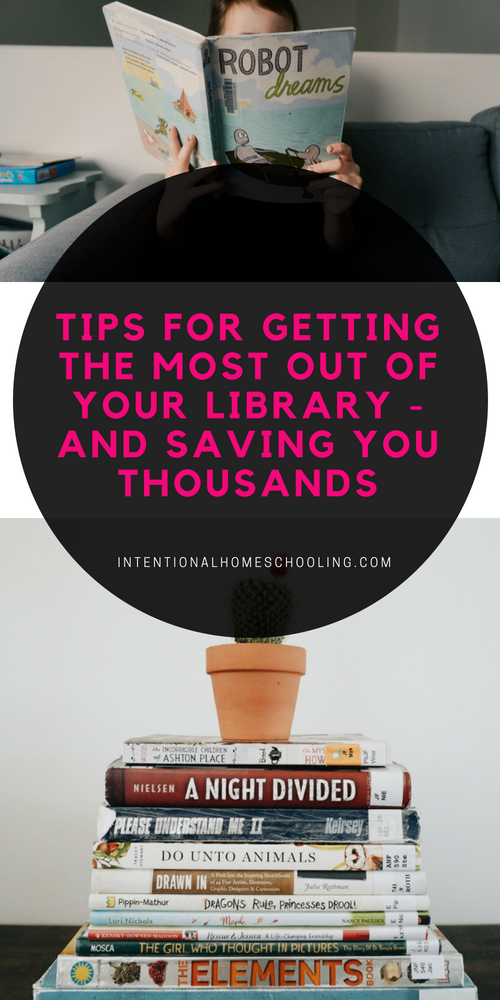 TIPS FOR GETTING THE MOST OUT OF YOUR LIBRARY – AND SAVING YOU THOUSANDS
#1 GET EVERYONE A CARD
I'm not sure if some libraries have a rule on the age of those getting cards but I got Raeca hers when she was 5 and since Ephraim just recently turned 5 we are planning on going this week to get him his own card. I don't usually like them taking physical books out on their card because it's just another account for me to keep track of, but the odd time I've hit my limit of 100 holds and then have moved on to Raeca's cards to put some on there. But mainly I like to use their cards for audiobooks, since they each have their own (old, passed-down-to-them) tablet they have the library apps on there and like to listen when we are traveling or sometimes before bed.
#2 GET TO KNOW THEIR ONLINE SYSTEM
The library online system is great for requesting books (more on that next) but there are often additional resources you can access through your library such as online magazines, research information, etc. Ours even has access to TumbleBooks.
The online system is also where I prefer to check to see when my books are due back, instead of getting a printed receipt (a mile long) each week I get that emailed to me but I never actually look at it, I just look at my account online to see when I need bring things back.
#3 USE THE HOLDS FEATURE
While I do love our provincial library system our local library leaves a lot to be desired. It is in a middle school so it is also their school library and the junior fiction is stellar but I struggle to find other books there. So, I prefer to put pretty much very book we get on hold. Thankfully we can request library books from all over our province and they get shipped to our library for free.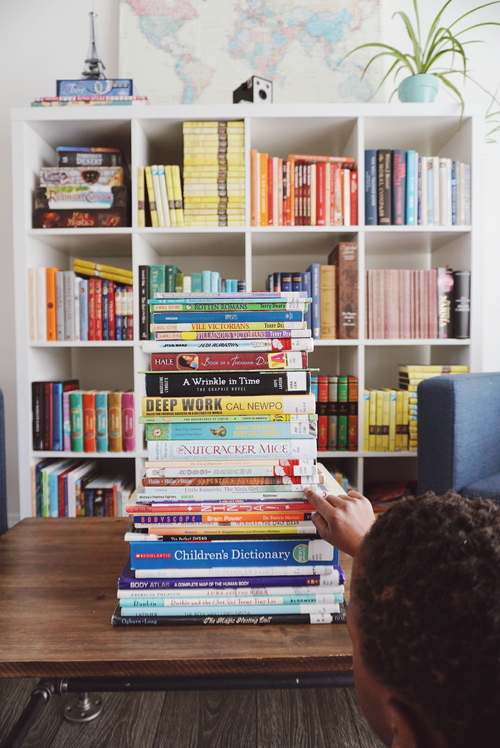 #4 MAKE IT A WEEKLY ROUTINE
We almost always go to the library once a week. Sometimes we will miss a week and other times, when we've been requesting a lot of books, we'll go twice a week. We generally try to go every Thursday because that is one of the days the holds come in and if we need to go a second day we will go Monday because that is the other day they receive holds. I prefer going on the same day of the week because then I always know that I have library books that are due on Thursdays. Our movies we can have checked out for a week and most everything else is three weeks, so each Thursday I just look to see what we all need to bring back that week.
#5 AVOID FINES
If you want to enjoy your library experience it's best to avoid fines. While we took out over $23,000 in books and other library resources last year we only got a total of $3 in fines, that's worth it to me! (Plus, we don't actually have to pay our fines until they are over $5 so I still have that $3 fine and haven't wracked up any more this year because we've been good at sticking to one library day.) Another way to avoid fines is to write your due dates in your calendar or put your receipt on your fridge or whatever else you need to do to remind you to take your books back.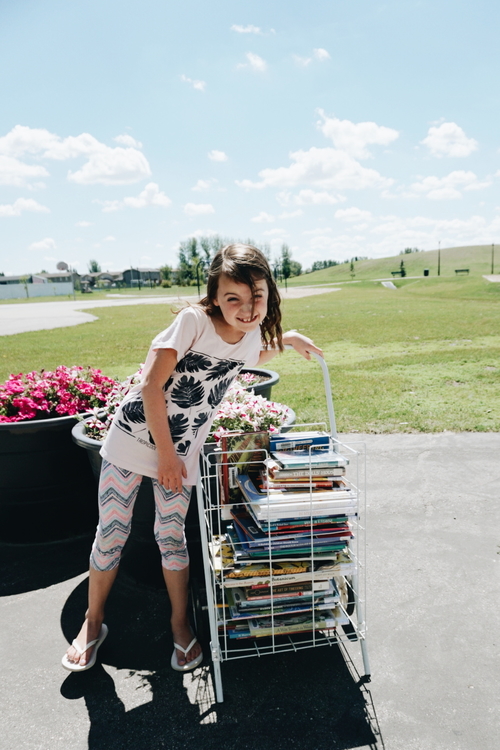 #6 USE THEIR APPS
To my knowledge all the libraries are using apps these days, ours uses OverDrive (which I think is being taken over by/changed to Libby?) and Hoopla. From what I've observed Hoopla titles can be borrowed instantly, as in, no waiting for holds, but our library tops us off at 3 titles per month per card (hence another reason every person in our family needs their own cards). In our library systems Hoopla seems to have more non-fiction titles and they also have TV shows and movies as well. Overdrive has no monthly limit but libraries seem to own a specific number of titles so some popular titles I've had on hold for quite awhile before it was my turn. But we tend to use OverDrive more because they have more fiction titles so we use that a lot for our audiobooks. While OverDrive has no monthly limit, they do (or at least our library has) a limit of 10 holds at a time, which can be annoying if you have a number of popular books you want to get and have to wait awhile for. The nice thing about the apps is the books auto-return so you never have to deal with late fees.
#7 CHECK OUT THEIR PROGRAMMING
Another benefit of libraries is the different kind of programs they offer! At stages in the past we used to go to the preschool story time quite regularly, though now we are past that stage. Ours also has a variety of other programs throughout the year; Lego clubs, movie afternoons, game days, etc, plus every summer they have a reading program where kids get entered to win prizes for reading certain amounts each week.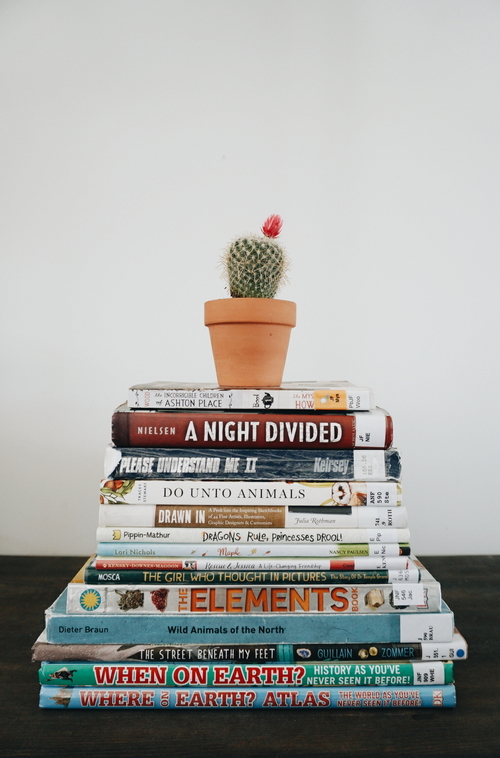 #8 MAKE A POINT OF GETTING TO KNOW THE LIBRARIANS
It's a great idea to get to know the (usually) ladies who will be serving you every week! We've had many perks because we've gotten to know the librarians: I off offhandedly mentioned to one of them once that we were waiting for a particular movie to come in but it was taking awhile and she let us borrow that movie from her personally (!), we also get a few library fees waived because . . . well, I don't know, but they have waived a few fees in the past, I'm assuming because they wanted to be nice. Another random benefit: a couple of years ago I had a friend who was doing missions work overseas and needed her library card renewed so she could listen to audiobooks and read some ebooks but she obviously couldn't go in and do it. So I went in and explained the situation, I didn't know her library card number, her previous address, I wasn't even sure if the card was in her maiden name or her married last name but they found her in the system, renewed her card and gave me her library number and password to give to her so she could access their apps while overseas. Obviously a level of trust had been built over the years.
#9 THE LIBRARY ISN'T JUST FOR BOOKS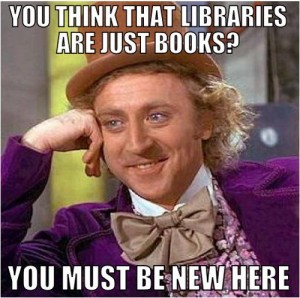 We get a ton of physical books out from our library, but that's not all, we also get movies, audiobooks, ebooks, and even some awesome create kits like the Makey Makey and Little Bits kits. Other libraries in our province also have video games, music instruments, toys and other cool stuff!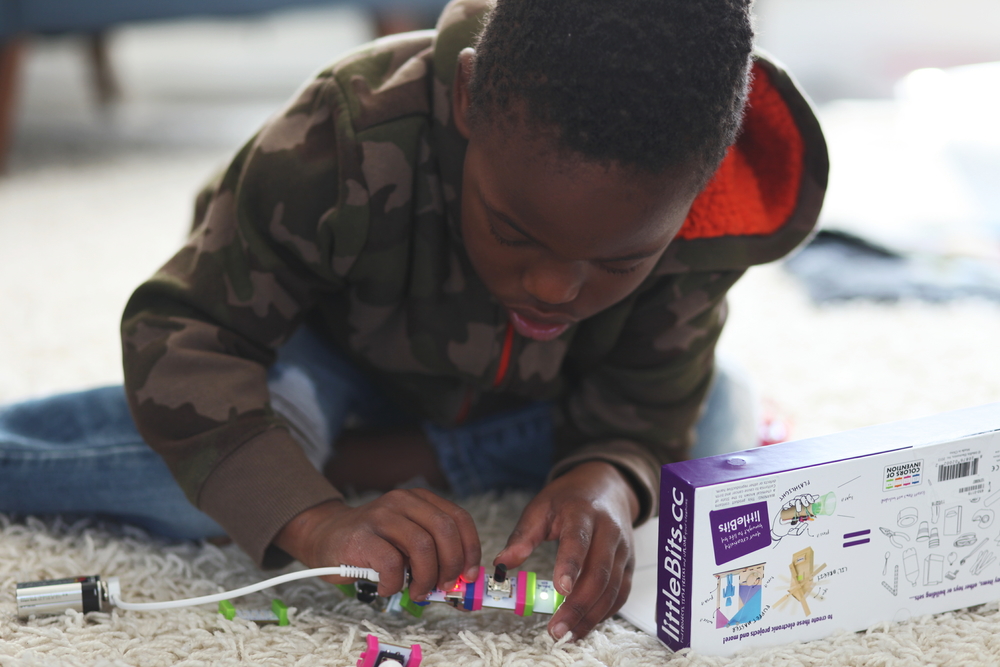 #10 KEEP TRACK OF THE BOOKS YOU HAVE OUT
The biggest thing we do to make sure we don't lose any library books is to have a designated spot for our library books. In our living room we have a vintage magazine stand/holder that our library books go in when we get home. My reads migrate to my nightstand and Rae's go on hers but all our picture books generally stay in the living room area. We also have a bin in one of our closets where we put the books we are done with, that way when it's time for our library run on Thursday we can just grab the bin.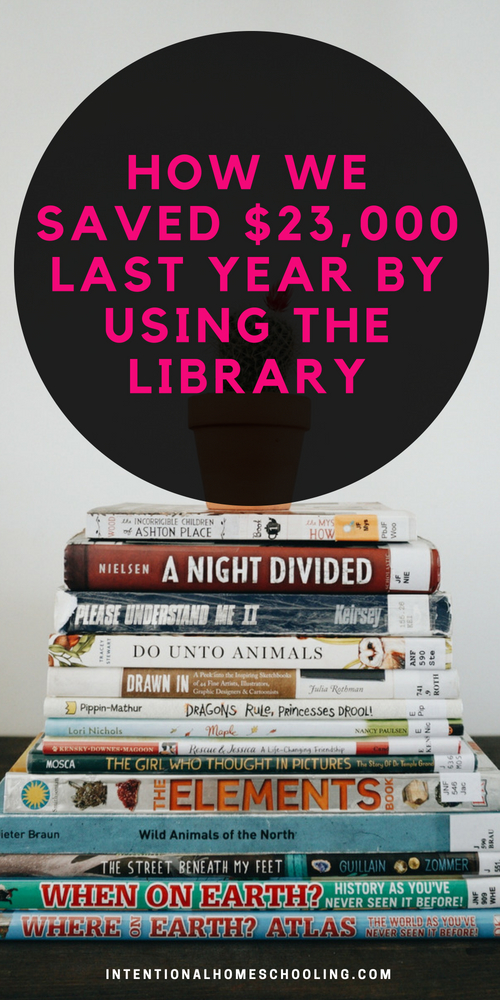 Phew! I think that is all for my library tips! Do you have anything you would add to the list?