10 More Middle Grade Novels Even Adults Will Love
I really enjoy a well written middle grade book.
I do think there are some middle grade books that just appeal to middle graders, some that just appeal to adults and then those in the sweet spot that both categories enjoy.
The books in this list fall in that sweet spot.
I have read and enjoyed each of these and my kids have enjoyed all the ones on this list they've read and I'm pretty sure they'll enjoy the ones they haven't yet.
A few years ago I wrote a post sharing eight middle grade books that I really enjoy as an adult and now today I've got ten more!
I've been reading a lot of middle grade books this year so don't be surprised if there's another one of these lists in the near-ish future.
I would love to hear some of your favorite middle grade books.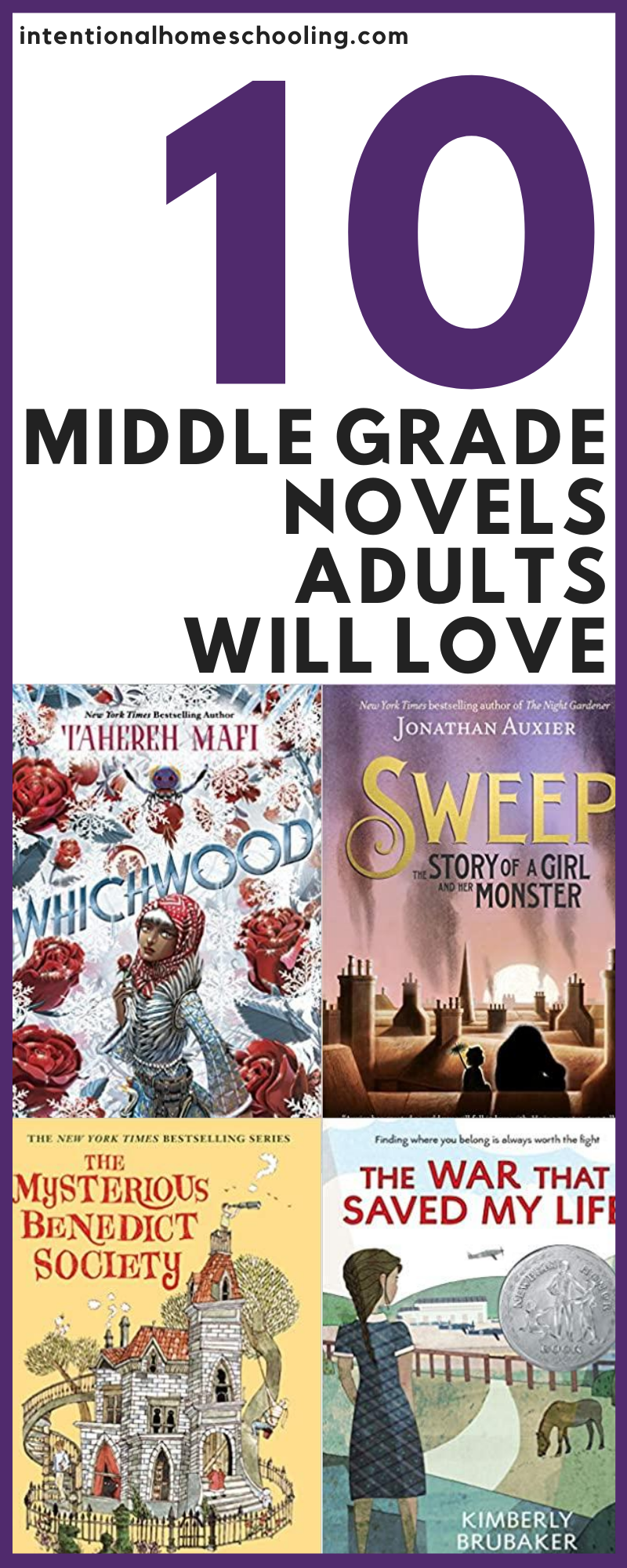 10 More Middle Grade Novels Even Adults Will Love
This is a great WWII book that makes a person realize that there were some benefits to war for some people. A side of war one doesn't think of very often!
Ten-year-old Ada has never left her one-room apartment. Her mother is too humiliated by Ada's twisted foot to let her outside. So when her little brother Jamie is shipped out of London to escape the war, Ada doesn't waste a minute—she sneaks out to join him.

So begins a new adventure for Ada, and for Susan Smith, the woman who is forced to take the two kids in. As Ada teaches herself to ride a pony, learns to read, and watches for German spies, she begins to trust Susan—and Susan begins to love Ada and Jamie. But in the end, will their bond be enough to hold them together through wartime? Or will Ada and her brother fall back into the cruel hands of their mother?
This book was quirky, hilarious and heartwarming!
It's been five years since Livy and her family have visited Livy's grandmother in Australia. Now that she's back, Livy has the feeling she's forgotten something really, really important about Gran's house.
It turns out she's right.
Bob, a short, greenish creature dressed in a chicken suit, didn't forget Livy, or her promise. He's been waiting five years for her to come back, hiding in a closet like she told him to. He can't remember who―or what―he is, where he came from, or if he even has a family. But five years ago Livy promised she would help him find his way back home. Now it's time to keep that promise.
Clue by clue, Livy and Bob will unravel the mystery of where Bob comes from, and discover the kind of magic that lasts forever.
This one was fun for the whole family.
For twelve-year-old Emily, the best thing about moving to San Francisco is that it's the home city of her literary idol: Garrison Griswold, book publisher and creator of the online sensation Book Scavenger (a game where books are hidden in cities all over the country and clues to find them are revealed through puzzles). Upon her arrival, however, Emily learns that Griswold has been attacked and is now in a coma, and no one knows anything about the epic new game he had been poised to launch. Then Emily and her new friend James discover an odd book, which they come to believe is from Griswold himself, and might contain the only copy of his mysterious new game.
One of my favorite fantasy books ever!
Janner Igiby, his brother, Tink, and their disabled sister, Leeli, are gifted children as all children are, loved well by a noble mother and ex-pirate grandfather. But they will need all their gifts and all that they love to survive the evil pursuit of the venomous Fangs of Dang, who have crossed the dark sea to rule the land with malice. The Igibys hold the secret to the lost legend and jewels of good King Wingfeather of the Shining Isle of Anniera.
Oh, this one had me in tears, multiple times.
It's been five years since the Sweep disappeared. Orphaned and alone, Nan Sparrow had no other choice but to work for a ruthless chimney sweep named Wilkie Crudd. She spends her days sweeping out chimneys. The job is dangerous and thankless, but with her wits and will, Nan has managed to beat the deadly odds time and time again.

When Nan gets stuck in a chimney fire, she fears the end has come. Instead, she wakes to find herself unharmed in an abandoned attic. And she is not alone. Huddled in the corner is a mysterious creature—a golem—made from soot and ash.
I need to do a re-read of this one soon, it's such a sad and sweet story.
Mark is a boy who needs a dog. But he can't get his mom on board with his plan.
Buddy is a dog who needs a boy. Buddy has an owner already, but not one who understands what a dog really needs.
Mr. LaRue is a neighbor who needs a community. He's alone all the time in his huge old house—and everyone needs more than that.
Over the course of a summer thunderstorm and one chaotic town council meeting, these three characters cross paths and come together in a timeless tale ripe with emotions. They'll realize they all need the same things: love, understanding, and a sense of belonging—plus a place to play a game of fetch!
"Are you a gifted child looking for special opportunities?" Dozens of children respond to this peculiar ad in the newspaper and are then put through a series of mind-bending tests, which readers take along with them. Only four children–two boys and two girls–succeed. Their challenge: to go on a secret mission that only the most intelligent and inventive children could complete. To accomplish it they will have to go undercover at the Learning Institute for the Very Enlightened, where the only rule is that there are no rules. But what they'll find in the hidden underground tunnels of the school is more than your average school supplies. So, if you're gifted, creative, or happen to know Morse Code, they could probably use your help.
I've listened to this one multiple times and it always makes me chuckle. It's read by the author and I highly recommend listening to it on audio.
"I bought the milk," said my father. "I walked out of the corner shop, and heard a noise like this: t h u m m t h u m m. I looked up and saw a huge silver disc hovering in the air above Marshall Road."
"Hullo," I said to myself. "That's not something you see every day. And then something odd happened."
Find out just how odd things get in this hilarious story of time travel and breakfast cereal, expertly told by Newbery Medalist and bestselling author Neil Gaiman and illustrated by Skottie Young.
This is a middle grade series I am currently in the middle of, I'm thoroughly enjoying it and I know lots of other adults do as well.
Twelve-year-old Sophie has never quite fit into her life. She's skipped multiple grades and doesn't really connect with the older kids at school, but she's not comfortable with her family, either. The reason? Sophie's a Telepath, someone who can read minds. No one knows her secret—at least, that's what she thinks…
But the day Sophie meets Fitz, a mysterious (and adorable) boy, she learns she's not alone. He's a Telepath too, and it turns out the reason she has never felt at home is that, well…she isn't. Fitz opens Sophie's eyes to a shocking truth, and she is forced to leave behind her family for a new life in a place that is vastly different from what she has ever known.
But Sophie still has secrets, and they're buried deep in her memory for good reason: The answers are dangerous and in high-demand. What is her true identity, and why was she hidden among humans? The truth could mean life or death—and time is running out.
Okay, so the premise of this story is a little bizarre, but it's good, trust me. The author writes so well, I love how they always reference the reader and try to give some background into this weird world and also the audiobook narrator is great.
Our story begins on a frosty night . . .
Laylee can barely remember the happier times before her beloved mother died. Before her father, driven by grief, lost his wits (and his way) and she was left as the sole remaining mordeshoor in the village of Whichwood, destined to spend her days scrubbing the skins and souls of the dead in preparation for the afterlife. It's become easy to forget and easier still to ignore not only her ever-increasing loneliness, but the way her overworked hands are stiffening and turning silver, just like her hair.
But soon, a pair of familiar strangers appear, and Laylee's world is turned upside down as she rediscovers color, magic, and the healing power of friendship.
What are some of your favorite middle grade books?