Eight Picture Books For Little Engineers and Builders
If you have a little one in your home that is into building things you'll love these picture books!
I often find myself wondering what my kids will chose to "do" or "be" when they grow up. I'm definitely not going to force them to do anything but I like looking for their strengths and interests now and watching how they change (or stay the same) as they grow older.
Right now Raeca says she wants to be an artist and a writer when she's older. And she also wants to travel the world and tell people about Jesus. A girl after my own heart.
Ephraim is a little harder to read (plus he's younger), he's the kind of kid that makes friends wherever he goes, and he's really inquisitive so I wouldn't be too surprised if he went into some kind of engineering type of field.
If you kids are aspiring builders or engineers (and even if they are not) I think they will all love the books on this list!
EIGHT PICTURE BOOKS
FOR LITTLE BUILDERS AND ENGINEERS
These first two are on my list of all time favorite picture books:
Iggy has one passion: building. His parents are proud of his fabulous creations, though they're sometimes surprised by his materials—who could forget the tower he built of dirty diapers? When his second-grade teacher declares her dislike of architecture, Iggy faces a challenge. He loves building too much to give it up! With Andrea Beaty's irresistible rhyming text and David Roberts's puckish illustrations, this book will charm creative kids everywhere, and amuse their sometimes bewildered parents.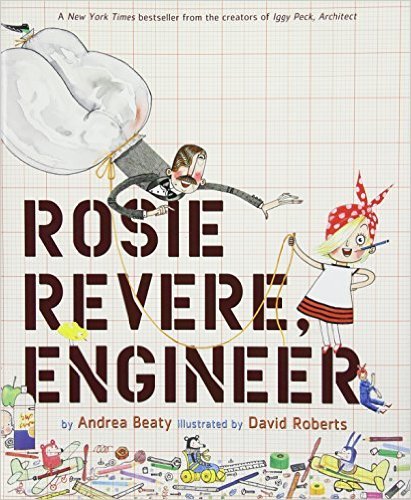 Rosie may seem quiet during the day, but at night she's a brilliant inventor of gizmos and gadgets who dreams of becoming a great engineer. When her great-great-aunt Rose (Rosie the Riveter) comes for a visit and mentions her one unfinished goal—to fly—Rosie sets to work building a contraption to make her aunt's dream come true. But when her contraption doesn't fly but rather hovers for a moment and then crashes, Rosie deems the invention a failure. On the contrary, Aunt Rose insists that Rosie's contraption was a raging success: you can only truly fail, she explains, if you quit.
I love Ashley Spires and this is (one of) my favorite picture books of hers.
A little girl and her canine assistant set out to make the most magnificent thing. But after much hard work, the end result is not what the girl had in mind. Frustrated, she quits. Her assistant suggests a long walk, and as they walk, it slowly becomes clear what the girl needs to do to succeed. A charming story that will give kids the most magnificent thing: perspective!
Haha, who knew a science project could go so terribly wrong?!
Some kids are too smart for their own good…and maybe for everybody else's good. When an overly ambitious little girl builds a humongous robot for her science fair, she fully expects to win first place. What she doesn't expect is the chaos that follows.
Peter Reynolds is awesome, and he partnered up with his brother Paul for this book!
It's time for this year's Going Places contest! Finally. Time to build a go-cart, race it—and win. Each kid grabs an identical kit, and scrambles to build. Everyone but Maya. She sure doesn't seem to be in a hurry…and that sure doesn't look like anybody else's go-cart! But who said it had to be a go-cart? And who said there's only one way to cross the finish line?
This book is so good for showing kids the steps and revisions involved in building and creating.
Clink! Clankety-bang! Thump-whirr! That's the sound of Papa at work. Although he is an inventor, he has never made anything that works perfectly, and that's because he hasn't yet found a truly fantastic idea. But when he takes his family fishing on Lake Michigan, his daughter Virena asks, "Have you ever wondered what it's like to be a fish?"―and Papa is off to his workshop. With a lot of persistence and a little bit of help, Papa―who is based on the real-life inventor Lodner Phillips―creates a submarine that can take his family for a trip to the bottom of Lake Michigan.
By the time she's two years old, Violet Van Winkle can fix nearly any appliance in the house. And by eight she's building elaborate flying machines from scratch—mind-boggling contraptions such as the Tubbubbler, the Bicycopter, and the Wing-a-ma-jig. The kids at school tease her, but they have no idea what she's capable of. Maybe she could earn their respect by winning the blue ribbon in the upcoming Air Show. Or maybe something even better will happen—something involving her best-ever invention, a Boy Scout troop in peril, and even the mayor himself!
Young Frank is an architect. He lives with his grandfather, Old Frank, who is also an architect and his spotted dog, Eddie. Using anything he can get his hands on; macaroni, pillows, toilet paper, shoes, Young Frank likes to build buildings that twist, chairs with zig zag legs and even entire cities. But Old Frank disapproves, saying architects only build buildings.