The Best Picture Books Published in 2020
It's time for one of my favorite book lists of the year:
The Best Picture Books Published in 2020!
Well, okay, this is my first time every writing this particular post but I've made lists for the past number of years and it's a fun annual one to write. In case you are curious, here are are favorites from previous years: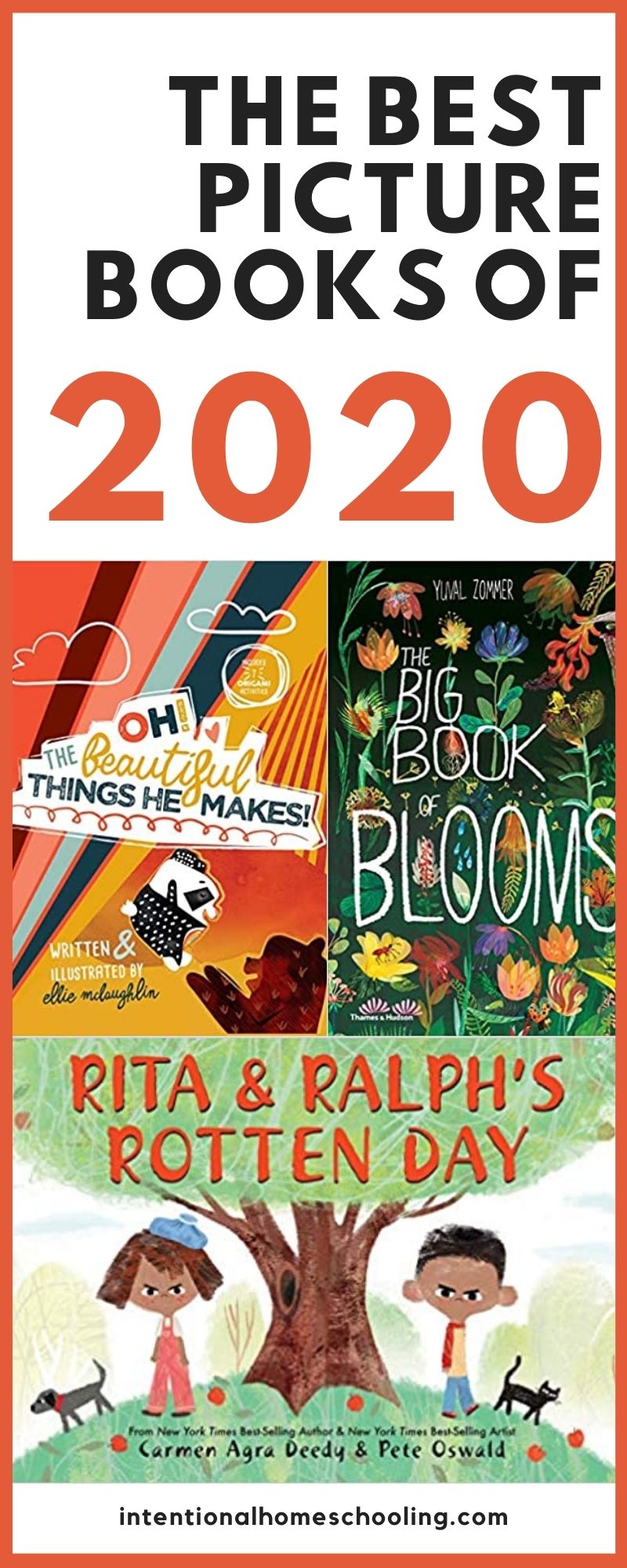 I also like to do a mid-year version of this post, here's The Best Picture Books of 2020 (so far) from a few months ago.
The Best Picture Books Published in 2020
I actually got a copy of this beautiful book sent to me by the author and illustrator but that's not why it's on this list, it's on here because it is a gorgeous book with a wonderful message.
Also, I just mentioned this book in my recent Homeschool Day in the Life post, with it's great rhyme and rhythm we used it in our poetry tea time.
It's a question we all wrestle with. Why do bad things happen? But it's not just adults asking this question. Children want to know too. Oh! The Beautiful Things He Makes! follows a sweet, yet candid dialogue between a mother and her adoptive panda cub about life's tough subjects. Written specifically for children, this book has a repetitive, resounding message–that God makes beautiful things out of any circumstance. If children grow up embracing this truth, they will be able to face these challenges with confidence, and come out stronger on the other side.
Oh! The Beautiful Things He Makes! touches on topics such as selfishness, bullying, prejudice, grief and loss, among others. The end of the book has 7 supplemental origami crafts meant to inspire further creativity and connection.
There are a few books on this list that while they are picture books they aren't storybooks, this is a beautifully illustrated book about flowers. I've enjoyed this author's entire series.
In The Big Book of Blooms, the next installment in the wildly successful Big Book series, Yuval Zommer's charming illustrations bring to life some of the most colorful, flamboyant, and unusual flowers from across the globe.
In the opening pages, readers will learn all about botany, including how to recognize different types of flowers. Subsequent pages illustrate the various habitats that are home to flora such as pitcher plants, the giant water lily, and the weirdly wonderful corpse flower. Readers will discover which flowers are endangered and why some blooms are fragrant or colorful, not to mention grisly details about carnivorous and poisonous flowers.

This is a funny little story/spin off from Captain Marvel all about the Flerken, my kids loved it.
Hello! I am Goose.
I look like a cat.
But I am not a cat.
I am a Flerken!
In this adorable picture book told from Goose"s point of view, our favorite Flerken embarks on an adventure alongside Captain Marvel that leads them to Louisiana, where Goose SLORPS some alligators and finds a new friend in Monica Rambeau!
In two little houses,
on two little hills,
lived two best friends…
So begins the story of Rita and Ralph. Every day they meet to play beneath the apple tree. It's always fun and games — until one roundly rotten day when a new game means someone ends up crying. Who knew it could be so hard to say "I'm sorry"?
Just when it seems nothing will ever be right again, a surprising thing happens. The old friends try something new, that isn't new at all. Something they've done a hundred times…
Dogs chase cats. Everyone knows this, especially cats.
When Dog wants to chase Cat, he politely asks, "are you a cat?"
To outrun and outsmart Dog, Cat pretends to be other animals that dogs wouldn't ordinarily want to chase. It's a masterful plan indeed. But when an unexpected creature walks by, it's impossible for Cat to play pretend for much longer.
In a charming picture book filled with pleasing banter and hilarious quips, rising talent Coll Muir creates the perfect story about staying true to yourself.
Mabel isn't like the other mermaids. Lucky isn't like the other octopuses. But when they find each other, they discover that true friendship isn't about how you look, and that sometimes what we are searching for is right under our noses.
The inimitable Rowboat Watkins is back with another humorous tale about being true to yourself.
I didn't do a very good job keeping up with picture books in 2020, in large part because the library was closed for a number of months, I'm hoping to do better in 2021 and have a longer list!
Actually, this year I am writing monthly book lists with picture books that are being released that sound really good, you can check out January's list and February's list so far.