Grade One Read Aloud Novels
Major confession: I have loved reading for my whole life but I am not good at reading novels out loud. I can get by with picture books; I don't do voices but I can read pretty dramatically and it's pretty fun, but novels?
I struggle.
Even though I'm not good at reading novels out loud I really love books and want my kids to experience all of them (major goal, I know), but I don't want my inability to read novels to be a hindrance, so, my not-so-secret weapon?
Audio books. Lots and lots of audio books.
Most of the books on this list we will be listening to on audio this year. That being said, that doesn't mean we don't own the paperback versions, because we do! I imagine my kids reading these books to themselves in a few years and that makes me just as excited as the idea of listening to them on audio now.
Right now our favorite time to listen to audio books is at lunch time. We gather around and eat our lunch as we listen to a chapter or two (or three or four) of our current book.
In addition to the novels on this list we will also be reading through about half of the books on our Classic Novels for Grade 1 & 2 list (and finishing the other half in grade 2). I am looking forward to sharing these stories with my kids (and hearing/reading a few of them for the first time)!
Reading great books is pretty much half of our goal for Language Arts this year and I'm pretty sure it is a goal we will succeed at.

GRADE 1 READ ALOUDS
Alone in a new country, wealthy Sara Crewe tries to settle in and make friends at boarding school. But when she learns that she'll never see her beloved father gain, her life is turned upside down. Transformed from princess to pauper, she must swap dancing lessons and luxury for hard work and a room in the attic. Will she find that kindness and generosity are all the riches she truly needs?
Harriet M. Welsch is a spy. In her notebook, she writes down everything she knows about everyone, even her classmates and her best friends. Then Harriet loses track of her notebook, and it ends up in the wrong hands. Before she can stop them, her friends have read the always truthful, sometimes awful things she's written about each of them. Will Harriet find a way to put her life and her friendships back together?
Tommy and his sister Annika have a new neighbor, and her name is Pippi Longstocking. She has crazy red pigtails, no parents to tell her what to do, a horse that lives on her porch, and a flair for the outrageous that seems to lead to one adventure after another!
When Marty Preston comes across a young beagle in the hills behind his home, it's love at first sight—and also big trouble. It turns out the dog, which Marty names Shiloh, belongs to Judd Travers, who drinks too much and has a gun—and abuses his dogs. So when Shiloh runs away from Judd to Marty, Marty just has to hide him and protect him from Judd. But Marty's secret becomes too big for him to keep to himself, and it exposes his entire family to Judd's anger. How far will Marty have to go to make Shiloh his?
Verses full of bubbling nonsense and rhythm, written for the author's son, Christopher Robin. It is for "very small children (and for their elders who get a surreptitious joy from what is meant for their little ones)."
Now We Are Six is a book of thirty-five children's verses by A. A. Milne, with illustrations by E. H. Shepard. It was first published in 1927 including poems such as "King John's Christmas", "Binker" and "Pinkle Purr". Eleven of the poems in the collection are accompanied by illustrations featuring Winnie-the-Pooh. These include: "The Charcoal Burner", "Us Two", "The Engineer", "Furry Bear", "Knight-in-armour", "The Friend", "The Morning Walk", "Waiting at the Window", "Forgotten", "In the Dark" and "The End".
A Christmas Carol tells the story of a bitter old miser named Ebenezer Scrooge and his transformation into a gentler, kindlier man after visitations by the ghost of his former business partner Jacob Marley and the Ghosts of Christmas Past, Present and Yet to Come.
With scarcely enough food or money for his own family, George Muller opened his heart and home. Sustained by God's provision, the Muller house "Breakfast Club" of thirty orphans grew to five large houses that ultimately over ten thousand children would call home.
When Cyril, Anthea, Robert, Jane and their baby brother go digging in the gravel pit, the last thing they expect to find is a Psammead – an ancient Sand-fairy! Having a Sand-fairy for a pet means having one wish granted each day. But the children don't realize all the trouble wishes can cause . . .
Once, in a house on Egypt Street, there lived a china rabbit named Edward Tulane. The rabbit was very pleased with himself, and for good reason: he was owned by a girl named Abilene, who adored him completely. And then, one day, he was lost. . . . Kate DiCamillo takes us on an extraordinary journey, from the depths of the ocean to the net of a fisherman, from the bedside of an ailing child to the bustling streets of Memphis. Along the way, we are shown a miracle – that even a heart of the most breakable kind can learn to love, to lose, and to love again.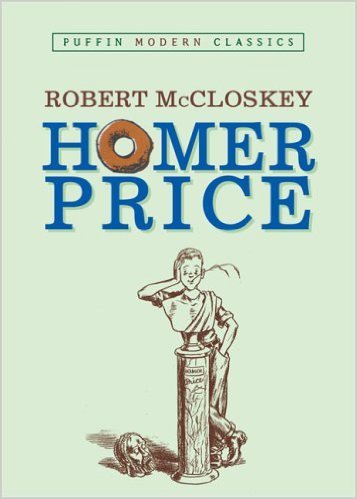 Welcome to Centerburg! Where you can win a hundred dollars by eating all the doughnuts you want; where houses are built in a day; and where a boy named Homer Price can foil four slick bandits using nothing but his wits and pet skunk.
This stirring and unforgettable novel from renowned author Katherine Applegate celebrates the transformative power of unexpected friendship. Inspired by the true story of a captive gorilla known as Ivan, this illustrated novel is told from the point of view of Ivan himself. Having spent twenty-seven years behind the glass walls of his enclosure in a shopping mall, Ivan has grown accustomed to humans watching him. He hardly ever thinks about his life in the jungle. Instead, Ivan occupies himself with television, his friends Stella and Bob, and painting. But when he meets Ruby, a baby elephant taken from the wild, he is forced to see their home, and his art, through new eyes.
Louisa Brody's life on the Colorado prairie is not at all what she expected. Her dear Pa, accused of thievery, is locked thirty miles away in jail. She's living with the awful Smirches, her closest neighbors and the very family that accused her Pa of the horrendous crime. And now she's discovered one very cantankerous—and magical—secret beneath the hazel grove. With her life flipped upside-down, it's up to Louisa, her sassy friend Jessamine, and that cranky secret to save Pa from a guilty verdict.