The Best Picture Books of 2020 (so far)
I feel like we are behind in our picture book reading this year.
I blame it (mostly) on the fact that the libraries were closed for a few months.
But now that our library is back up and running we are taking full advantage of it again.
(If you are curious, you can see inside a few of the books from our library hauls here.)
These are the best picture books that have been published in 2020 that we have read so far. We've got a lot more that came out this year that we want to read yet so like most years I plan on doing this round up mid-year (those this one is a little late) and then I'll do one at the end of the year or at the beginning of 2021.
If you are curious about previous years you can check them out: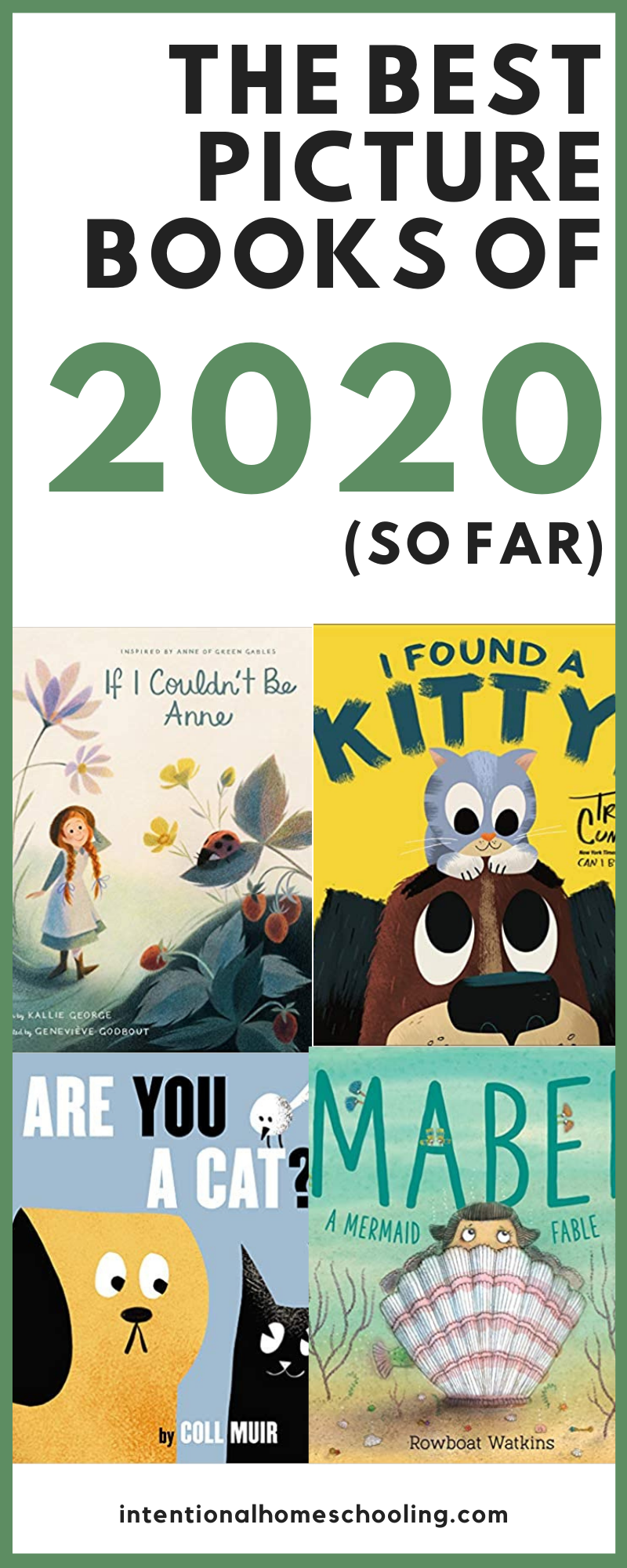 The Best Picture Books of 2020 (so far)
Emma Lilian Todd's mind was always soaring–she loved to solve problems. Lilian tinkered and fiddled with all sorts of objects, turning dreams into useful inventions. As a child, she took apart and reassembled clocks to figure out how they worked. As an adult, typing up patents at the U.S. Patent Office, Lilian built the inventions in her mind, including many designs for flying machines. However, they all seemed too impractical. Lilian knew she could design one that worked. She took inspiration from both nature and her many failures, driving herself to perfect the design that would eventually successfully fly. Illustrator Tracy Subisak's art brings to life author Kirsten W. Larson's story of this little-known but important engineer.
In two little houses,
on two little hills,
lived two best friends…
So begins the story of Rita and Ralph. Every day they meet to play beneath the apple tree. It's always fun and games — until one roundly rotten day when a new game means someone ends up crying. Who knew it could be so hard to say "I'm sorry"?
Just when it seems nothing will ever be right again, a surprising thing happens. The old friends try something new, that isn't new at all. Something they've done a hundred times…
In this whimsical and magical picture book, Anne's boundless imagination takes flight! She imagines being all the things she loves so dearly. If I Couldn't Be Anne, Anne with an e, what would I be . . . Anne wonders what it would be like to be the wind dancing round the treetops. A tightrope walker, breathless and brave. A princess in a palace made of apple blossoms. A magical frost fairy or a plain little wood elf. . . . But even as Anne's imagination soars far and wide, she comes back down to earth, recognizing that some things – like friendship! – are even better than the imagination.
Dogs chase cats. Everyone knows this, especially cats.
When Dog wants to chase Cat, he politely asks, "are you a cat?"
To outrun and outsmart Dog, Cat pretends to be other animals that dogs wouldn't ordinarily want to chase. It's a masterful plan indeed. But when an unexpected creature walks by, it's impossible for Cat to play pretend for much longer.
In a charming picture book filled with pleasing banter and hilarious quips, rising talent Coll Muir creates the perfect story about staying true to yourself.
Mabel isn't like the other mermaids. Lucky isn't like the other octopuses. But when they find each other, they discover that true friendship isn't about how you look, and that sometimes what we are searching for is right under our noses.
The inimitable Rowboat Watkins is back with another humorous tale about being true to yourself.
Paintings and sculptures come to life when a young girl visits the Metropolitan Museum of Art with her classmates. What starts as just another tour of the museum becomes a joyful parade as the art, which must not be touched, touches the young museum-goers in surprising ways.
Lucky dog Arfy has a home. When he discovers a homeless kitten, Arfy hopes Scamper can come live with him, but–achoo!–his person is allergic to cats! So, Arfy writes persuasive letters to prospective owners about what a great pet Scamper would make. But somehow these matches aren't made in heaven. If Scamper can't live with any of them, where will he go? He needs a quiet home where he could make people as happy as they'll make him, full of laps, pats and purrs, and yarn balls….Arfy thinks he knows just the place!!
Another winning, heart-tugging story that's perfect for cat lovers, dog lovers, and pet adoption advocates. Troy Cummings writes a great read aloud, and the book showcases many styles of letters, making it appealing to parents and teachers looking to teach the lost art of written communication. Helpful tips in the backmatter inform children how they can help the plight of homeless animals.
What are some of your favorite books from 2020 so far?