Children's Books About South America
Today I wanted to continue the country book list series. Though, you may notice I've actually decided to do a whole continent, not a country.
I'd love to break these down into individual country book lists at some point but right now there isn't enough books for each country to do so. If you have some suggestions for children's books about South America I'd love for you to let me know!
CHILDREN'S BOOKS
ABOUT SOUTH AMERICA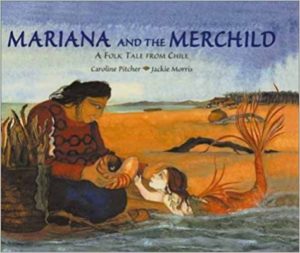 Old Mariana finds a merbaby in a crabshell and cares for it as if it were her own child. She knows all the time that one day when the sea is calm the merchild's mother will return to take her daughter back.
El sol es de oro la luna es de plata y las estrellitas son de hoja de lata. The sun's a gold medallion. The moon's a silver ball. The little stars are only tin; I love them best of all. Here is a groundbreaking bilingual collection of traditional rhymes that celebrates childhood and Spanish and Latin American heritage. From playing dress up to making tortillas, and from rising at daybreak to falling asleep, these joyful rhymes are sure to delight young readers.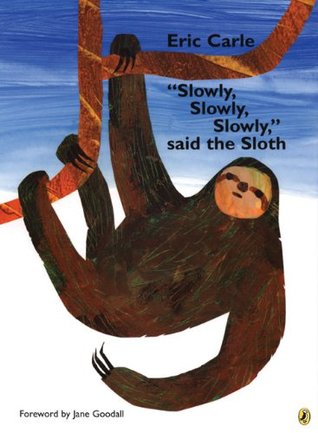 Slowly, slowly, slowly . . . that's the way the sloth moves. Slowly, it eats and then, slowly, it falls asleep. "What strange kind of creature is this?" the other animals wonder. Why doesn't it run or fly or play or hunt like the rest of us? "Why are you so slow?" the howler monkey inquires. But the sloth doesn't answer any questions until the jaguar asks, "Why are you so lazy?" Anyone who has ever felt too busy will appreciate the sloth's peaceful lifestyle and realize that it's okay to take time to enjoy life. Eric Carle' s dazzling collage illustrations introduce readers to the exotic beauty of the Amazon rain forest and the many unusual animals living there.
Turtle loves to dance and play the flute. But her exuberance puts her at risk when her music attracts the attention of a brave hunter who brings her home to make turtle stew. After she is caught, her only hope for escape is the hunter's children … and her own wit. This folktale, first told by the indigenous people of Brazil, is now told throughout Latin America. Like the people of Latin America, Turtle always seems to survive any challenge by using her courage and wit. Beautiful watercolors radiant with the dense foliage and hardy wildlife of the Amazon rain forest, guides the reader through this timeless adventure story. These rainforest stories will teach readers the importance of resourcefulness.
Ana loves stories. She often makes them up to help her little brother fall asleep. But in her small village there are only a few books and she has read them all. One morning, Ana wakes up to the clip-clop of hooves, and there before her, is the most wonderful sight: a traveling library resting on the backs of two burros‑all the books a little girl could dream of, with enough stories to encourage her to create one of her own.
One day, high in the Andes Mountains, Cuy the Guinea Pig is searching for wild spinach to eat when Tío Antonio the Fox comes in search of Cuy to eat! Tío Antonio thinks he s found dinner, but crafty Cuy has other plans. Quick-witted Cuy fools Tío Antonio not once, but three times. Combining striking wood block artwork with an authentic South American voice, this sly trickster tale shows that clever thinking is key when you're out-foxing the fox.
Ada Ríos grew up in Cateura, a small town in Paraguay built on a landfill. She dreamed of playing the violin, but with little money for anything but the bare essentials, it was never an option…until a music teacher named Favio Chávez arrived. He wanted to give the children of Cateura something special, so he made them instruments out of materials found in the trash. It was a crazy idea, but one that would leave Ada—and her town—forever changed. Now, the Recycled Orchestra plays venues around the world, spreading their message of hope and innovation.
When Paulo Marcelo Feliciano becomes a soccer star, crowds will cheer his famous name! Then his mother won't have to work long hours, and he won't have to work all day on a fishing boat. For now, Paulo takes care of his little sister Maria (she teaches him reading, he teaches her soccer moves) and walks her to school, stopping to give his teammates cheese buns as they set out to shine people's shoes or perform for the tourist crowd. At day's end, it's time to plan the game, where Givo will bounce, Carlos will kick, and Jose will fly! But when Jose falls on his wrist, will the team finally break the rules and let a girl show her stuff? Set in a country whose resilient soccer stars are often shaped by poverty, this uplifting tale of transcending the expected scores a big win for all.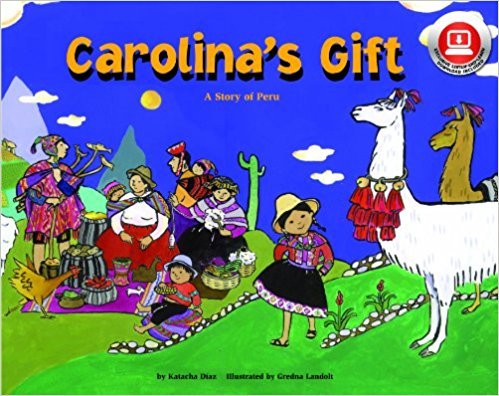 Carolina lives in a village up in the Andes mountains. Today she and her mother are traveling into town to find a birthday gift for Carolina's grandmother. There are so many things to see and so many gifts to choose from! Children will follow Carolina through her new experience. Carolina's Gift gives readers a fun and unique insight of a different culture, and a sense what life might be like for a child growing up in mountain village of Peru.
Imaginations will soar from the forest floor, up through the canopy and back down again, following the circle of life in this clever adaptation of the song The Green Grass Grew All Around. The jungle comes alive as children learn about a wide variety of the animals (jaguars, emerald tree boas, leafcutter ants, sloths, poison dart frogs, toucans, and bats) and plants (kapok trees, liana vines, and bromeliads) living in the lush Amazon rainforest. Search each page to find rainforest bugs and butterflies hiding in the illustrations.
In the middle of the wide Argentine pampas there once grew a magic tree. Above this tree slept a bird so evil it could stop the rain from falling. And not far from this tree lived a brave boy who one day set out to save his village and all the creatures from dying of thirst. Illustrated with charming folk-art-like paintings and retold with simplicity and drama, this legend of a child's courage and faith explains why Argentineans believe that good luck can be found in the shade of a carob tree.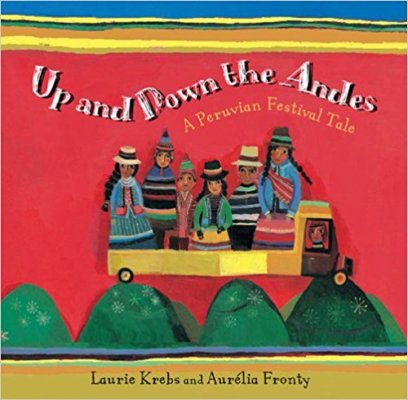 This rhyming text takes readers from Lake Titicaca all the way to the city of Cusco for the marvelous Inti Raymi festival. They'll meet children from many areas of southern Peru who are traveling to the festival, each using a different mode of transportation. Includes useful notes on the history and culture of Peru.
Luis loves to read, but soon his house in Colombia is so full of books there's barely room for the family. What to do? Then he comes up with the perfect solution–a traveling library! He buys two donkeys–Alfa and Beto–and travels with them throughout the land, bringing books and reading to the children in faraway villages.
Do you have any books you would add to this list?
Let me know!