20 of the Best Classic Read Aloud Novels for Elementary Kids
Three years ago I created a list of 40 classic read aloud novels for kids.
I did a lot of research before making that list and compiled what I thought were 40 great books.
The only thing was, I hadn't read all of the books myself. For a number of them I was going off of suggestions from a number of different people.
And it turns out my taste is a little different than others.
For this list I have include twenty classic novels I have read (most of these I have read aloud to my kids or we have listened to them on audio) and these are books we all enjoyed.
These are truly the best classic read alouds for elementary kids.
The best of the best.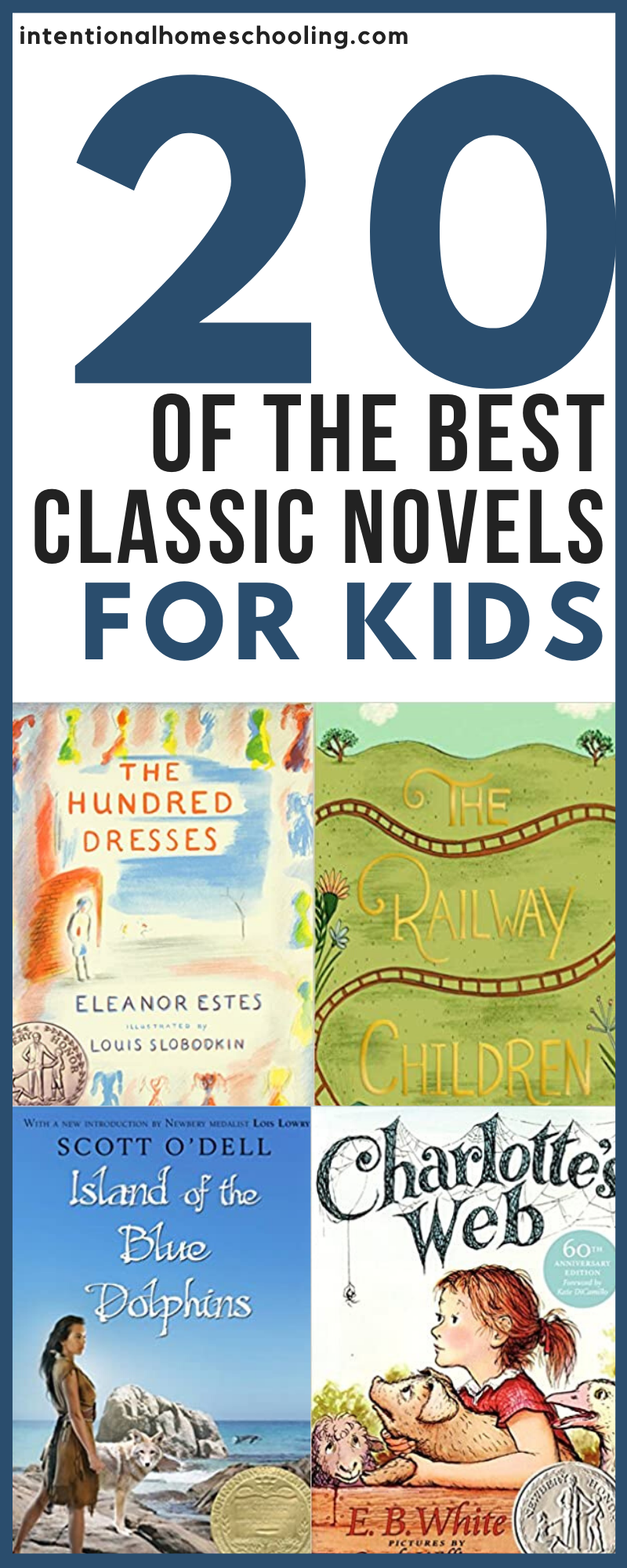 20 of the Best Classic Read Aloud Novels for Elementary Kids
This has always been my first novel I've read aloud with my kids. When they turned four we would spend a week or two reading a chapter or two before bed until this book is done. They both loved it.
high up in Zuckerman's barn. Charlotte's spiderweb tells of her feelings for a little pig named Wilbur, who simply wants a friend. They also express the love of a girl named Fern, who saved Wilbur's life when he was born the runt of his litter.
My sons absolute favorite book.
Tommy and his sister Annika have a new neighbor, and her name is Pippi Longstocking. She has crazy red pigtails, no parents to tell her what to do, a horse that lives on her porch, and a pet monkey named Mr. Nilsson. Whether Pippi's scrubbing her floors, doing arithmetic, or stirring things up at a fancy tea party, her flair for the outrageous always seems to lead to another adventure.
This short little novel has some very good lessons in it for kids.
At the heart of the story is Wanda Petronski, a Polish girl in a Connecticut school who is ridiculed by her classmates for wearing the same faded blue dress every day. Wanda claims she has one hundred dresses at home, but everyone knows she doesn't and bullies her mercilessly. The class feels terrible when Wanda is pulled out of the school, but by that time it's too late for apologies. Maddie, one of Wanda's classmates, ultimately decides that she is "never going to stand by and say nothing again."
Set in the late nineteenth century and told from young Anna's point of view, Sarah, Plain and Tall tells the story of how Sarah Elisabeth Wheaton comes from Maine to the prairie to answer Papa's advertisement for a wife and mother. Before Sarah arrives, Anna and her younger brother Caleb wait and wonder. Will Sarah be nice? Will she sing? Will she stay?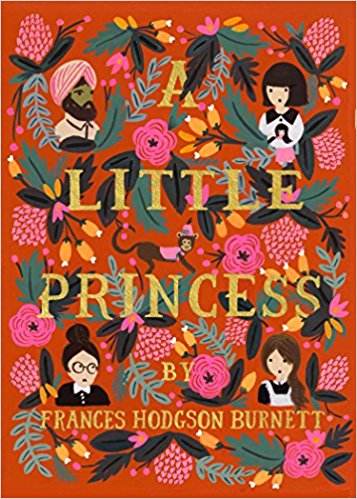 The 1995 movie of this book is also spectacular.
Poor Sara Crewe. Once upon a time her beloved father pampered and adored her. But ever since he died, leaving her alone and penniless, she's been caught in the cruel clutches of Miss Minchin, the headmistress at the Select Seminary for Young Ladies, where Sara once studied. But no matter how terrible things get, Sara always has her imagination and goodness of heart to carry her through.
This is one of my daughter's favorites.
In the Pacific there is an island that looks like a big fish sunning itself in the sea. Around it, blue dolphins swim, otters play, and sea elephants and sea birds abound. Once, Indians also lived on the island. And when they left and sailed to the east, one young girl was left behind. — This is the story of Karana, the Indian girl who lived alone for years on the Island of the Blue Dolphins. Year after year, she watched one season pass into another and waited for a ship to take her away. But while she waited, she kept herself alive by building shelter, making weapons, finding food, and fighting her enemies, the wild dogs. It is not only an unusual adventure of survival, but also a tale of natural beauty and personal discovery.
When Elmer Elevator tells a stray cat about his dream of being able to fly, he learns of a captive dragon on Wild Island. The dragon has been forced by the jungle residents to serve as their shuttle across a wide river — and anyone who rescues the dragon from its cruel captors might be entitled to a free ride.
Elmer needs no further encouragement to stow away aboard a ship to the island, where he matches wits with hungry tigers, an irate gorilla, cranky crocodiles, and other moody creatures.
The Littles live in the walls of the Biggs' house. But when the Biggs go on vacation a messy family comes to stay, the trouble begins. Mice! Cats! How much can one small family take? Will Tom and Lucy, the littlest Littles of all, be able to save the day
Every child needs to have a pet. No one could argue with that.

But what happens when your pet is an owl, and your owl is terrorizing the neighborhood?

In Farley Mowat's exciting children's story, a young boy's pet menagerie—which includes crows, magpies, gophers and a dog—grows out of control with the addition of two cantankerous pet owls. The story of how Wol and Weeps turn the whole town upside down s warm, funny, and bursting with adventure and suspense
Henry, Jessie, Violet, and Benny are brothers and sisters. They're orphans too, and the only way they can stay together is to make it on their own. When the children find an abandoned boxcar in the woods, they decide to call it home―and become the Boxcar Children!
Tucker is a streetwise city mouse. He thought he'd seen it all. But he's never met a cricket before, which really isn't surprising, because, along with his friend Harry Cat, Tucker lives in the very heart of New York City―the Times Square subway station. Chester Cricket never intended to leave his Connecticut meadow. He'd be there still if he hadn't followed the entrancing aroma of liverwurst right into someone's picnic basket. Now, like any tourist in the city, he wants to look around. And he could not have found two better guides―and friends―than Tucker and Harry. The trio have many adventures―from taking in the sights and sounds of Broadway to escaping a smoky fire.
Chester makes a third friend, too. It is a boy, Mario, who rescues Chester from a dusty corner of the subway station and brings him to live in the safety of his parents' newsstand. He hopes at first to keep Chester as a pet, but Mario soon understands that the cricket is more than that. Because Chester has a hidden talent and no one―not even Chester himself―realizes that the little country cricket may just be able to teach even the toughest New Yorkers a thing or two.
Once upon a time…a walled garden bloomed under the summer skies in the north of England. But it was locked up and left all alone. And it stayed all alone, for many years. Until…
When young Mary Lennox moves into Misselthwaite Manor, she hates it. She hates the cold hallways and ugly moor. And she hates how lonely she is. The only comfort Mary has is exploring the manor's grounds.
After uncovering a hidden key, Mary discovers an old, abandoned garden that has a few secrets. With two unexpected friends, Mary gets to work bringing the garden back to life. In Mary's determination to see the garden bloom, she undergoes a powerful transformation of her own.
Meet Mrs. Piggle-Wiggle! She lives in an upside-down house with a kitchen that is always full of freshly baked cookies. She was even married to a pirate once! Best of all, she knows everything there is to know about children.
When Mary turns into an Answer-Backer or Dick becomes Selfish or Allen decides to be a Slow-Eater-Tiny-Bite-Taker, Mrs. Piggle-Wiggle has the perfect cure. And her solutions always work, with plenty of laughs along the way. This is the book that started it all!
This is my personal favorite from the series.
Laura Ingalls and her family are heading to Kansas! Leaving behind their home in the Big Woods of Wisconsin, they travel by covered wagon until they find the perfect spot to build a little house on the prairie. Laura and her sister Mary love exploring the rolling hills around their new home, but the family must soon get to work, farming and hunting and gathering food for themselves and for their livestock. Just when the Ingalls family starts to settle into their new home, they find themselves caught in the middle of a conflict. Will they have to move again?
It tells of a girl named Alice falling through a rabbit hole into a fantasy world populated by peculiar, anthropomorphic creatures.
Four adventurous siblings—Peter, Susan, Edmund, and Lucy Pevensie—step through a wardrobe door and into the land of Narnia, a land frozen in eternal winter and enslaved by the power of the White Witch. But when almost all hope is lost, the return of the Great Lion, Aslan, signals a great change . . . and a great sacrifice.
Open the door and enter a new world!
The story chronicles the adventures of a young farm girl named Dorothy in the magical Land of Oz, after she and her pet dog Toto are swept away from their Kansas home by a tornado.
Meet the All-of-a-Kind Family — Ella, Henny, Sarah, Charlotte, and Gertie — who live with their parents in New York City at the turn of the century.
Together they share adventures that find them searching for hidden buttons while dusting Mama's front parlor and visiting with the peddlers in Papa's shop on rainy days. The girls enjoy doing everything together, especially when it involves holidays and surprises. But no one could have prepared them for the biggest surprise of all!
It's been a few years since we read these stories and I want to get my hands on a copy to do a re-read!
When Raggedy Ann arrived in Marcella's nursery, she quickly became the leader of all the dolls. Raggedy Ann always strives to be good—and she usually succeeds! Join Raggedy Ann on adventures from rescuing Fido, the family dog, to getting her famous "I LOVE YOU" heart, to flying in a kite, and much more!
When Father goes away with two strangers one evening, the lives of Roberta, Peter and Phyllis are shattered. They and their mother have to move from their comfortable London home to go and live in a simple country cottage, where Mother writes books to make ends meet. However, they soon come to love the railway that runs near their cottage, and they make a habit of waving to the Old Gentleman who rides on it. They befriend the porter, Perks, and through him learn railway lore and much else. They have many adventures, and when they save a train from disaster, they are helped by the Old Gentleman to solve the mystery of their father's disappearance, and the family is happily reunited.