We are always reading (aka listening to) a book together as a family.
I wanted to share some of our thoughts on the books we've been reading lately.
I have all the books listed below but if you want to know what we thought of each of the books, be sure to watch the video.
If you have any suggestions on books we should read soon that you've enjoyed, let me know!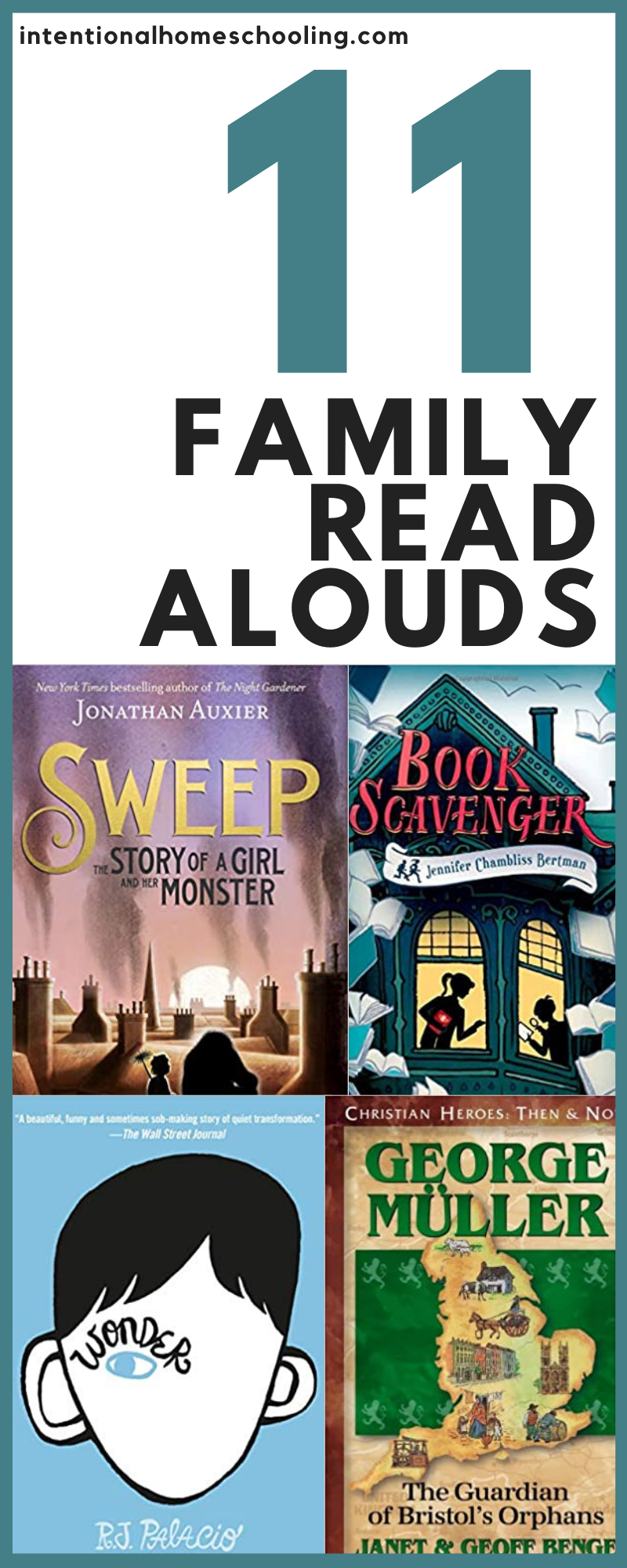 FAMILY READ ALOUDS
For twelve-year-old Emily, the best thing about moving to San Francisco is that it's the home city of her literary idol: Garrison Griswold, book publisher and creator of the online sensation Book Scavenger (a game where books are hidden in cities all over the country and clues to find them are revealed through puzzles). Upon her arrival, however, Emily learns that Griswold has been attacked and is now in a coma, and no one knows anything about the epic new game he had been poised to launch. Then Emily and her new friend James discover an odd book, which they come to believe is from Griswold himself, and might contain the only copy of his mysterious new game.
It's been five years since the Sweep disappeared. Orphaned and alone, Nan Sparrow had no other choice but to work for a ruthless chimney sweep named Wilkie Crudd. She spends her days sweeping out chimneys. The job is dangerous and thankless, but with her wits and will, Nan has managed to beat the deadly odds time and time again.

When Nan gets stuck in a chimney fire, she fears the end has come. Instead, she wakes to find herself unharmed in an abandoned attic. And she is not alone. Huddled in the corner is a mysterious creature—a golem—made from soot and ash.
Thirteen-year-old Brian Robeson, haunted by his secret knowledge of his mother's infidelity, is traveling by single-engine plane to visit his father for the first time since the divorce. When the plane crashes, killing the pilot, the sole survivor is Brian. He is alone in the Canadian wilderness with nothing but his clothing, a tattered windbreaker, and the hatchet his mother had given him as a present.
At first consumed by despair and self-pity, Brian slowly learns survival skills—how to make a shelter for himself, how to hunt and fish and forage for food, how to make a fire—and even finds the courage to start over from scratch when a tornado ravages his campsite. When Brian is finally rescued after fifty-four days in the wild, he emerges from his ordeal with new patience and maturity, and a greater understanding of himself and his parents.
During the summer of 1793, Mattie Cook lives above the family coffee shop with her widowed mother and grandfather. Mattie spends her days avoiding chores and making plans to turn the family business into the finest Philadelphia has ever seen. But then the fever breaks out.
Disease sweeps the streets, destroying everything in its path and turning Mattie's world upside down. At her feverish mother's insistence, Mattie flees the city with her grandfather. But she soon discovers that the sickness is everywhere, and Mattie must learn quickly how to survive in a city turned frantic with disease.

As the Knights of the Prince await His triumphant return, they are steadfast in their mission to take His story into the kingdom and recruit as many as are willing. But when a new and dangerous threat is revealed, their mission is jeopardized.
Sir Kendrick and his young charge, the impetuous Sir Duncan, are sent on a mission to discover the identity and origin of a secretive new order known as the Conquistero Knights. They travel to the city of Bel Lione where Lord Ra has been enticing young people in the kingdom to join his festivals, after which many choose not to return home. Their families keep quiet for fear of repercussion.
When Sir Duncan disappears while trying to discover the truth of Lord Ra's castle, Sir Kendrick attempts to find and enlist the help of a mysterious warrior. Time is short for he must save Duncan and call upon the knights of Chessington to join in the battle against the evil Lord Ra.
Journey to Arrethtrae, where these knights of noble heart live and die in loyal service to the King and the Prince. These knights are mighty, for they serve a mighty King. They are…the Knights of Arrethtrae!
Sir Bentley, an honorable young knight, abandons his calling in order to seek the truth of the Prince. Choosing to live as the Prince did, he forsakes his former lifestyle and wealth to live as a pauper. His travels take him to Holbrook, where the townsfolk live in poverty, paying high taxes to support the lavish lifestyle of Lord Kingsley and his court. But something even darker is lurking in the shadows of the beautiful castle.
Bentley soon befriends Eirwyn, a mysterious but compassionate young woman who often distributes food among the poor. When Eirwyn is kidnapped by a ruthless tribe to serve as a sacrifice, Bentley battles a vicious mountain creature to save her life. But when he discovers who is really behind Holbrook's downfall, he's faced with an even bigger challenge–battling the Dark Knight's most evil commander and his Shadow Warriors as they attack the castle.
Will greed destroy the kingdom the way it destroyed Lord Kingsley? Or can Sir Bentley and Eirwyn work together to restore order and prosperity to the kingdom through the compassion and grace of the Prince?
I won't describe what I look like. Whatever you're thinking, it's probably worse.

August Pullman was born with a facial difference that, up until now, has prevented him from going to a mainstream school. Starting 5th grade at Beecher Prep, he wants nothing more than to be treated as an ordinary kid—but his new classmates can't get past Auggie's extraordinary face. WONDER, now a #1 New York Times bestseller and included on the Texas Bluebonnet Award master list, begins from Auggie's point of view, but soon switches to include his classmates, his sister, her boyfriend, and others. These perspectives converge in a portrait of one community's struggle with empathy, compassion, and acceptance.
Without warning, a huge map of the world appeared in Loren's mind's eye. Loren blinked, but the map was still there. Soon it was covered with ocean waves beating on every shore. Then the waves turned into the faces of young people flowing over every nation. Was Loren being given a glimpse of the future? If so, what part was he going to play?
Ever since he was a young boy dreaming of writing "God is Love" on the moon so that all the world's people could see it, Loren Cunningham has committed his life to reaching the whole world with the Good News of Jesus Christ, ministering in every nation on earth.
Through his unswerving belief that nothing is impossible for God, Loren's vision of waves of young people became the reality of Youth With A Mission, unleashing young Christians in missionary service when that was unheard of. Today, through the mission he began, multiplied thousands of believers- young and old- are working together to bring the gospel to the whole earth.
George Muller stared at the beggar girl. She was no older than five and was piggybacking her little brother. Her mother had died in the cholera epidemic sweeping England. Her father had never returned from the mines. Standing in the muddy street, this little girl gave a face to Bristol's countless orphans.
With scarcely enough food or money for his own family, George Muller opened his heart and home. Sustained by God's provision, the Muller house "Breakfast Club" of thirty orphans grew to five large houses that ultimately over ten thousand children would call home.
George Muller trusted God with a depth rarely seen. His faith and generosity set a standard for Christians of all generations.
Standing atop a mound of rocks, Mildred wrapped her blue padded jacket tightly around her and squinted against the sand-laden wind. To her right the Great Wall wound east for fourteen hundred miles until it reached the Yellow Sea. Before her lay the rocks and sand of the vast Gobi Desert. She would enter this feared place in peace God was here too.
Missionary trio Mildred Cable (1878-1952) and Evangeline and Franscesca French were the first Englishwomen to cross the infamous Gobi Desert, living for years among the diverse peoples of northwestern China in places few Europeans ever reached.
Educated and rich, Mildred Cable once planned to be a concert pianist. Instead she served the people of China through wars and revolutions. Whether speaking the truth to a brutal general who held her prisoner, educating generations of Chinese girls, building self-sustaining Christian communities, or traveling the ancient Silk Road on a mule cart, Mildred followed Jesus with grit, determination, intelligence, and faith.
Ten-year-old Ada has never left her one-room apartment. Her mother is too humiliated by Ada's twisted foot to let her outside. So when her little brother Jamie is shipped out of London to escape the war, Ada doesn't waste a minute—she sneaks out to join him.

So begins a new adventure for Ada, and for Susan Smith, the woman who is forced to take the two kids in. As Ada teaches herself to ride a pony, learns to read, and watches for German spies, she begins to trust Susan—and Susan begins to love Ada and Jamie. But in the end, will their bond be enough to hold them together through wartime? Or will Ada and her brother fall back into the cruel hands of their mother?