12 of the Best Middle Grade Releases 2021: March – June
There are so many good sounding books coming out this year!
I keep thinking I've heard of them all when new ones are announced.
There are lots of middle grade books being released from March through to June but these are ones that I've heard about and are currently on my radar. It's not an exhaustive list by any means.
I shared a list of books coming out from January through to March already. And then I saw more March releases so I have added them to this list.
Are there some middle grade books you know of coming out in the next few months that sound good? Let me know so I can read them!
If you are interested in picture books, I've been making monthly lists of anticipated releases: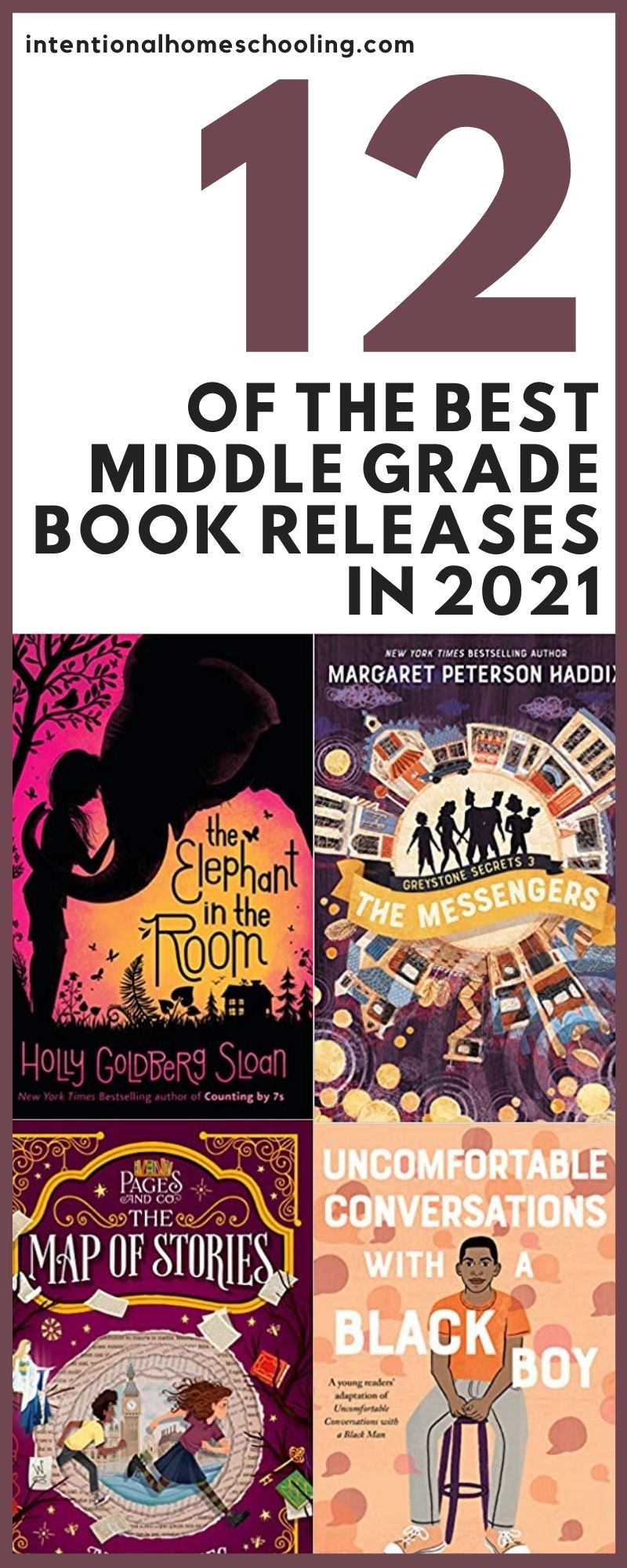 12 of the Best Middle Grade Releases 2021: March – June
March 2nd
It's been almost a year since Sila's mother traveled halfway around the world to Turkey, hoping to secure the immigration paperwork that would allow her to return to her family in the United States.
The long separation is almost impossible for Sila to withstand. But things change when Sila accompanies her father (who is a mechanic) outside their Oregon town to fix a truck. There, behind an enormous stone wall, she meets a grandfatherly man who only months before won the state lottery. Their new alliance leads to the rescue of a circus elephant named Veda, and then to a friendship with an unusual boy named Mateo, proving that comfort and hope come in the most unlikely of places.
March 2nd
Eleven-year-old Harry Mancini is NOT Harry Houdini–the famous escape artist who died in 1926. But Harry DOES live in Houdini's old New York City home, and he definitely knows everything there is to know about Houdini's life. What is he supposed to do, then, when someone starts texting him claiming that they're Houdini, communicating from beyond the grave? Respond, of course.
It's hard for Harry to believe that Houdini is really contacting him, but this Houdini texts the secrets to all of the escape tricks the dead Houdini used to do. What's more, Houdini's offering Harry a chance to go back in time and experience it for himself. Should Harry ignore what must be a hoax? Or should he give it a try and take Houdini up on this death-defying offer?
Dan Gutman is the award-winning author of series including My Weird School, The Genius Files, and the baseball card series, including Honus & Me. He uses his writing powers for good once again in this exciting new middle grade novel.
March 16th
Callie can't wait for her new life to start. After a major friendship breakup in San Diego, moving overseas to Scotland gives her the perfect chance to reinvent herself. On top of that, she's going to live in a real-life castle!
But as romantic as life in a castle sounds, the reality is a little less comfortable: it's run-down, freezing, and crawling with critters. Plus, starting off on the wrong foot with the gardener's granddaughter doesn't help her nerves about making new friends. So she comes up with the perfect solution: she'll be homeschooled. Her parents agree, on one condition: she has to participate in a social activity.
Inspired by a journal that she finds hidden in her bedroom, Callie decides to join a birding club. Sure, it sounds unusual, but at least it's not sports or performing. But when she clashes with the club leader, she risks losing a set of friends all over again. Will she ever be able to find her flock and make this strange new place feel like home?
March 23rd
The world of Wallace The Brave is one of imagination, discovery, and wonder, as Wallace and his friends explore the coastal surroundings of Snug Harbor, Rhode Island, uncovering new mysteries, adventure, and mischief wherever they turn. Brought to life by the wonderfully detailed ink-and-watercolor art of Will Henry, Wallace The Brave (named the 2018 Newspaper Comic Strip of the Year) will delight young readers as well as their parents, who will recognize a camaraderie and heart similar to classic strips like Calvin & Hobbes.
March 23rd
In Science Comics: The Digestive System, visit the inside of your mouth, stomach, liver, intestines, and other organs that make up the gastrointestinal tract! Your guide to the gut is a friendly bacterium who will take you on a journey beyond imagination. Uncover how food is transformed into nutrients! Explore strange and dangerous glands! Behold the wonders of saliva, mucus, and vomit! Writer Jason Viola and illustrator Andy Ristaino provide a trip to the toilet you will never forget!
Every volume of Science Comics offers a complete introduction to a particular topic―dinosaurs, the solar system, volcanoes, bats, robots, and more! Whether you're a fourth grader doing a natural science unit at school or a thirty-year-old with a secret passion for airplanes, these graphic novels are for you!
This is a new series that sounds really good!
March 23rd
The first book in a highly illustrated new chapter book series about three delightfully mischievous young girls and some of the most enigmatic women in history who worked as spies.
It's a dark and stormy night when three sleuthing little girls get pulled into a web of mystery. They have mistakenly uncovered a secret society of some of the most famous female spies in history. A glamorous spy named Josephine Baker enlists the girls to find out who has kidnapped Chiquita, her precious pet cheetah. Do the girls have what it takes to become spies themselves?
Debut author-illustrator Veronica Mang has created a playful pastiche full of masters of disguise, martial artists, codebreakers, and double agents in the first of this new illustrated chapter book series. Secret Spy Society: The Case of the Missing Cheetah introduces young readers to three delightfully mischievous girls and some of the most enigmatic and unforgettable women in history.
March 30th
Stella and Luna know that their mama, Elsie, came from the Philippines when she was a child, but they don't know much else. So one night they ask her to tell them her story. As they get ready for bed, their mama spins two tales: that of her youth as a strong-willed middle child and immigrant; and that of the young life of Mayari, the mythical daughter of a god. Both are tales of sisterhood and motherhood, and of the difficult experience of trying to fit into a new culture, and having to fight for a home and acceptance. Glorious and layered, this is a portrait of family and strength for the ages.
I read the first book in this series last month and plan on reading the second this month so I can be ready for book three when it's out!
April 6th
As book three of the Greystone Secrets series opens, the Greystone kids have their mother back from the evil alternate world, and so does their friend Natalie. But no one believes the danger is past.
Then mysterious coins begin falling from unexpected places. They are inscribed with codes that look just like what the Greystones' father was working on before he died. And with the right touch, those symbols transform into words: PLEASE LISTEN. And FIND US, SEE US, HELP US. . . .
The coins are messengers, telling the Greystones and their allies that their friends in the alternate world are under attack—and that the cruel, mind-controlling forces are now invading the better world, too.
After another spinning, sliding journey across worlds, the Greystone kids must solve mysteries that have haunted them since the beginning: what happened when the Gustanos were kidnapped, what created the alternate world, and how a group of mismatched kids can triumph once and for all against an evil force that seems to have total control.
How did I not know that the author of one of my favorite picture books, Extra Yarn, had a history mystery series??? I need to read these asap.
May 4th
The Queen of England calls on her trusty spy, Mac B., once again. This time, Mac must navigate secret tunnels beneath the Berlin Wall in order to retrieve cheat codes from a Soviet scientist. Floppy disk in hand, our hero finds himself trapped in East Germany, stuck between the wall and the Stasi. How will he escape? Well it is 1989, and walls do fall down.
May 4th
Uncomfortable Conversations with a Black Boy is an accessible book for children to learn about systemic racism and racist behavior. For the awkward questions white and non-black parents don't know how to answer, this book is an essential guide to help support communication on how to dismantle racism amongst our youngest generation.
Uncomfortable Conversations with a Black Boy creates a safe, judgment-free space for curious children to ask questions they've long been afraid to verbalize. How can I have white privilege if I'm not wealthy? Why do Black people protest against the police? If Black people can say the N-word, why can't I? And many, many more.
Young people have the power to affect sweeping change, and the key to mending the racial divide in America lies in giving them the tools to ask honest questions and take in the difficult answers. Uncomfortable Conversations with a Black Boy is just one way young readers can begin to short circuit racism within their own lives and communities.
May 18th
Set in the northern Minnesota wilderness, a timeless novel about a boy and his imaginary dog explores the legacy of guilt and blame—and what really constitutes a family.
Newbery Honoree Marion Dane Bauer evokes the "summer that changed everything" in the life of a boy growing up without a mother. Since as far back as Ben can remember, it's been him, his devoted dad, and Sunshine—Ben's little dog, who rarely leaves Ben's side. It was Mom who did the leaving, and Ben's about to spend a whole week with his suddenly present mother in the wilds of northern Minnesota. On the remote island she calls home, Ben will learn to camp, canoe, weather the elements, and weigh a burning question: when will she come back to where she belongs? A must-read for dog lovers, children of divorce, and the imaginative and outdoorsy, Sunshine is a poignant, ultimately hopeful story about self-discovery, facing big realities, and finally, forgiving the things—and people—you can't forget.
I enjoyed book one of this series and need to continue on!
June 1st
Tilly and Oskar embark on an impromptu trip to the Library of Congress in Washington, DC, in search of an elusive group of bookwanderers called the Archivists, who they believe are the key to restoring the balance and saving the British Underlibrary.
Along the way, the friends realize that something strange is happening in the world of bookwandering: books are disappearing, people are forgetting their favorite stories, and stories are trying to drag Tilly into them.
With a mysterious set of clues and some surprising new faces, Tilly and Oskar will need the help of some of their dearest fictional friends to be able to solve the mystery . . . and save bookwandering forever.
If you are looking for similar lists, here are some to check out: