The Best Picture Books of 2017
Each year I am really impressed by the amount of picture books that are published. A lot of them are junk but there are some real gems in there!
Last year I did a round up of our favorite picture books from 2016 and wanted to do the same for 2017.
We definitely read more picture books at the beginning of the year than the end. I think it's partly due to the first half of the year being grade one and the second half grade two. We are doing a lot more in our homeschool this year and haven't left as much time for picture books. This is something I would like to change for the second half of grade two.
realtThere are still some books that were published in December that I would like to get my hands on, if there are any great ones I'll add them to this list once we read them.
Do you have some favorite picture books from 2017 that I missed? Let me know and I'll check them out!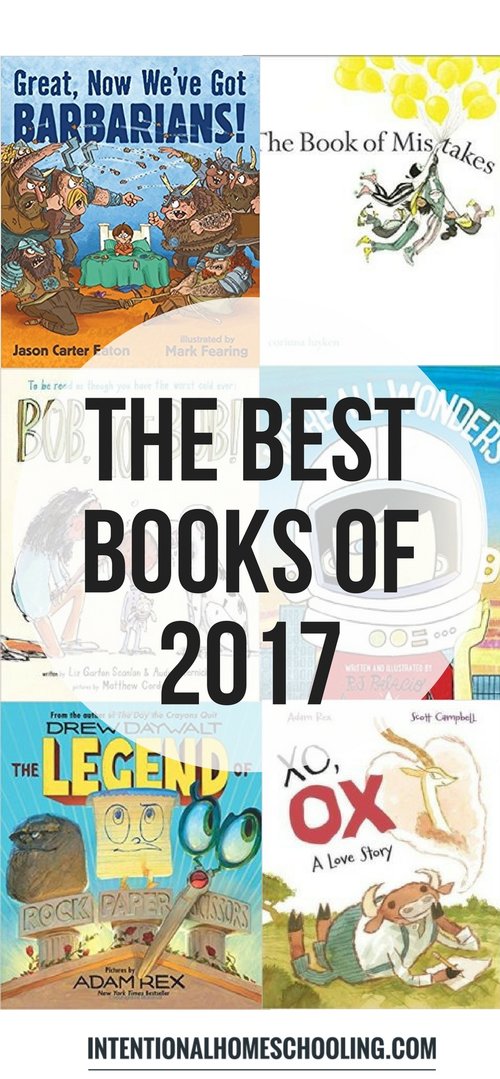 THE BEST PICTURE BOOKS OF 2017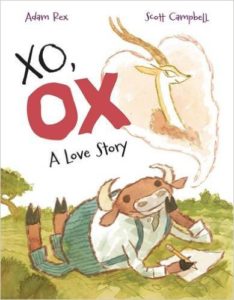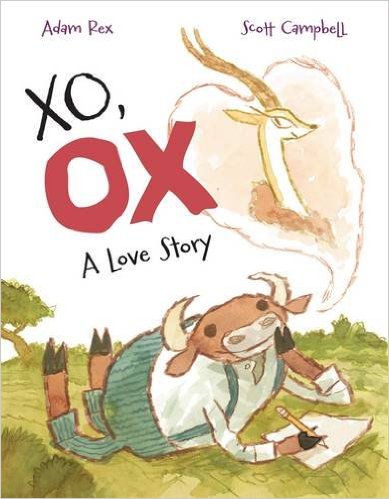 I didn't think I was going to like this book, turns out it's hilarious. So glad I didn't miss it!
Dear Gazelle,
For some time now I have wanted to write a letter to say how much I admire you. You are so graceful and fine. Even when you are running from tigers you are like a ballerina who is running away from tigers. I think that what I'm trying to say is that I love you.
XO, OX
And so begins an epic, if initially unrequited, love affair between a graceful gazelle and a clumsy, hapless ox. Romance will never be the same.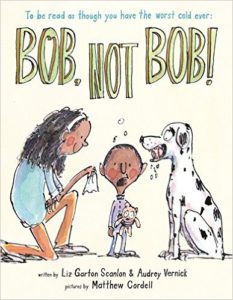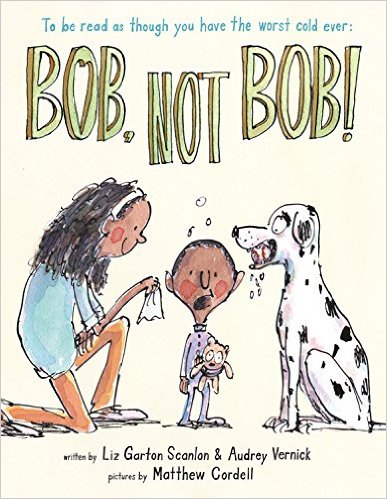 The subtitle to this book is my favorite: *to be read as though you have the worst cold ever. I knew I was going to love it even before I read it and I was right!
Little Louie is stuck in bed with a bad cold. His nose is clogged, his ears are crackling, and his brain feels full. All he wants is his mom to take care of him, but whenever he calls out for her, his stuffed-up nose summons slobbery dog Bob instead!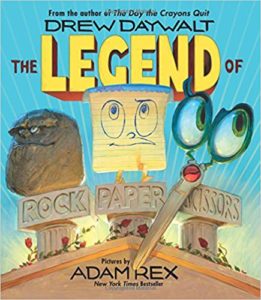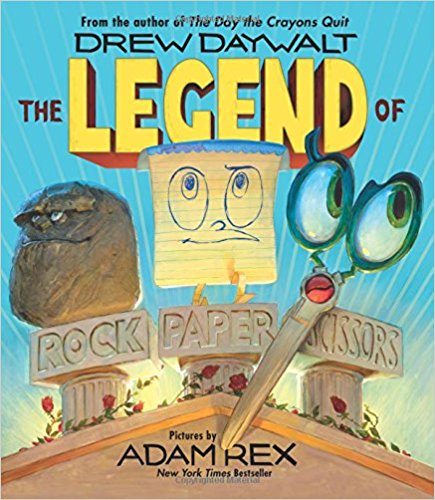 This was another book I knew we would love!
From acclaimed, bestselling creators Drew Daywalt, author of The Day the Crayons Quit and The Day the Crayons Came Home, and Adam Rex, author-illustrator of Frankenstein Makes a Sandwich, comes a laugh-out-loud hilarious picture book about the epic tale of the classic game Rock, Paper, Scissors.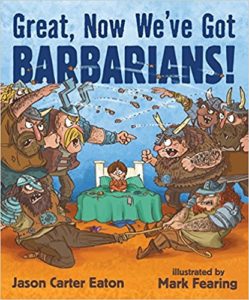 😂 This book make us laugh and we like books that do that!
Playing and having fun is a kid's job, right? Cleaning up is a parent's job, right? Why do grown-ups make such a fuss about tidiness and cleanliness, anyway? What's the worst that could happen? A couple of ants pass through? A lone little mouse pays a midnight call? No big deal, right? Right?Author Jason Carter Eaton and illustrator Mark Fearing are here to caution you that being a slob might in fact be a big deal—a really big deal. Maybe even a BARBARIAN-size deal! This outrageously absurd cautionary tale might just make you think twice about the cupcake crumbs in your bed and the half-eaten cheese curls behind the sofa. After all, you could end up with an infestation of barbaric proportions!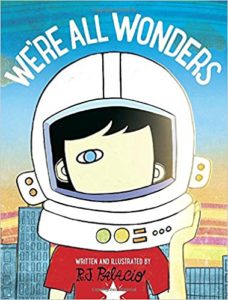 I was really excited about this book because I read Wonder awhile ago but knew the kids weren't ready for it yet. This was a great book and I can't wait to read Wonder with them in a few years.
Countless fans have asked R. J. Palacio to write a book for younger readers. With We're All Wonders, she makes her picture-book debut as both author and artist, with a spare, powerful text and striking, richly imagined illustrations. Palacio shows readers what it's like to live in Auggie's world—a world in which he feels like any other kid, but he's not always seen that way.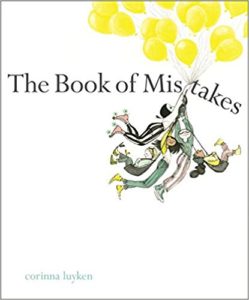 Anyone else raising a perfectionist? If so, you need to read this book. Anyone else a perfectionist raising a perfectionist? If so you definitely need to read this book!
One eye was bigger than the other.  That was a mistake.
The weird  frog-cat-cow thing? It made an excellent bush.
And the inky smudges… they look as if they were always meant to be leaves floating gently across the sky.
As one artist incorporates accidental splotches, spots, and misshapen things into her art, she transforms her piece in quirky and unexpected ways, taking readers on a journey through her process. Told in minimal, playful text, this story shows readers that even the biggest "mistakes" can be the source of the brightest ideas—and that, at the end of the day, we are all works in progress, too.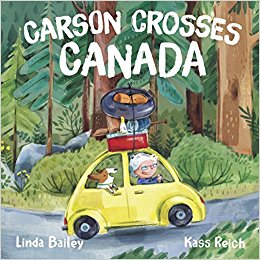 This book made me want to jump in my car right away and take a road trip across Canada!
Feisty Annie Magruder and her dog, Carson, live in British Columbia, Canada, and they're setting out to visit her sister, Elsie, in Newfoundland. In their little rattlebang car, packed with Carson's favorite toy, Squeaky Chicken, and plenty of baloney sandwiches, Annie and Carson hit the road! They travel province by province, taking in each unique landscape and experiencing something special to that particular part of this vast, grand country. For example, they marvel at the beauty of the big, open sky — and grasshoppers! — in Saskatchewan and discover the gorgeous red earth and delicious lobster rolls in PEI, before finally being greeted by Elsie — and a surprise for Carson!
We loved the illustrations and this story as a whole!
Every day, lumberjack Jim Hickory heads into the forest with his trusty ax and chops down trees. Unfortunately, all sorts of creatures, including a bird, a porcupine, and a beaver, lose their homes in the process, so Jim gives them a home in his beard — until one day it all gets to be too much. Time for Jim to come up with a better solution! This funny story carries a green message.
Okay, what were your favorite picture books of 2017?