Broad Homeschool Goals Printable – Making Sure You Have a Productive Homeschool Year for the Mom Who Doesn't Want to Stick to a Schedule or Follow a Curriculum
Phew, that may be the longest title for one of my posts yet!
I posted a photo on Instagram last week and said that I was taking time to go over our goals for the year and see how we were doing and what we needed to adjust to reach our goals for the year.
I did try to set a weekly schedule for grade two this year and I don't even know if we completed the first week.
I'd like to be the kind of person that set a routine and stuck to it but I am not. Many people assume I'm very type A and maybe in some ways I am but I've never been one to stick to a schedule or routine or even complete a month of any 365 challenge.
On the Instagram post I shared that I am a Rebel in Gretchen Rubin's Four Tendencies. I definitely need to re-read Better than Before where she introduced the Four Tendencies and I haven't even actually read her newest book yet, The Four Tendencies (it's on my to-read list!). Knowing that I am a Rebel has helped me to realize that schedules and routine just aren't going to work for me. It doesn't mean I still don't try at times, but when I fail I don't get discouraged.
As a Rebel I've never actually looked into purchasing a curriculum. There is no way I am going to spend hundreds of dollars to buy something I know I won't follow beyond the first week (if I even make it that far).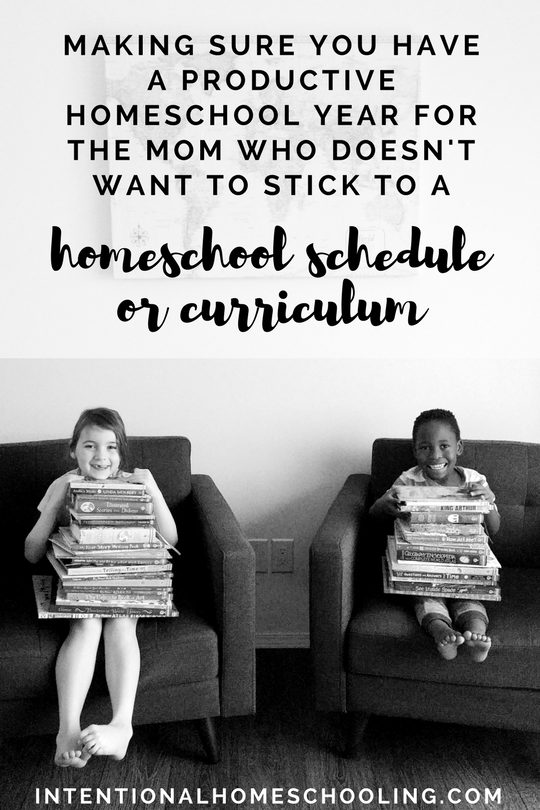 MAKING SURE YOU HAVE A PRODUCTIVE HOMESCHOOL YEAR FOR THE MOM WHO DOESN'T LIKE TO STICK TO A SCHEDULE OR CURRICULUM
So, how does a Rebel that is a little too type A to completely unschool make sure her kids are staying on track? That's what this post is all about. If you feel like you may be a Rebel (or know you are), this post is for me and you! 🙂
SET BROAD GOALS
The first thing I do is set broad goals for the year. Because I've had many people asking how to even come up with these goals I created a list of our goals for each grade from Pre-K – Grade 3, you can download that here:
These goals are not necessarily set in stone but like every resource in homeschool I use them as a guideline. If you are a Rebel you probably already do this. 😉 If you are more of a rule follower you may see this as a checklist, it's not.
I've come up with these goals through a variety of sources: partly from my education and experience (I have my education degree), partly from how I've seen my own kids develop and partly from the good ol' internet.
When I am looking for resources for us to use in the upcoming homeschool year I have my broad goals on hand and pick resources that will help us reach those goals. I also refer back periodically throughout the year to see how we are doing and check if there is anything we need to adjust to reach our goals for the year.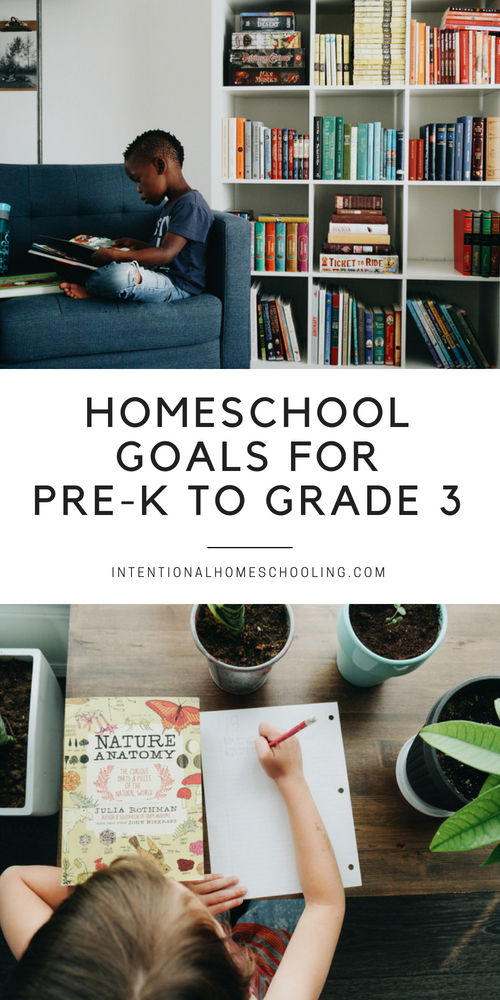 READ GOOD BOOKS
My favorite resource of all is just reading a lot of good books. I have shared a number of book lists on here and there are so many other books we've read that I haven't shared.
Reading is pretty much all we do to cover language arts and history. My main goal when my kids are in pre-kindergarten and kindergarten is to get them reading well (and loving it) because when you can read you can learn just about anything you want. I generally go into the school year with a list of books I would like us to read though other books always come up throughout the year.
We also listen to a number of novels on audio. Partly because I'm not great at reading chapter books aloud and partly because then we can listen to them whenever we are driving.
Not only do we listen to audiobooks and I read to my kids but they also read aloud (well, Ephraim is in the process of learning), the habit of having them read aloud is pretty much in place of every language arts test for us (well, reading aloud and narration). My daughter usually picks a chapter book to read from and reads a chapter to us a day. I was an avid reader as a child but really didn't know how to pronounce a lot of words because I just read in my head and I knew what the word meant so I didn't actually need to know how to say it, I'm trying to avoid this happening with my kids.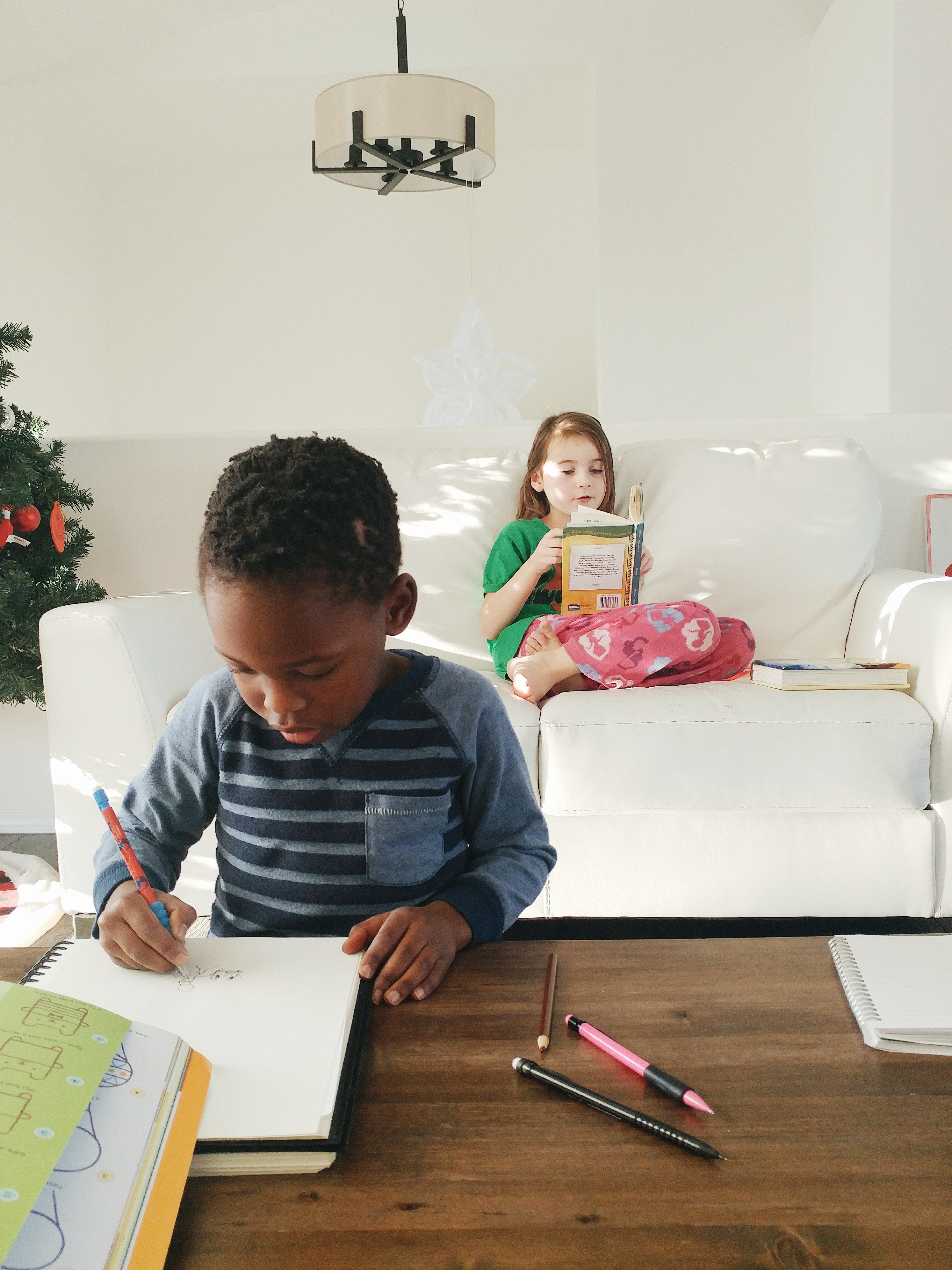 KEEP TRACK OF WHAT YOU'VE DONE – NOT WHAT YOU WANT TO DO
I keep a reverse schedule – instead of writing what I want us to accomplish each day, I write down what we have done. I really like going with the flow in our homeschool. Some days my kids are playing really well together and want to keep doing that so we don't do much in the way of formal lessons. Sure, it may not look like they are "learning" anything but the skill of being able to get along with a sibling you are around 24/7 is huge. Lots of problem solving taking place.
Even on days where they just want to play we still do some "school work". If I had to give our homeschool method a name right now I think it would be "semi-unschooling" or "unschooling with a plan". As the kids get older and have more defined interests I wouldn't mind unschooling, ideally I'd love to worldschool. But for now I am just trying to expose them to a variety of different things and teach them basic concepts.
So, I have a composition notebook where I keep track of what we've done each week. This is also helpful for the end of the school year when I need to send in a monthly log to our school division.
If this sounds like your kind of planning (or un-planning) you may enjoy these free un-planner printables!
My chicken scratch probably doesn't make any sense to others but in case it's helpful here's a look at a few weeks (there are some days/weeks where I don't write much down, usually because I just forget):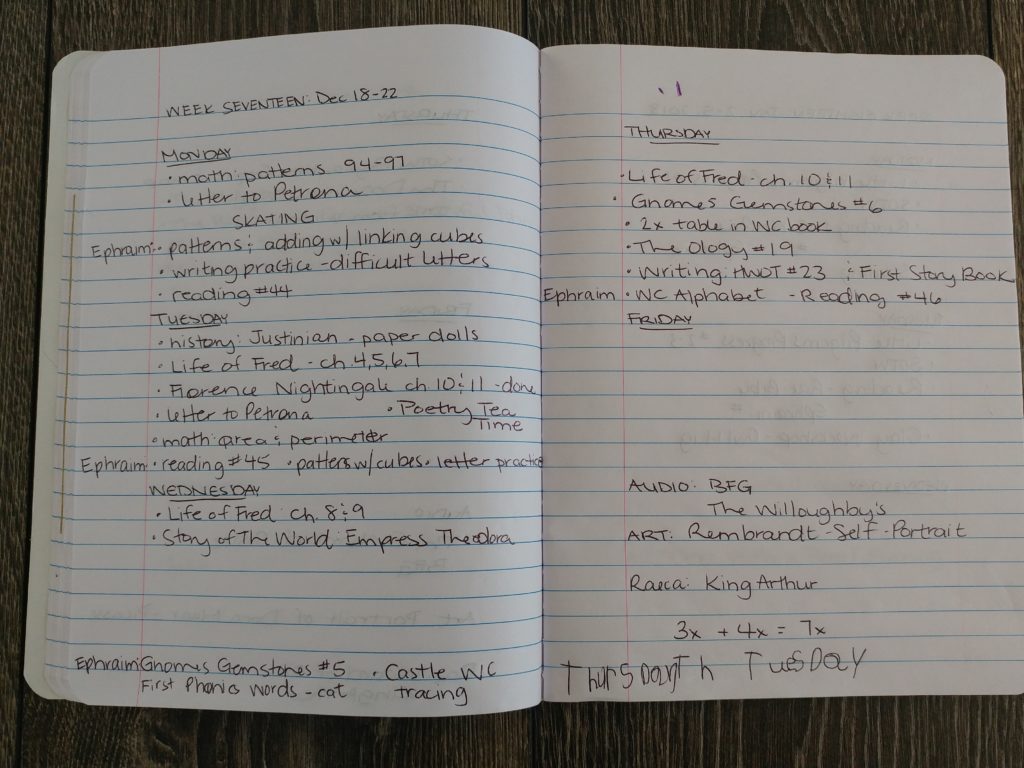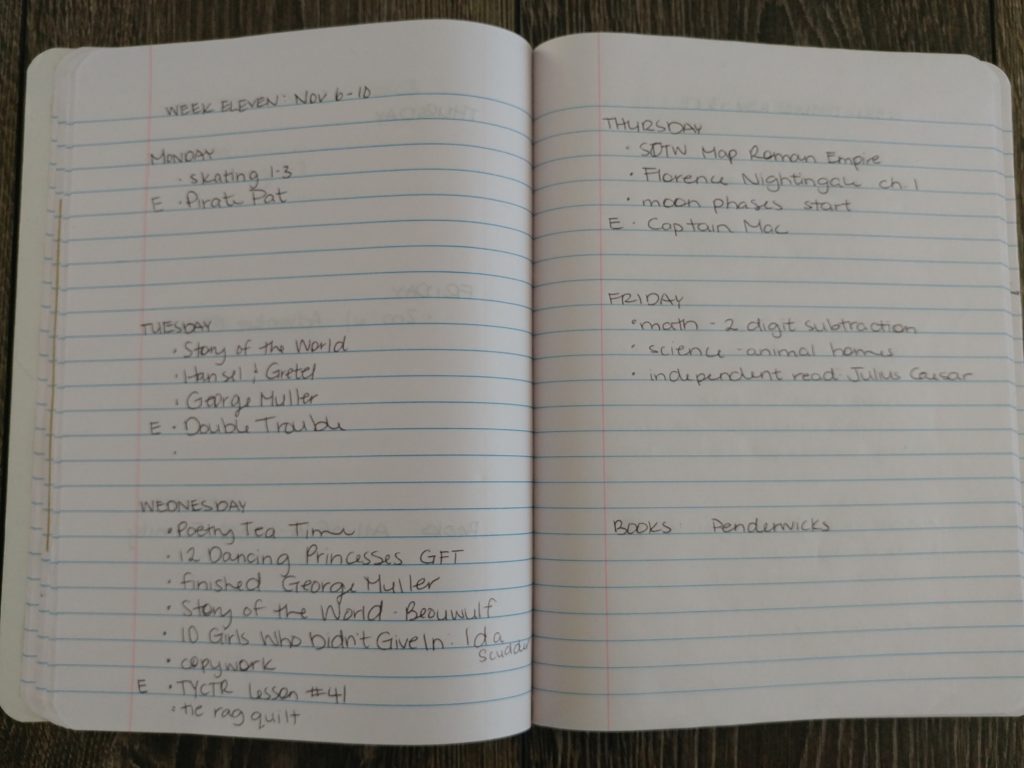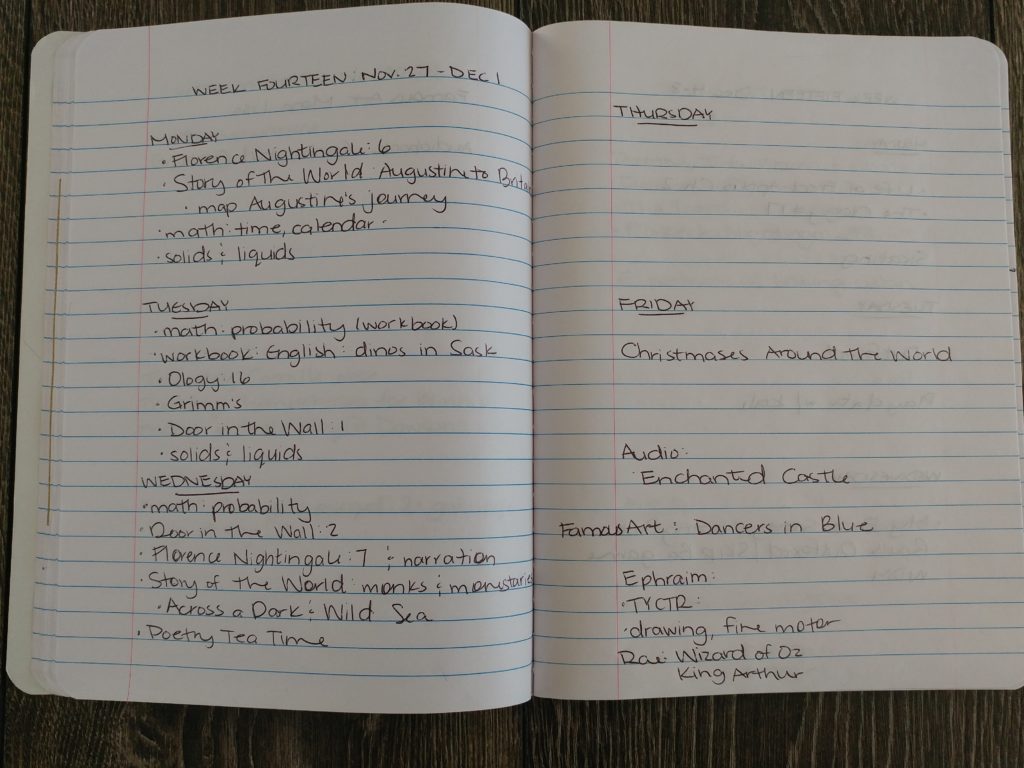 So, that's a bit of insight on how I play and keep track of our homeschool year and the goals we have for each year!
If this type of homeschooling sounds like something that interests you, you may be interested in checking out my Homeschooling as a Lifestyle Workshop.
In the workshop we go over:
what homeschooling as a lifestyle is
why your family should ditch the curriculum and homeschool as a lifestyle
who can educate their children this way
(hint: the fact that you are reading this proves that you are the perfect person!)
our favorite resources and tools
why we still have workbooks
how we structure our homeschool
what homeschooling as a lifestyle looks like in our home
how to get started