16 Gripping World War II Books for the Middle Years (Grades 4-8)
I have been on a big World War II reading kick in my own life lately. History never interested me when I was younger but these days it seems like I can't get enough! I've found that I really enjoy reading about history through historical fiction books (and some really good non-fiction ones too).
While am also reading some grown up books about WWII, a number of the books I'm reading have been in the middle years range.
Some of the WWII books I've been reading lately (mid-grade and otherwise):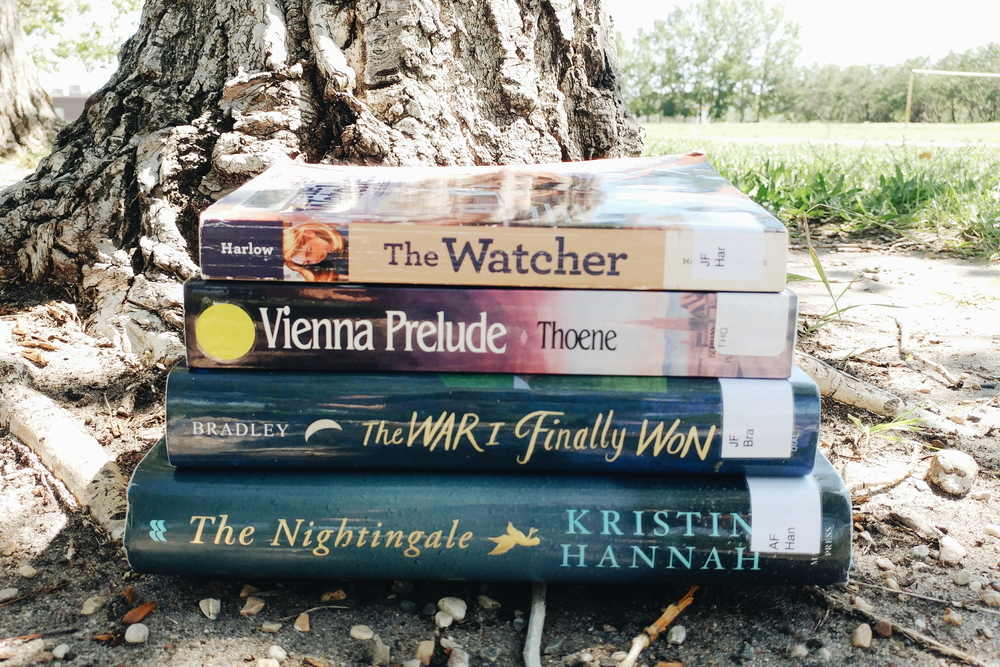 The following list includes about 50% of books I have read and the other 50% is on my to-read list. Normally I don't like to share books I haven't read on my book lists but the ones I've included have been recommended by a number of reliable sources so I feel like I can be fairly confident in saying they are going to be good books.
OTHER POSTS YOU MAY ENJOY: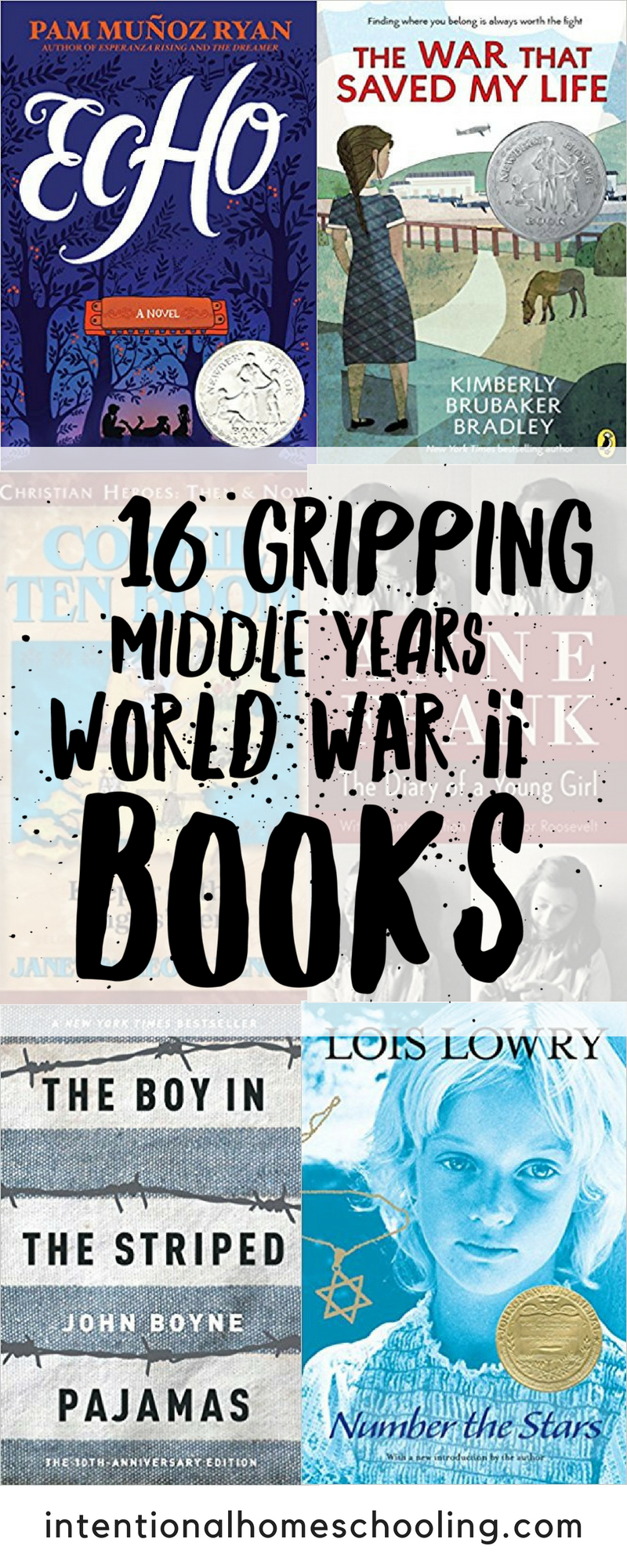 16 GRIPPING WWII BOOKS FOR THE MIDDLE GRADES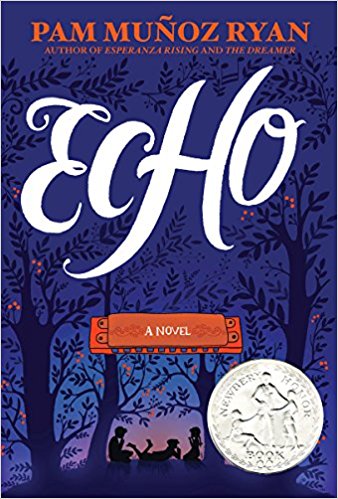 This book was amazing, I listened to it a few months ago with my kids (4 & 7 at the time), the 4 year old didn't get anything out of it but my 7 year old was just as enraptured as I was. I think this book is a good introduction to war for children. Also, we listened to the audiobook and it was fantastic, I really can't say enough good things about it. Though, when it first started it sounded very fairytale-ish and I was wondering where it was going, but stick it out because wow, such a powerful book.
Lost and alone in a forbidden forest, Otto meets three mysterious sisters and suddenly finds himself entwined in a puzzling quest involving a prophecy, a promise, and a harmonica.
Decades later, Friedrich in Germany, Mike in Pennsylvania, and Ivy in California each, in turn, become interwoven when the very same harmonica lands in their lives. All the children face daunting challenges: rescuing a father, protecting a brother, holding a family together. And ultimately, pulled by the invisible thread of destiny, their suspenseful solo stories converge in an orchestral crescendo.
Richly imagined and masterfully crafted, Echo pushes the boundaries of genre, form, and storytelling innovation to create a wholly original novel that will resound in your heart long after the last note has been struck.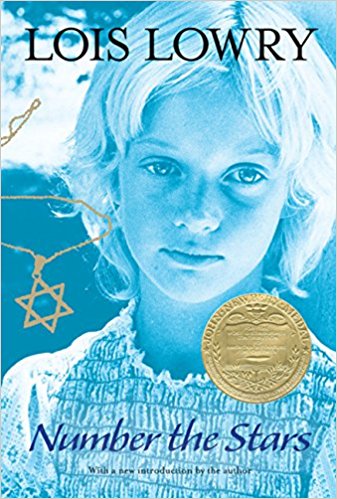 I had heard many good things about this book and it did not disappoint. It's fairly short and I think it would be a good first WWII independent read for a lot of kids.
As the German troops begin their campaign to "relocate" all the Jews of Denmark, Annemarie Johansen's family takes in Annemarie's best friend, Ellen Rosen, and conceals her as part of the family.
Through the eyes of ten-year-old Annemarie, we watch as the Danish Resistance smuggles almost the entire Jewish population of Denmark, nearly seven thousand people, across the sea to Sweden. The heroism of an entire nation reminds us that there was pride and human decency in the world even during a time of terror and war.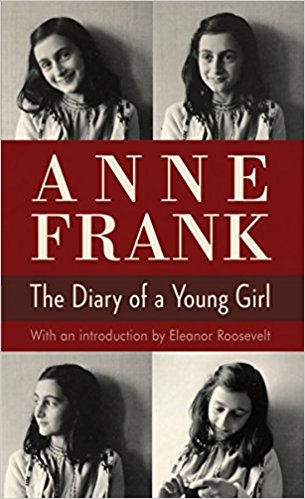 This is the only WWII book I remember reading as a child. I am grateful to this young Jewish girl who gave us a look into her life during the war.
In 1942, with the Nazis occupying Holland, a thirteen-year-old Jewish girl and her family fled their home in Amsterdam and went into hiding. For the next two years, until their whereabouts were betrayed to the Gestapo, the Franks and another family lived cloistered in the "Secret Annexe" of an old office building. Cut off from the outside world, they faced hunger, boredom, the constant cruelties of living in confined quarters, and the ever-present threat of discovery and death. In her diary Anne Frank recorded vivid impressions of her experiences during this period. By turns thoughtful, moving, and surprisingly humorous, her account offers a fascinating commentary on human courage and frailty and a compelling self-portrait of a sensitive and spirited young woman whose promise was tragically cut short.
This book takes a very different approach to the war than most. I think it is one that will evoke compassion in all the children who read it. There is also the sequel, The War I Finally Won.
Ten-year-old Ada has never left her one-room apartment. Her mother is too humiliated by Ada's twisted foot to let her outside. So when her little brother Jamie is shipped out of London to escape the war, Ada doesn't waste a minute—she sneaks out to join him.
So begins a new adventure for Ada, and for Susan Smith, the woman who is forced to take the two kids in. As Ada teaches herself to ride a pony, learns to read, and watches for German spies, she begins to trust Susan—and Susan begins to love Ada and Jamie. But in the end, will their bond be enough to hold them together through wartime? Or will Ada and her brother fall back into the cruel hands of their mother?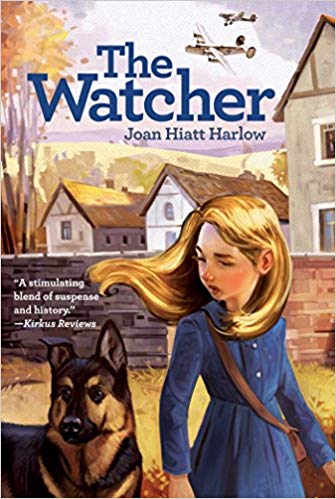 This book takes a unique perspective and gives a chance to see inside the home of a Nazi spy.
1942. Berlin, Germany. How did Wendy end up in such a place? Just a few months ago, she was enjoying her time in Maine, supporting the American war effort.
But she was kidnapped, then betrayed by her own mother, who is actually a Nazi spy. As a new Berliner—and now a German—Wendy is expected to speak in a language she's never known and support a cause she doesn't believe in.
There are allies, though, among the Germans. Allies who have been watching over Wendy since she arrived. And Wendy, along with her new German shepherd puppy, must confront them. If only she can find them.
Her life depends on it.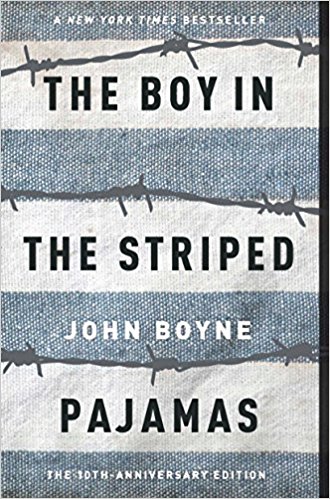 Honestly, I've wanted to watch this movie forever but I knew it would make me cry. Now it's not on Netflix anymore and since I've now read the book I'm too scared to watch the movie, I know I'll definitely be doing the ugly cry. This.book.is.amazing. And crazy sad. Unbelievable. Definitely a must read.
Berlin, 1942: When Bruno returns home from school one day, he discovers that his belongings are being packed in crates. His father has received a promotion and the family must move to a new house far, far away, where there is no one to play with and nothing to do. A tall fence stretches as far as the eye can see and cuts him off from the strange people in the distance.
But Bruno longs to be an explorer and decides that there must be more to this desolate new place than meets the eye. While exploring his new environment, he meets another boy whose life and circumstances are very different from his own, and their meeting results in a friendship that has devastating consequences.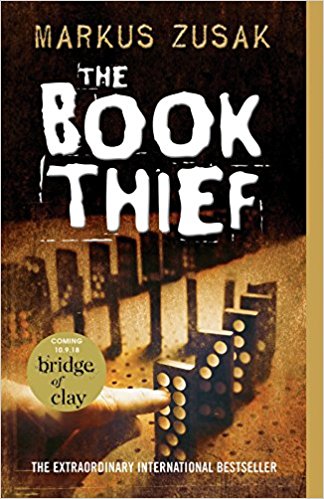 This book is definitely for the grade 8 or so range but is spectacular. How many books do you read that are narrated by Death?
When Death has a story to tell, you listen.
It is 1939. Nazi Germany. The country is holding its breath. Death has never been busier, and will become busier still.
Liesel Meminger is a foster girl living outside of Munich, who scratches out a meager existence for herself by stealing when she encounters something she can't resist–books. With the help of her accordion-playing foster father, she learns to read and shares her stolen books with her neighbors during bombing raids as well as with the Jewish man hidden in her basement.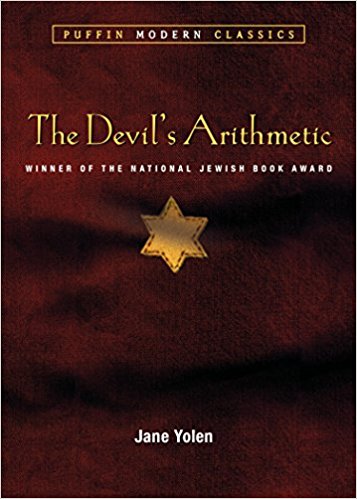 Hannah is tired of holiday gatherings−all her family ever talks about is the past. In fact, it seems to her that's what they do every Jewish holiday. But this year's Passover Seder will be different−Hannah will be mysteriously transported into the past . . . and only she knows the unspeakable horrors that await.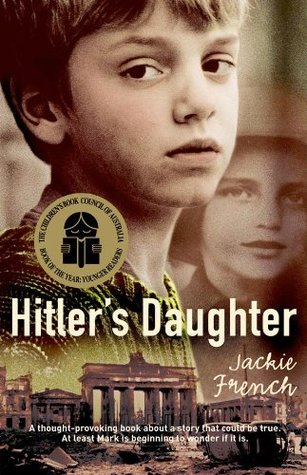 The bombs were falling and the smoke rising from the concentration camps, but all Hitler's daughter knew was the world of lessons with Fraulein Gelber and the hedgehogs she rescued from the cold. Was it just a story or did Hitler's daughter really exist? And if you were Hitler's daughter, would all the horror that occurred be your fault, too? Do things that happened a long time ago still matter?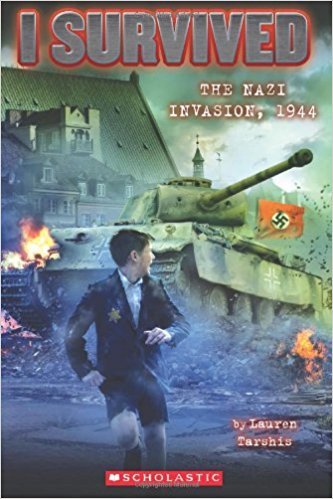 In a Jewish ghetto, Max Rosen and his sister Zena struggle to live after their father is taken away by the Nazis. With barely enough food to survive, the siblings make a daring escape from Nazi soldiers into the nearby forest.
Max and Zena are brought to a safe camp by Jewish resistance fighters. But soon, bombs are falling all around them. Can Max and Zena survive the fallout of the Nazi invasion?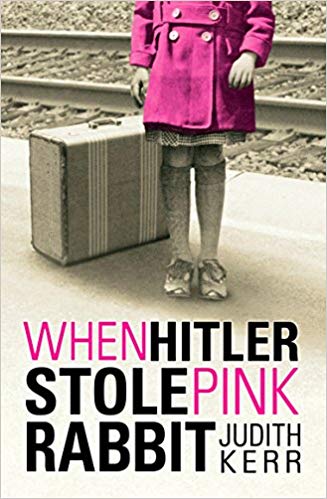 Anna is not sure who Hitler is, but she sees his face on posters all over Berlin. Then one morning, Anna and her brother awake to find her father gone! Her mother explains that their father has had to leave and soon they will secretly join him. Anna just doesn't understand. Why do their parents keep insisting that Germany is no longer safe for Jews like them?
Because of Hitler, Anna must leave everything behind.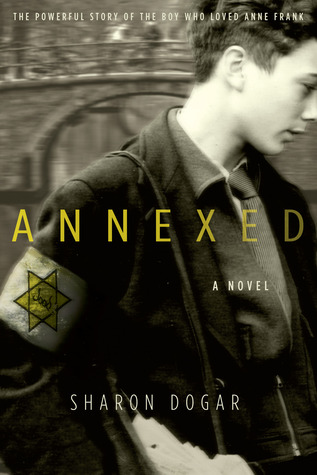 Everyone knows about Anne Frank and her life hidden in the secret annex – but what about the boy who was also trapped there with her?
In this powerful and gripping novel, Sharon Dogar explores what this might have been like from Peter's point of view. What was it like to be forced into hiding with Anne Frank, first to hate her and then to find yourself falling in love with her? Especially with your parents and her parents all watching almost everything you do together. To know you're being written about in Anne's diary, day after day? What's it like to start questioning your religion, wondering why simply being Jewish inspires such hatred and persecution? Or to just sit and wait and watch while others die, and wish you were fighting.
As Peter and Anne become closer and closer in their confined quarters, how can they make sense of what they see happening around them?
Anne's diary ends on August 4, 1944, but Peter's story takes us on, beyond their betrayal and into the Nazi death camps. He details with accuracy, clarity and compassion the reality of day to day survival in Auschwitz – and ultimately the horrific fates of the Annex's occupants.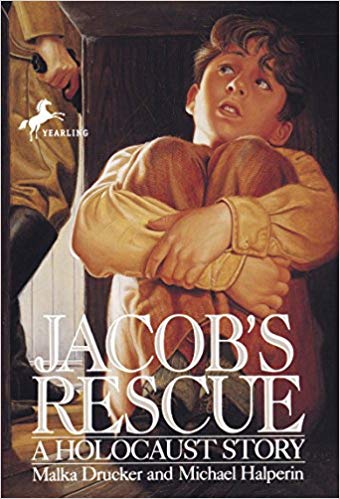 Once Jacob Gutgeld lived with his family in a beautiful house in Warsaw, Poland. He went to school and played hide-and-seek in the woods with his friends. But everything changed the day the Nazi soldiers invaded in 1939. Suddenly it wasn't safe to be Jewish anymore.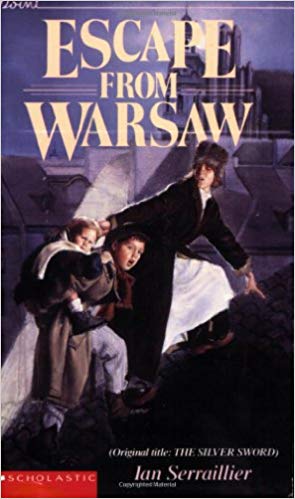 On a cold, dark night in Warsaw in 1942, the Balicki children watch in horror as Nazi Storm Troopers arrest their mother. Now they are alone. With the war raging around them, food and shelter are hard to come by. They live in constant fear.
Finally, they get word that their father is alive. He has made it to Switzerland. Edek and Ruth are determined to find him, though they know how dangerous the long trip from Warsaw will be. But they also know that if they don't make it, they may never see their parents again.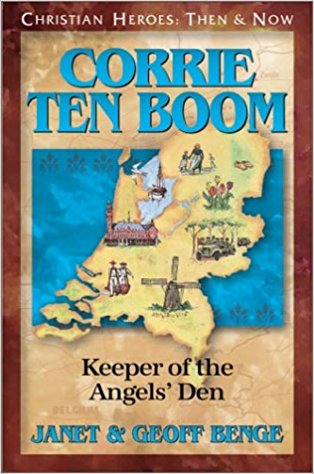 One moments she is an ordinary watchmaker and then suddenly, Corrie's ordered life was lost in the insanity of war. With bravery and compassion, her family and countless other Dutch citizens risked everything to extend God's hand to those innocents marked for certain execution in a world gone mad.
Corrie ten Boom's life of determination, faith, and forgiveness in the face of unimaginable brutality and hardship is a stunning testimony to the sustaining power of God.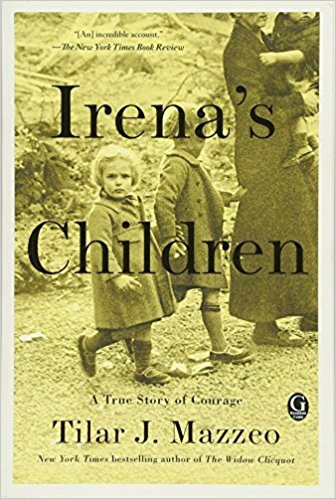 In 1942, one young social worker, Irena Sendler, was granted access to the Warsaw ghetto as a public health specialist. While she was there, she began to understand the fate that awaited the Jewish families who were unable to leave. Soon she reached out to the trapped families, going from door to door and asking them to trust her with their young children. Driven to extreme measures and with the help of a network of local tradesmen, ghetto residents, and her star-crossed lover in the Jewish resistance, Irena ultimately smuggled thousands of children past the Nazis. She made dangerous trips through the city's sewers, hid children in coffins, snuck them under overcoats at checkpoints, and slipped them through secret passages in abandoned buildings.
But Irena did something even more astonishing at immense personal risk: she kept a secret list buried in bottles under an old apple tree in a friend's back garden. On it were the names and true identities of these Jewish children, recorded so their families could find them after the war. She could not know that more than ninety percent of their families would perish.
Do you have any WWII books you would add to the list? Let me know below!