I've been doing a little bit of an audiobooks series here for the last while.
It started with my post of 26 activities for kids to do while listening to audiobooks and then I shared all about Audible, including how I get great deals and free books and now today we are on to all the other apps we use for audiobooks!
My kids each have one of my old phones to listen to their audiobooks and for the apps that require library cards they are each signed in with their own card so they don't step on each others toes with their books and lose each other's spots.
I thought it would make the most sense to share the apps we use in the order that I tend to use them.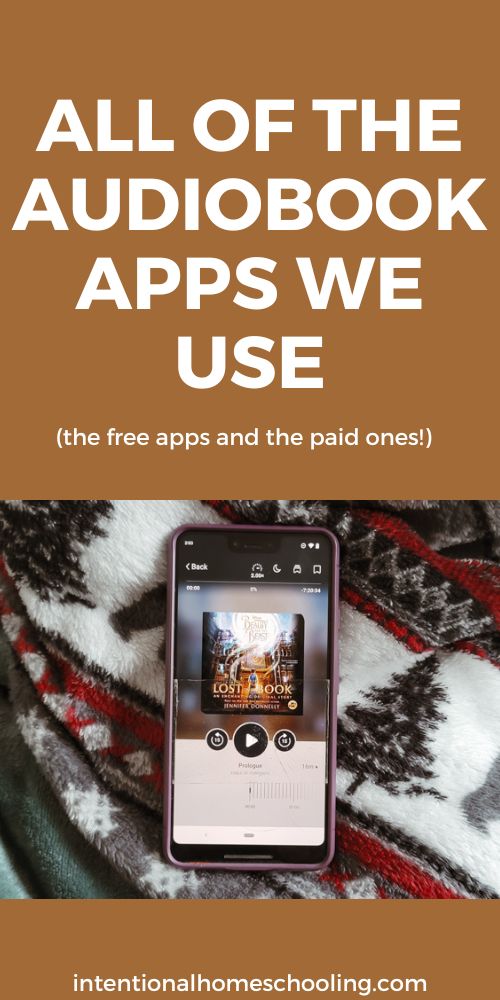 LIBBY
Libby (or some still use the old app, Overdrive, but I 100% prefer the Libby app) is the first place I look when looking for audiobooks.
We get access through our library and it's free for us to use.
I don't know if it is exactly the same for everyone or if it varies between library systems but we can have ten books out at a time, plus ten on hold.
We get the books for up to twenty-one days and when it's due back it returns on it's own so you have no late fees! You can renew books if there are no other holds on them.
LIBBY PROS
it's free
zero late fees
able to listen to books at a faster speed
the app is great (well, Libby is, not Overdrive)
LIBBY CONS
waitlists – if a book is popular there can be a long waitlist (sometimes over six months long!)
not a whole lot of non-fiction options
HOOPLA
Hoopla is another resource I use from my library.
A few years ago they went through some budget cuts and they cut the number of books we could get out each month from ten to two! That was a punch to the gut. Apparently there was a lot of push back and they ended up bumping it up to three books a month.
Like Libby, Hoopla has a three week checkout, though you can renew them.
HOOPLA PROS
it's free
zero late fees
able to listen to books at a faster speed
no waitlists
lots of non-fiction books
HOOPLA CONS
only a certain number of checkouts each month (this will be determined by your library)
the fiction catalog is very small
I find that between Libby (which has a lot of fiction options) and Hoopla (which has a lot of non-fiction options) a lot of the audiobooks we want to listen to in our house are covered. We head to those apps first and generally only if they aren't available there (or the Libby waitlist is months long) will we head to one of these other apps . . .
SCRIBD
Scribd is a subscription borrowing service. The best way I can describe Scribd is that it is like Netflix for books.
You pay a monthly subscription fee and you can listen to the catalog of books during the month, once you cancel your subscription you don't get to keep the books.
SCRIBD PROS
there is a range of audiobooks available
no waitlist
you can listen to audiobooks at a faster speed
you get additional perks, like access to Curiosity Stream for free!
SCRIBD CONS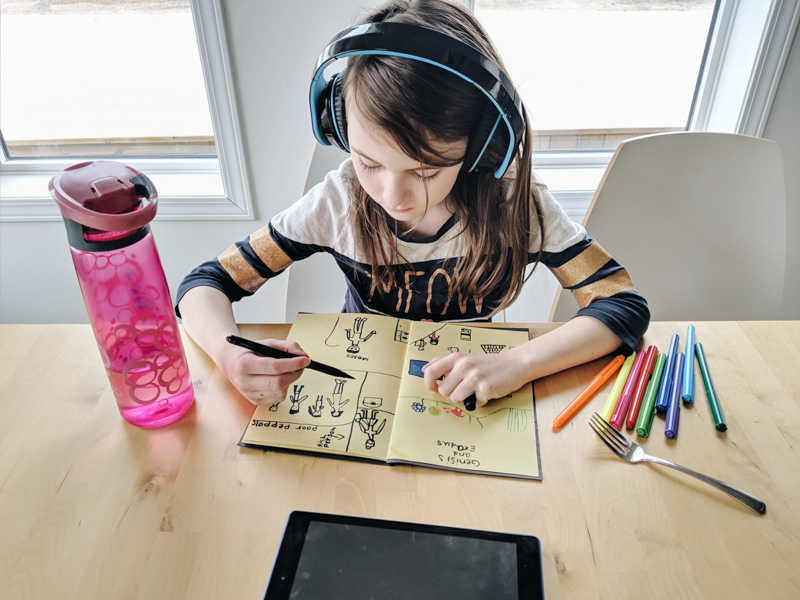 AUDIBLE
And then there is Audible. While you can get free and cheap books from Audible from time to time it is mainly a paid platform.
I have an entire blog post all about how we use Audible and how we occasionally get free and cheap books from there so I won't go into it here.
While Audible is not my go-to platform (because of the fee) I do appreciate it and I think we get the most from our subscription.
And that's it!
While there are other audiobook apps and platforms out there, these are the only ones we currently use. If you use a different app for audiobooks I would love to hear about it!