How to Incorporate Audiobooks into Your Homeschool Day – and Your Everyday
I have mentioned before that I'm not the greatest at reading novels aloud but I love to read so as a result we listen to a number of audiobooks.
But even though I'm not that great at reading novels out loud I still held onto the belief that if we owned the book I needed to read it out loud. Where this idea came from, I have no idea. But last week we started listening to The Invention of Hugo Cabret and if you know anything about that book, it's 533 pages long, but most of the pages are pictures. It's the perfect mash up between a picture book and a novel. So, while I wanted to do that one on audio we also got the hard copy and followed along in the book.
And then a light bulb went off.
We could do the same thing with the books that we own – listen to the audio and follow along in the book.
This might not be revolutionary for some people but it sure was for me.
I am sure there are some kind of benefits in this for kids who are new readers to be able to listen to how words are pronounced while seeing the words in print but admittedly I didn't actually look. I'm sure we don't do this forever but it's been really good for us right now.
We usually listen to 1-2 audiobooks a week together and sometimes Raeca and I will also be listening to audiobooks on our own. I've had a number of people ask how we fit audiobooks into our day so I thought I would share here.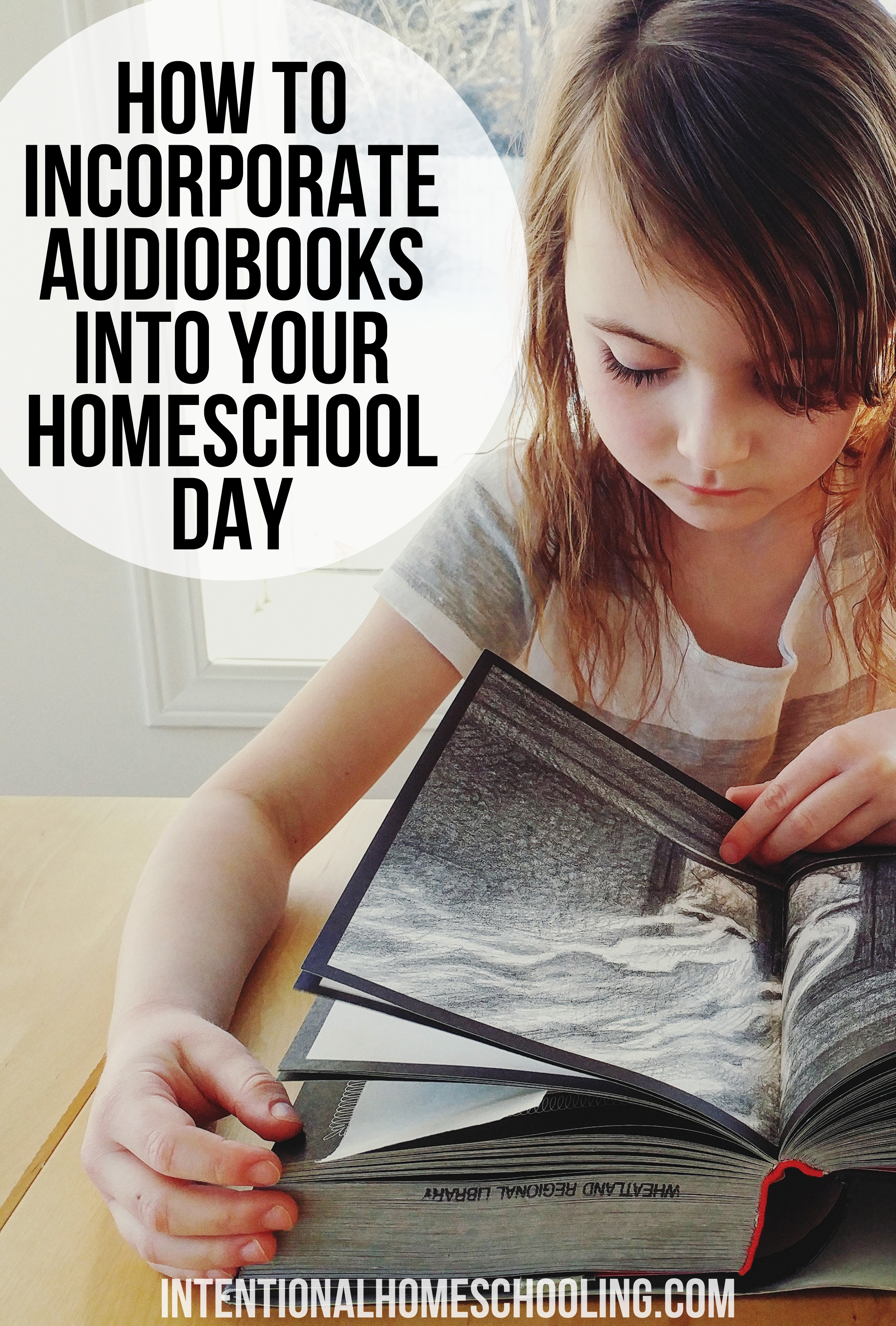 HOW WE INCORPORATE AUDIOBOOKS
INTO OUR HOMESCHOOL DAY
– AND OUR EVERYDAY
1. WHILE EATING
One of our favorite times to listen is while we are having a snack or eating lunch. This is kind of how we started listening to audiobooks in the first place, I have one child who is quite the talker and would take forever to eat because of all the random talking. So I started putting on an audiobook and lunch still takes forever but at least we get to listen to something beneficial.
2. IN THE CAR
It actually took us a long time to be able to do this, we don't have Bluetooth or any such fancy thing in our main vehicle and my phone volume isn't loud enough to really listen while driving but then my husband found this cool Bluetooth FM adapter and now we listen whenever we are in the vehicle.
3. WHILE CLEANING
We will sometimes listen while cleaning or setting the table.
4. FOR CALM DOWN TIME
Is our family the only one with a witching hour? If I notice the kids getting too hyped up, crazy or whinny I get them to sit down and listen for a few minutes.
5. WHILE PLAYING OR COLORING
Another good time to listen is while doing something mostly mindless with your hands, like playing with Lego or Playdough or coloring.
And those are our main ways we listen to audiobooks as a family! It's nice to have the experience of listening to the books together and I have such a long list of books I don't think we are ever going to run out of ideas!
Our recent listens have been:
[mybooktable book="crenshaw" display="summary" buybutton_shadowbox="false"]
[mybooktable book="invention-hugo-cabret" display="summary" buybutton_shadowbox="false"]
[mybooktable book="the-wild-robot" display="summary" buybutton_shadowbox="false"]
When do you listen to audiobooks?
If you need a few audiobooks to get started: