13 Children's Books About South Africa
Today I wanted to kick off a new book list series: books about particular countries.
I asked Raeca which country I should start with and she said South Africa right away. South Africa is a country that is very special to us because it is Ephraim's birth country. We were fortunate to be able to spend nearly six weeks there at the end of 2014 when we went to adopt him.
Like so many other countries, South Africa is beautiful with a sad history. Children's books have such a delicate but informative way that they share history and they are great for readers of all ages.
13 CHILDREN'S BOOKS
ABOUT SOUTH AFRICA
This picture book is beautifully written and is a great way to introduce apartheid to children (or even to yourself if you don't know anything about it).
As a boy, Hector loved playing soccer in his small Johannesburg township. He dreamed of playing on a real pitch with the boys from another part of the city, but apartheid made that impossible. Then, in 1990, Nelson Mandela was released from prison, and apartheid began to crumble. The march toward freedom in South Africa was a slow one, but when the beloved Bafana Bafana national soccer team won the African Cup of Nations, Hector realized that dreams once impossible could now come true. This poignant story of friendship artfully depicts a brief but critical moment in South Africa's history and the unique role that sports can play in bringing people together.
Full color photographs. "Hello, Stranger-Friend" begins Maya Angelou's story about Thandi, a South African Ndebele girl, her mischievous brother, her beloved chicken, and the astonishing mural art produced by the women of her tribe. With never-before-seen photographs of the very private Ndebele women and their paintings, this unique book shows the passing of traditions from parent to child and introduces young readers to a new culture through a new friend.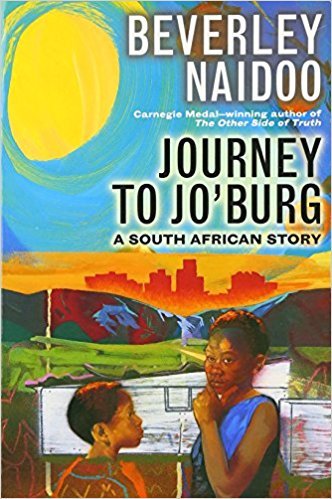 Mma lives and works in Johannesburg, far from the village thirteen-year-old Naledi and her younger brother, Tiro, call home. When their baby sister suddenly becomes very sick, Naledi and Tiro know, deep down, that only one person can save her. Bravely, alone, they set off on a journey to find Mma and bring her back. It isn't until they reach the city that they come to understand the dangers of their country, and the painful struggle for freedom and dignity that is taking place all around them.
Illustrated in rich pastels, this child's-eye view of an important milestone in South African history allows young readers to experience every detail of this eventful day.
This is another one of our favorites. There are so many different topics we chat about afterwards, including how we call the sport "soccer" but so much of the rest of the world calls it "football".
A lyrical, strikingly illustrated story celebrates the unifying power of soccer. In a dusty township in South Africa, Ajani and his friends have earned a brand-new, federation-size soccer ball. They kick. They dribble. They run. They score. These clever boys are football champions! But when a crew of bullies tries to steal their ball, will Ajani and his friends be able to beat them at their own game?
Hazel sends her grand daughter a postcard from South Africa, along the way the postcard has its own adventures.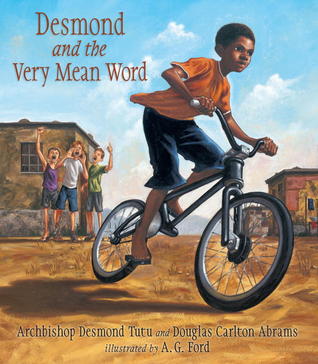 When Desmond takes his new bicycle out for a ride through his neighborhood, his pride and joy turn to hurt and anger when a group of boys shout a very mean word at him. He first responds by shouting an insult, but soon discovers that fighting back with mean words doesn't make him feel any better. With the help of kindly Father Trevor, Desmond comes to understand his conflicted feelings and see that all people deserve compassion, whether or not they say they are sorry.
The fathers of the village are coming home after months away working in the mines. The children wait all night to welcome them home.
Bongani's day begins just like it does for most children: he washes, brushes his teeth and has breakfast; later at school he learns all about the letter C and makes a clown face from a paper plate. But when Bongani gets home in the evening, he puts on his kwaito music videos and dances the kwasa kwasa to the lively sounds and rhythms of South Africa.
Nelson Mandela's autobiography, Long Walk to Freedom, offers a glimpse into the mind of a great leader, admired across the globe for his dedication to the struggles against apartheid in South Africa. Now the youngest readers can discover the remarkable story of Mandela's long walk from ordinary village boy, to his dynamic leadership of the African National Congress, to his many long years in prison-and, at last, his freedom and astonishing rise to become the leader of his country.
As a child he dreamt of changing South Africa; as a man he changed the world. Nelson Mandela spent his life battling apartheid and championing a peaceful revolution. He spent twenty-seven years in prison and emerged as the inspiring leader of the new South Africa. He became the country's first black president and went on to live his dream of change.
Dumela! My name is David, and I'm a kid just like you living in South Africa. South Africa is a country filled with stunning cities, amazing animals, and many different cultures—that's why they call South Africa the rainbow nation! Have you ever wondered what South Africa is like? Come along with me to find out!
Feed your mind with beautiful images of South Africa by reading this big book of information. Here, your child can explore the continent, meet the people, see the sights and then experience the culture too. Learning about the outside world is made much more enjoyable with the excellent combination of pictures and texts.