12 of the Best Chapter Books for Grade One
I recently shared my daughter's favorite chapter books from her year in grade four and today I wanted to share my son's favorite chapter books from his year in grade one!
Grade one is kind of a tricky year for chapter books.
Kids are learning to read but generally not ready to read chapter books on their own.
The books on this list are either ones we read together or (and mostly) books he listened to on audio on his own.
I love audiobooks for many reasons, but one of which is how it helps kids who are not quite ready to read difficult books but they are ready to listen to them.
Listening to audiobooks still counts as reading.
My son has an excellent vocabulary and I think that is largely in part to all the audiobooks that he listens to.
Another reason I love audiobooks is because they allow kids who are naturally more fidgety and who have hands that always need to be doing something to both listen to a book and do something with their hands at the same time (playing Lego is a common activity alongside audiobooks in our house).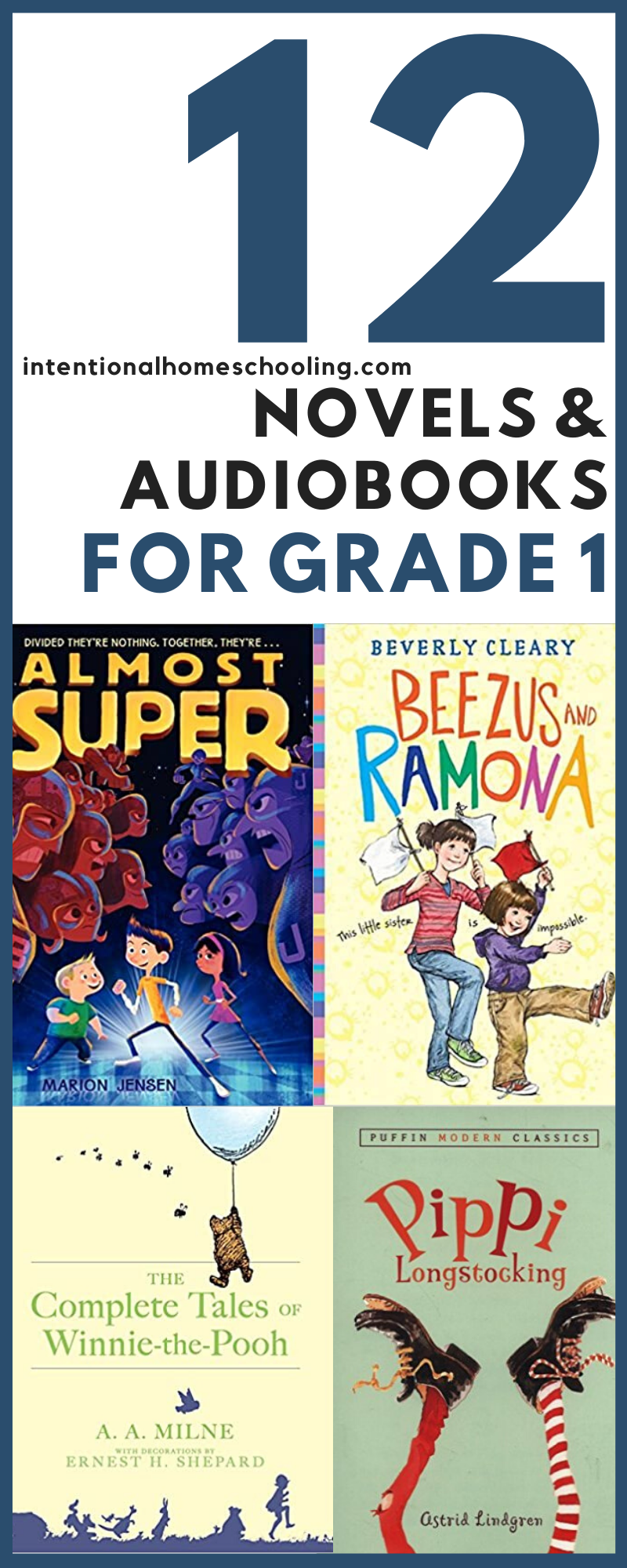 It's only recently happened that my son has really gotten into listening to audiobooks and I'm working hard to keep up with him to keep finding new books for him to listen to.
That being said, all of the books on this list he's listened to multiple times. I was going through all the books he had listened to in the last while and he only chose the best of the best for this list.
So, here are the best chapter books/audiobooks that my son listened to in grade one.
The Best Chapter Books, Read Alouds & Audiobooks for Grade One
This is my son's absolute favorite book and, no joke, he's listened to it about 100 times.
Tommy and his sister Annika have a new neighbor, and her name is Pippi Longstocking. She has crazy red pigtails, no parents to tell her what to do, a horse that lives on her porch, and a pet monkey named Mr. Nilsson. Whether Pippi's scrubbing her floors, doing arithmetic, or stirring things up at a fancy tea party, her flair for the outrageous always seems to lead to another adventure.
I came across this book about a month ago and he's already listened to it multiple times, it's definitely one of his favorites from the year.
Everyone over the age of twelve in the Bailey family gets a superpower. No one knows why, and no one questions it. All the Baileys know is that it's their duty to protect the world from the evil, supervillainous Johnson family. *shake fists*
But when Rafter Bailey and his brother Benny get their superpowers, they're, well . . . super-lame. Rafter can strike matches on polyester, and Benny can turn his innie belly button into an outie. Along with Rafter's algebra class nemesis, Juanita Johnson, Rafter and Benny realize that what they thought they knew about superheroes and supervillains may be all wrong. And it's up to the three of them to put asides their differences and make things right. They may not have great powers, but together, they're almost super.
Henry, Jessie, Violet, and Benny are brothers and sisters. They're orphans too, and the only way they can stay together is to make it on their own. When the children find an abandoned boxcar in the woods, they decide to call it home―and become the Boxcar Children!
When listening to Ramona he usually gets the full audio collection of all the Ramona books but he was adamant that this one is his favorite of them all.
Having a little sister like four-year-old Ramona isn't always easy for Beezus Quimby. With a wild imagination, disregard for order, and an appetite for chaos, Ramona makes it hard for Beezus to be the responsible older sister she knows she ought to be…especially when Ramona threatens to ruin Beezus's birthday party. Will Beezus find the patience to handle her little sister before Ramona turns her big day into a complete disaster?
Some Pig. Humble. Radiant. These are the words in Charlotte's Web, high up in Zuckerman's barn. Charlotte's spiderweb tells of her feelings for a little pig named Wilbur, who simply wants a friend. They also express the love of a girl named Fern, who saved Wilbur's life when he was born the runt of his litter.
Since 1926, Winnie-the-Pooh and his friends—Piglet, Owl, Tigger, Kanga, Roo, and the ever doleful Eeyore—have endured as the unforgettable creations of A. A. Milne, who wrote two books of Pooh's adventures for his son, Christopher Robin, and Ernest H. Shepard, who lovingly gave them shape through his iconic and beautiful illustrations.
These characters and their stories are timeless treasures of childhood that continue to speak to all of us with the kind of freshness and heart that distinguishes true storytelling.
Dink writes to his favorite author, mystery writer Wallis Wallace, and invites him to visit Green Lawn. To Dink's amazement, Wallace says he'll come! But when the big day arrives, Wallace is nowhere to be found. The police think he just missed his plane, but Dink suspects foul play. It's up to Dink and his two best friends, Josh and Ruth Rose, to find the famous writer–before it's too late!
In the first book of the Calendar Mysteries—an early chapter book mystery series—Green Lawn has a problem! When Bradley Pinto wakes up in the night to strange lights in his backyard, he wonders if there are aliens in town. When he sees three-toed tracks in the snow, he's sure of it. His twin, Brian, and friends Lucy and Nate aren't so certain. But then Lucy's cousin Dink, the twins' brother Josh, and Nate's sister Ruth Rose all disappear. Are there really aliens in Green Lawn? And where could they be taking Dink, Josh, and Ruth Rose?
Stanley Yelnats is under a curse. A curse that began with his no-good-dirty-rotten-pig-stealing-great-great-grandfather and has since followed generations of Yelnatses. Now Stanley has been unjustly sent to a boys' detention center, Camp Green Lake, where the boys build character by spending all day, every day digging holes exactly five feet wide and five feet deep. There is no lake at Camp Green Lake. But there are an awful lot of holes.
It doesn't take long for Stanley to realize there's more than character improvement going on at Camp Green Lake. The boys are digging holes because the warden is looking for something. But what could be buried under a dried-up lake? Stanley tries to dig up the truth in this inventive and darkly humorous tale of crime and punishment—and redemption.
Billy isn't one to back down from a bet.
But this one is gross: If he eats fifteen worms in fifteen days, Alan will pay him fifty dollars. Billy takes the bet and tries worms smothered in ketchup, drowned in mustard, even breaded and fried.
Worm by worm, Billy gets closer to victory, and to buying the minibike he's always wanted. But Alan won't let him win that easily…
In this imaginative adventure from Newbery Medal–winning author Beverly Cleary, a young mouse named Ralph is thrown into a world of excitement when a boy and his shiny toy motorcycle check in to the Mountain View Inn.
When the ever-curious Ralph spots Keith's red toy motorcycle, he vows to ride it. So when Keith leaves the bike unattended in his room one day, Ralph makes his move. But with all this freedom (and speed!) come a lot of obstacles. Whether dodging a rowdy terrier or keeping his nosy cousins away from his new wheels, Ralph has a lot going on! And with a pal like Keith always looking out for him, there's nothing this little mouse can't handle.
Little House in the Big Woods takes place in 1871 and introduces us to four-year-old Laura, who lives in a log cabin on the edge of the Big Woods of Wisconsin. She shares the cabin with her Pa, her Ma, her sisters Mary and Carrie, and their lovable dog, Jack.
Pioneer life isn't easy for the Ingalls family, since they must grow or catch all their own food as they get ready for the cold winter. But they make the best of every tough situation. They celebrate Christmas with homemade toys and treats, do their spring planting, bring in the harvest in the fall, and make their first trip into town. And every night, safe and warm in their little house, the sound of Pa's fiddle lulls Laura and her sisters into sleep.