Chapter Books for Girls – Novels Girls (& Boys!) Will Love!
I recently shared a book list that included 18 great chapter books for boys and today I wanted to come and share some good chapter books for girls!
Honestly, I think both genders would like all the books on both lists but I mostly tried to keep the books on the girls list to have female main characters and the books on the boys list mostly have male main characters.
The books on this list are great from preschool up to grade four, I've tried to list them so the books at the beginning of the list are for the younger kids and then as the list goes on they are for older kids.
I would love to hear which books you would add to this list!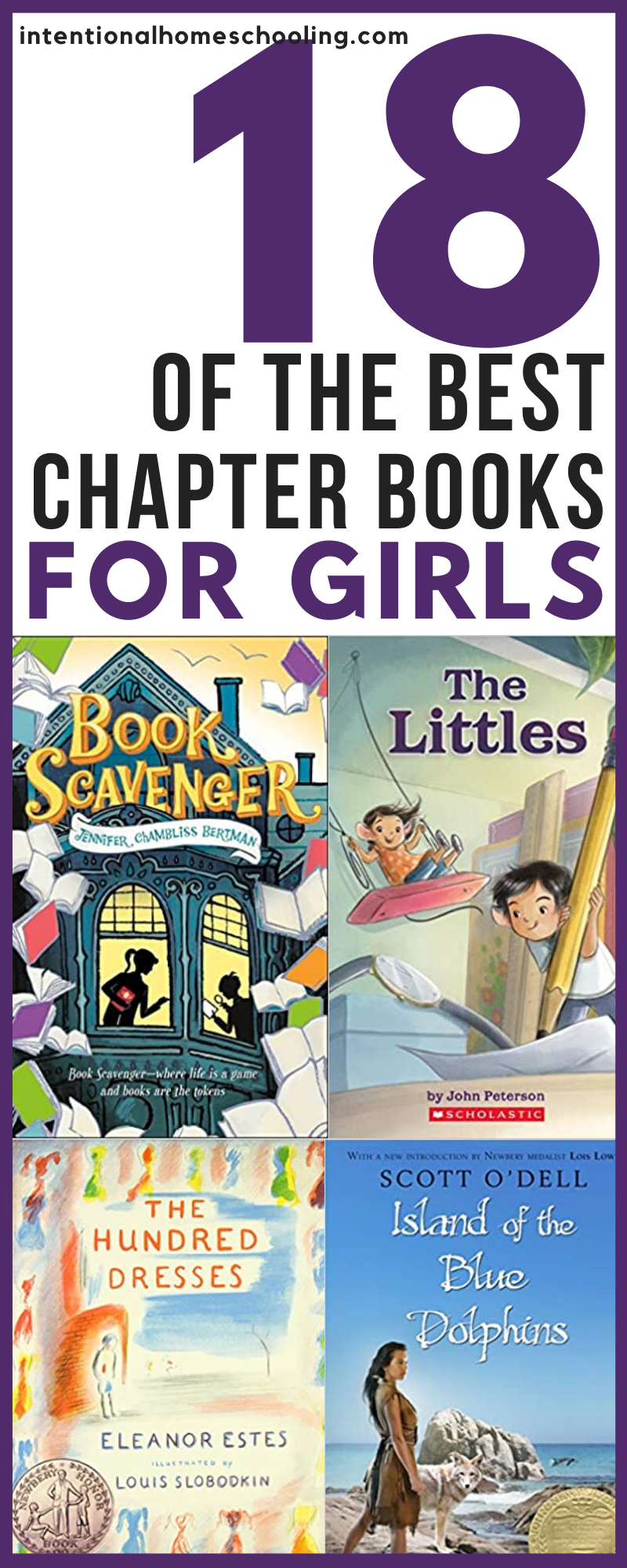 I would love for you to come over and subscribe on YouTube!
GREAT CHAPTER BOOKS FOR BOYS
The Littles live in the walls of the Biggs' house. But when the Biggs go on vacation a messy family comes to stay, the trouble begins. Mice! Cats! How much can one small family take? Will Tom and Lucy, the littlest Littles of all, be able to save the day
Henry, Jessie, Violet, and Benny are brothers and sisters. They're orphans too, and the only way they can stay together is to make it on their own. When the children find an abandoned boxcar in the woods, they decide to call it home―and become
the Boxcar Children!
At the heart of the story is Wanda Petronski, a Polish girl in a Connecticut school who is ridiculed by her classmates for wearing the same faded blue dress every day. Wanda claims she has one hundred dresses at home, but everyone knows she doesn't and bullies her mercilessly. The class feels terrible when Wanda is pulled out of the school, but by that time it's too late for apologies. Maddie, one of Wanda's classmates, ultimately decides that she is "never going to stand by and say nothing again." This powerful, timeless story has been reissued with a new letter from the author's daughter Helena Estes, and with the Caldecott artist Louis Slobodkin's original artwork in beautifully restored color.
This book is so sweet and it's in free verse, a favorite of mine.
Mark is a boy who needs a dog. But he can't get his mom on board with his plan.
Buddy is a dog who needs a boy. Buddy has an owner already, but not one who understands what a dog really needs.
Mr. LaRue is a neighbor who needs a community. He's alone all the time in his huge old house—and everyone needs more than that.
Over the course of a summer thunderstorm and one chaotic town council meeting, these three characters cross paths and come together in a timeless tale ripe with emotions. They'll realize they all need the same things: love, understanding, and a sense of belonging—plus a place to play a game of fetch!
Laura Ingalls and her family are heading to Kansas! Leaving behind their home in the Big Woods of Wisconsin, they travel by covered wagon until they find the perfect spot to build a little house on the prairie. Laura and her sister Mary love exploring the rolling hills around their new home, but the family must soon get to work, farming and hunting and gathering food for themselves and for their livestock. Just when the Ingalls family starts to settle into their new home, they find themselves caught in the middle of a conflict. Will they have to move again?
Having a little sister like four-year-old Ramona isn't always easy for Beezus Quimby. With a wild imagination, disregard for order, and an appetite for chaos, Ramona makes it hard for Beezus to be the responsible older sister she knows she ought to be…especially when Ramona threatens to ruin Beezus's birthday party. Will Beezus find the patience to handle her little sister before Ramona turns her big day into a complete disaster?
When orphaned Mary Lennox comes to live at her uncle's great house on the Yorkshire Moors, she finds it full of secrets. The mansion has nearly one hundred rooms, and her uncle keeps himself locked up. And at night, she hears the sound of crying down one of the long corridors.
The gardens surrounding the large property are Mary's only escape. Then, Mary discovers a secret garden, surrounded by walls and locked with a missing key. With the help of two unexpected companions, Mary discovers a way in—and becomes determined to bring the garden back to life.
Make sure you watch the 1995 movie afterwards (NOT the Shirley Temple one).
Alone in a new country, wealthy Sara Crewe tries to settle in and make friends at boarding school. But when she learns that she'll never see her beloved father gain, her life is turned upside down. Transformed from princess to pauper, she must swap dancing lessons and luxury for hard work and a room in the attic. Will she find that kindness and genorosity are all the riches she truly needs?
Grandmamma loves to tell about witches. Real witches are the most dangerous of all living creatures on earth. There's nothing they hate so much as children, and they work all kinds of terrifying spells to get rid of them. Her grandson listens closely to Grandmamma's stories—but nothing can prepare him for the day he comes face-to-face with The Grand High Witch herself!
Brooke is the perfect older sister. For that reason, Kari and Ashley work hard to make their parents just as proud of them as they are of Brooke. Each girl has her own talents. Brooke is an excellent student. Kari is a great soccer player. Ashley, a talented artist. And they are always there for each other. But when the news comes that Dr. Baxter is moving the family from Ann Arbor to Bloomington, Indiana, and the Baxters need to leave the only home and friends they've ever known, no one is happy. Saying goodbye is hard but the family still has what's most important—their faith and their love for each other.
This was a favorite of mine back when I was in grade four!
Claudia knew that she could never pull off the old-fashioned kind of running away…so she decided not to run FROM somewhere, but TO somewhere. And so, after some careful planning, she and her younger brother, Jamie, escaped — right into a mystery that made headlines!
Everyone raves that these are better than Nancy Drew, that's some high praise!
Trixie's summer is going to be sooo boring with her two older brothers away at camp. But then a millionaire's daughter moves into the next-door mansion, an old miser hides a fortune in his decrepit house, and a runaway kid starts hiding out in Sleepyside!
In the Pacific there is an island that looks like a big fish sunning itself in the sea. Around it, blue dolphins swim, otters play, and sea elephants and sea birds abound. Once, Indians also lived on the island. And when they left and sailed to the east, one young girl was left behind. — This is the story of Karana, the Indian girl who lived alone for years on the Island of the Blue Dolphins. Year after year, she watched one season pass into another and waited for a ship to take her away. But while she waited, she kept herself alive by building shelter, making weapons, finding food, and fighting her enemies, the wild dogs. It is not only an unusual adventure of survival, but also a tale of natural beauty and personal discovery.
This summer the Penderwick sisters have a wonderful surprise: a holiday on the grounds of a beautiful estate called Arundel. Soon they are busy discovering the summertime magic of Arundel's sprawling gardens, treasure-filled attic, tame rabbits, and the cook who makes the best gingerbread in Massachusetts. But the best discovery of all is Jeffrey Tifton, son of Arundel's owner, who quickly proves to be the perfect companion for their adventures.
The icy-hearted Mrs. Tifton is not as pleased with the Penderwicks as Jeffrey is, though, and warns the new friends to stay out of trouble. Which, of course, they will—won't they? One thing's for sure: it will be a summer the Penderwicks will never forget.
Miri lives on a mountain where, for generations, her ancestors have lived a simple life. Then word comes that the king's priests have divined her village the home of the future princess. In a year's time, the prince will choose his bride from among the village girls.
The king's ministers set up an academy on the mountain, and every teenage girl must attend and learn how to become a princess. Soon Miri finds herself confronted with a harsh academy mistress, bitter competition among the girls, and her own conflicting desires. Winning the contest could give her everything she ever wanted–but it would mean leaving her home and family behind.
Rose Howard is obsessed with homonyms. She's thrilled that her own name is a homonym, and she purposely gave her dog Rain a name with two homonyms (Reign, Rein), which, according to Rose's rules of homonyms, is very special. Not everyone understands Rose's obsessions, her rules, and the other things that make her different―not her teachers, not other kids, and not her single father.
When a storm hits their rural town, rivers overflow, the roads are flooded, and Rain goes missing. Rose's father shouldn't have let Rain out. Now Rose has to find her dog, even if it means leaving her routines and safe places to search.
Rosemary Bliss's family has a secret. It's the Bliss Cookery Booke—an ancient, leather-bound volume of enchanted recipes like Singing Gingersnaps.
Rose and her siblings are supposed to keep the Cookery Booke locked away while their parents are out of town, but then a mysterious stranger shows up. "Aunt" Lily rides a motorcycle and also whips up exotic (but delicious) dishes for dinner. Soon boring, non-magical recipes feel like life before Aunt Lily—a lot less fun.
So Rose and her siblings experiment with just a couple of recipes from the forbidden Cookery Booke. A few Love Muffins and Cookies of Truth couldn't cause too much trouble . . . could they?
Kathryn Littlewood's culinary caper blends rich emotional flavor with truly enchanting wit, yielding one heaping portion of hilarious family adventure.
For twelve-year-old Emily, the best thing about moving to San Francisco is that it's the home city of her literary idol: Garrison Griswold, book publisher and creator of the online sensation Book Scavenger (a game where books are hidden in cities all over the country and clues to find them are revealed through puzzles). Upon her arrival, however, Emily learns that Griswold has been attacked and is now in a coma, and no one knows anything about the epic new game he had been poised to launch. Then Emily and her new friend James discover an odd book, which they come to believe is from Griswold himself, and might contain the only copy of his mysterious new game.
Racing against time, Emily and James rush from clue to clue, desperate to figure out the secret at the heart of Griswold's new game―before those who attacked Griswold come after them too.