a DAY IN THE LIFE of a homeschool mom: autumn 2022
I've done a few homeschool day in the life posts and videos in the past and I thought it would be fun to start sharing seasonal day in the life posts with a peek inside a day in the life of a homeschool mom.
This will be a great keepsake for me to look back on in the years to come to see how life changes as we enter different seasons, both weather seasons and seasons of life.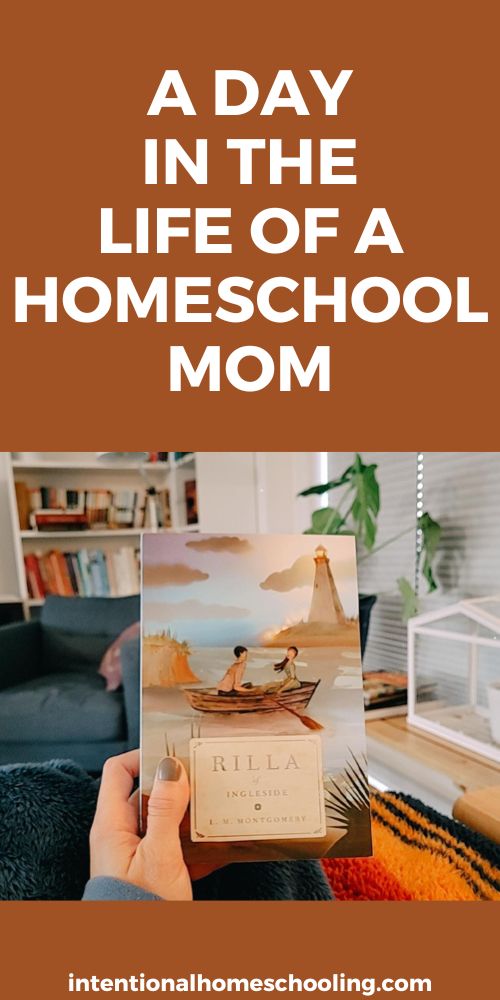 Life can change a lot from season to season, a month ago we had five kids and now we are down to two. Life looks a lot different without having a 4 year old, a 3 year old and a 2 year old around!
So, here's a little look into a day in my life this week . . .
6am-ish – Jared recently purchased a light clock/light alarm, this came about via the talks on our podcast about eliminating the hurry we've been having over the past few weeks. We haven't had it for quite a week yet so I'm not saying anything official yet but I think this was the first day that the alarm actually woke me up. I got dressed so we could go for a pre-sunrise walk.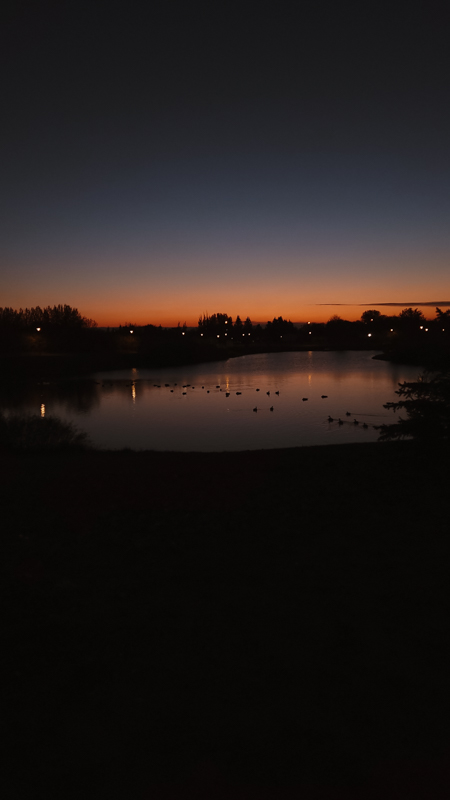 6:30 am – it was a +5C morning so we donned the toques and finger mitts to go for our walk. We don't get to do these every morning but I love it when we can, it's a great way to check in before the day gets going and the chilly air helps to wake me up. Since the sun is rising later we actually saw a number of geese still asleep on the pond, it made me want to do some research on geese; do they always sleep on the water? why do some snow geese and regular geese fly together? I haven't looked up the answers yet but it has made me want to pull out a notebook I started at the beginning of the year that is kind of my own educational journal.
7 am – back from our walk and I pull out my Bible and the Bible Recap, less than three months left before we've finished reading the Bible chronologically (the second time in just over a year for me). Afterwards I go through the rest of the stuff in my mother culture morning basket as I call it, today was mainly updating my reading journal and adding yesterday's entry to my Line a Day Journal.
7:38 am – Rae wakes up and I say good morning to her, post a video to my Instagram stories and make a post on my book-ish Patreon community.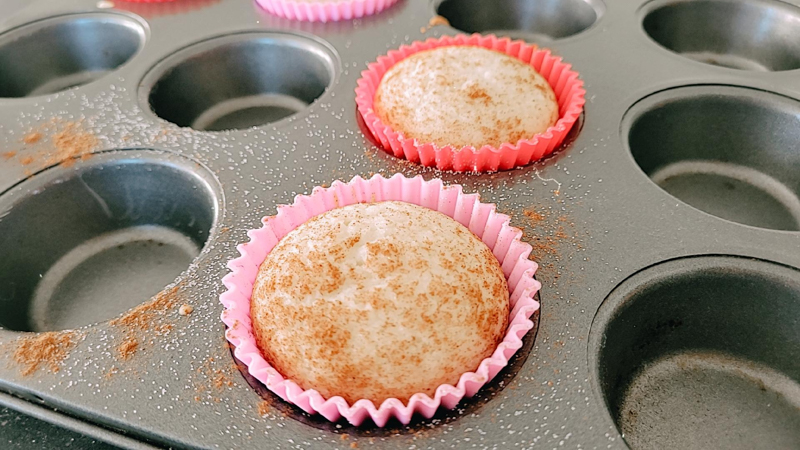 7:50 am – Rae wants to make gluten free pancake muffins, something we haven't done in awhile so I look up how to do it again (turns out you just follow the instructions on the pancake mix and put them in muffin liners and bake at 350, it took ours 19 minutes to finish). We tried some plain, some with mini chocolate chips and some with cinnamon sugar, she says the cinnamon sugar are the winners. While those were in the oven I watered my plants, made myself some of my dairy free hot cocoa and did my hair and make up.
8:30 am – I woke up Ephraim, some days I think he would sleep for 24 hours if I let him (though to be fair, if I lived life as hard and fast as he does I would need to sleep for a week!)
8:40 – I sat down to read a bit of Rilla of Ingleside with my not-so-hot-anymore hot cocoa.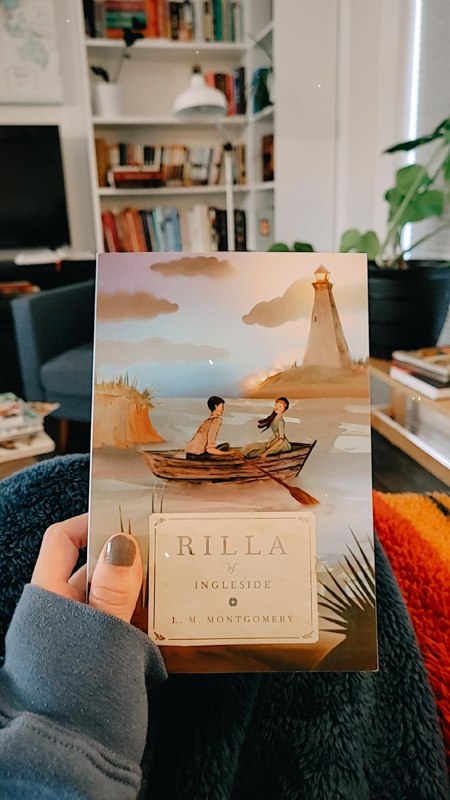 9 am – we sat down and did our morning basket while Ephraim ate his breakfast.
9:35 am – morning basket is done and I reply to a few texts, including one from a social worker that I was avoiding for a few days.
9:40 am – Raeca went off to do her school stuff on her own, she's realized she likes to work at her own (quicker) pace so it makes me extra thankful we are doing the morning basket together. Ephraim and I sat down and worked on our Solar System unit, practiced working on doubles in math (I made some quick flashcards because doubles, aka the two times table, are something that come up a lot and something I want him to get quicker at. For the research unit I helped him find the answers to the questions and while he was writing his answers out I made myself some breakfast.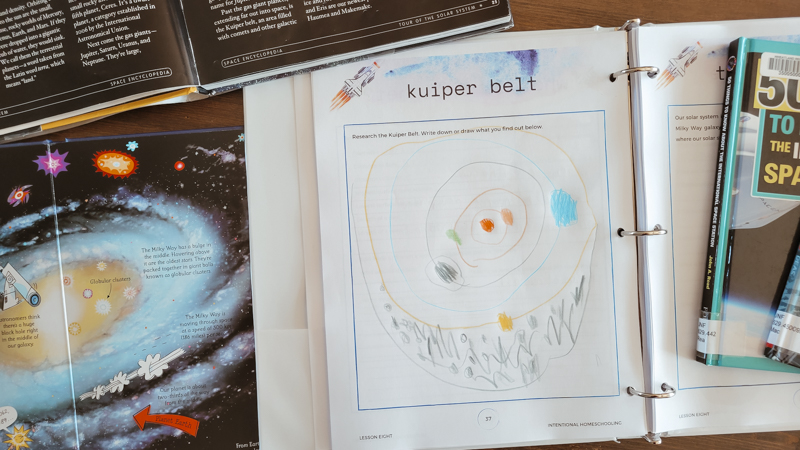 10:47 am – the lesson was done for the day so Ephraim went on to do his independent work (Bible, Line a Day and thirty minutes of reading) so I headed to my office to respond to YouTube comments, Patreon comments and emails. Plus I posted a photo to Instagram and started writing a blog post.
11:25 am – I head upstairs to try to figure out what to make for lunch (anyone else struggle with what to make for meals all the time?!), while lunch is going (grilled cheese as voted on by the kids), I help Raeca with the word search in the Solar System unit since she got her unit done a day earlier than planned. I love word searches and it's hard for me to see one out and not try to do it. I also grabbed some apples and carrots from the fridge and juiced them to go along with our lunch.
12 pm – time to eat lunch and listen to our current audiobook. I will say, the narrator isn't my favorite but I do like the book (I read it back in the summer on my own).
12:25 pm – lunch clean up, I fed the pulp from the juice to my compost worms (it's their favorite meal). While I was cleaning I was listening to my personal current audiobook.
12:55 pm – I went to go get a criminal record check only to find they only open at 1:30 #fail. So I worked on the blog post I had started earlier and then tried again and successfully submitted my info with the police. I also made a quick stop at the thrift store and found a vintage copy of a book I read in university (one I actually enjoyed, a rarity in university!).
1:47 pm – back home, made myself a cup of hot cocoa (again) and settled in to read some more of Rilla of Ingleside.
2:45 pm – I played a couple of rounds of Dutch Blitz with Ephraim. It isn't the best two player game but it can work.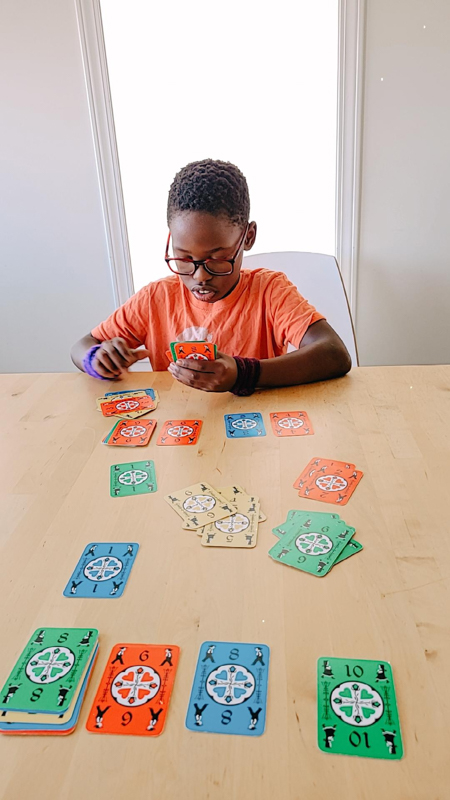 3:07 pm – did some more work on Instagram and got chicken going in the oven for supper.
3:27 pm – finished the blog post I had been working on throughout the day.
4:10 pm – we headed out for my kids to do their paper route (they have a weekly route) and we stopped by a local game store to rent a few games (this one and this one).
5 pm – we're home again and I peeled potatoes and carrots for the rest of our supper and got that going. While I was working on that I researched what a snowshoe cat was with Raeca (she's slowly wearing us down, I'm sure we'll have a cat in our home soon, but the verdict is not a snowshoe, definitely a ragdoll cat).
5:20 pm – I responded to a few YouTube comments and researched a few soccer drills.
5:40 pm – time for supper and the subsequent clean up. Once again, we listened to our audiobook, it's fun to hear everyone predicting where they think the story is going when I've already read the book and know the answer.
6:30 pm – I head out for soccer with Raeca and Ephraim, picking up one of Rae's friends along the way. This year I am coaching for both my kids' teams, the first time I've done that since Ephraim was four so it comes with a bit of a learning curve, I'm excited though because this is our first time involved in indoor soccer and I'm so glad to not have to worry about the weather conditions like we always do with spring soccer.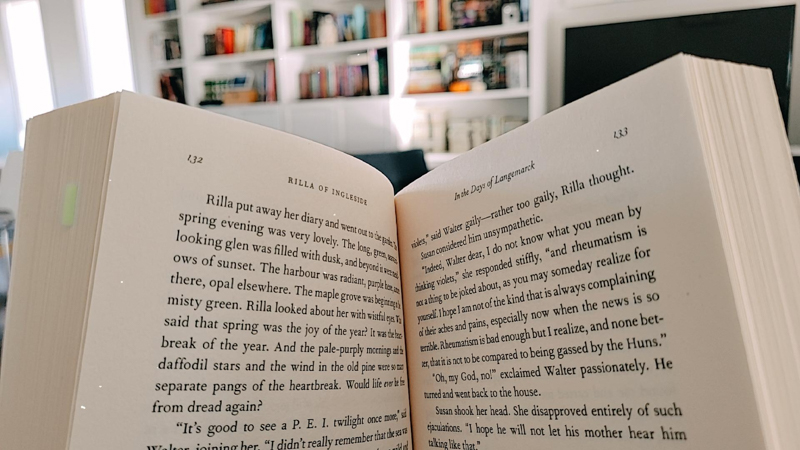 8:45 pm – we're back home again! Jared is out playing nerdy board games with friends so I curl up and read Rilla of Ingleside some more. I get about an hour in and then the tiredness hits like a brick!
10 pm – I get ready for bed and fall asleep about seven seconds after hitting my pillow. I'm not usually one who struggles falling asleep!
Thanks for joining me in this day in the life! I plan on doing another one in winter season, we'll see how things change.