A Look at Our Bookshelves
We recently did some rearranging in our house and kind of accidentally ended up making a book and reading corner.
Previously our books were kind of spread all throughout our house in different bookcases but now they are mostly all together.
The only exceptions are that my son has all the picture books in his room, I may end up moving those with the rest of the books at some point. And then we have a few books used as decorations throughout the house as well as our collections of The Hobbit and The Lord of the Rings, I have this leatherette collection and my husband has a set that I can't find online. Plus I have a really cool copy of The Two Towers in hardcover that I found at a library sale earlier this year.
Oh, and then there are the various books we have on our currently reading or to be read soon piles on our nightstands.
Other than that I think this is all/most of our books.
I always like seeing other people's book collections when I go to their houses and I know there are at least some others like me out there, so think of this as being able to look at my bookshelves without having to actually come to my place!
If you came over I would offer you a cup of coffee, tea or hot chocolate so feel free to grab a cup so you can get the whole experience.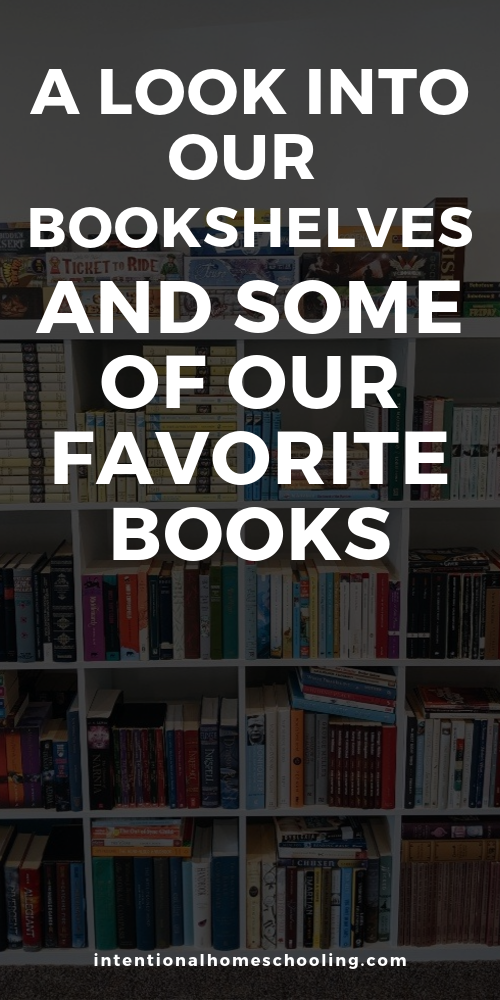 I asked over on Instagram if you guys would prefer to see this in one enormous post or if you wanted it broken down into two big posts but the more I thought about it the more I was leaning towards two posts, and then I remembered that we have pretty much all our homeschool resource books in a closet in our hallway and I knew you guys would want to see those, thankfully you guys voted for two posts anyway!
Today I am sharing the big bookcase which are mostly my books, all sorts of adult (mostly) fiction and non-fiction and then next I'll show the rest of the books!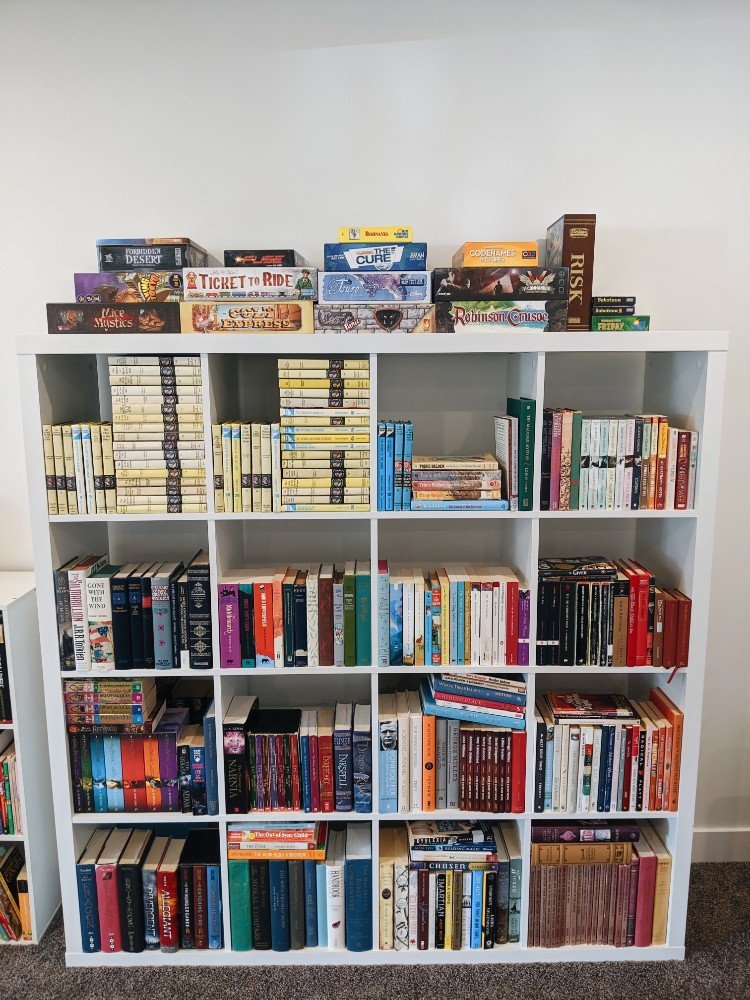 First, here's a look at the whole space. This is in our newly finished basement but we made sure it's nice and bright so it doesn't feel like a basement and there is good lighting for reading, though honestly, even though I intentionally put the couch by the books, I prefer to read upstairs close to the fireplace.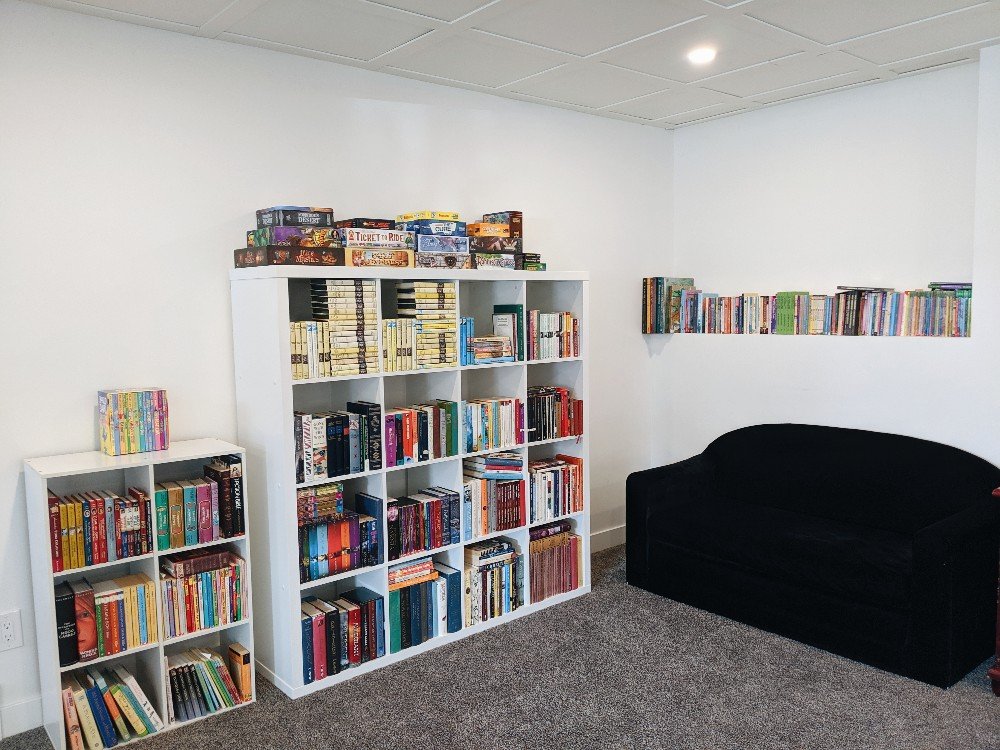 One day I may get another big book case and just have the two big ones but for now this is what we have. The big bookcase is an Ikea look-alike that I got from Jysk since the closest Ikea is six hours from me.
The big bookcase holds mostly adult books, with a few exceptions, and then the smaller bookcase and the shelf on the wall are our elementary and middle grade novels.
I wanted to show how I had them organized as well as a few favorites from each section.
Just a word of warning: we have not read every book we own, so just because it is on here does not necessarily mean I recommend it. Generally I have heard good things about it from others before buying it or it had a pretty looking cover (just being honest)!
If you saw the way I had previously organized this bookcase I mostly just grouped books of the same color together, but this time I wanted to do something different, so I tried to organize by genre.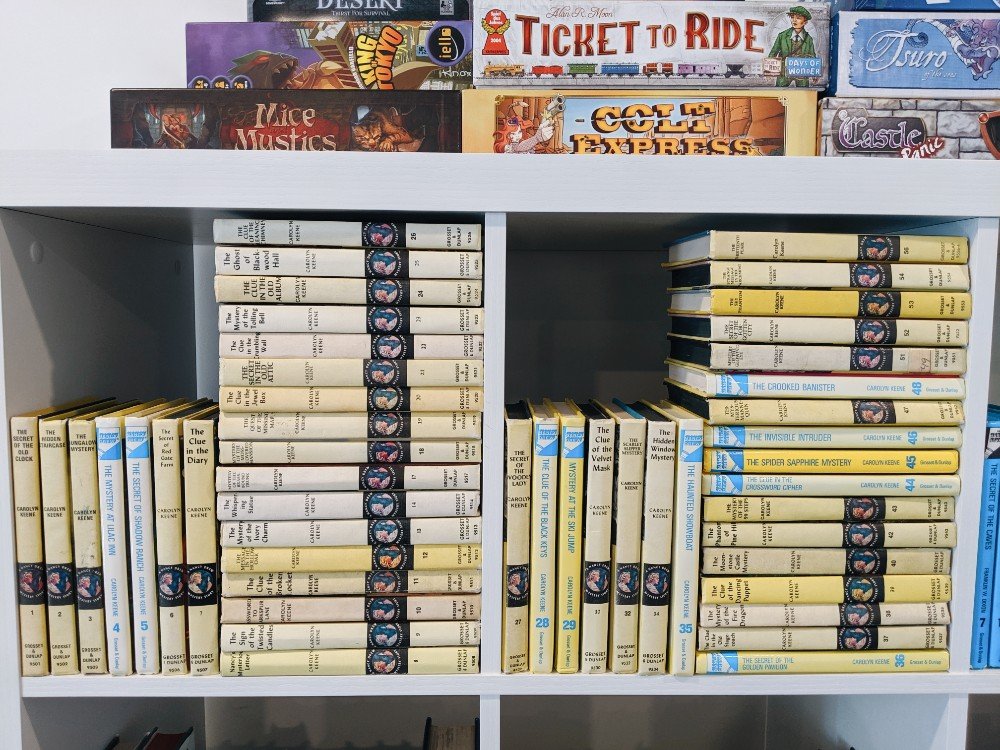 At the top of the bookcase is a collection of some of our games. I have one post that shares some of our favorite games for the elementary age, you can check that out here.
This top shelf is the mystery section. Prior to this year I definitely would have said that mystery is my favorite type of fiction to read.
So, on this shelf we have our Nancy Drew collection (just need a few more to have them all!), my daughter got most of these for Christmas from my parents a few years ago, she's still not at the point where she is reading them yet (they are a little too scary) but I know she'll be there soon.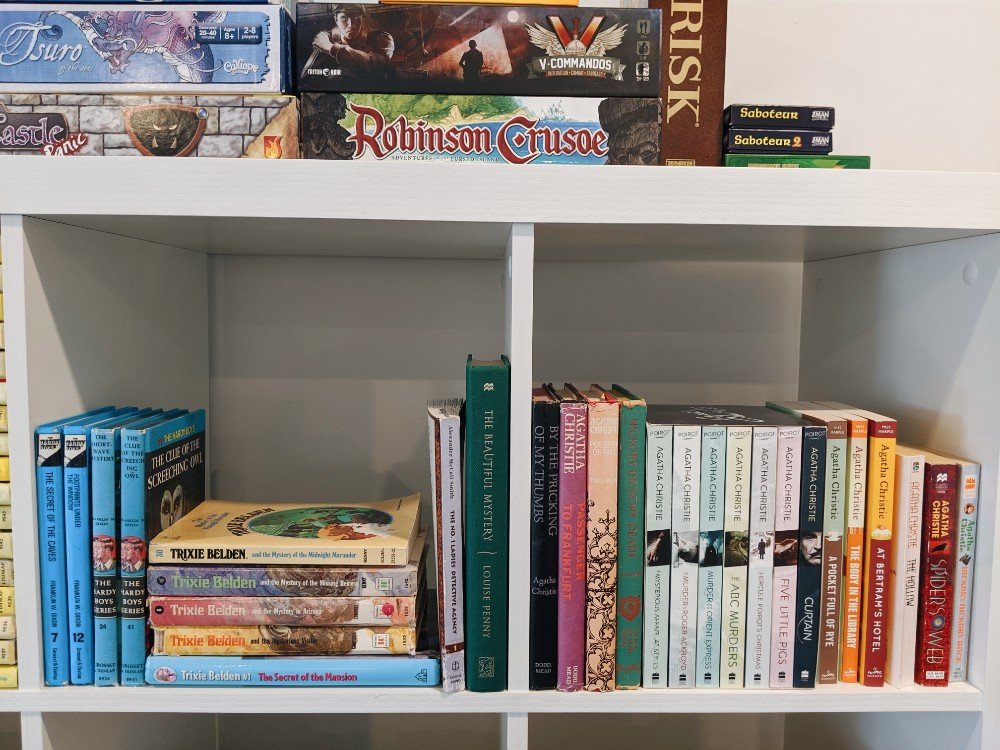 We also have a couple of Hardy Boys books (I plan on starting to collect those next) as well as a few Trixie Belden – now, I had never heard of Trixie Belden before I have since heard so many people rave about them. My daughter has read most of these and she loves them. So, we're also collecting that series but they are a lot harder to come by.
I also have one lone No. 1 Ladies Detective Agency book. I came across this series earlier this year and read a few of the books and was happy to stumble across one for sale at my library. Set in Botswana it is the perfect mix of Africa and mystery.
I also have a full cube dedicated to my Agatha Christie books, she is one of my favorite mystery authors. I haven't actually read all of these yet but now that the weather is getting cooler it feels like it's time to pick another one up. I tried to decide which of these were my favorites and couldn't narrow it down to one though I will say that I do prefer Miss Marple as a character over Hercule Poirot.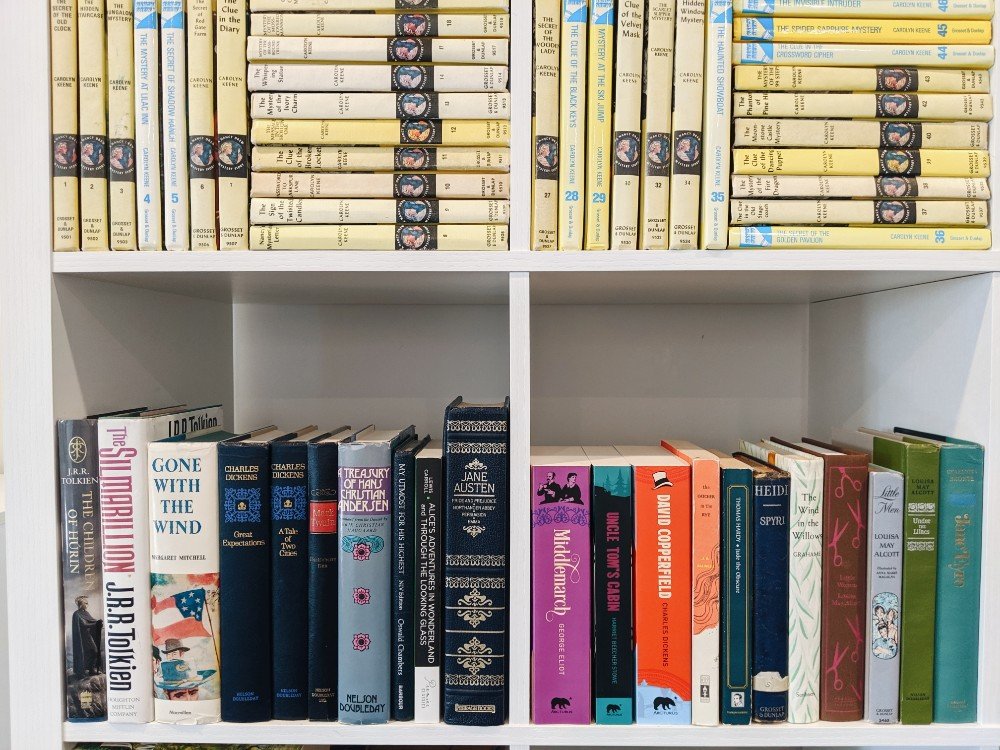 The next row is my classics row. I have probably only read about 50% of these. I've been trying to read more classics in the last few years but I try to slowly intersperse them between my other reading. One of my classic favorites this year has been The Story Girl by L. M. Montgomery and on the LM topic, I am apparently collecting all the editions of Anne of Green Gables, or, I had a copy and then I kept finding really pretty copies that wouldn't let me leave them behind.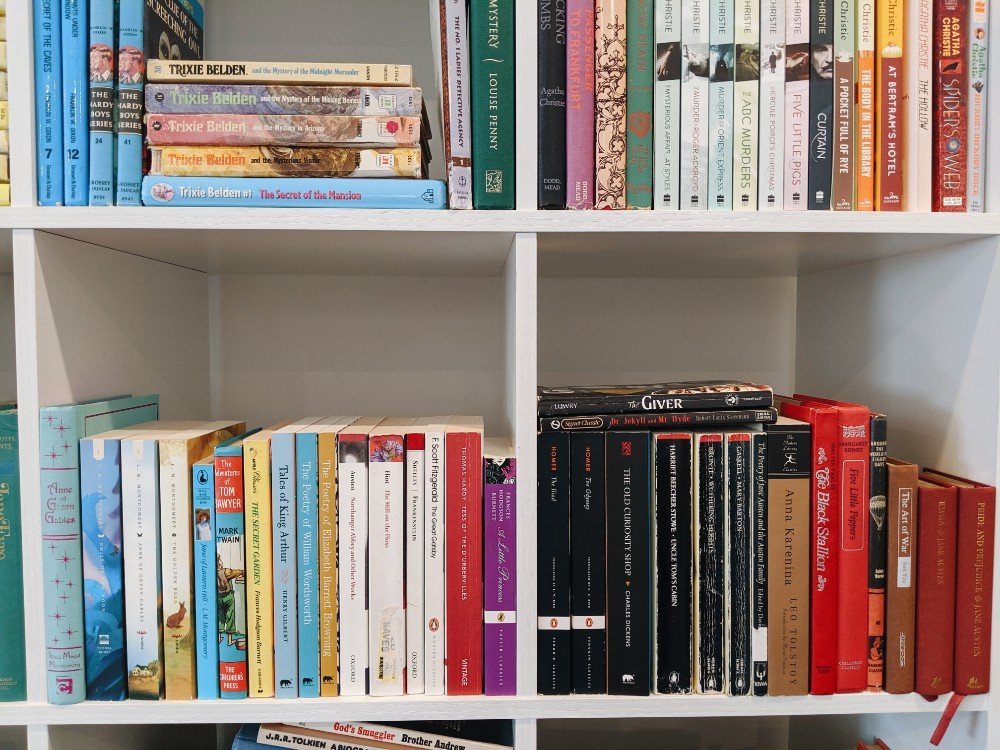 Another classics favorite has been Wuthering Heights. I absolutely did not go into it expecting to love it but I did. And honestly, I think why I love it so much are the descriptions of the English moor. I lived in England for a few months after high school but I was on the south coast, now I want to go up to the moors.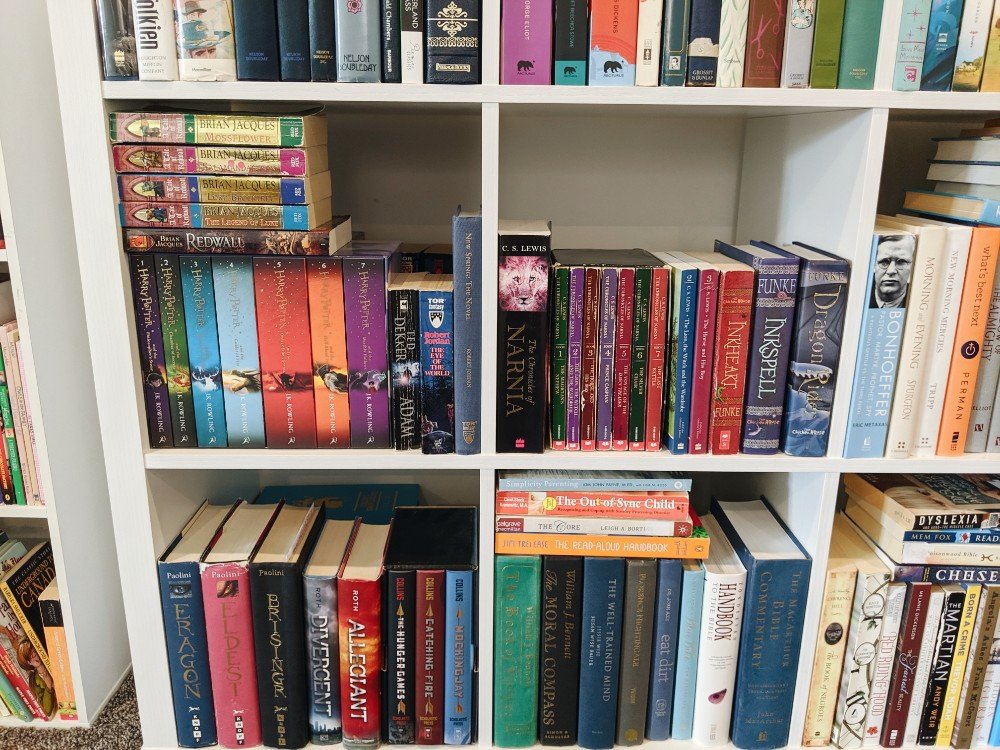 This corner of the bookcase is mostly the fantasy corner. This genre has really taken over as my favorite in the last six months. It already was my husband and daughter's favorite fiction genre for a long time so it only seemed right that I get on board. If you read my monthly what we've been reading wrap ups you'll see some of the fantasy I've been enjoying.
As a result most of these fantasy books are not mine. My daughter loves Harry Potter and Redwall, she hasn't read the Funke books yet but I think she'll enjoy them when she gets to them.
Obviously we are collecting a few editions of The Chronicles of Narnia as well. My daughter and I have read them all and continue re-reading them.
My husband has read some of the Wheel of Time series (I have more books from the series behind the first book) as well as the first few books in the Eragon series.
The Hunger Games and Divergent series are both dystopian, a genre I can really enjoy (when done well).
I have a feeling the fantasy genre will be expanding the most in our shelves in the next few years.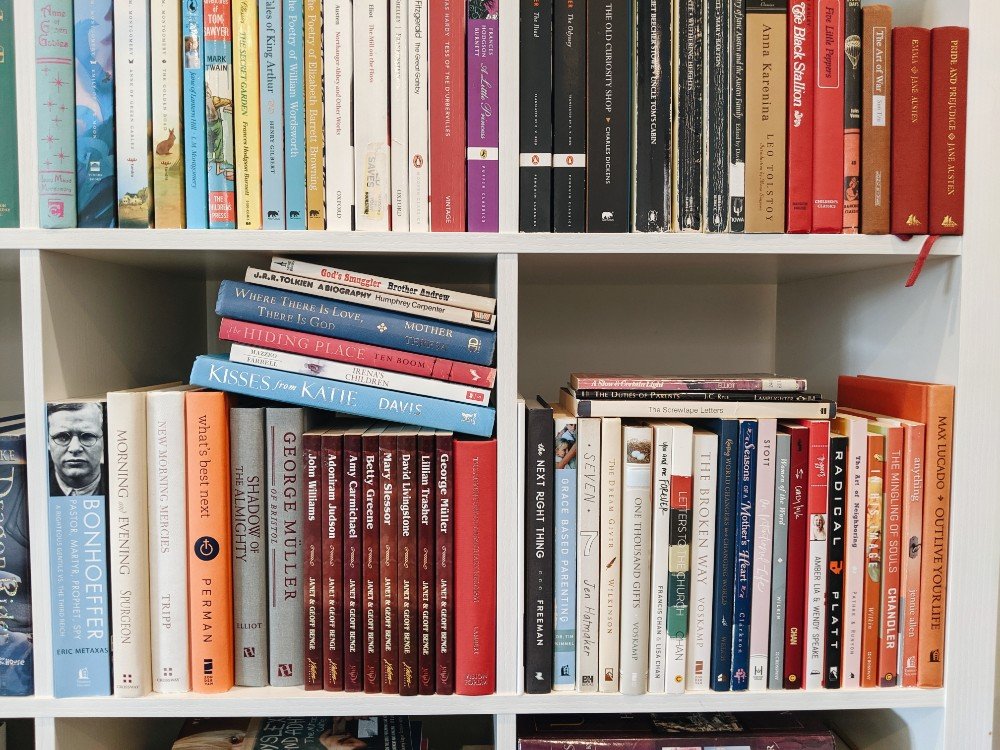 I have a couple shelves in the Christian genre. The one cube mostly holds biographies and the other is more the Christian living shelf. Some of my favorites from here include The Hiding Place, the Christian Heroes Then & Now series, You and Me Forever (and really, anything Francis Chan writes), and Women of the Word (this now has a new edition out which I am think of adding to my to-buy list even though I already have the first edition).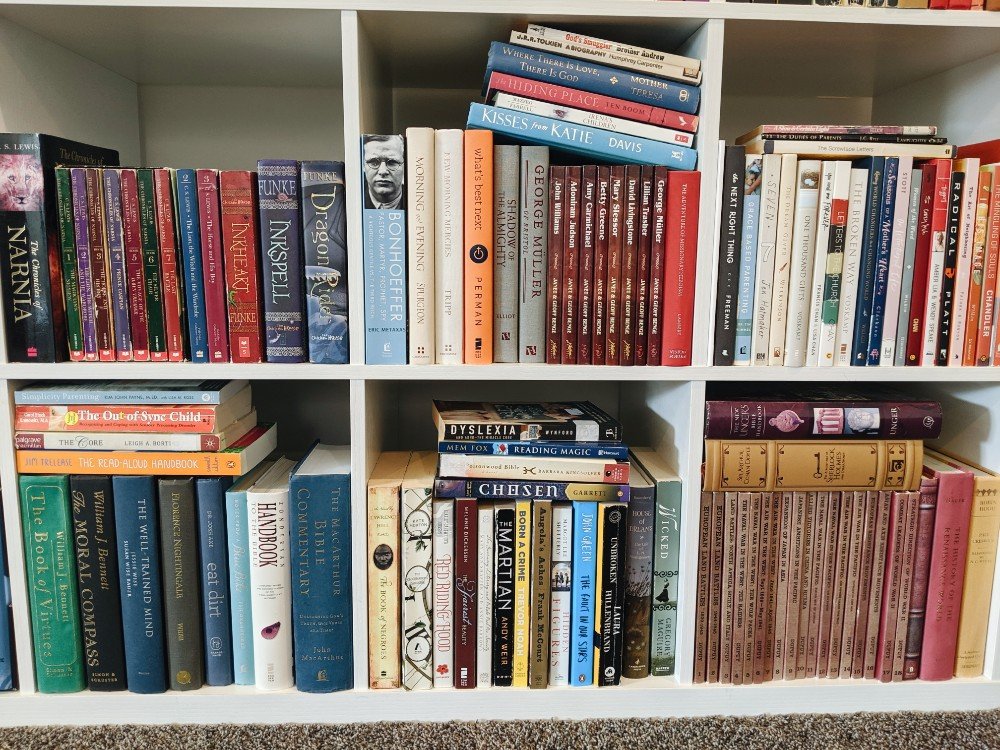 And the bottom few shelves are kind of a mish-mash of parenting, homeschooling, Bible commentaries and handbooks, history books and contemporary books (mostly novels).
Some of my favorites here are The MacArthur Bible Commentary – my husband got this for Christmas years ago and I think I may have stolen it from him. I also like The Guernsey Literary and Potato Peel Pie Society and Sherlock Homes – due to the color and size of the book this one didn't end up in the mystery shelf but it is one of my absolute favorite mystery books.
And that's a look at our one bookcase, aka, mostly my books! If you saw a book in the pictures that I didn't mention that you are curious about my opinion on let me know in the comments below. Now that you have a general idea as to my taste in books I would love to hear if you have a suggestion for what I should read next.
If you like books and you are not yet subscribed to my book-ish newsletter I would recommend that you do so! I like to share all sorts of book-ish things over there.