Games We Use In Our Homeschool
It's been nearly a year since I shared a post of some of our favorite homeschool games and since then we've added a lot more to our list, so instead of just updating the post I thought I would write a whole new one.
This will be our game master list so I will try to keep this page updated with our favorites and add new ones in as we get them.
For the most part we get our games off of Amazon, like 80% of the stuff we buy . . . I have gotten a few from the thrift store but that can be hit or miss and a game that is missing a bunch of pieces isn't that fun so Amazon is generally the safer bet.
We have had Prime for a few years and I love not paying for shipping, if you haven't tried it yet they offer a 30-day free trial and there are some great perks like access to Prime Video which if you live in the US is even better than what we get in Canada! My personal favorite though is the free photo storage, you better believe I use that a lot!
While we do play some of the traditional games (Uno, Monopoly, etc) we definitely play a lot that are more complex, my kids are currently four and seven and we often play games where the suggested age is 10+. The games we play that are suggested for older ages are generally co-op games that we play all together.
There are a lot of benefits to using games in homeschool, I love the sneaky learning that takes place in every game we play.
Specific skills vary from game to game but some of the skills kids learn when playing games include:
developing fine motor skills
social skills
learning how to win or lose graciously
cooperation
following directions
math skills
deductive reasoning
strategy
and lots more!
Okay, let's just get on to the list of games we have and like to play! I'm always looking for more suggestions so if you think there is one we don't have that you think we would enjoy, just let me know!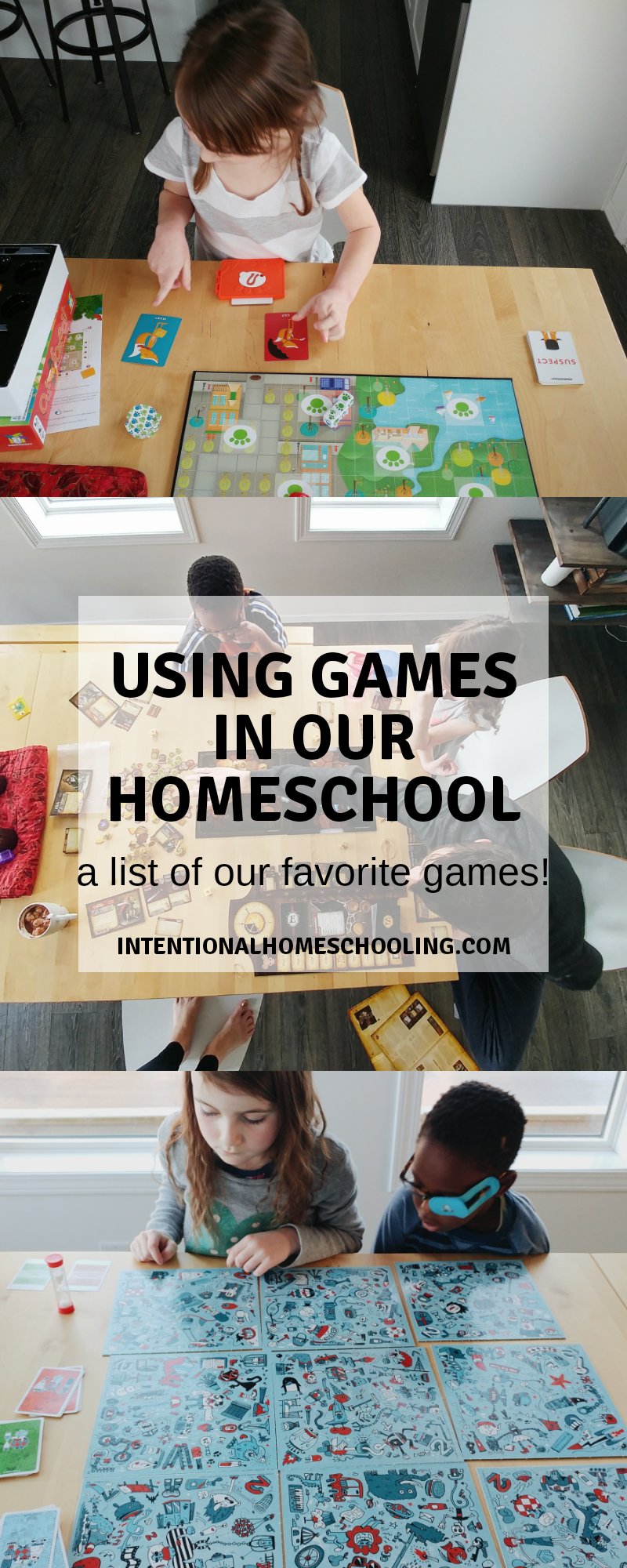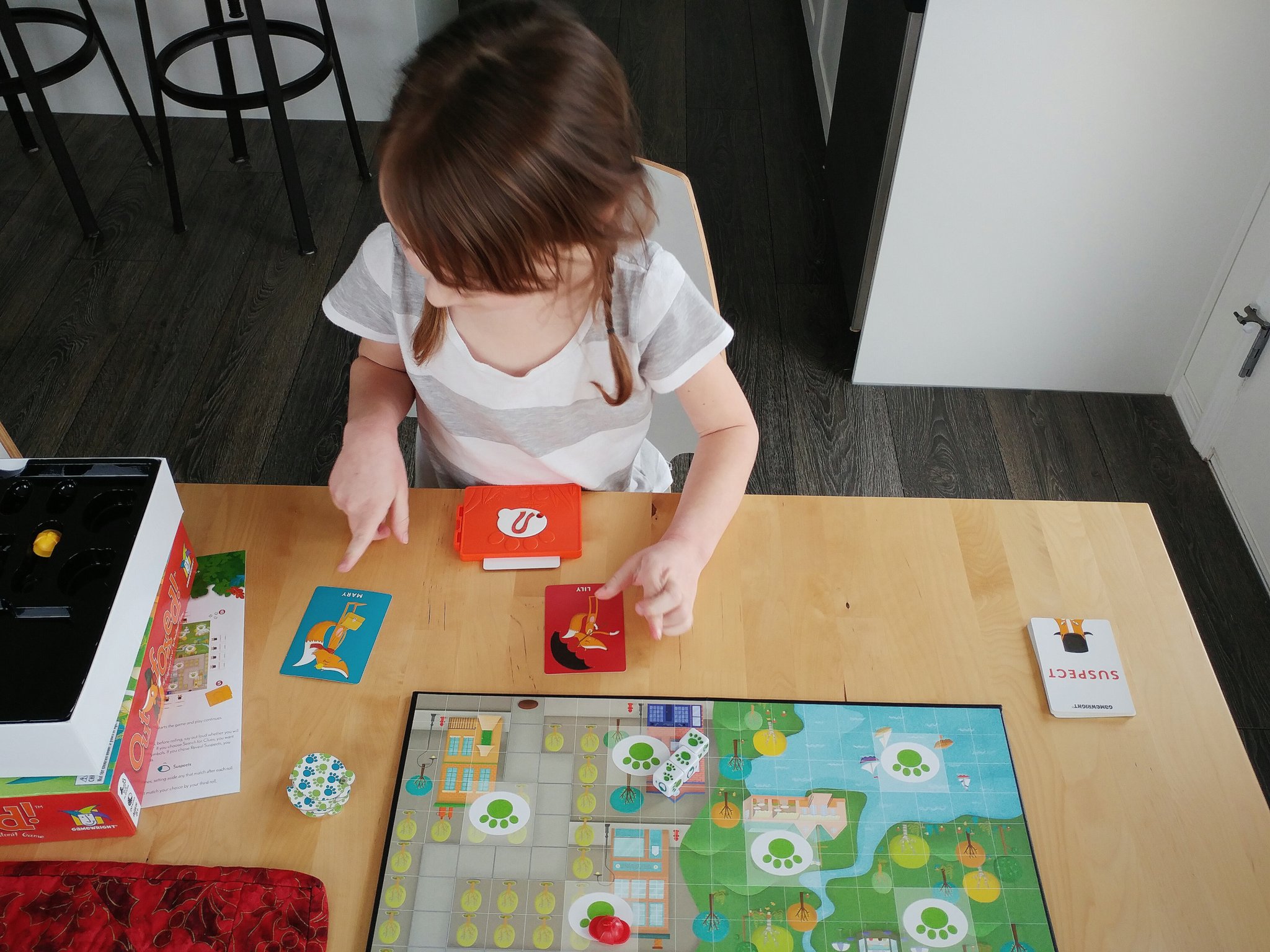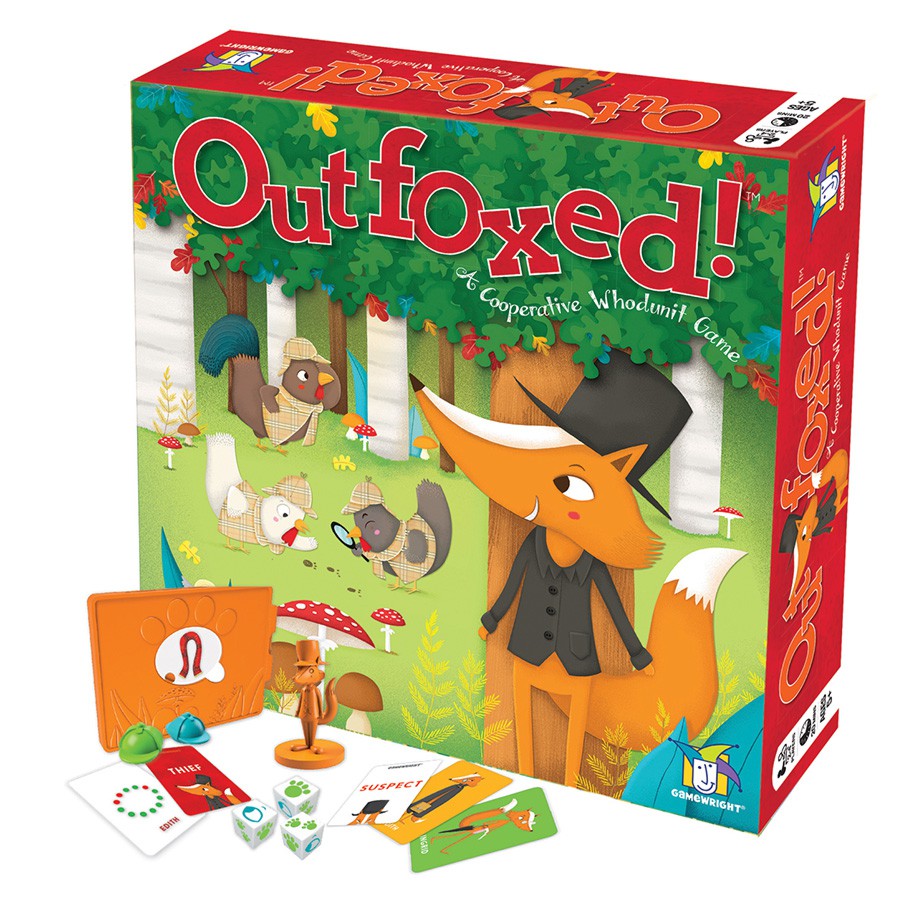 Raeca got this one for Christmas last year and I'm pretty sure we played it 30 times in the first two weeks!
Mrs. Plumpert's prized pot pie has gone missing, and now it's a chicken chase to crack the case! In Outfoxed, you move around the board to gather clues, then use the special evidence scanner to rule out suspects. You have to work together quickly because the guilty fox is high-tailing it towards the exit! Will you halt the hungry hooligan before it flies the coop or will you be outfoxed?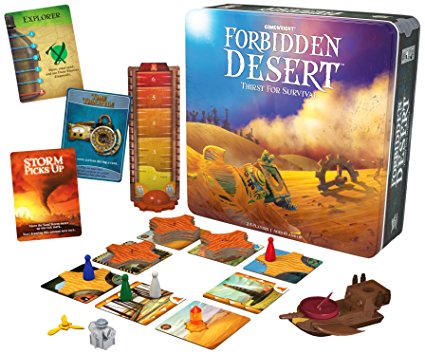 This was probably the first co-op game Raeca played, I'm realizing it's been awhile since we played it, I need to pull this one out again soon!
Gear up for a thrilling adventure to recover a legendary flying machine buried deep in the ruins of an ancient desert city. You'll need to coordinate with your teammates and use every available resource if you hope to survive the scorching heat and relentless sandstorm. Find the flying machine and escape before you all become permanent artifacts of the forbidden desert!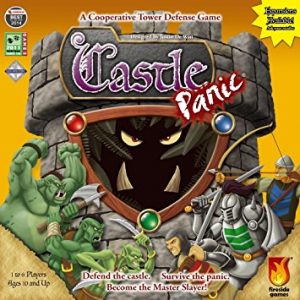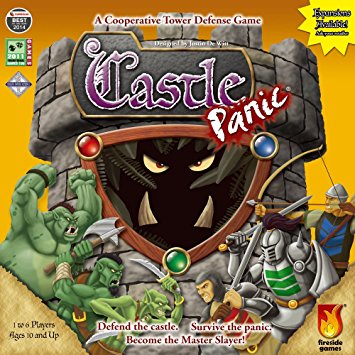 We bought the kids this one for Christmas and it's quickly becoming my favorite game. The suggested age is 10+ but both my kids (4 & 7) play, it's a co-op game and all your cards are laid out for all to see so while Ephraim doesn't get all the strategy behind the game we can help him by showing him which cards to play. And he always enjoys fighting the monsters. 🙂
Castle Panic is a cooperative tower defense board game for 1 to 6 players, ages 10 and up. The co-op element makes Castle Panic a great family game and the perfect kick-off for your weekly game night. You must work together to defend your Castle, in the center of the board, from Monsters that attack out of the forest, at the edges of the board. Trade cards, hit and slay Monsters, and plan strategies together to keep your Castle towers intact.
Playing Mice & Mystics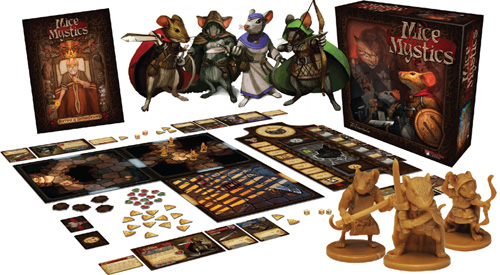 This is probably the most complex game we play with the kids right now, it's a co-op game we all play together as a family. I like that it has a story with it and every round we play we learn more about the story.
In Mice and Mystics players take on the roles of those still loyal to the king – but to escape the clutches of Vanestra, they have been turned into mice! Play as cunning field mice who must race through a castle now twenty times larger than before. The castle would be a dangerous place with Vanestra's minions in control, but now countless other terrors also await heroes who are but the size of figs. Play as nimble Prince Collin and fence your way past your foes, or try Nez Bellows, the burly smith. Confound your foes as the wizened old mouse Maginos, or protect your companions as Tilda, the castle's former healer. Every player will have a vital role in the quest to warn the king, and it will take careful planning to find Vanestra's weakness and defeat her.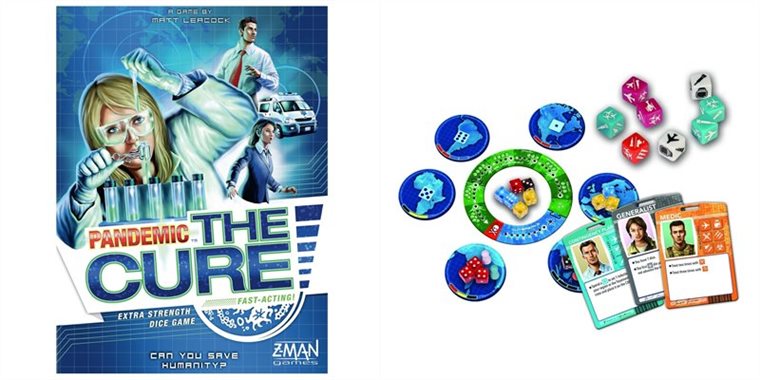 Another fun co-op game we like to play as a family.
Pandemic: The Cure, a dice-based version of the popular Pandemic board game, sets up in less than a minute and plays in 30 minutes. As in the board game, four diseases threaten the world and it's up to your team to save humanity. You and your team must keep the world's hotspots in check before they break out of control, while researching cures to the four plagues.  Players roll dice each turn to determine the actions available to them. They can fly and sail between the six major population centers of the world, treat disease in their current region, collect samples for further study, and exchange knowledge to help them in their goal of discovering cures. Each player takes on a different role that has its own unique set of dice and abilities – and players must take advantage of their specializations if they are to have any hope of winning the game.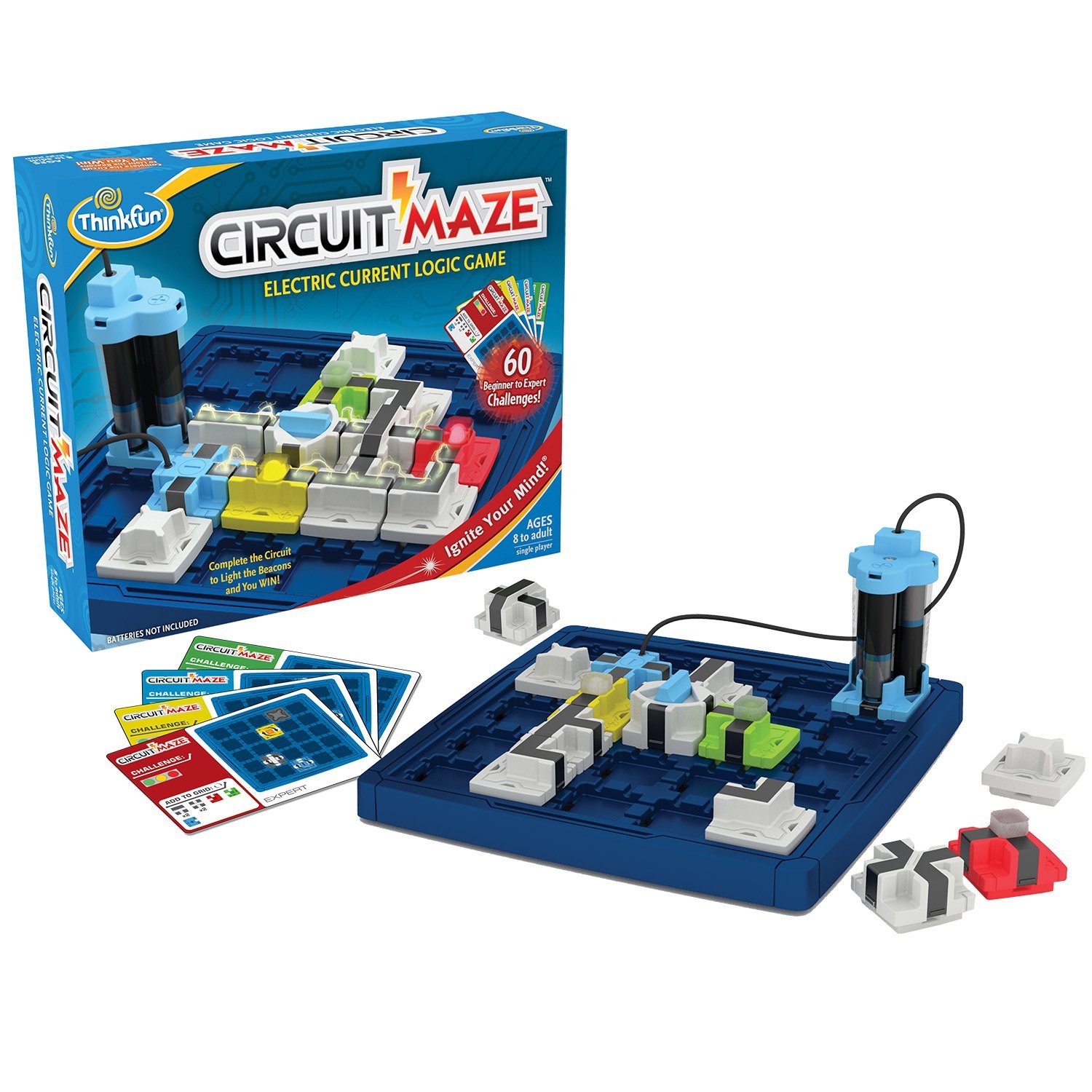 Circuit Maze is perfect for those science minded kids! Ephraim loves figuring out the circuit and making it light up!
Your logic skills and sequential reasoning will light up with Circuit Maze! Your goal is to arrange tokens and create a real circuit to light up the Beacons. Circuit building while solving challenges provides a boost of brainpower and a fun education in electronics. With 60 challenges, ranging in difficulty, this logic game will provide budding electrical engineers with hours of electrifying fun and intense learning.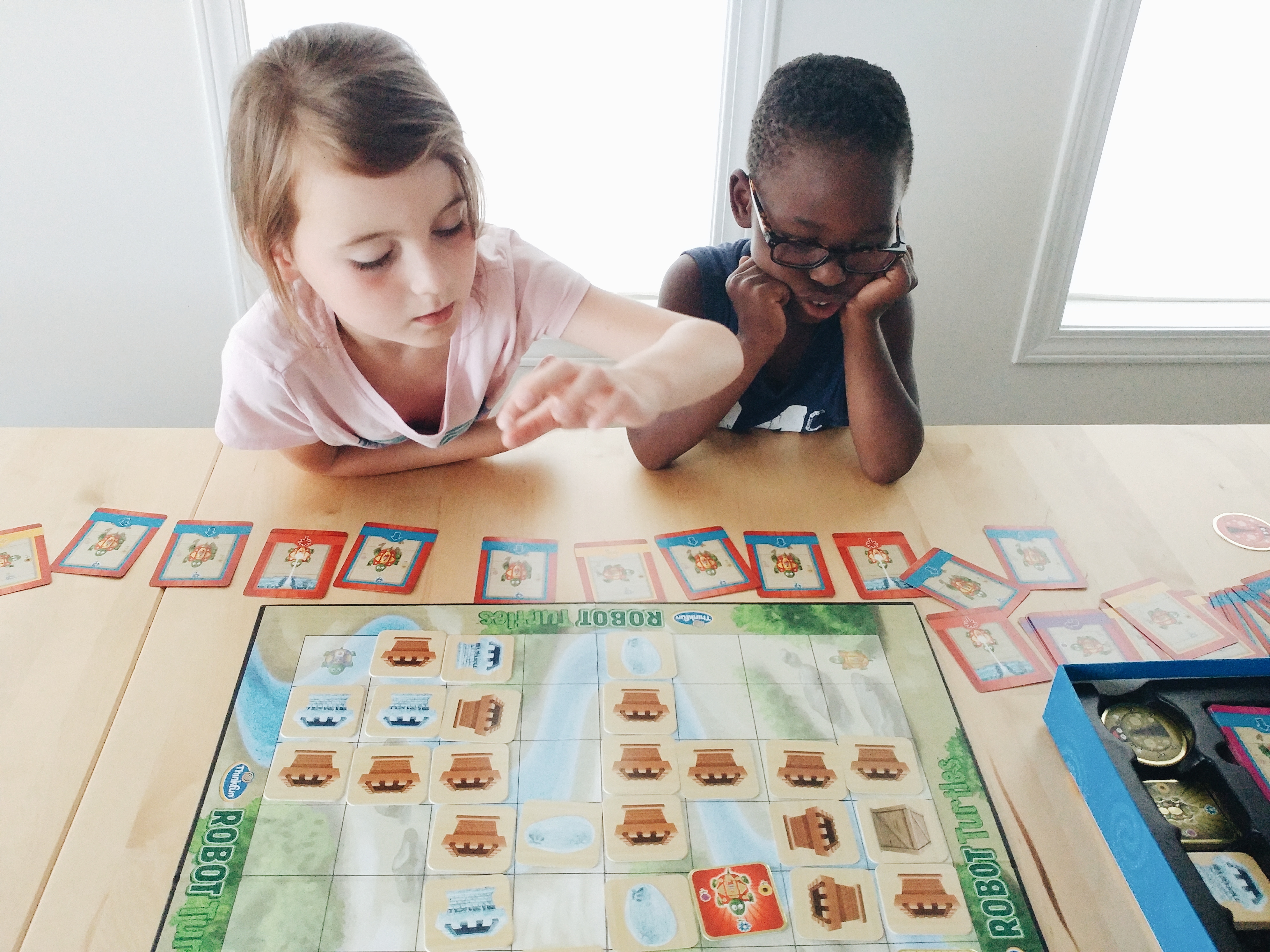 Playing Robot Turtles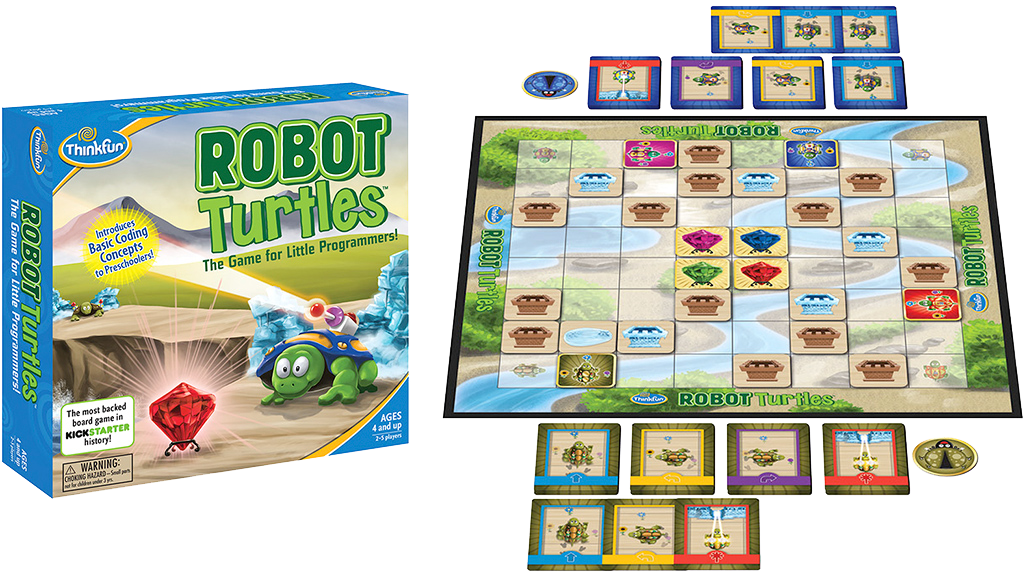 This game teaches kids 4+ the ins and outs of programming in a fun, tactile game. Perfect for 2-5 players, this game has levels of increasing difficulty, introducing obstacles and more complex Code Cards. Beginner to Advanced levels will make it a family favorite for many years!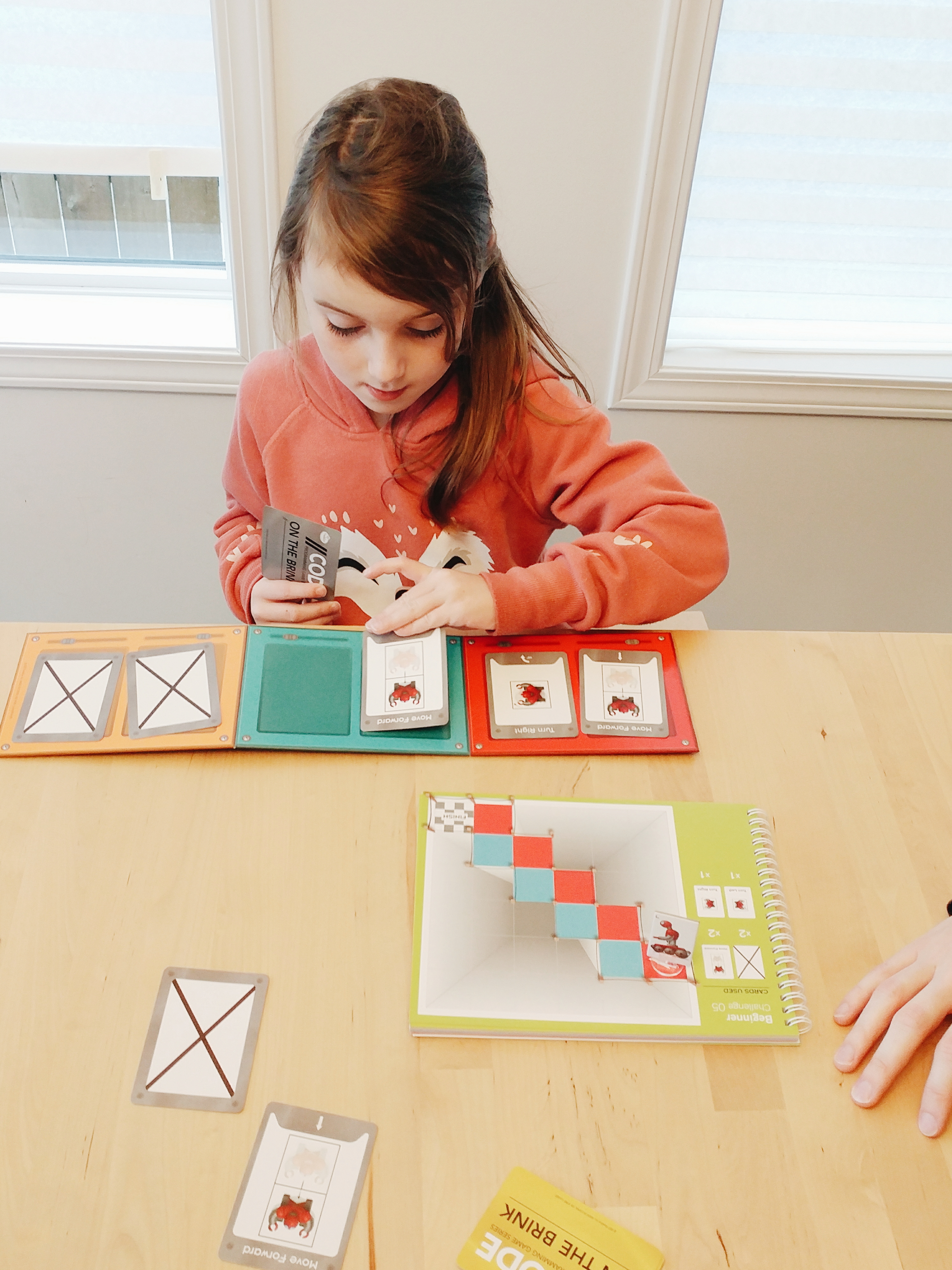 Playing On the Brink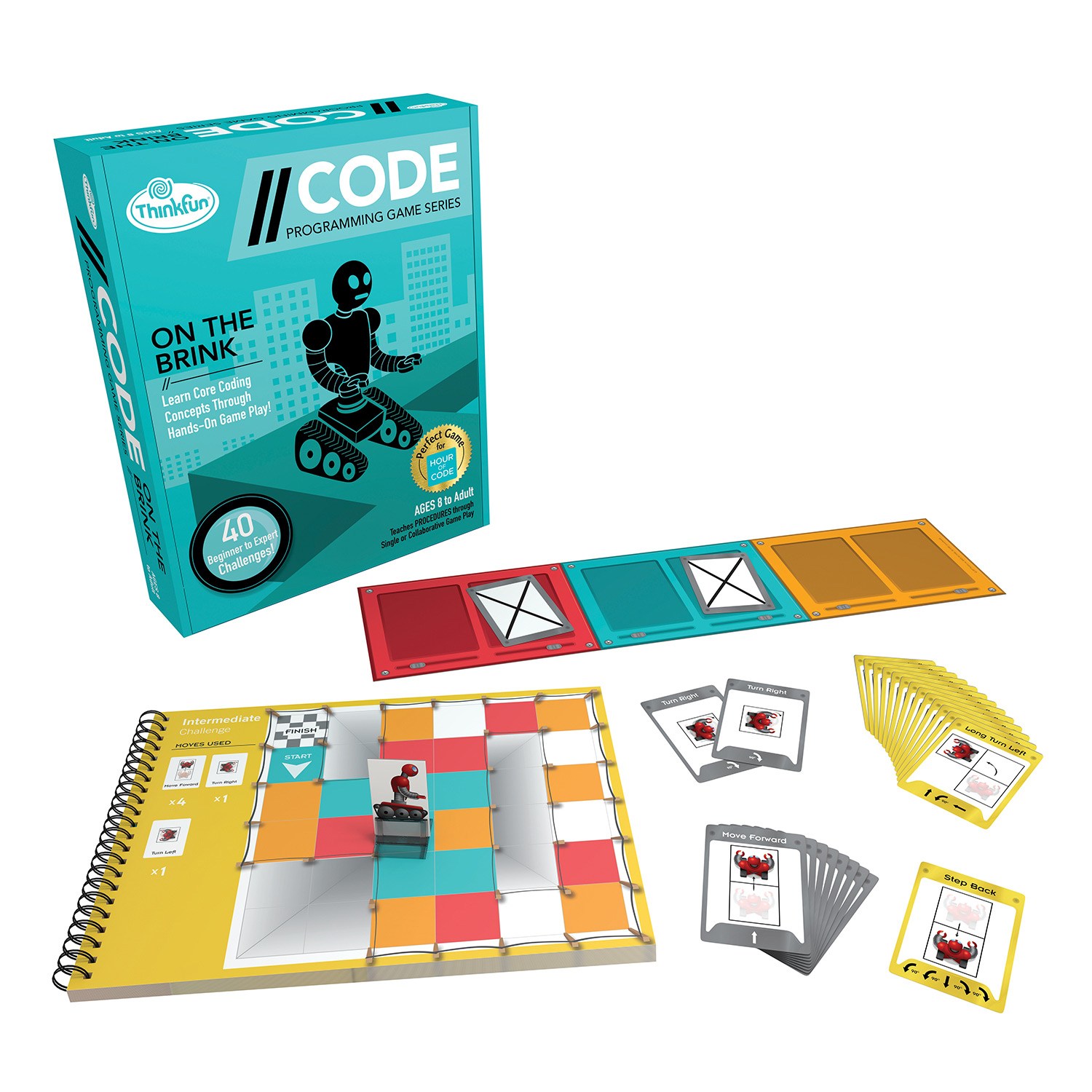 Raeca had the unique experience of being a game tester as they were developing this game! After your kids have mastered Robot Turtles this one is a great next step.
Can you keep your robot on the brink? In this hands-on game you get to play programmer building "procedures" that guide your robot along a path from start to finish. There are 40 challenges picturing colored paths. The colors signify moves for your robot to follow. Your job? Finding the correct sequence of moves for each color. To do so you'll need to flex your forward thinking and problem solving muscles. On the Brink takes the coding concept of sequencing to the next level through its multi-challenge format. The beginner challenges introduce sequencing in its simplest form so that you'll become a real master. By the time you get to the advanced level you'll be ready to build complex procedures using sequences within sequences—now that's thinking like a true programmer!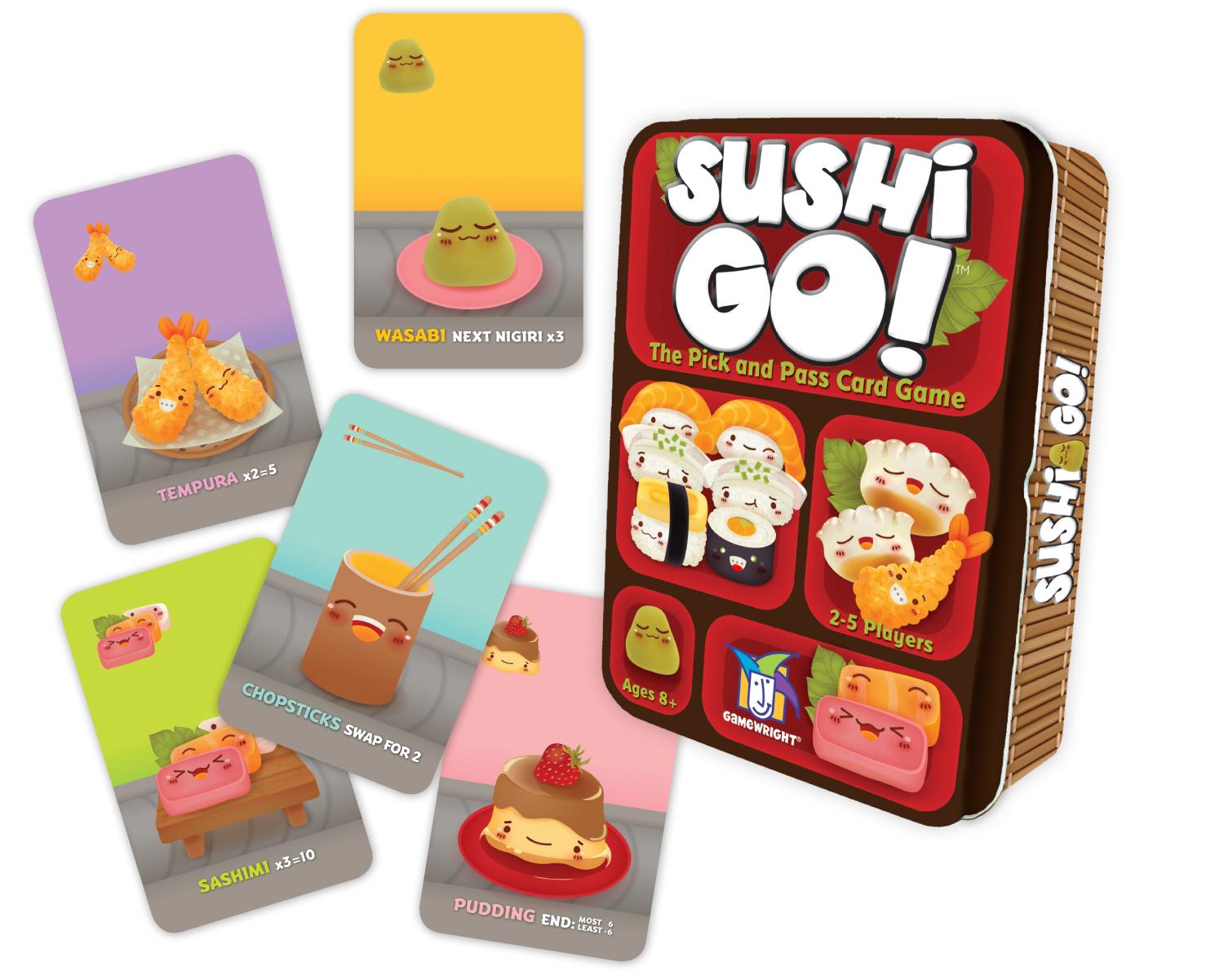 Pass the sushi! In this fast-playing card game, the goal is to grab the best combination of sushi dishes as they whiz by. Score points for making the most maki rolls or for collecting a full set of sashimi. Dip your favorite nigiri in wasabi to triple its value. But be sure to leave room for dessert or else you'll eat into your score!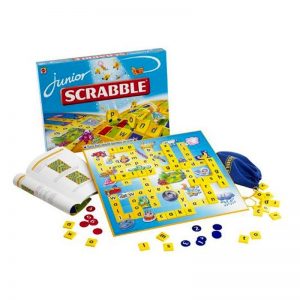 What a great way for kids to play America's favorite word game! Kid-sized words and colorful pictures make it fun to match letter tiles to words on the grid. Players collect scoring chips for completing words. When all of the tiles have been placed on the board, the player with the most chips wins! It's letter-matching fun for your little one! Flip over the game board for an advanced game where players create their own words;the game grows with the kids!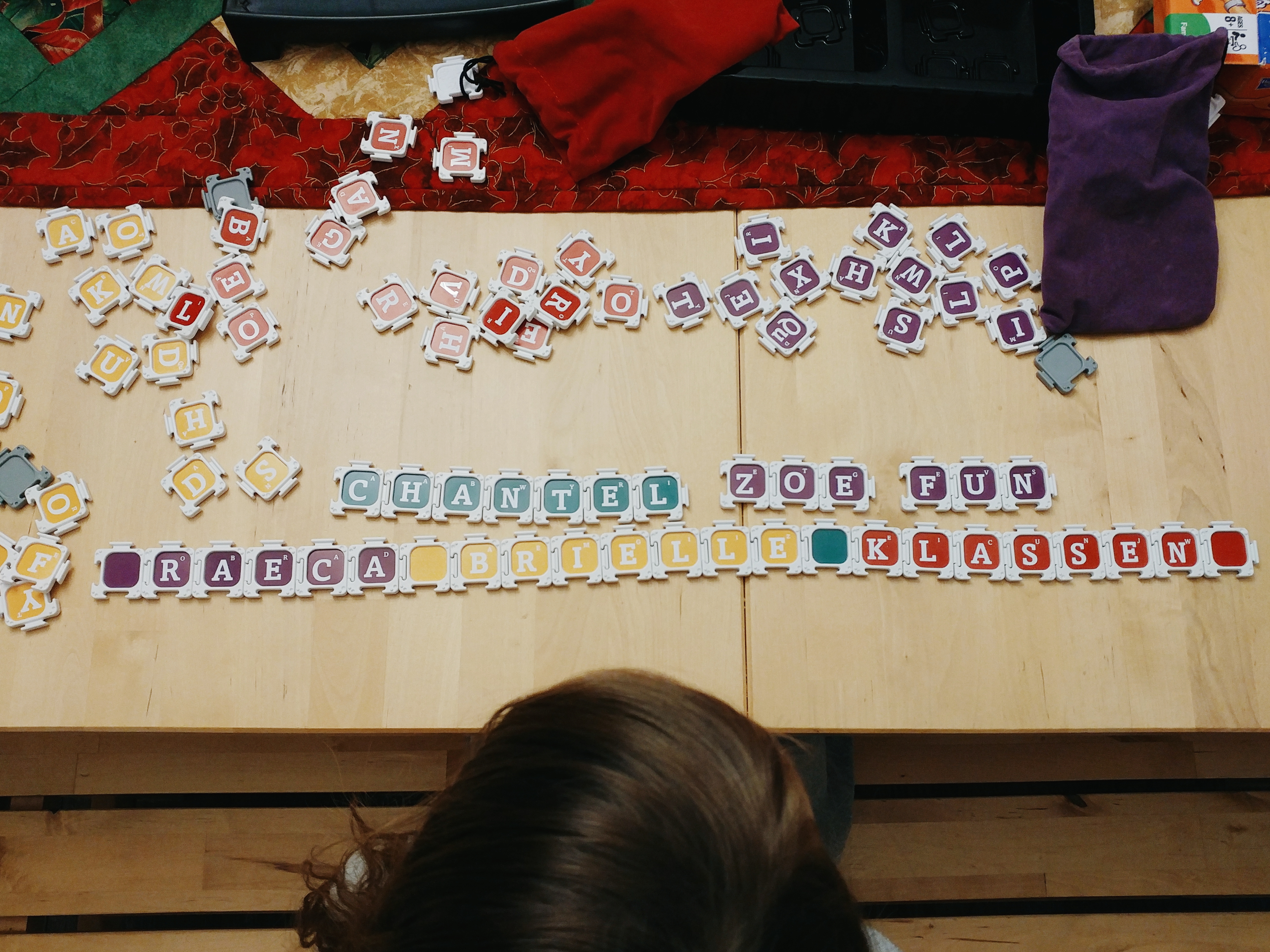 Sometimes we just play with the Nab-It letter tiles . . .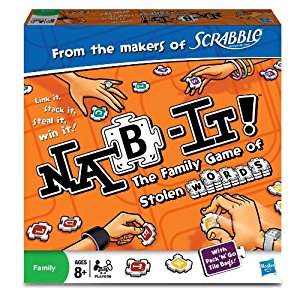 I like any game where we can practice spelling in a sneaky way, Nab-It is like Scrabble with a twist.
Getting the most words gives you the "last word" in this fun family game! Link your colored tiles to create words crossword-style and then steal words from your opponents by stacking your tiles on top of theirs. When all the tiles have been used, count up the words showing – if you've got the most, you win!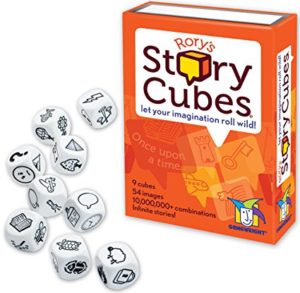 This is a new game for us but I am excited about the use of imagination and the funny stories that will ensue! I also like the size (just nine dice!), it will be great for travelling.
Each jumbo 1″ cube has 6 images or icons, with a total of 54 all-different hand-inlaid images that can be mixed in over 10 million ways. You roll all 9 cubes to generate 9 random images and then use these to invent a story that starts with "Once upon a time…" and uses all 9 elements as part of your narrative.
Play it as a game for one or more players, or as a party game for three or more. Or play it as an improve game where each player contributes part of the story, picking up where the last one left off. Win award points for speedy delivery, inventiveness, imagination, drama and humor.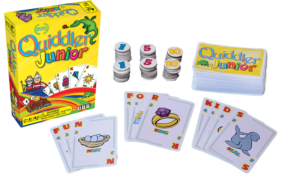 Very similar to regular Quiddler, the junior version just has a few adaptions, ones that make it great for playing with the under ten crowd! (Like: Proper nouns are allowed and the cards you have left in your hand after forming words don't give you minus points.) And using the chips to keep score builds in math to what is normally considered a language arts game! #homeschoolwin
Quiddler Junior is easy to learn, great for kids and enjoyed by everyone – even adults! Be the first to arrange all of your cards into one or more words and go out! Then watch as everyone else gets one last turn to make their best word(s). The number of cards dealt increases each round upping the challenge. Aim for the top score by earning the 5-point bonus for the longest word! Scoring is easier and more fun when using point chips. Kids love to count, add and exchange their point chips creating a whole other dimension of play.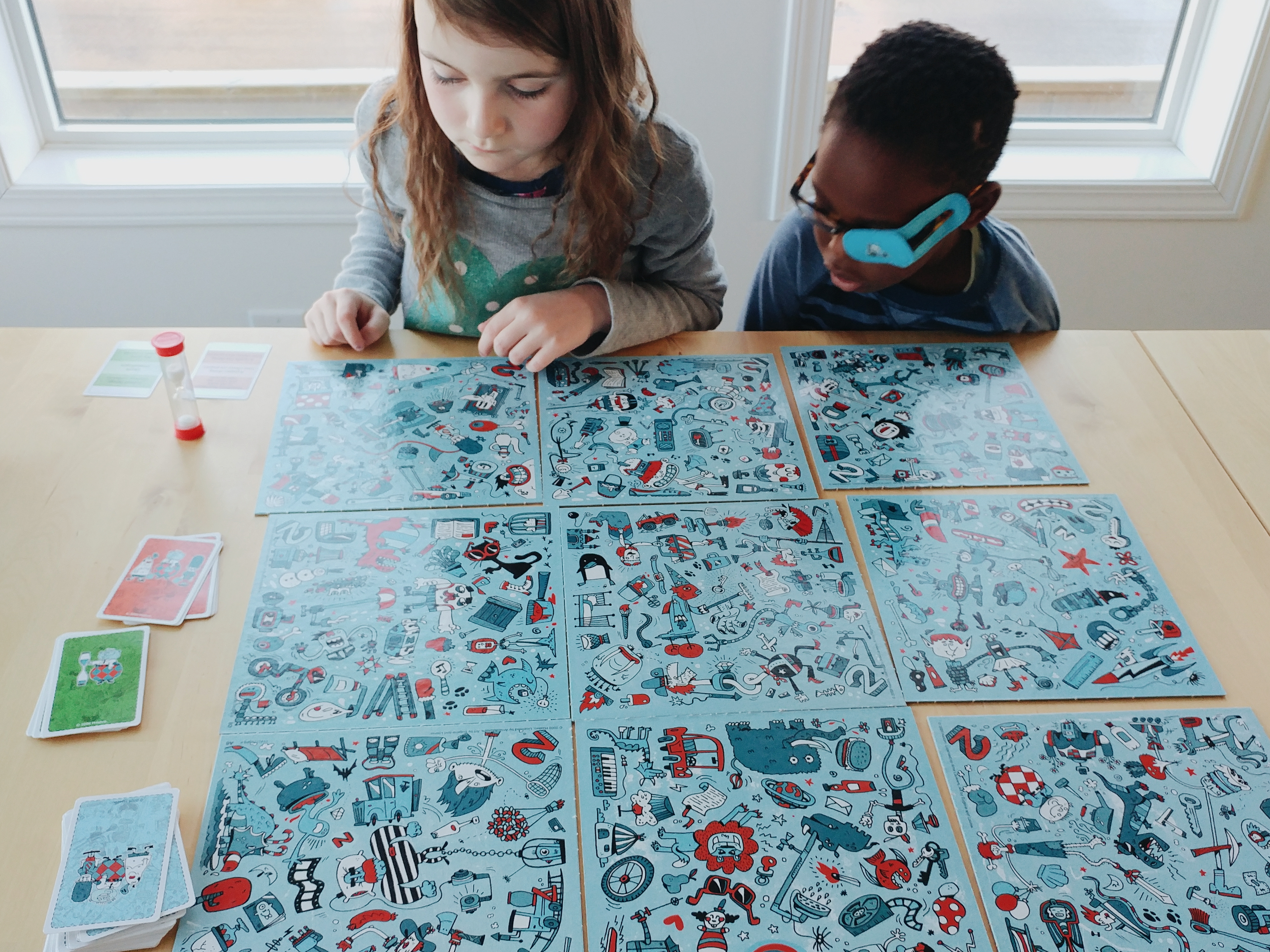 Playing Pictureka!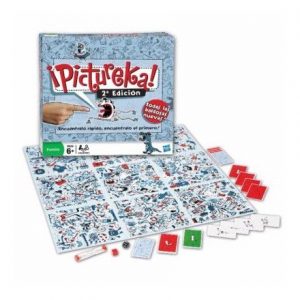 Keep your eyes peeled and you might win! Set out the detailed Pictureka! game tiles and get ready to get looking. When cards come up, you've got to spot the objects fast to win the card – and with so many fun drawings, it's a challenge for everyone in the family.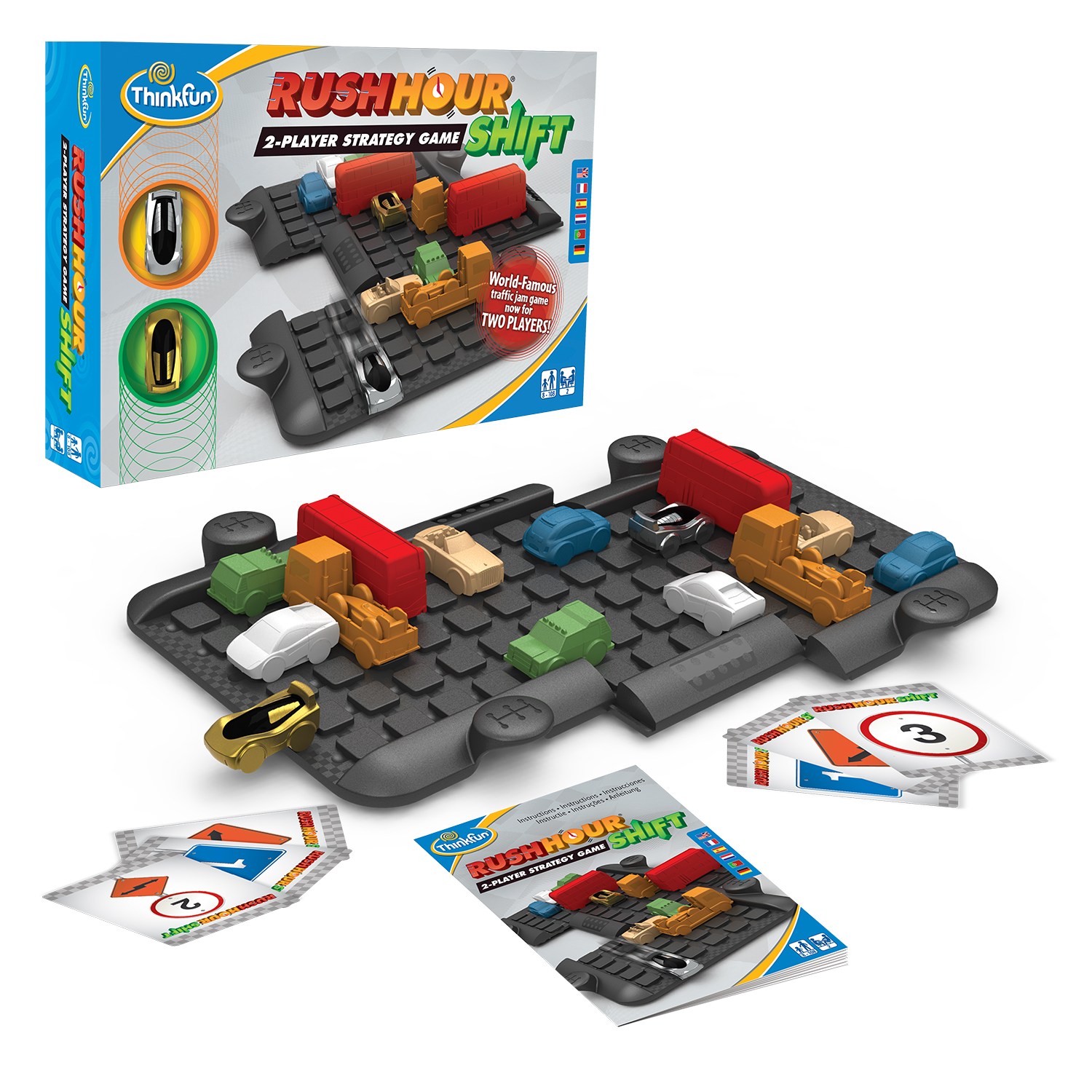 Every move counts in this race to cross traffic. Players take turns moving cars according to the cards in their hand. Should you use your turn to advance your own Hero Car or block your opponent? A little luck will help, but a clever strategy is needed to win. Just when you think you've cleared a path to the finish, a shift of the grid may change the game.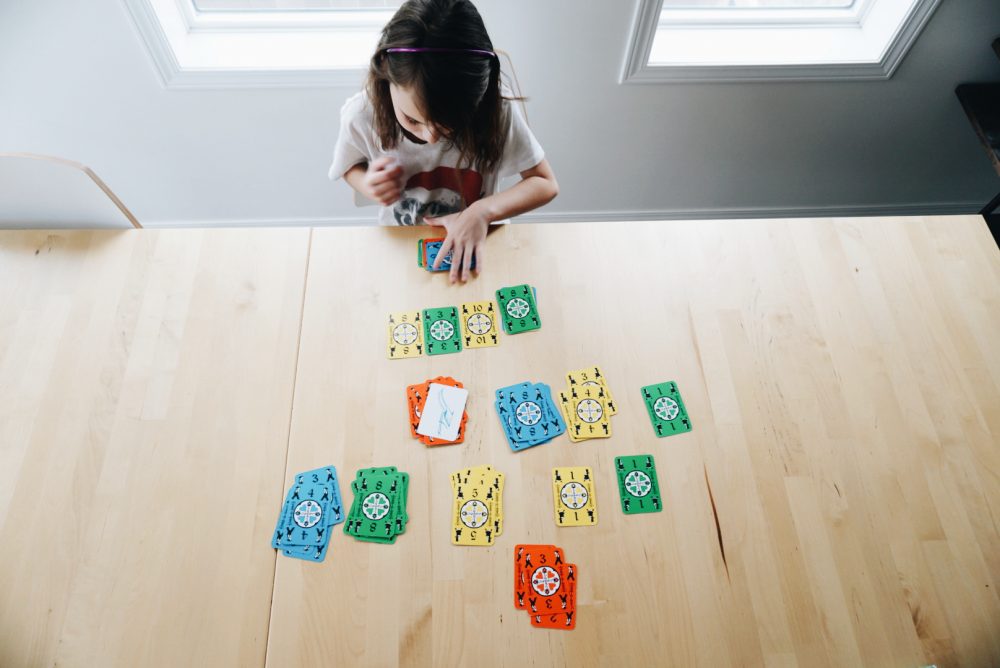 Slowly increasing that Dutch Blitz speed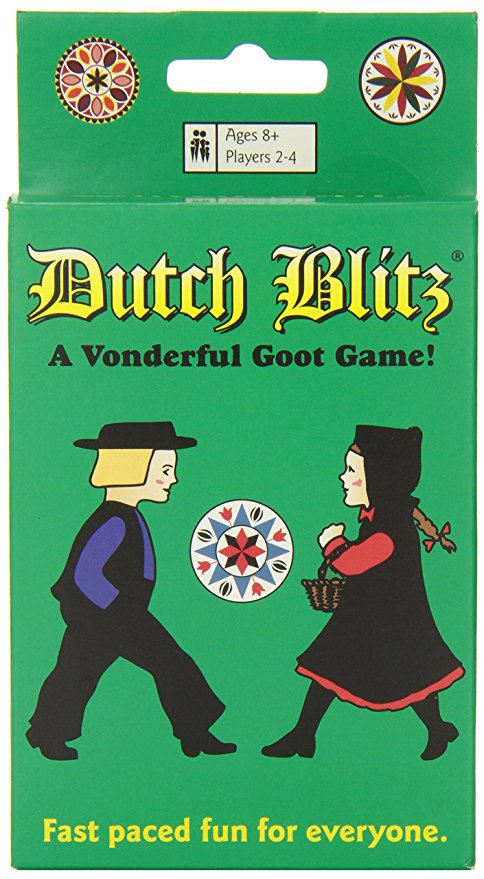 Dutch Blitz was a fairly popular game in my community growing up. The concept is not hard for kids to understand but the speed factor makes things a little more difficult. Raeca really only started being able to play the game shortly before she turned 8. The nice thing is that the game can be played with partners (so you can have up to 8 people playing) and that works better for kids who are just learning as there are less cards for them to watch at the same time.
Developed in Pennsylvania Dutch country, Dutch Blitz is a card game that's exciting to play and easy to learn. Perfect for family game nights, or to play with a group of good friends, you'll enjoy spirited competition as you try to get rid of your 10-card Blitz pile before anybody else. Not as easy as it sounds, though, because players don't take turns. You have to be the fastest to place your cards in sequence and in the same respective colors on the center Dutch piles while using as many cards from your Blitz Pile as possible. When your Blitz Pile has been exhausted, you've won. The game includes four decks of 4 colorful playing cards and easy-to-follow instructions. Two to four players can play this fast-moving game.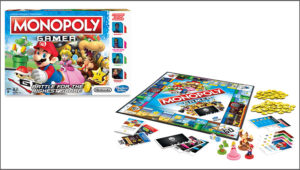 Oh, Monopoly. I have a love-hate relationship here. I played way too much Monopoly as a kid with too many made up rules to love the game any more but I do think it is a game with some great benefits! So, I only play with a thirty minute time limit. Compromise. Oh, and we have the gamer edition because we happened to find it brand new at the thrift store for just a few dollars. Sweet!
It's the Monopoly game with a Nintendo twist as it joins forces with beloved Nintendo video game characters. Instead of standard Monopoly tokens, the game features Super Mario characters, each with their own special powers within gameplay. Play as Mario, Princess Peach, Yoshi, or Donkey Kong. Finish the game by defeating Bowser at the end! It's not just about money in this game; players earn points by buying Properties, collecting Coins, and beating Bosses. The player with the highest score wins the game.
Okay, that's all for now, but come back often because this is a growing list!