Quick CARD GAMES that are perfect to bring to family gatherings
During the Christmas season we have quite a few family gatherings. Some of them my kids have relatives around the same age and some they don't.
Whether or not they have people around the same age we generally bring a couple card games along to play.
Card games are great for these circumstances because they don't take up make space and they are generally quick to learn and set up.
Today I wanted to share a few card games that we're bringing along to family gatherings this year.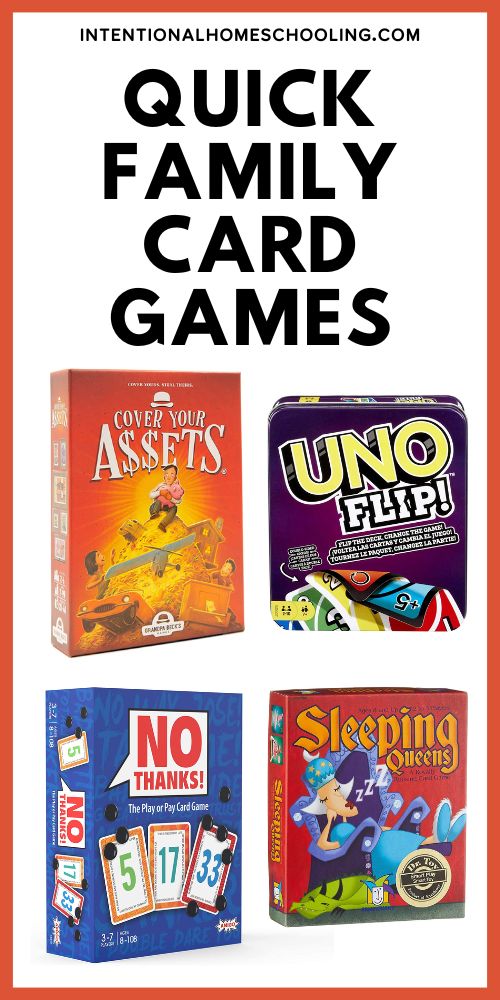 QUICK FAMILY CARD GAMES
Ephraim, my nine year old, bought this about six weeks ago and we've been playing it non-stop since. I love that this one can be played as a two player game.
Recommended age: 7+
Number of players: 2-6
Playing time: 15-30 minutes
In Cover Your Assets, players compete to become the first millionaire by building towers of matching sets made from 10 different types of asset cards (things like jewels, piggy banks, classic autos, and more). Each new set that is created is stacked crosswise on top of the previous set, covering, and protecting, all the sets beneath it.
The top set of assets in your pile is vulnerable, and can be stolen by other players if they show you a matching asset card, or wild (which are Silver and Gold cards) from their hand. You can defend your stack by showing the challenger a matching card from your own hand. If you do, they can counter with another matching card of their own. The battle rages back and forth until one player can't respond, or bows out.
If you win, you keep the set, if the challenger wins, they take the set. Regardless of who wins, ALL the cards used in the challenge are added to the set, increasing its value and allure to other players.
To keep the set from being stolen by another player, the best thing you can do is to Cover Your Assets, by creating a new pair from your hand, or by stealing a set from the top of another player's stack during your next turn.
At the end of the round scores are tallied, the cards are shuffled, and a new round begins. The first player to reach $1,000,000 wins! (Note: We usually just play a couple rounds and tally our total for each round but don't combine the total, it's a bit faster that way.)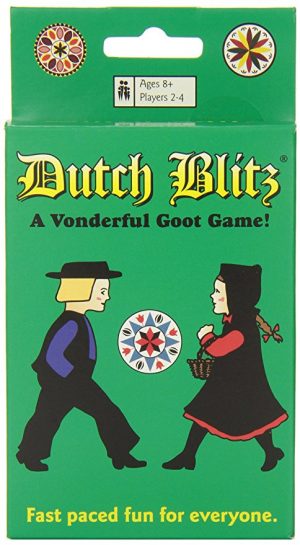 I grew up playing this one, it's a staple at every gathering. We usually get younger kids involved by pairing kids up, then you can have double the kids playing.
Recommended age: 8+
Number of players: 2-4 (though it's not as fun with just two)
Playing time: about 15 minutes
Perfect for family game nights, or to play with a group of good friends, you'll enjoy spirited competition as you try to get rid of your 10 card Blitz pile before anybody else. Not as easy as it sounds, though, because players don't take turns. You have to be the fastest to place your cards in sequence and in the same respective colors on the center Dutch piles while using as many cards from your Blitz Pile as possible. When your Blitz Pile has been exhausted, you've won.
The game includes four decks of 4 colorful playing cards and easy to follow instructions. Two to four players can play this fast moving game. Recommended for ages 8 and up. Dutch Blitz is a friendly family game where players try to compose sets of cards out of the deck in such a way as to get rid of their Blitz pile as soon as possible.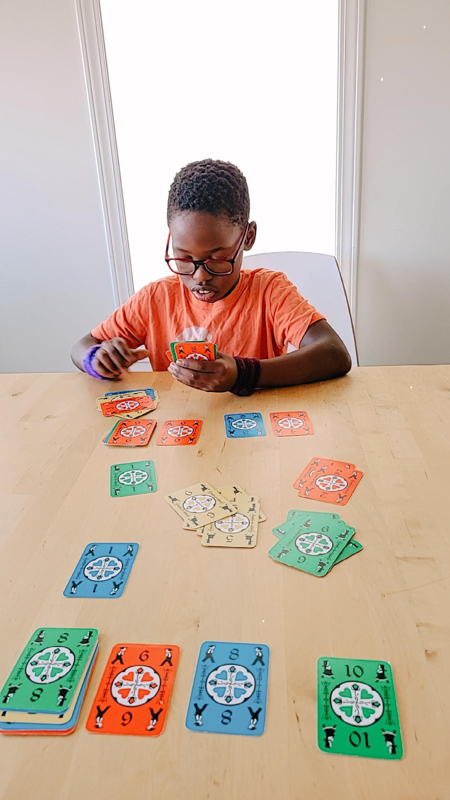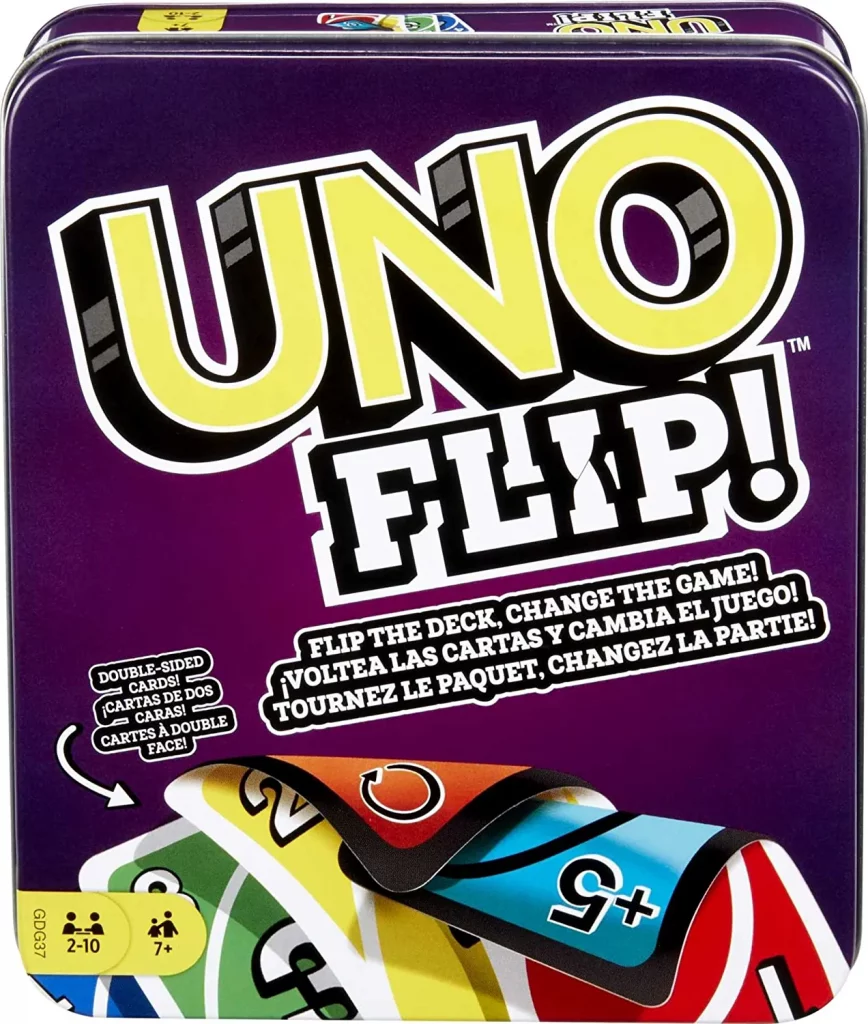 Uno Flip takes the regular game of Uno and makes it a little more interesting with double sided cards!
Recommended age: 5+
Number of players: 2-10
Playing time: 15-20 minutes
It's the matching game you know, plus exciting new twists -like a double-sided deck, special FLIP card and tougher penalties -that give classic gameplay a competitive edge. There is a "Light Side" to the deck, which plays like classic UNO, and a "Dark Side" where penalties are super-tough. Play the FLIP card and all cards in your hand, the draw pile and draw deck are flipped over to reveal an entirely new set of numbers and colors on the opposite side! The holder of the FLIP card determines whether or not you play on the Light Side or Dark Side of the deck -and when you switch it back around. The Dark Side of the deck includes new action cards that really shake things up, like Draw Five and Skip Everyone cards.
Strategize to rattle your competition and be the first to get rid of your cards to win. When you're down to one card, don't forget to shout "UNO!"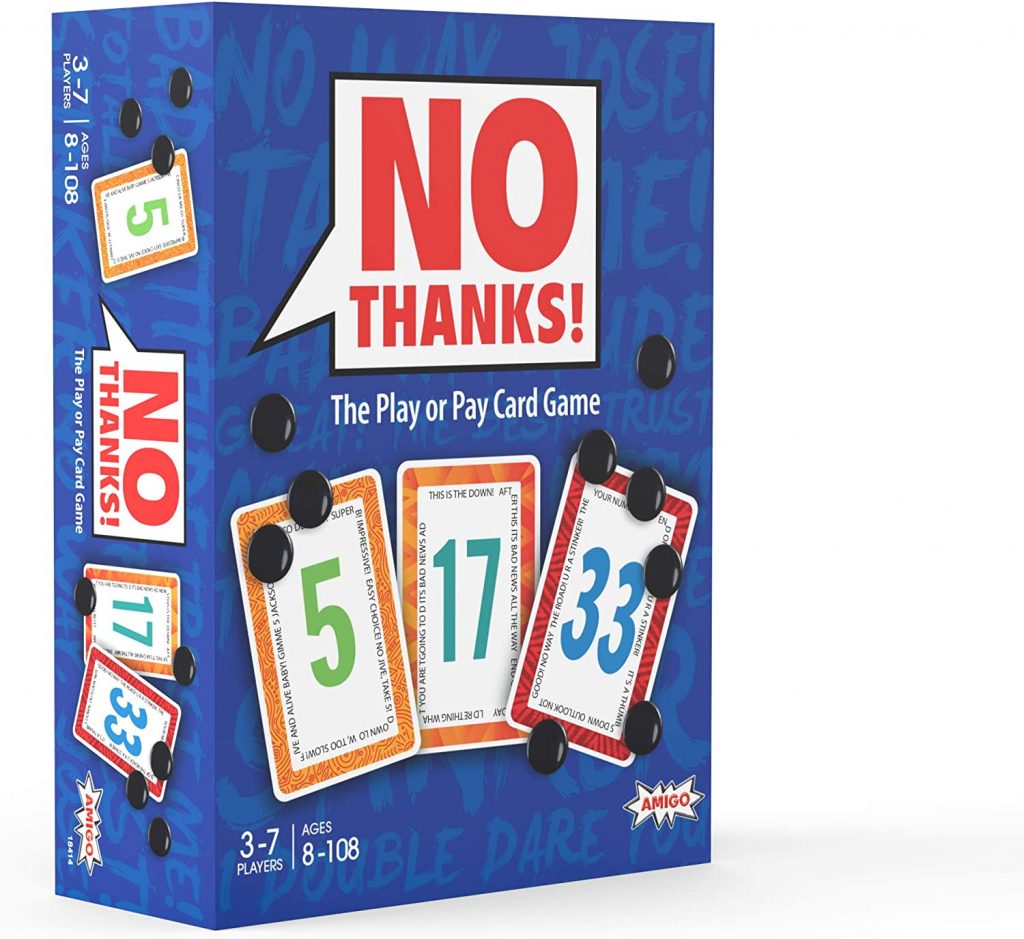 We recently played this game at a board game night and I knew I wanted to bring it to a Christmas gathering, it's a great game for those who think they don't like games (so, I'm hoping my Dad will like to play it . . .).
Recommended age: 8+
Number of players: 3-7
Playing time: 20 minutes
The rules are simple. Each turn, players have two options:
play one of their chips to avoid picking up the current face-up card
pick up the face-up card (along with any chips that have already been played on that card) and turn over the next card
However, the choices aren't so easy as players compete to have the lowest score at the end of the game. The deck of cards is numbered from 3 to 35, with each card counting for a number of points equal to its face value. Runs of two or more cards only count as the lowest value in the run – but nine cards are removed from the deck before starting, so be careful looking for connectors. Each chip is worth -1 point, but they can be even more valuable by allowing you to avoid drawing that unwanted card.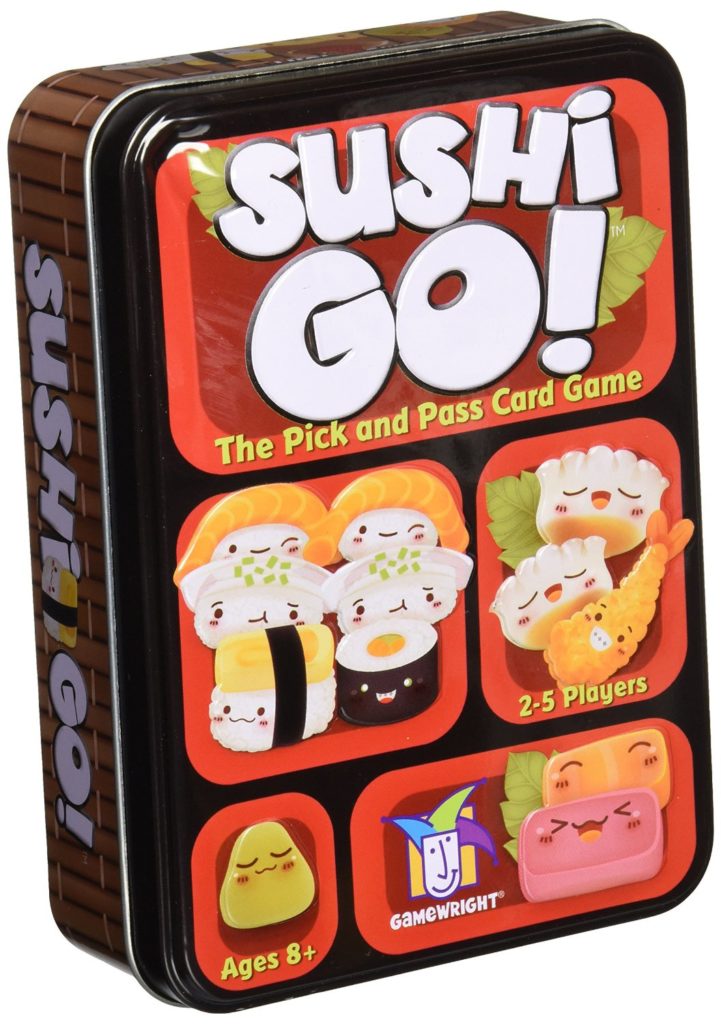 We own both Sushi Go and Sushi Go Party, both are great for bringing along, I just decided to feature Sushi Go because it's smaller but Sushi Go Party can be played with a bigger group.
Recommended age: 6+
Number of players: 2-5 (Sushi Go Party can be played with up to 8 players)
Playing time: 15-20 minutes
Pass the sushi! In this fast-playing card game, the goal is to grab the best combination of sushi dishes as they whiz by. Score points for making the most maki rolls or for collecting a full set of sashimi. Dip your favorite nigiri in wasabi to triple its value. But be sure to leave room for dessert or else you'll eat into your score! Gather the most points and consider yourself the sushi master!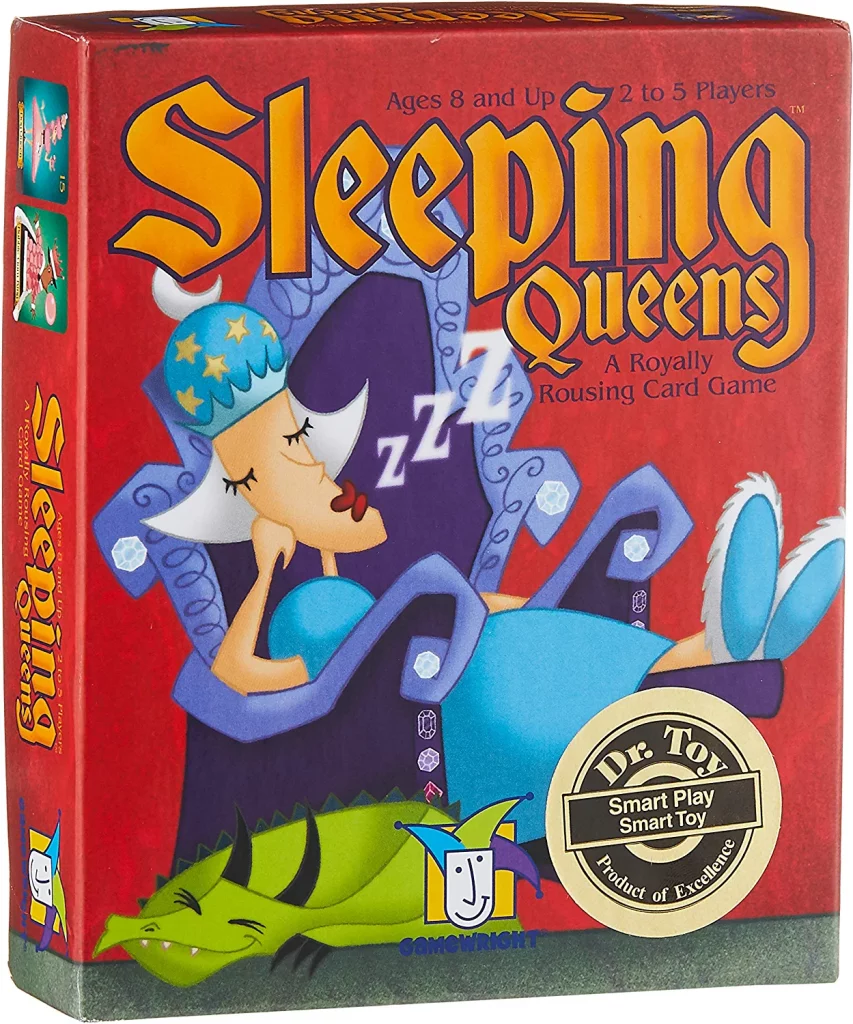 If you ask for a card game recommendation from homeschoolers, this one is bound to come up!
Recommended age: 5+
Number of players: 2-5
Playing time: 20 minutes
A Royalty rousing Card Game. Rise and Shine! The Pancake Queen, The Ladybug Queen and ten of their closest friends have fallen under under a sleeping spell and it's your job to wake them up. Use strategy, quick thinking and a little luck to wake these napping nobles from their royal slumbers. Play a knight to steal a queen or take a chance on a juggling jester. But watch out or wicked potions and dastardly dragon! The player who wakes the most queens wins.
Do you have any card games you would add to the list?