Eight Read Aloud Novels for Grade Three
I truly appreciate mid-grade novel authors and their ability to tackle hard topics in such unique ways. Most of the books on today's list are really good for getting conversations going with kids in or around third grade.
While they are more than capable to read these books on their own at this age I think doing them as a read aloud or listening to them together on audio will help in opening up the conversation to these topics.
Let's just get into the books cause these are all so great!
EIGHT THIRD GRADE
READ ALOUD NOVELS
In her first novel since The One and Only Ivan, winner of the Newbery Medal, Katherine Applegate delivers an unforgettable and magical story about family, friendship, and resilience. Jackson and his family have fallen on hard times. There's no more money for rent. And not much for food, either. His parents, his little sister, and their dog may have to live in their minivan. Again. Crenshaw is a cat. He's large, he's outspoken, and he's imaginary. He has come back into Jackson's life to help him. But is an imaginary friend enough to save this family from losing everything? Beloved author Katherine Applegate proves in unexpected ways that friends matter, whether real or imaginary. This title has Common Core connections.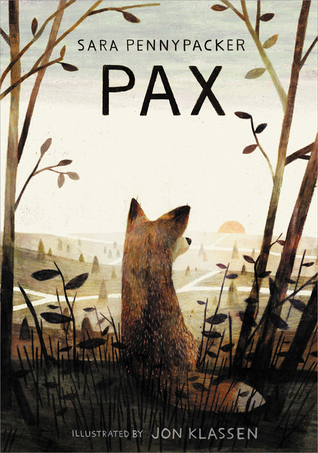 Oh man, I may have shed a few silent tears as I read this book. Love it!
From bestselling and award-winning author Sara Pennypacker comes a beautifully wrought, utterly compelling novel about the powerful relationship between a boy and his fox. Pax is destined to become a classic, beloved for generations to come. Pax and Peter have been inseparable ever since Peter rescued him as a kit. But one day, the unimaginable happens: Peter's dad enlists in the military and makes him return the fox to the wild. At his grandfather's house, three hundred miles away from home, Peter knows he isn't where he should be—with Pax. He strikes out on his own despite the encroaching war, spurred by love, loyalty, and grief, to be reunited with his fox. Meanwhile Pax, steadfastly waiting for his boy, embarks on adventures and discoveries of his own. . . .
Written in free verse this one definitely feels reminiscent of Little House on the Prairie, it's one of my favorites.
I've known it since last night: It's been too long to expect them to return. Something's happened. May is helping out on a neighbor's Kansas prairie homestead—just until Christmas, says Pa. She wants to contribute, but it's hard to be separated from her family by 15 long, unfamiliar miles. Then the unthinkable happens: May is abandoned. Trapped in a tiny snow-covered sod house, isolated from family and neighbors, May must prepare for the oncoming winter. While fighting to survive, May's memories of her struggles with reading at school come back to haunt her. But she's determined to find her way home again. Caroline Starr Rose's fast-paced novel, written in beautiful and riveting verse, gives readers a strong new heroine to love.
The author The Baby-Sitter's Club bring us this beautiful insight into the mind of a girl with Asperger's syndrome who just happens to love homonyms.
When I finished Rain Reign I turned to my husband and said, "They just didn't make books that touched on deeper topics when we were younger, pretty much all I read was The Baby-Sitters Club." Well, imagine my surprise when I realized this book was written by the same author! I never would have guessed, though I enjoyed it even more than I remember enjoying The Baby-Sitters Club growing up.
If you haven't read this book yet you need to, everyone is talking about it for good reason.
I won't describe what I look like. Whatever you're thinking, it's probably worse. August Pullman was born with a facial difference that, up until now, has prevented him from going to a mainstream school. Starting 5th grade at Beecher Prep, he wants nothing more than to be treated as an ordinary kid—but his new classmates can't get past Auggie's extraordinary face. WONDER, now a #1 New York Times bestseller and included on the Texas Bluebonnet Award master list, begins from Auggie's point of view, but soon switches to include his classmates, his sister, her boyfriend, and others. These perspectives converge in a portrait of one community's struggle with empathy, compassion, and acceptance.
What kid doesn't want to be a part of a secret society?! Your third grader will enjoy this one.
"Are you a gifted child looking for special opportunities?" When this peculiar ad appears in the newspaper, dozens of children enroll to take a series of mysterious, mind-bending tests. (And you, dear reader, can test your wits right alongside them.) But in the end just four very special children will succeed. Their challenge: to go on a secret mission that only the most intelligent and resourceful children could complete. To accomplish it they will have to go undercover at the Learning Institute for the Very Enlightened, where the only rule is that there are no rules. As our heroes face physical and mental trials beyond their wildest imaginations, they have no choice but to turn to each other for support. But with their newfound friendship at stake, will they be able to pass the most important test of all? Welcome to the Mysterious Benedict Society.
While the book is excellent in itself it has been made so much more special by the hundreds of pages of pictures scattered throughout the pages of text. I just realize I also added this to the grade two read aloud list, oh well, I think kids will love it in either grade!
Orphan, clock keeper, and thief, Hugo lives in the walls of a busy Paris train station, where his survival depends on secrets and anonymity. But when his world suddenly interlocks with an eccentric, bookish girl and a bitter old man who runs a toy booth in the station, Hugo's undercover life, and his most precious secret, are put in jeopardy. A cryptic drawing, a treasured notebook, a stolen key, a mechanical man, and a hidden message from Hugo's dead father form the backbone of this intricate, tender, and spellbinding mystery.
Last, but not least, it's a classic for a reason!
Matilda is a sweet, exceptional young girl, but her parents think she's just a nuisance. She expects school to be different but there she has to face Miss Trunchbull, a kid-hating terror of a headmistress. When Matilda is attacked by the Trunchbull she suddenly discovers she has a remarkable power with which to fight back. It'll take a superhuman genius to give Miss Trunchbull what she deserves and Matilda may be just the one to do it!