EARLY READER CHAPTER BOOK RECOMMENDATIONS – great novels for beginner chapter books
Today I am collaborating with Abby from Bear Hill Family to share some early reader chapter books with you!
My second child is in/just getting out of the early reader chapter book stage so I wanted to share some books that have been favorites of my kids over the years.
If you have some great early reader chapter book recommendations I would love to hear them!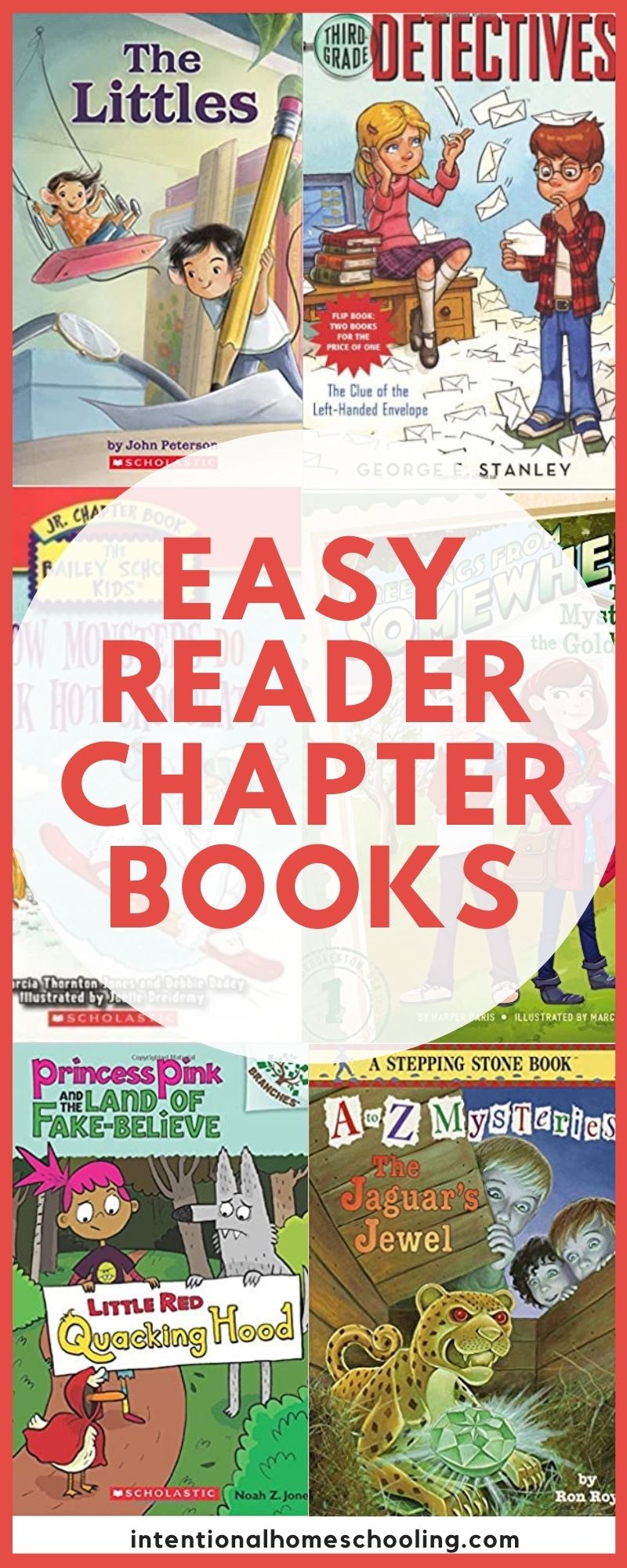 EARLY READER CHAPTER BOOK RECOMMENDATIONS
When Stanley Lambchop wakes up one morning, his brother, Arthur, is yelling. A bulletin board fell on Stanley during the night, and now he is only half an inch thick! Amazing things begin happening to him. Stanley gets rolled up, mailed, and flown like a kite. He even gets to help catch two dangerous art thieves. He may be flat, but he's a hero.
J is for Jewel . . . New York is the emerald city! Dink's uncle's museum there has a new treasure—a golden jaguar statue with an emerald between its paws. But someone swaps the jewel for a fake! Who stole the jaguar's jewel? Dink, Josh, and Ruth Rose are sure to find out!
Meet Jack and Annie! Jack and his younger sister, Annie, are just regular kids. But when they discover a tree house in the woods, something magical happens. Jack and Annie are whisked back in time to the Age of Dinosaurs, a medieval castle, ancient pyramids, and treasure-seeking pirates.
In the first book of The Adventures of Sophie Mouse, springtime has arrived at Silverlake Forest! The animals are coming out of their homes, buds are blooming on the trees, and the air smells of honeysuckles and tree bark. Sophie Mouse can't wait to go back to school after the long winter break.
Even better, there's a new student in class—Sophie loves meeting new animals! But the class gasps when Owen enters: he's a snake! No one is brave enough to sit near him, or play with Owen at recess, or even talk to him. Can Sophie help her friends understand that Owen's not scary after all?
With easy-to-read language and illustrations on almost every page, the Adventures of Sophie Mouse chapter books are perfect for beginning readers.
Princess Magnolia is having hot chocolate and scones with Duchess Wigtower when . . . Brring! Brring! The monster alarm! A big blue monster is threatening the goats! Stopping monsters is no job for dainty Princess Magnolia. But luckily Princess Magnolia has a secret —she's also the Princess in Black, and stopping monsters is the perfect job for her! Can the princess sneak away, transform into her alter ego, and defeat the monster before the nosy duchess discovers her secret? From award-winning writing team of Shannon and Dean Hale and illustrator LeUyen Pham, here is the first in a humorous and action-packed chapter book series for young readers who like their princesses not only prim and perfect, but also dressed in black.
Who knows what weird thing is going to happen to the Bailey School Kids next? It's snowing… and snowing… and snowing! Will the snow ever stop? Or does that wild snowboarder have something to do with it?
Henry, Jessie, Violet, and Benny are brothers and sisters. They're orphans too, and the only way they can stay together is to make it on their own. When the children find an abandoned boxcar in the woods, they decide to call it home―and become
the Boxcar Children!
Since discovering the Canadian Flyer, a magical time-traveling sled, in Emily's attic, Matt and Emily have outrun dinosaurs in the Alberta badlands, seen the Silver Dart soar high in Nova Scotia's skies, and evaded slave catchers on the Underground Railroad. In Arctic Storm Emily and Matt find themselves stranded in the Far North in 1976 — and a squall is on the way!
After a shaky landing on snow-covered ground, the two friends meet a team of research scientists studying animal migration and habitat. Problem is, the scientists are traveling without their guide, they've lost their radio and half their supplies (including food and a stove), and now a storm is coming.
To make matters worse, one of the scientists has brought along his fifteen-year-old son, Arthur, who is becoming increasingly ill and is in need of a doctor. And after the group is spooked in the night by howling wolves, they wake up the next day to find their lead sled dog missing! Can Matt and Emily brave the storm and help their new friends — especially Arthur — back to safety? And will their faith in Moon Dog, an inexperienced sled dog, help him guide the team to safety?
Leroy Brown, aka Encyclopedia Brown, is Idaville neighborhood's ten-year-old star detective. With an uncanny knack for trivia, he solves mysteries for the neighborhood kids through his own detective agency. But his dad also happens to be the chief of the Idaville police department, and every night around the dinner table, Encyclopedia helps him solve his most baffling crimes. And with ten confounding mysteries in each book, not only does Encyclopedia have a chance to solve them, but the reader is given all the clues as well. Interactive and chock full of interesting bits of information—it's classic Encyclopedia Brown!
Mr. Merlin's Third Graders are known as the Third Grade Detectives — with some hints from secret code clues and help from Mr. Merlin's friend, the police scientist Dr. Smiley, they help solve cases. This two-in-one flip book contains the full text and illustrations for the first two Third Grade Detectives books. In their first case, The Clue of the Left-Handed Envelope, the Detectives find out who has been sending Amber Lee anonymous letters. And in their next case, a dirty handkerchief provides a clue to who's been trespassing in Todd's tree house.
The Littles is a timeless favorite that's been enjoyed for decades. Ready to grab the attention of a new generation, fresh cover art brings an updated look to this classic series.
The Littles live in the walls of the Biggs' house. But when the Biggs go on vacation a messy family comes to stay, the trouble begins. Mice! Cats! How much can one small family take? Will Tom and Lucy, the littlest Littles of all, be able to save the day
When Ethan and Ella learn that their mother has accepted the position of travel writer for The Brookeston Times, they are not happy. Move away from Brookeston? Say good-bye to all their friends? What could be worse? Their mom and dad promise them that this will be a great experience, but that doesn't make the kids feel any better.
The day before they are set to leave, their beloved Grandpa Harry stops by. As a gift, he gives Ella a pretty journal since he knows she loves to write, and he gives Ethan a gold coin that Ethan decides he will always keep in his pocket. But the morning of their departure, Ethan realizes he's lost the coin! Together, he and Ella must retrace their steps from the day before. Will they solve the mystery of the missing coin before it's time to head to the airport?
Meet Lucas, the eight year-old prince, and Clara, the daughter of the queen's seamstress. Lucas is an only child who longs to make friends and go on adventures. Clara knows the kingdom well, so she and Lucas team up and explore the lands of Wrenly!
In The Lost Stone, Lucas and Clara search for Queen Tasha's missing emerald. On their exciting adventure, they travel to all the main attractions of Wrenly: Primlox (the island of fairies), Burth (the island of trolls), Crestwood (the island of dragons), Hobsgrove (the island of wizards), and the beautiful Mermaid's Cove. King Caleb has promised to reward the person who finds the precious stone, and Lucas and Clara are determined to search the entire kingdom until they find it!
Princess Pink is back for another fractured fairy tale adventure!
This series is part of Scholastic's early chapter book line called Branches, which is aimed at newly independent readers. With easy-to-read text, high-interest content, fast-paced plots, and illustrations on every page, these books will boost reading confidence and stamina. Branches books help readers grow! In the Land of Fake-Believe, Princess Pink meets Scaredy-Pants Wolf–a baker whose bakery has been robbed! Little Red Quacking Hood is stealing pies from the Big Bad Bakery! Princess, Scaredy-Pants, and their friend Moldylocks follow Little Red over the river and through the woods to Grandmother's hair salon. Can they stop Little Red? With easy-to-read text and engaging full-color artwork throughout, kids will be drawn right into Noah Z. Jones's latest fractured fairy tale!
Meet the Chicken Squad: Dirt, Sugar, Poppy, and Sweetie. These chicks are not your typical barnyard puffs of fluff, and they are not about to spend their days pecking chicken feed and chasing bugs. No sir, they're too busy solving mysteries and fighting crime.
So when Squirrel comes barreling into the chicken coop, the chicks know they're about to get a case. But with his poor knowledge of shapes ("Big" is not a shape, Squirrel!) and utter fear of whatever it is that's out there, the panicky Squirrel is NO HELP. Good thing these chicks are professionals.
But even professionals get worried. Especially once they see that round, shiny, green, BIG thing in the yard. What if it's a UFO full of aliens who want chickens as pets, or worse, dinner? It's up to the Chicken Squad to crack a case that just might be out of this world.