WHAT WE READ IN MARCH – our homeschool read alouds, what the kids are reading & what mom is reading!
Today Raeca and I are sharing a wrap up of our reading from the month of March!
We are chatting about our read alouds and what we read on our own as well.
There was a combination of some pretty mediocre books and some really great ones.
We would love to hear what you have been reading lately and if you have any book suggestions for us for future months!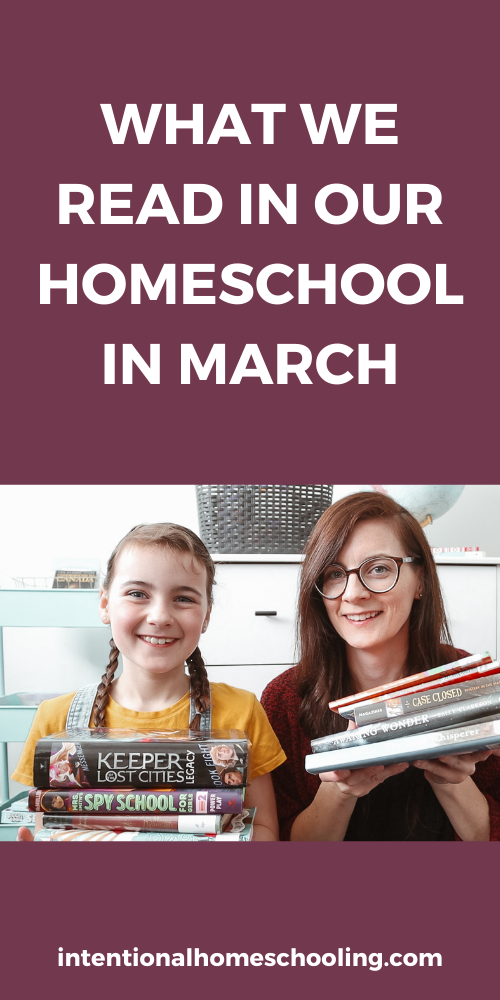 WHAT WE READ IN MARCH
Here are all the books we read in March, be sure to watch the video to hear our thoughts on them!
When a flat skull is discovered in Africa, Stanley Lambchop decides to travel there with his brother, Arthur, and their father, George. Maybe studying the skull will give them clues to Stanley's flatness. But once in Africa, the Lambchops are in for more adventure than they bargained for. From lions to zebras to elephants, it's the safari of a lifetime!
Carlos Serrano has never solved a mystery in his life. But when Carlos's mom gets sick with a flu on the morning of an investigation that could save her failing detective agency, Carlos takes on the case.
With the help of his best friend, Eliza, and her wild little brother, Frank, Carlos must uncover a mystery involving an eccentric local millionaire, anonymous death threats, and a buried treasure. But with tricky riddles, cagey suspects, hidden secrets, and dozens of impossible choices, they need your help!
Can you help Carlos and his friends find the culprit and save Las Pistas Detective Agency? Or will it be case closed?
Meet Enola Holmes, teenaged girl turned detective and the younger sister to Sherlock Holmes.
When Enola Holmes, sister to the detective Sherlock Holmes, discovers her mother has disappeared, she quickly embarks on a journey to London in search of her. But nothing can prepare her for what awaits. Because when she arrives, she finds herself involved in the kidnapping of a young marquess, fleeing murderous villains, and trying to elude her shrewd older brothers—all while attempting to piece together clues to her mother's strange disappearance. Amid all the mayhem, will Enola be able to decode the necessary clues and find her mother?
Bronte Mettlestone is ten years old when her parents are killed by pirates. This does not bother her particularly: her parents ran away to have adventures when she was a baby. She has been raised by her Aunt Isabelle, with assistance from the Butler, and has spent a pleasant childhood of afternoon teas and riding lessons. Now, however, her parents have left detailed instructions for Bronte in their will. (Instructions that, annoyingly, have been reinforced with faery cross-stitch, which means that if she doesn't complete them, terrible things could happen!) She travels the kingdoms, perfectly alone, delivering gifts to ten other aunts: a farmer aunt who owns an orange orchard, a veterinarian aunt who specializes in dragon care, a pair of aunts who captain a cruise ship, and a former rock star aunt who is now the reigning monarch of a small kingdom. But as she travels from aunt to aunt, Bronte suspects there might be more to this journey than the simple delivery of treasure.
A girl discovers her boarding school is actually an elite spy-training program, and she must learn the skills of the trade in order to find her mother in this action-packed middle grade debut that's perfect for fans of Stu Gibbs.
After a botched escape plan from her boarding school, Abigail is stunned to discover the school is actually a cover for an elite spy ring called The Center, along with being training grounds for future spies. Even more shocking? Abigail's mother is a top agent for The Center and she has gone MIA, with valuable information that many people would like to have—at any cost. Along with a former nemesis and charming boy from her grade, Abigail goes through a crash course in Spy Training 101, often with hilarious—and sometimes painful—results.
But Abigail realizes she might be a better spy-in-training than she thought—and the answers to her mother's whereabouts are a lot closer than she thinks…
After discovering the truth about her spy school/boarding school—and her super-spy mom—Abby Hunter is ready for her next adventure, but what's about to happen is something she never would have guessed…
Everyone at The Smith School is obsessed with Monster Mayhem, the latest reality video game craze. But when Drexel Caine, the mastermind behind the game, is suddenly kidnapped, it becomes clear that the kidnappers are playing for more than just special badges.
After Drexel's son—who is Abby's friend, Toby—receives a cryptic message, Abby and her friends discover the kidnapping is part of a bigger scheme that could take down The Center for good.
With the help of Abby's frenemy (and reluctant mentor), Veronica Brooks, the group tackles their first official Center Mission. They tangle with the world's most notorious hacker, get in trouble for the possible theft of the Mona Lisa, and prepare for the ultimate showdown in London. But not before they have to contend with one more hurdle: the agonizing Smith School Spring Formal. Along the way, they discover they are much stronger as a team than they can ever be alone.
And with a little luck, they might just save the world.
Sophie Foster wants answers. But after a lifetime of lies, sometimes the truth is the most dangerous discovery. Even the smallest secret comes with terrifying new responsibilities.
And Sophie's not the only one with blank spots in her past, or mysteries surrounding her family. She and her friends are part of something much bigger than they imagined—and their roles have already been chosen for them.
Every clue drags them deeper into the conspiracy. Every memory forces them to question everything—especially one another. And the harder they fight, the more the lines blur between friend and enemy.
Have you ever said to yourself, Wouldn't it be nice to be a detective?

This is the story of an African girl who says just that. Her name is Precious.

When a piece of cake goes missing from her classroom, a traditionally built young boy is tagged as the culprit. Precious, however, is not convinced. She sets out to find the real thief. Along the way she learns that your first guess isn't always right. She also learns how to be a detective.
Donalyn Miller says she has yet to meet a child she couldn't turn into a reader. No matter how far behind Miller's students might be when they reach her 6th grade classroom, they end up reading an average of 40 to 50 books a year. Miller's unconventional approach dispenses with drills and worksheets that make reading a chore. Instead, she helps students navigate the world of literature and gives them time to read books they pick out themselves. Her love of books and teaching is both infectious and inspiring. The book includes a dynamite list of recommended "kid lit" that helps parents and teachers find the books that students really like to read.
Do you worry that you're messing up your kids? Do you get stressed when you think about their futures? New York Times bestselling author Crystal Paine knows how you feel. A mom of four, Crystal has struggled with anxiety over parenting. She wanted to parent with grace, instead of a system of rules where kids are expected to do all the right things. She wanted to be a safe place for her children, and she definitely didn't want to be remembered as the sort of mom who yelled, wounded her kids with words, or worse, cared more about her reputation than her kids' hearts.
Sally, what is your secret?

For years, parents worldwide have asked beloved author Sally Clarkson how she and her husband have ignited a love for learning and a deep faith in their children. They want to know how the Clarksons launched their children to live such vibrant, flourishing lives as adults.
Awaking Wonder is Sally's answer to those questions. This book is thirty-six years in the making and provides a deep dive into Sally's most profound legacy: nurturing and guiding her four children into a wonder-filled life.
If you are idealistic and hopeful about the process of raising your children to be healthy and vibrant, you will find encouragement through the Clarksons' story. If you are exhausted, confused, ill equipped, or unsupported in your journey as a parent, you will find relief through the countless ideas in this book.
Awaking Wonder will inspire you, delight you, provide laughter, and bring tears through the heartfelt stories of four lively children and the wondrous life they grew up in together.
Journey with Sally toward
· cultivating wonder all around you, alongside your children
· understanding how to open your children's hearts and minds to the grand design, beauty, and goodness scattered throughout the universe
· laying a foundation for spiritual formation and a robust faith in God
· nurturing your children to live into their capacity in intellect, faith, and relationships
If you long for a holistic, spiritually foundational approach to parenting and education, this is the book you've been waiting for.
We would love to hear what you have been reading lately and if you have any book suggestions for us for future months!