12 Great Chapter Books for Grade Two
This year my son is in grade two, so I wanted to create a list of books for him to read this year.
He is at the point where he is just starting to read easy chapter books but I know at this rate he'll really increase his reading ability this next year.
So, I wanted to create a list of books for grade two that would have some diversity.
There are definitely some easy to read books on here as well as some that are a bit harder.
Oh, and because I know my son I've also included some funny books, because those are his favorite.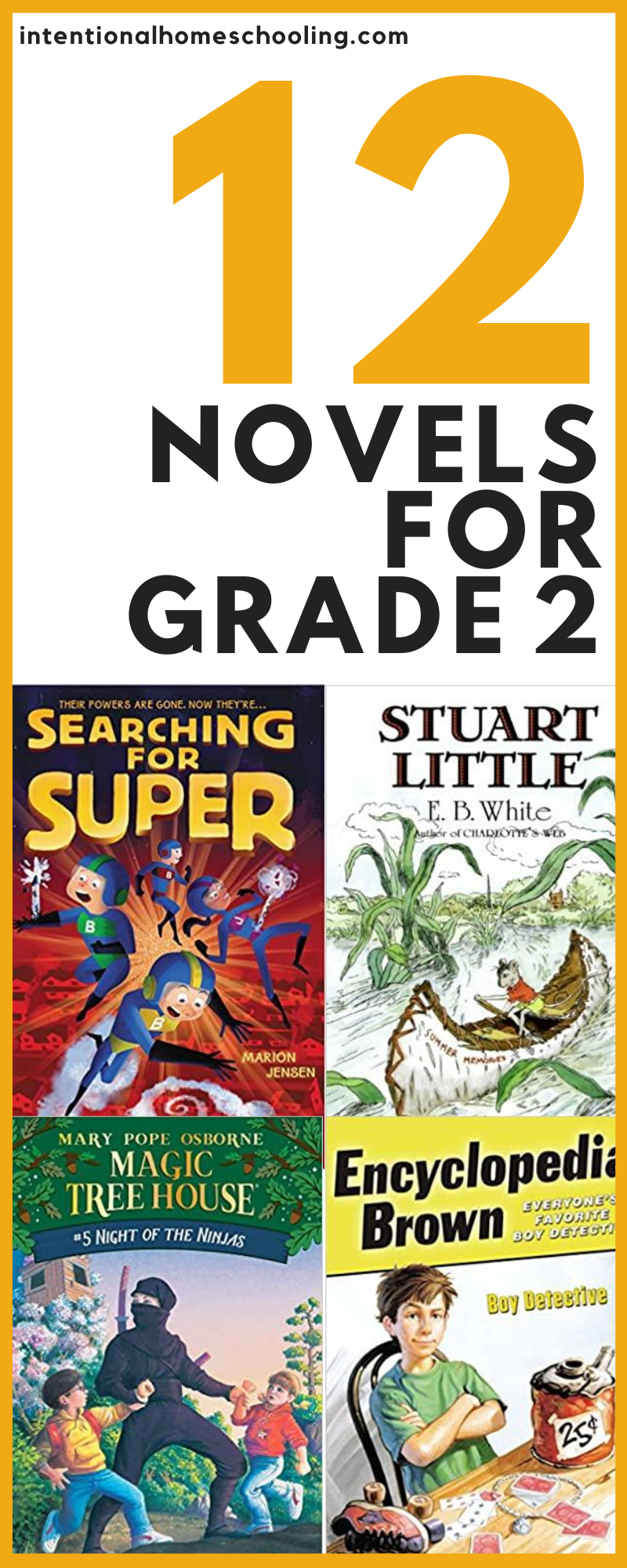 12 Great Chapter Books for Grade Two
The first book in this series, Almost Super, has been a favorite of his lately so it seems only right to add book two to the list!
The superheroes of Split Rock are hunkering down, which is really just a fancy way of saying they're hiding. Ever since those supervillainous Joneses took away their real powers, the Baileys and the Johnsons have been living in fear. But Rafter has had a taste of what saving the day feels like, and now he's desperate to do something important.
So when he gets an opportunity to fight with a real superpower—as long as he promises not to tell his parents—he is going to take it, no questions asked. With the help of his brother Benny, his cousin Thimon, and his best friend, Juanita, Rafter Bailey is searching for super.
Leroy Brown, aka Encyclopedia Brown, is Idaville neighborhood's ten-year-old star detective. With an uncanny knack for trivia, he solves mysteries for the neighborhood kids through his own detective agency. But his dad also happens to be the chief of the Idaville police department, and every night around the dinner table, Encyclopedia helps him solve his most baffling crimes. And with ten confounding mysteries in each book, not only does Encyclopedia have a chance to solve them, but the reader is given all the clues as well. Interactive and chock full of interesting bits of information—it's classic Encyclopedia Brown!
Henry, Jessie, Violet, and Benny are brothers and sisters. They're orphans too, and the only way they can stay together is to make it on their own. When the children find an abandoned boxcar in the woods, they decide to call it home―and become
the Boxcar Children!
Have you ever met a real live ninja? Jack and Annie do when the Magic Tree House whisks them back to ancient Japan, where they find themselves in the cave of a ninja master. Will they learn the secrets of the ninja? Or will the evil samurai warriors get them first?
After being transported to the Cretaceous period in Danger, Dinosaurs! Emily and Matt, the inquisitive duo, are ready for another time-traveling adventure. So with sketchbook and digital recorder in hand, they once again rub the sled's magic logo. This time, they find themselves in the gold rush of the late 1800s. They soon catch Klondike Fever, but will they find gold or lose their shirts? The people are colorful, the land is rugged, and the adventure is unlike anything Matt and Emily have ever experienced. Dean Griffiths' black and white illustrations add detail to this daring tale.
The Littles live in the walls of the Biggs' house. But when the Biggs go on vacation a messy family comes to stay, the trouble begins. Mice! Cats! How much can one small family take? Will Tom and Lucy, the littlest Littles of all, be able to save the day
Stuart Little is no ordinary mouse. Born to a family of humans, he lives in New York City with his parents, his older brother George, and Snowbell the cat. Though he's shy and thoughtful, he's also a true lover of adventure.
Stuart's greatest adventure comes when his best friend, a beautiful little bird named Margalo, disappears from her nest. Determined to track her down, Stuart ventures away from home for the very first time in his life. He finds adventure aplenty. But will he find his friend?
Meet Mrs. Piggle-Wiggle! She lives in an upside-down house with a kitchen that is always full of freshly baked cookies. She was even married to a pirate once! Best of all, she knows everything there is to know about children.
When Mary turns into an Answer-Backer or Dick becomes Selfish or Allen decides to be a Slow-Eater-Tiny-Bite-Taker, Mrs. Piggle-Wiggle has the perfect cure. And her solutions always work, with plenty of laughs along the way. This is the book that started it all!
Mark is a boy who needs a dog. But he can't get his mom on board with his plan.
Buddy is a dog who needs a boy. Buddy has an owner already, but not one who understands what a dog really needs.
Mr. LaRue is a neighbor who needs a community. He's alone all the time in his huge old house—and everyone needs more than that.
Over the course of a summer thunderstorm and one chaotic town council meeting, these three characters cross paths and come together in a timeless tale ripe with emotions. They'll realize they all need the same things: love, understanding, and a sense of belonging—plus a place to play a game of fetch!
The BFG is no ordinary bone-crunching giant. He is far too nice and jumbly. It's lucky for Sophie that he is. Had she been carried off in the middle of the night by the Bloodbottler, or any of the other giants—rather than the BFG—she would have soon become breakfast. When Sophie hears that the giants are flush-bunking off to England to swollomp a few nice little chiddlers, she decides she must stop them once and for all. And the BFG is going to help her!
The Secret of the Hidden Scrolls series follows siblings Peter and Mary and their dog, Hank, as they discover ancient scrolls that transport them back to key moments in biblical history.
In the first adventure in the series, Peter and Mary find themselves witnesses to the creation of the world just as God is speaking it into existence. Can they unlock the mystery of the scrolls before they get trapped in history forever? Children will discover the answer as the two characters ride rhinos, meet the angel Michael, and talk to a certain snake in the Garden of Eden. Riveting text and engaging illustrations bring this beloved Bible story to riotous life.
From the first moment Henry found Ribsy, the curious mutt was poking his nose into things he shouldn't be. Whether terrorizing the garbage man, chasing cats, or gobbling Ramona Quimby's ice-cream cone, Henry's four-legged pal has walked himself into one problem too many. So when Henry asks his dad if he can go along on the big fishing trip, Mr. Huggins agrees, but on one condition: Ribsy must stay out of mischief for two whole months. Henry is confident in his loyal dog…until Ribsy goes overboard with his appetite for chaos…literally!