17 Great Chapter Books for Grade Five
One thing I love to do for our school year planning is create a list of books that I think will be good for my kids for that school year.
This year my daughter is going into grade five!
Where did the time go?
This list of books includes some books she wants to read on her own, some I think she would enjoy and a few that we will be reading aloud (or listening to on audio) as a family.
Her favorite genre is fantasy by far so this list is pretty fantasy heavy.
I plan on making a master list/page here soon that has all the grade level book lists organized and easy to find. Just one of the things on my to do list . . .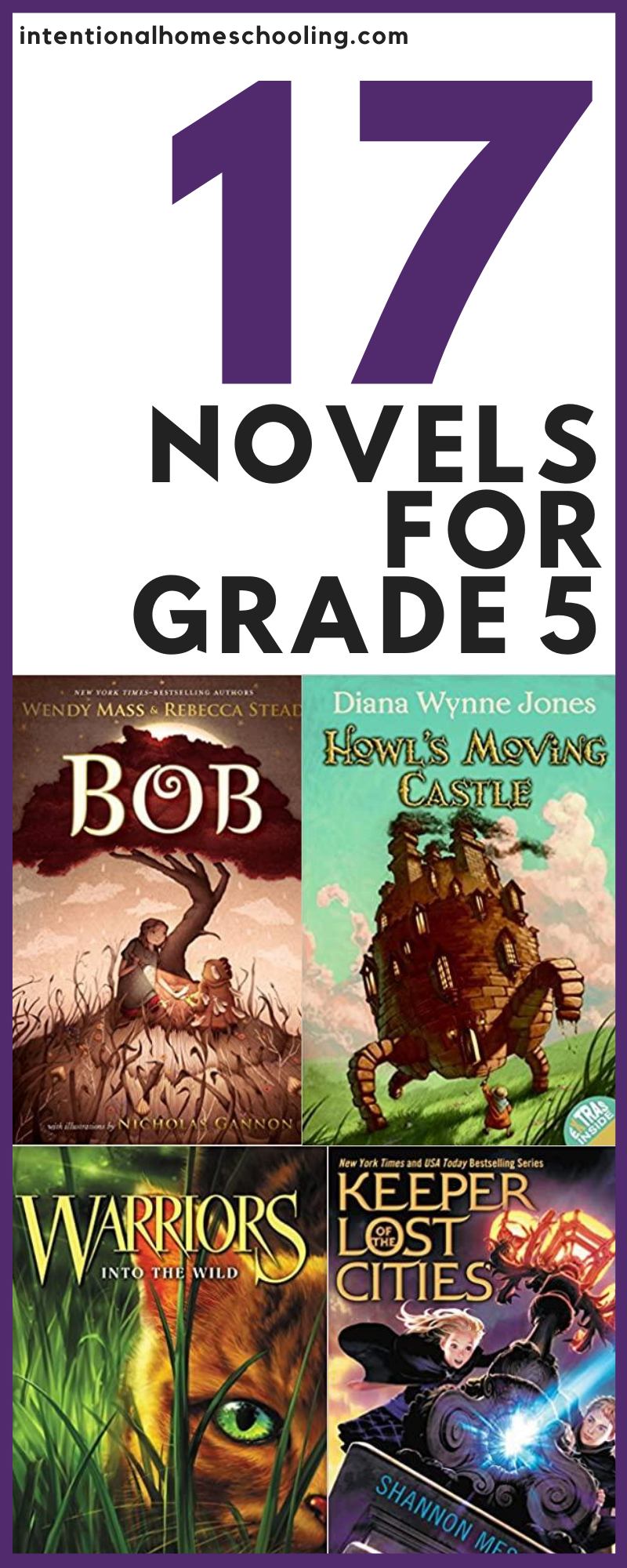 If you have a kid in or around grade five you may also want to check out this list of 12 of my daughter's favorite chapter books from grade four.
And you can check out all of our book lists here.
17 Great Chapter Books for Grade Five
I've read book one and two in this series on my own and I really want her to start it!
Twelve-year-old Sophie has never quite fit into her life. She's skipped multiple grades and doesn't really connect with the older kids at school, but she's not comfortable with her family, either. The reason? Sophie's a Telepath, someone who can read minds. No one knows her secret—at least, that's what she thinks…
But the day Sophie meets Fitz, a mysterious (and adorable) boy, she learns she's not alone. He's a Telepath too, and it turns out the reason she has never felt at home is that, well…she isn't. Fitz opens Sophie's eyes to a shocking truth, and she is forced to leave behind her family for a new life in a place that is vastly different from what she has ever known.
But Sophie still has secrets, and they're buried deep in her memory for good reason: The answers are dangerous and in high-demand. What is her true identity, and why was she hidden among humans? The truth could mean life or death—and time is running out.
We listened to this one on audio as a family earlier this month and all enjoyed it. My daughter went on to read books two and three in the series.
For twelve-year-old Emily, the best thing about moving to San Francisco is that it's the home city of her literary idol: Garrison Griswold, book publisher and creator of the online sensation Book Scavenger (a game where books are hidden in cities all over the country and clues to find them are revealed through puzzles). Upon her arrival, however, Emily learns that Griswold has been attacked and is now in a coma, and no one knows anything about the epic new game he had been poised to launch. Then Emily and her new friend James discover an odd book, which they come to believe is from Griswold himself, and might contain the only copy of his mysterious new game.
This is another one that I read this month that I think both my kids would enjoy, it's heart warming and funny and I really want to talk to them about it.
It's been five years since Livy and her family have visited Livy's grandmother in Australia. Now that she's back, Livy has the feeling she's forgotten something really, really important about Gran's house.
It turns out she's right.
Bob, a short, greenish creature dressed in a chicken suit, didn't forget Livy, or her promise. He's been waiting five years for her to come back, hiding in a closet like she told him to. He can't remember who―or what―he is, where he came from, or if he even has a family. But five years ago Livy promised she would help him find his way back home. Now it's time to keep that promise.
Clue by clue, Livy and Bob will unravel the mystery of where Bob comes from, and discover the kind of magic that lasts forever.
This is on our list of family read alouds for the year!
Ten-year-old Ada has never left her one-room apartment. Her mother is too humiliated by Ada's twisted foot to let her outside. So when her little brother Jamie is shipped out of London to escape the war, Ada doesn't waste a minute—she sneaks out to join him.

So begins a new adventure for Ada, and for Susan Smith, the woman who is forced to take the two kids in. As Ada teaches herself to ride a pony, learns to read, and watches for German spies, she begins to trust Susan—and Susan begins to love Ada and Jamie. But in the end, will their bond be enough to hold them together through wartime? Or will Ada and her brother fall back into the cruel hands of their mother?
This is my daughter's current read, she's really enjoying it.
Rosemary Bliss's family has a secret. It's the Bliss Cookery Booke—an ancient, leather-bound volume of enchanted recipes like Singing Gingersnaps.
Rose and her siblings are supposed to keep the Cookery Booke locked away while their parents are out of town, but then a mysterious stranger shows up. "Aunt" Lily rides a motorcycle and also whips up exotic (but delicious) dishes for dinner. Soon boring, non-magical recipes feel like life before Aunt Lily—a lot less fun.
So Rose and her siblings experiment with just a couple of recipes from the forbidden Cookery Booke. A few Love Muffins and Cookies of Truth couldn't cause too much trouble . . . could they?
Kathryn Littlewood's culinary caper blends rich emotional flavor with truly enchanting wit, yielding one heaping portion of hilarious family adventure.
Brooke is the perfect older sister. For that reason, Kari and Ashley work hard to make their parents just as proud of them as they are of Brooke. Each girl has her own talents. Brooke is an excellent student. Kari is a great soccer player. Ashley, a talented artist. And they are always there for each other. But when the news comes that Dr. Baxter is moving the family from Ann Arbor to Bloomington, Indiana, and the Baxters need to leave the only home and friends they've ever known, no one is happy. Saying goodbye is hard but the family still has what's most important—their faith and their love for each other.
Tuesdays at Castle Glower are Princess Celie's favorite days. That's because on Tuesdays the Castle adds a new room, a turret, or sometimes even an entire wing. No one ever knows what the Castle will do next, and no one-other than Celie, that is-takes the time to map out the new additions.
But when King and Queen Glower are ambushed and their fate is unknown, it's up to Celie, with her secret knowledge of the castle's never-ending twists and turns, to protect their home and save their kingdom.
Amelia Wishart was the first child ever to receive a Christmas present. It was her Christmas spirit that gave Santa the extra boost of magic he needed to make his first trip around the world. But now Amelia is in trouble.
When her mother falls ill, she is sent to the workhouse to toil under cruel Mr. Creeper. For a whole year, Amelia scrubs the floors and eats watery gruel, without a whiff of kindness to keep her going. It's not long before her hope begins to drain away.
Meanwhile, up at the North Pole, magic levels dip dangerously low as Christmas approaches, and Santa knows that something is gravely wrong. With the help of his trusty reindeer, a curious cat, and Charles Dickens, he sets out to find Amelia, the only girl who might be able to save Christmas. But first Amelia must learn to believe again. . . .
I have been collecting the Dear Canada books for a few years, I grab them whenever I see some in thrift stores.
Tension grips Batoche, Saskatchewan in 1885. Many Métis moved here after the 1870 Riel Rebellion in Manitoba left them disallusioned. But life in Batoche is difficult. The buffalo on which the Métis depended for generations have been hunted almost to extinction, and the coming of white settlers poses a threat to their traditional way of life. The Métis want title to their land, but the government has delayed for years. Promises are no longer enough . . . and talk of a second uprising is in the air.
Thirteen-year-old Josephine finds herself torn over her feelings about the Resistance: she is worried for her brother, who is eager to fight; for her father, who prefers a peaceful solution; for Edmond Swift Fox, her friend, whom she loves and will eventually marry; and for Louis Riel, the leader whose efforts to help the Métis preserve their way of life are actions she grows to respect and admire.
An extraordinary debut weaving magic and heroism into a classic tale of good and evil, featuring a heroine you'll never forget. Inquisitive twelve-year-old Alexa Daley is spending another summer in the walled town of Bridewell. This year, she is set on solving the mystery of what lies beyond the walls. Legend says the walls were built to keep out an unnamed evil that lurks in the forests and The Dark Hills. But what exactly is it that the townspeople are so afraid of? As Alexa begins to unravel the truth, pushing beyond the protective barrier she's lived behind all her life, she discovers a strange and ancient enchantment — and exposes a danger that could destroy everything she holds dear.
At her birth, Ella of Frell receives a foolish fairy's gift—the "gift" of obedience. Ella must obey any order, whether it's to hop on one foot for a day and a half, or to chop off her own head! But strong-willed Ella does not accept her fate…
Against a bold backdrop of princes, ogres, giants, wicked stepsisters, and fairy godmothers, Ella goes on a quest to break the curse forever.
My daughter has five girl cousins and they were all born within three years so this book sounds a little like her life.
Look out, Gull Island! This year, the 12-year-old Callahan cousins-Phoebe, Hillary, Neeve, and Kate-are spending the summer at their grandmother's seaside estate where they are quickly caught up in an old island family rivalry.
For generations, four Clans of wild cats have shared the forest according to the laws laid down by their ancestors. But the warrior code has been threatened, and the ThunderClan cats are in grave danger. The sinister ShadowClan grows stronger every day. Noble warriors are dying—and some deaths are more mysterious than others.
In the midst of this turmoil appears an ordinary housecat named Rusty… who may turn out to be the bravest warrior of them all.
A friend gave me this book for my birthday, it looks pretty funny, I'm not sure who will read it first, me or my daughter.
Welcome to Oddity, New Mexico, where normal is odd and odd is normal.
Ada Roundtree is no stranger to dodging carnivorous dumpsters, distracting zombie rabbits with marshmallows, and instigating games of alien punkball. But things haven't been the same since her twin sister, Pearl, won the town's yearly Sweepstakes and disappeared . . .
Along with her best friend, Raymond, and new-kid-from-Chicago Cayden (whose inability to accept being locked in the gym with live leopards is honestly quite laughable), Ada leads a self-given quest to discover Oddity's secrets, even evading the invisible Blurmonster terrorizing the outskirts of town.
But one of their missions goes sideways, revealing something hinky with the Sweepstakes . . . and Ada can't let it go. Because, if the Sweepstakes is bad, then what happened to Pearl?
Sophie has the great misfortune of being the eldest of three daughters, destined to fail miserably should she ever leave home to seek her fate. But when she unwittingly attracts the ire of the Witch of the Waste, Sophie finds herself under a horrid spell that transforms her into an old lady. Her only chance at breaking it lies in the ever-moving castle in the hills: the Wizard Howl's castle. To untangle the enchantment, Sophie must handle the heartless Howl, strike a bargain with a fire demon, and meet the Witch of the Waste head-on. Along the way, she discovers that there's far more to Howl—and herself—than first meets the eye.
In this giant jigsaw puzzle of a fantasy, people and things are never quite what they seem. Destinies are intertwined, identities exchanged, lovers confused. The Witch has placed a spell on Howl. Does the clue to breaking it lie in a famous poem? And what will happen to Sophie Hatter when she enters Howl's castle?
After losing their mother, Rachel and her adopted sister Hilary move in with their aunt, Cora Wintle. Cora runs a dancing school in London, and she thinks that Hilary would be perfect for her dancing troupe, Wintle's Little Wonders! The only problem is that Hilary might be as good as Cora's own precious daughter, Dulcie. Still, Cora is determined to make sulky Rachel and sprightly Hilary members of her dance troupe.
But Rachel doesn't want to be a Little Wonder! She can't dance and feels silly in her the ruffly costume. Nothing seems to be going as planned, until Rachel discovers her talent for acting. . . .
The orphan girl Pollyanna moves in with her strict aunt in New England. Despite a difficult start, Pollyanna's exuberance and positivity affect everyone who meets her, and she spreads joy and love wherever she goes. But when tragedy strikes, Pollyanna finds her optimistic attitude tested, and she must learn to find happiness again.