Minimalist Homeschool Room Tour
Today I've got a guest post from Rochelle Garrison Cocomello, she is going to show us inside her minimalist homeschool room. If we had a designated homeschool space I imagine it would look similar to this. Enjoy the peek inside their homeschool room! – Chantel
One question I often get asked is "how do you actually DO homeschool?". After I blabber on for (too long) excitedly about curriculum, I realize that generally what people actually want to know is "what does homeschooling LOOK like?". They want a visual.
So I am here to take you on a short tour of our simple space. We live just outside of Montreal and are fairly new homeschoolers (my oldest is 6 – we've done preK and kindergarten at home). This space has greatly contributed to us settling into a daily rhythm.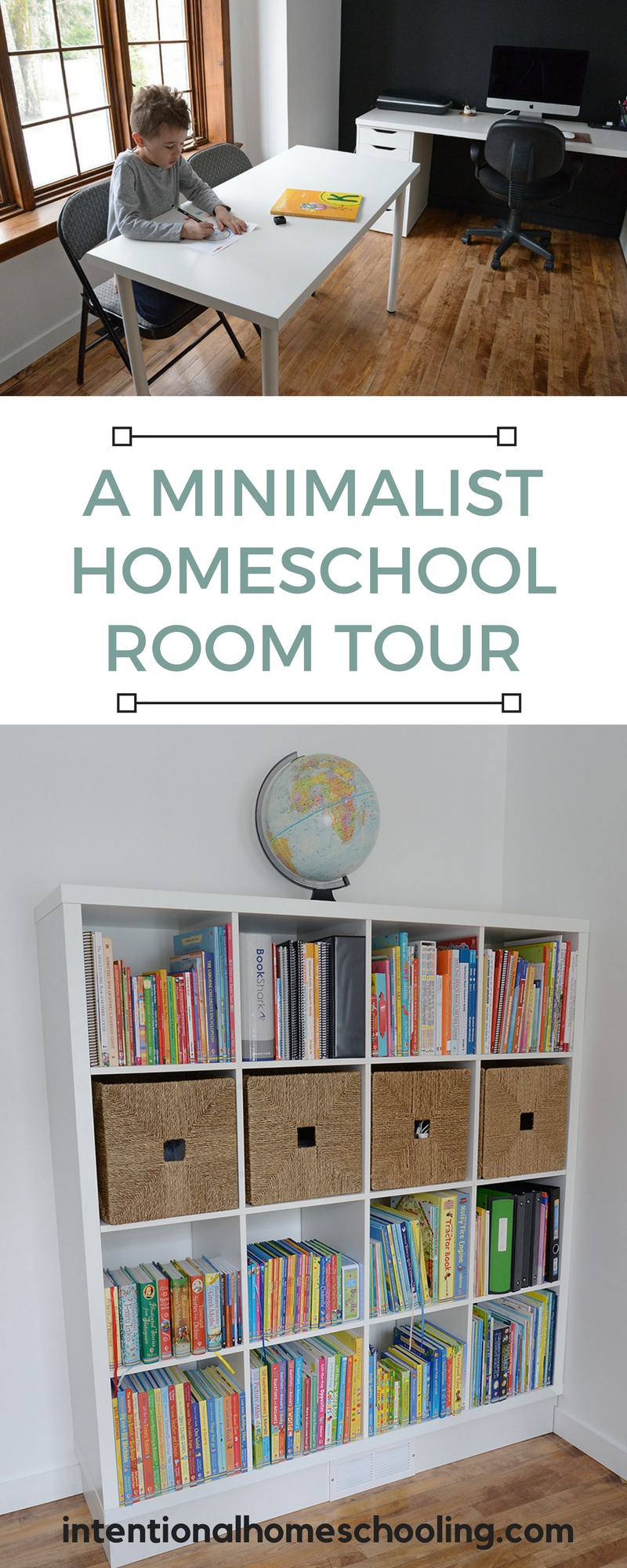 My office is our dedicated "classroom" though generally only our table work takes place here (math and language arts). This room was recently renovated (the previous owners smoked heavily and the tar-covered wallpaper definitely needed to go). I am drawn to crisp, clean and bold decor so I chose black and white paint colours. I keep the walls empty which helps us with concentration (the rest of my house is chaos but this is the one room I've managed to make uncluttered and minimalistic and I love how it feels. #progress).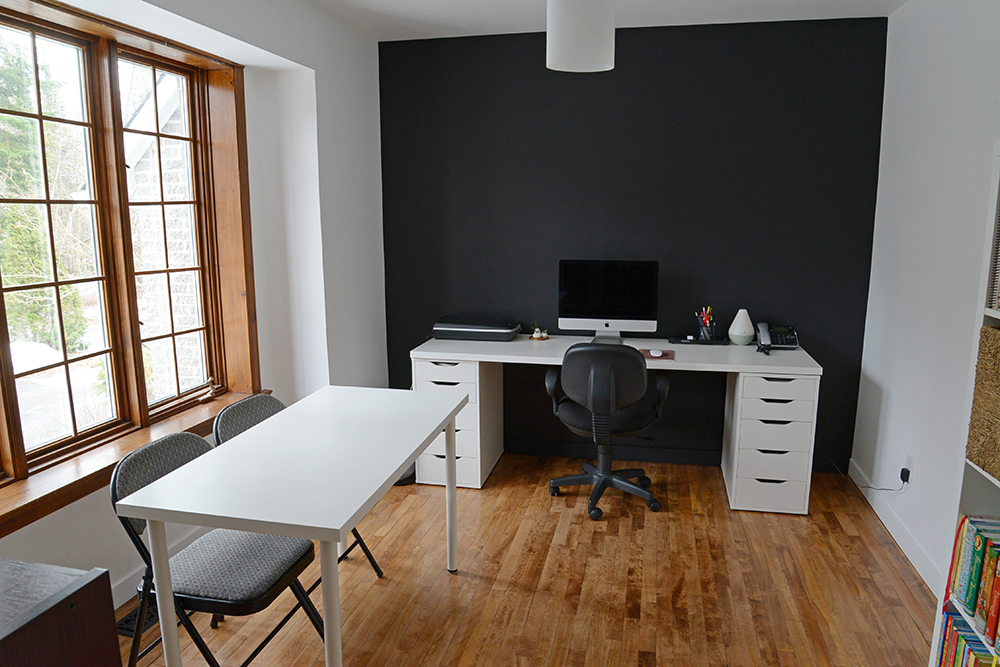 We used a combination of hand-me-down furniture and Ikea items to furnish the space.
This is our activity shelf. Here I keep markers, our feather collection, a tin of crayons and some educational toys/activities for my 4 year old. We haven't started any formal schooling with her yet, so she will either pick an activity from this shelf or a book to keep her busy (and quiet-ish) while I work one-on-one with my son.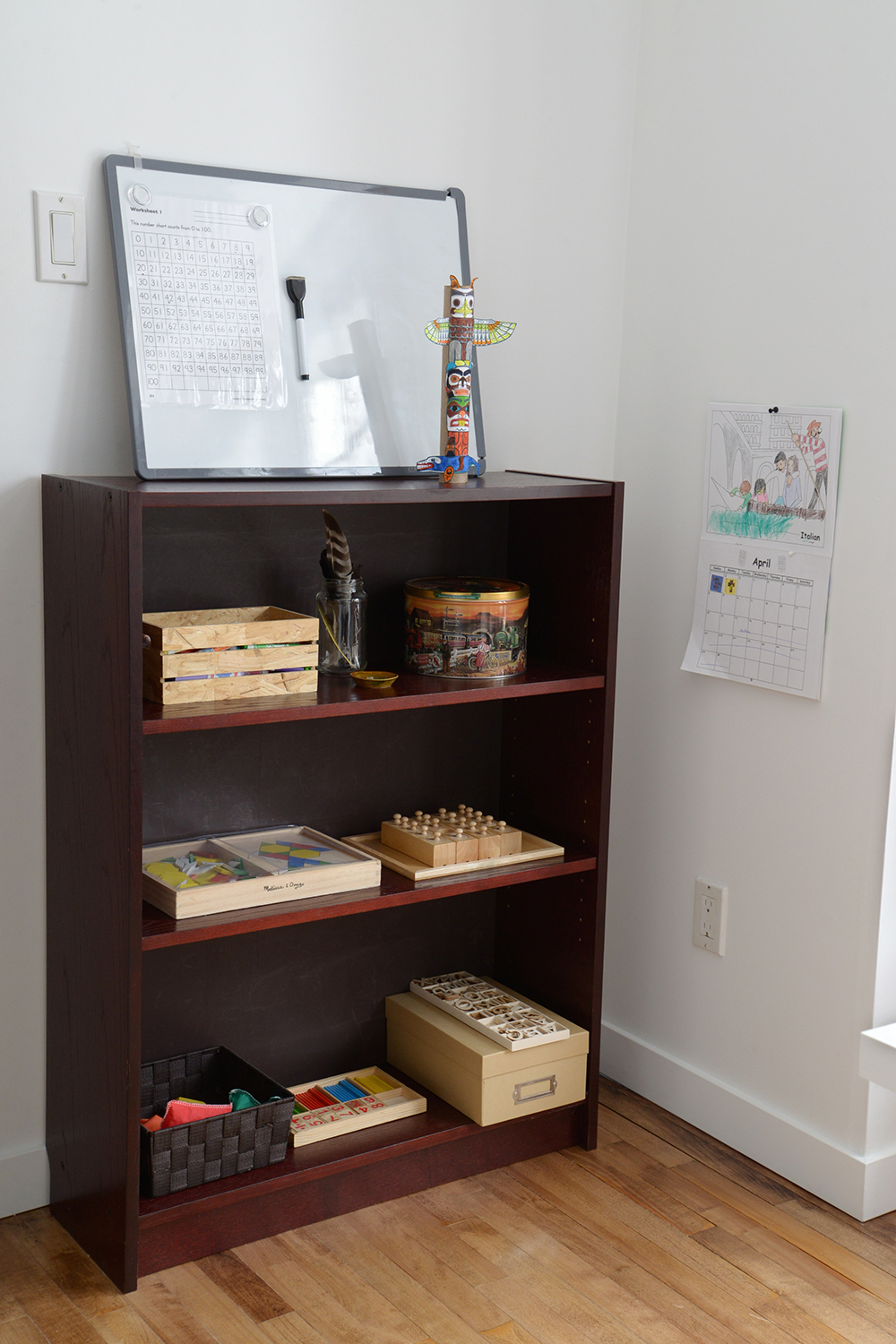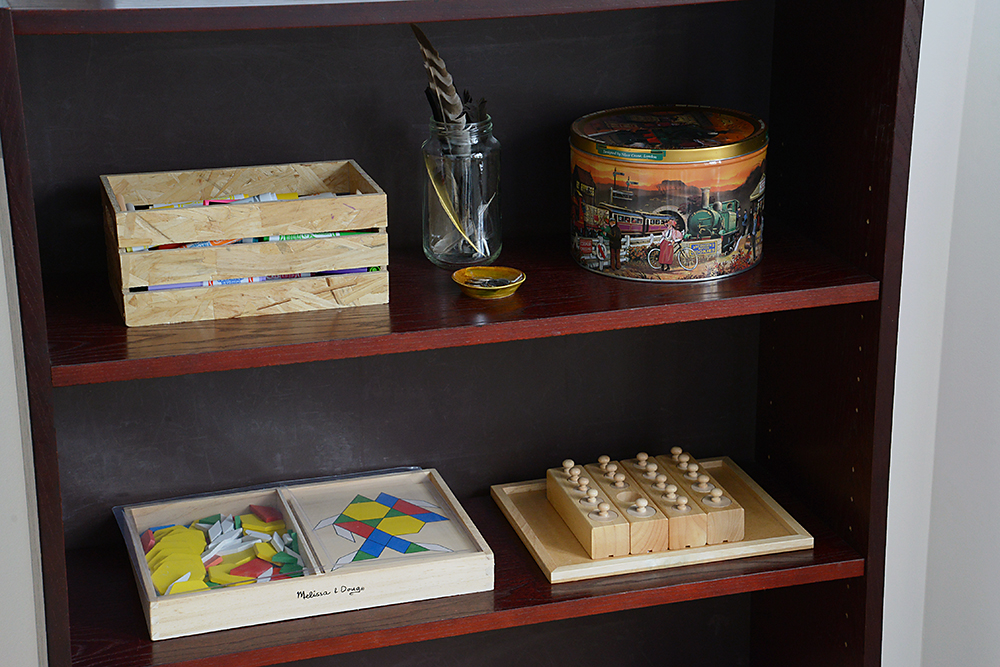 For our math and language art demos, I use a whiteboard that I purchased from Walmart. It sits on top of the shelf along with our latest art or history project (displaying only one project at a time keeps the clutter to a minimum plus adds a bit of continual visual interest since we change it up often).
The one item we have on the wall is a calendar the kids work on together every month.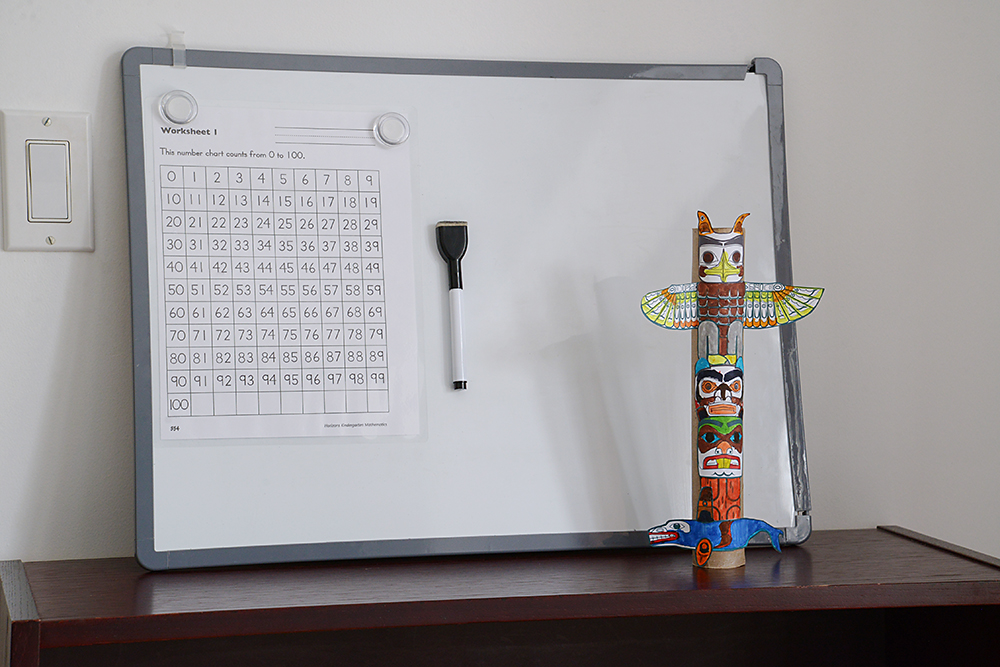 My desk is from Ikea (Linnmon table top with two Alex drawer units). Approximately half of the drawers are dedicated to homeschooling materials and the other half to business supplies.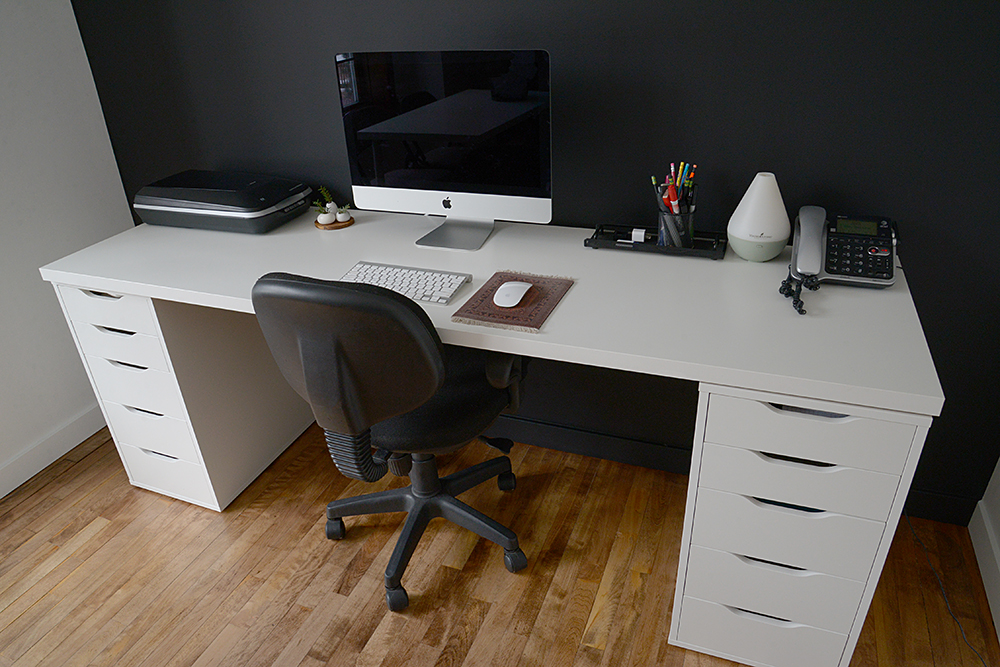 Here is the breakdown of the left drawer unit:
Top drawer: Basics (tape, binder hole-punch, etc).
Second drawer: iPhone tripod (I do a lot of YouTube videos and Facebook Lives for work).
Third drawer: This is what I humbly refer to as my "homeschooling junk drawer". It houses any piece of paper that I'm unsure of what to do with (extra art or worksheets that I can't decide if we should keep).
Last two drawers: Business items (branded stationary, customer forms, etc).
And here's what is in the right drawer unit:
Top drawer: Note books (I use these for work).
Second drawer: Batteries, label maker and printer ink.
Third drawer: Stamps, envelopes and art paper (we have a craft cupboard in the kitchen that houses the rest of our art and craft supplies).
Fourth drawer: Laminator and laminator sleeves (such a homeschooling staple right?).
Fifth drawer: Printer paper (our printer is wonderfully out of sight in my husband's office in the basement).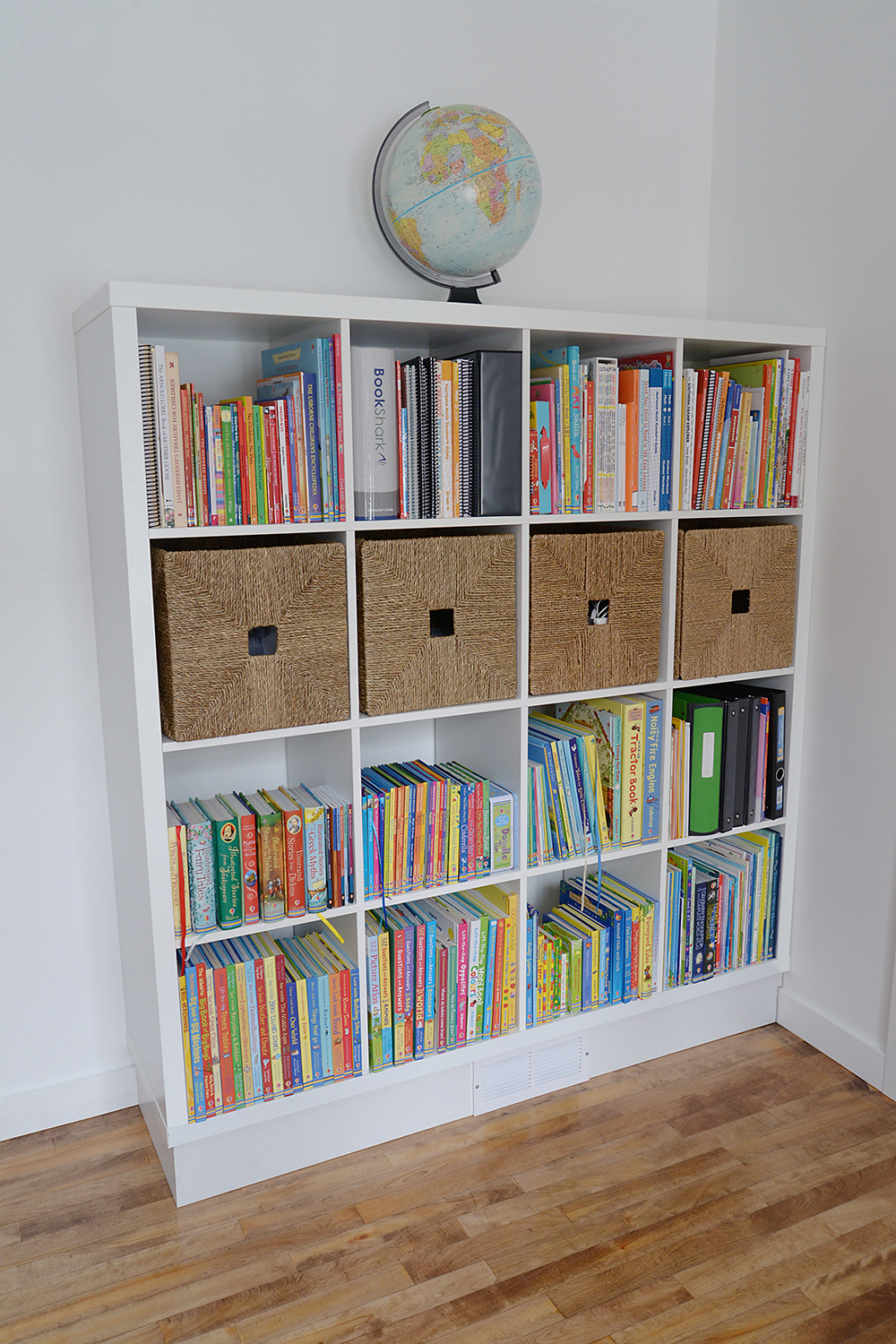 This is a Kallax Ikea shelf. My husband lifted it (so it wouldn't cover the air return) and added the trim to make it look more like a built-in unit.
The top row holds both of our PreK and K curricula. We use a mix of Bookshark, Build Your Library and The Good and The Beautiful programs. Overall, our style of homeschool follows a Charlotte Mason/literature-based philosophy so hence why all the books.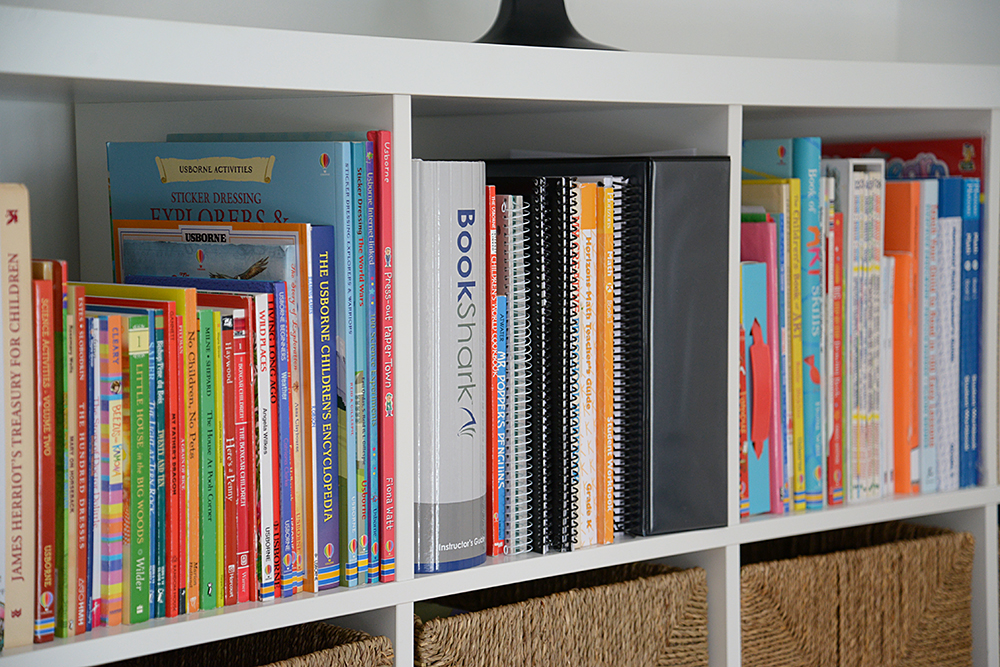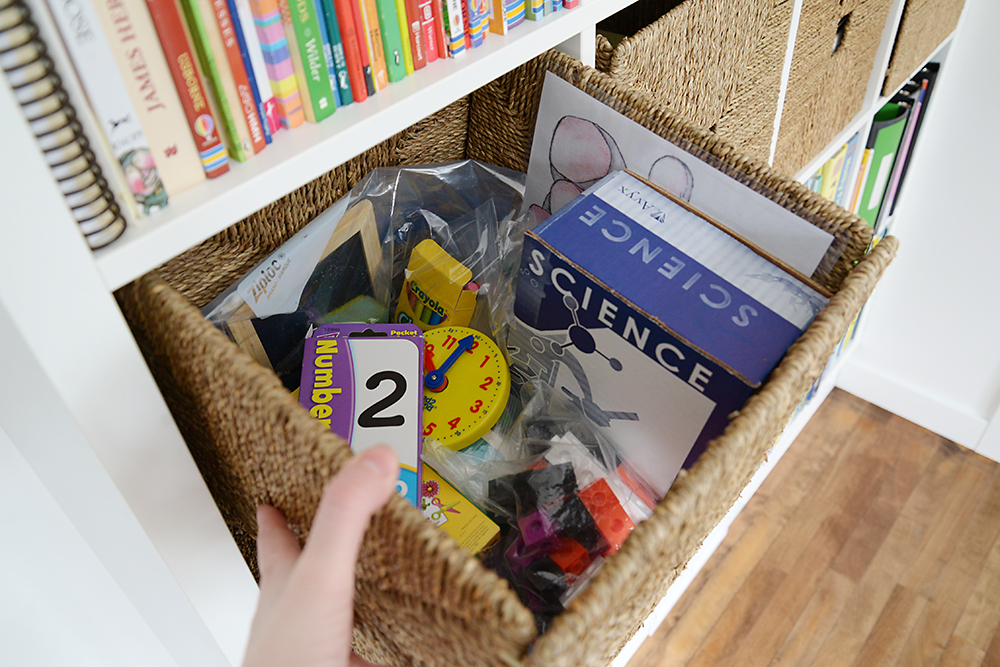 These seagrass baskets are also from Ikea (Knipsa baskets). I put all of our manipulates in the first two (clocks, beads, letter games, science supplies). The second two baskets hold anything techie (USBs, wires/cables/cords, camera gear, etc).
I have an Usborne book addiction (no affiliation) but thankfully so many of their books tie in well with our homeschool and/or provide great entertainment for my 4 year old while my 6 year old and I do table work. I keep all of our educational books here for that purpose.
We have one section of the shelf housing empty binders dedicated to a French curriculum not-yet-purchased. Quebec laws require some schooling to be done in French (the homeschooling laws have recently changed here so we're waiting to see the official requirements).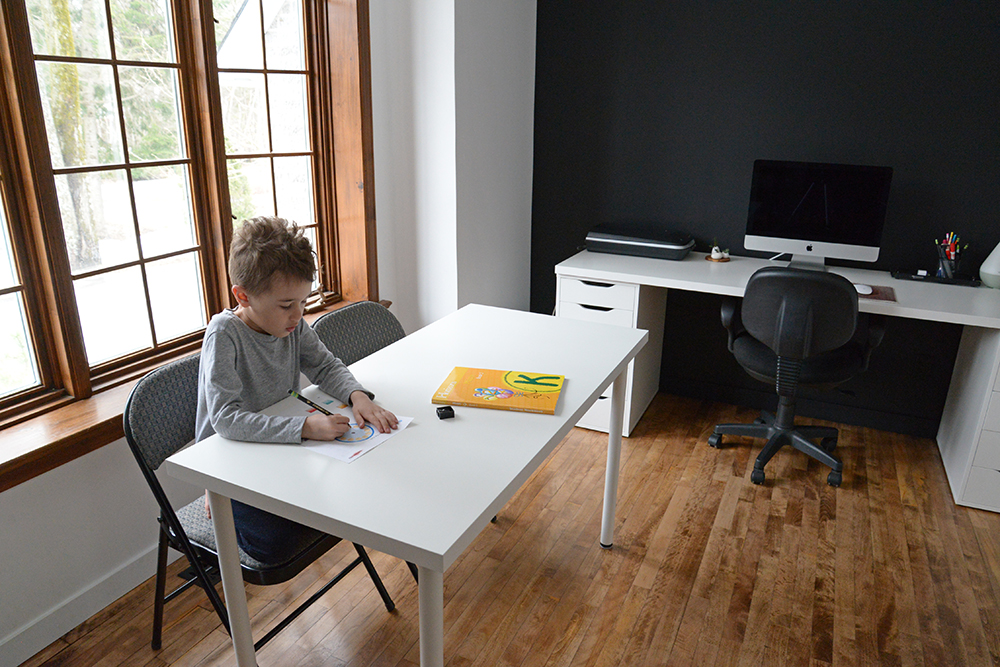 The kids' desk is also from Ikea and we use two simple folding chairs (I hope to upgrade the chairs at some point to something more sturdy).
And that wraps up the tour. I hope you enjoyed getting an idea of what homeschooling can actually "look like". Thank you so much for stopping by 🙂
MORE ABOUT ROCHELLE
I am a mom of two living outside of Montreal, Quebec.
Our family is striving for a slow, rich life. Not necessarily in monetary terms (though I would never resist wealth should it come our way 
. I want our life to be rich in time and flexibility and improvement and beauty – through homeschooling, entrepreneurship, green(ish) living and renovating a disastrous foreclosure house.
The slow is a nod to the pace at which we seem to be accomplishing things (patience is a hard lesson I'm learning). But also the pace we are trying to set for ourselves. We have one life, let it be rich and not a race.
You can find Rochelle online on HER WEBSITE & INSTAGRAM
---