An Instagram Photo Prompt Challenge – #HereIsOurHomeschool
May is absolutely one of my favorite months, it is usually the first month of mostly decent weather all the way through, 3/4 of our family have birthdays, there is a stat holiday so my husband gets the day off, plus Mother's Day where we get to celebrate our moms; so much good stuff!
I thought I would make May even more fun this year by having a Instagram Photo Prompt Challenge.
The theme for the challenge is Here Is Our Homeschool and the hope is that we will get a peek inside your homeschool via the variety of prompts throughout the month.
I know there is going to be some great inspiration all month through the photos that will be shared and I hope you come over and join us!
I will be sharing my answers to the prompts over at Intentional Homeschooling on Instagram and I will also be featuring other photos from the challenge as well.
Here's the prompt schedule for the challenge: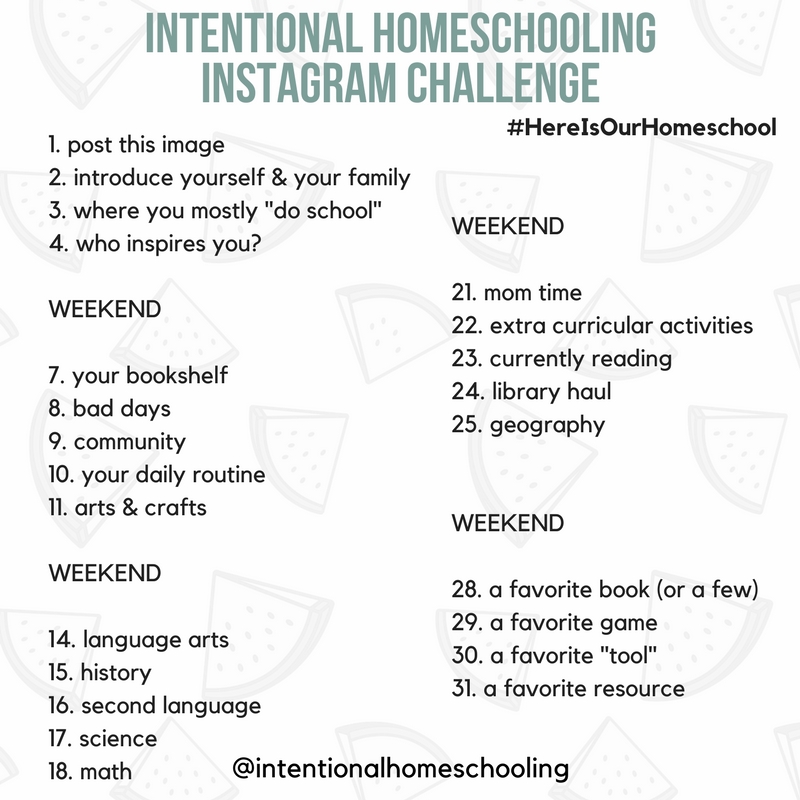 I know that Instagram prompts usually don't take a break on the weekends but I made the decision to not do prompts on the weekends because I try to be intentional about being on social media less during those days.
I am really looking forward to this challenge and all the inspiration that is to come! Make sure you come and join in and tag your photos with #HereIsOurHomeschool!