I've been listening to podcasts for about the past 18 months or so, definitely not an early developer by any means. My favorite podcast topics include entrepreneurship (I word I struggle with typing each and every time), Christian living, and, of course, homeschooling (another word I apparently struggle with typing, this might be a problem).
Yes, I'm that weird person that's been listening to podcasts for more than a year and a half before actually homeschooling (phew, typed it correctly on the first try). Truth be told, it's not just podcasts, I've been reading books and reading articles and blogs about homeschooling for much longer than that. I'm a big believer in lifelong learning. Not surprisingly this is a trait I really want to pass on to my own children and may just foreshadow our homeschooling journey a little.
The podcasts that I'm sharing today are my absolute favorite homeschool podcasts. They have each given me some great ideas and resources I was unaware of before. Oh, and they've all give me book recommendations too, bonus!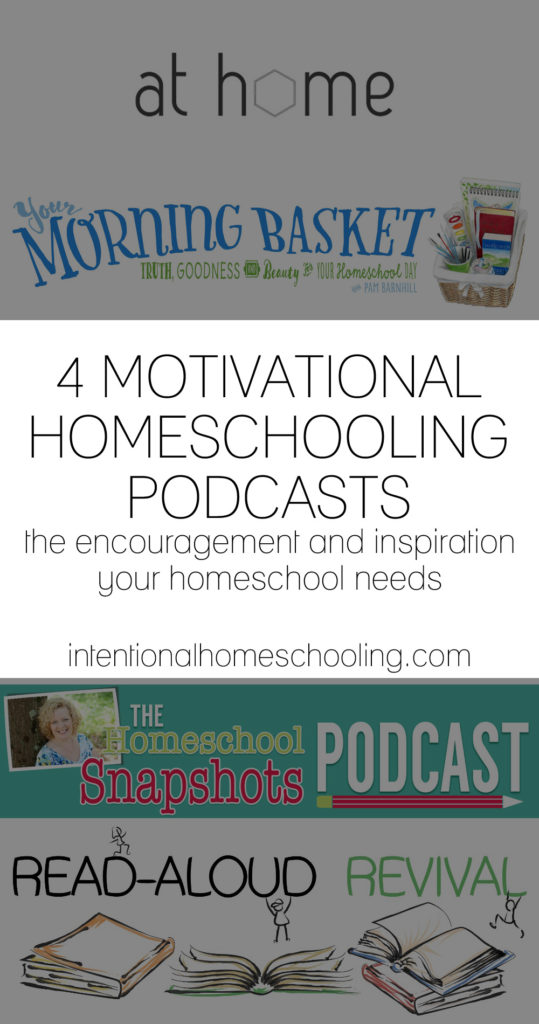 Okay, let's get on to the podcasts, shall we?
4 HOMESCHOOL PODCASTS THAT UPLIFT PARENTS (AND ENCOURAGE US TO STEAL THEIR IDEAS):

A relatively new podcast hosted by six amazing homeschooling moms, most of whom I've been following on Instagram for years. It can be confusing to know which of the six are talking at any given time since that's a lot of voices to keep straight, but over all it doesn't matter, it's good information no matter which one of them it is coming from. So far they have tackled topics like: creating a book club, raising readers, discussion without offense, the cultivated mother, hands on nature, teaching children theology and screen time. I love getting all their different points of view, they have brought up many great points I had never heard or thought about before.

The tagline is "the podcast that gives you a peek into the lives of the homeschoolers next door", and that it truly is! The host, Pam Barnhill, interviews a variety of different homeschooling mothers, each with their own set of passions, philosophies and struggles.

This is another podcast by Pam Barnhill (she just can't get enough 🙂 ). In this podcast she shares about morning time (the time where you gather all the kids together and briefly touch on a variety of subjects in short-ish amount of time). Pam interviews other homeschooling moms specifically to talk about how morning time looks in their homeschool day. I never imagined how differently morning time would be for each family! I love all the ideas I glean out of this podcast.
Another one of my favorites because: books! Sarah Mackenzie is a wealth of knowledge in recommending books for kids, not that I really needed help in this area, but not only do I love books, I love hearing people talk about them. That being said this podcast has introduced me to many books I had never heard of or wouldn't have picked up before.
There are so many other homeschool podcasts out there, some I've listened to, others I haven't, so I'd love some recommendations from you! What are some of your favorite homeschool podcasts?