Hello fellow book lovers!
A couple of weeks ago we got our Intentional Family apparel in and I'm excited to show off the first design "we" came up with!
I say "we" because honestly, this was all her.
Yes, my eight year old sat down to think of shirt designs and came up with "just one more chapter" and an image of a book.
Be still my book loving heart.
When the shirts came in (after she immediately grabbed a book and sat down) I took her out to grab a few photos and she says "they usually stand like this" and then poses for me, how does she even know this stuff?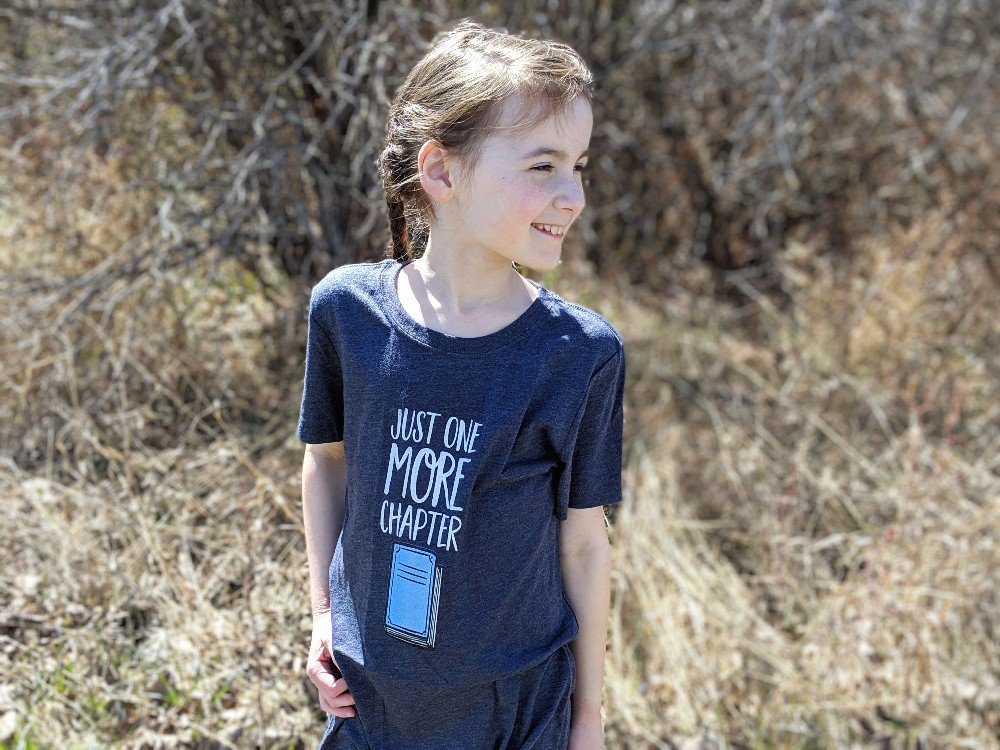 Also, I did something new-to-me when ordering her shirt: I bought her a women's shirt.
I was looking at the sizing on the tees and the youth size I was looking at for her was the same as the women's but the women's was more slim so I went ahead and ordered the ladies small. I mean, it's still big on her but seriously, this is a momentous occasion. (The tees do run a little small, I ordered a large for myself and it's none too big and I'm normally a medium. Definitely look at the sizing, the baseball tees are different sizing and I think I would order a medium in those.)
Anyway, the shirts were fun to design and we may think of more book-ish designs in the future.
In the meantime, if you want to order a book-ish shirt for yourself you can do so here.
If you've got a book-ish friend with a birthday coming up may I suggest a shirt as a gift? (Or there are even bags, blankets, notebooks and towels!)