Welcome to my Usborne Deals page! These deals are only available through me, and cannot be ordered online, to place your order fill out the form below and I will send you an invoice!
To take advantage of these deals orders must be placed and paid for by January 15th!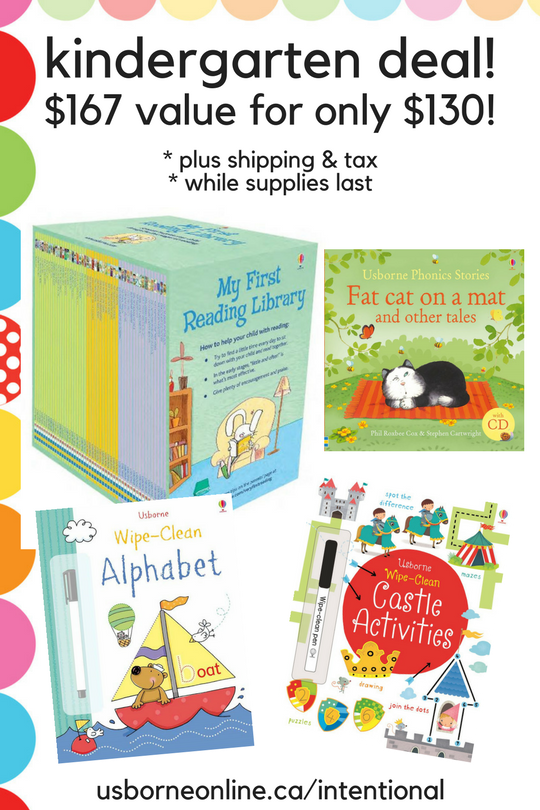 I love Usborne for teaching kindergarten! They had some spectacular resources, including my favorite: their reading program!
This bundle is $37 off right now, (The Reading Library alone is $120!) if you have a child in kindergarten or about to be, you'll want to take advantage of this!
This bundle includes:
My First Reading Library: 50 paperback books that include 22 from the My Very First Reading Program and the rest to help practice the reading skills they've built!
Here's a little video sharing about The First Reading Library:
Fat Cat on a Mat and Other Tales: this collection includes 12 phonics stories with flaps, and a CD to go along!
Wipe Clean Alphabet: we've had this book for five years, used it tons and it's still going strong! It's excellent for practicing upper and lower case letters and it has tracing for fine motor practice.
Wipe Clean Castle Activities: fun activities to practice fine motor. There is number tracing, mazes, dot to dot and more!
This bundle includes $167 worth of books for just $130! To order, just fill out this form:
Orders will be shipped to Canada or the USA. Prices are in your local currency (CAD for Canadian USD for Americans).
Orders will be shipped out at the end of January.