Introduction
Welcome to the Homeschooling as a Lifestyle Workshop!
My goal for this workshop is for you to feel confident in homeschooling your children without needing to follow a curriculum. I will share our experiences of homeschooling as a lifestyle and how you can get started on your own journey.
For those of you who like printables and keeping notes I've created a journaling workbook for you to print off and use in a later lesson.
I am excited to have you here and hope you enjoy the workshop!

---
Homeschooling as a Lifestyle: Homeschooling Without a Curriculum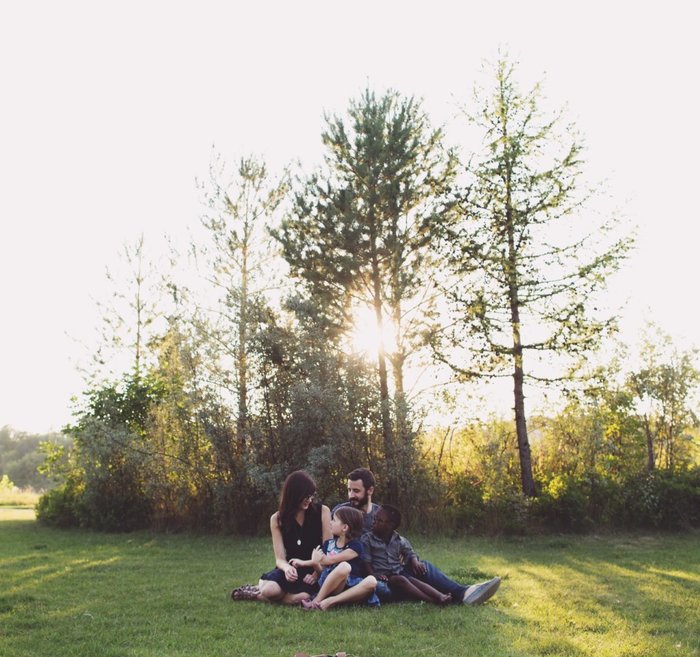 Just a little introduction before we get started, my name is Chantel and I live with my husband and two children in the Canadian prairies.
Prior to homeschooling I was actually a teacher but after spending some time in the school system I began to realize the system was not really the ideal learning environment for most children. I knew I didn't want to spend my days teaching other people's children and having other people teach mine.
So, after my daughter finished kindergarten we pulled her out of the school system, I quit teaching and we've been homeschooling ever since!
Our homeschool slowly evolved from a school-at-home look to homeschooling as a lifestyle. With the change I noticed my kids learning more and enjoying their learning more. I really didn't need more proof that this was the method for us and I am excited to share it with you in this workshop!
---
What is Homeschooling as a Lifestyle?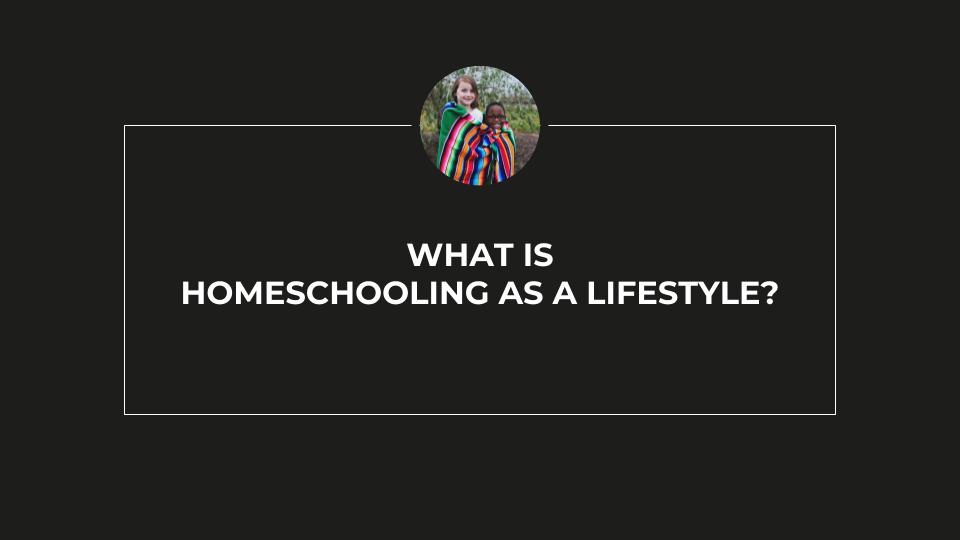 Before we dive into what Homeschooling as a Lifestyle is, I just want to touch briefly on what it is not.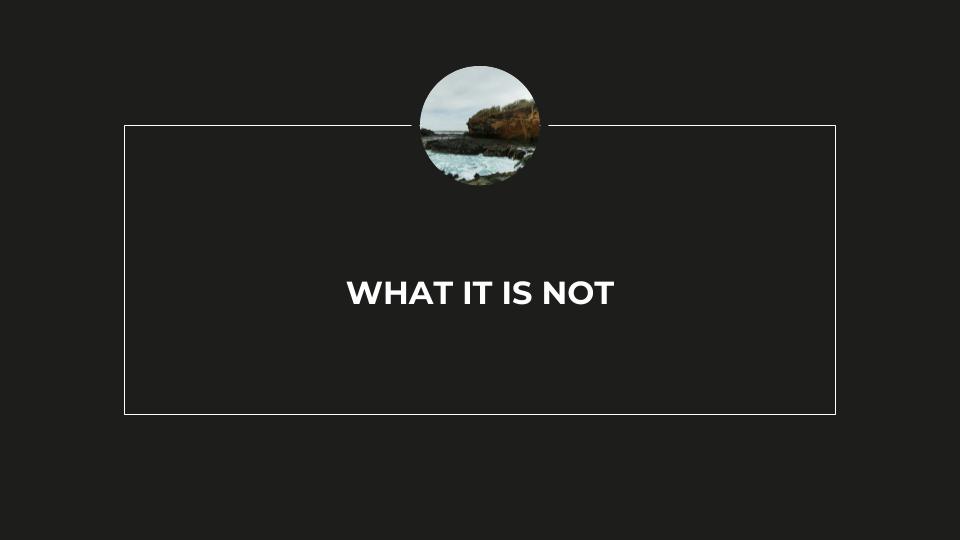 While it may sound like unschooling I do not think that Homeschooling as a Lifestyle is the same as unschooling. Sure, there is some overlap but they are ultimately quite different.
Unschooling:
child-led
parents as facilitators
no lessons, curriculum or workbooks
goals are set by children
there are no set learning hours, learning happens all the time, anywhere
strewing instead of making suggestions on activities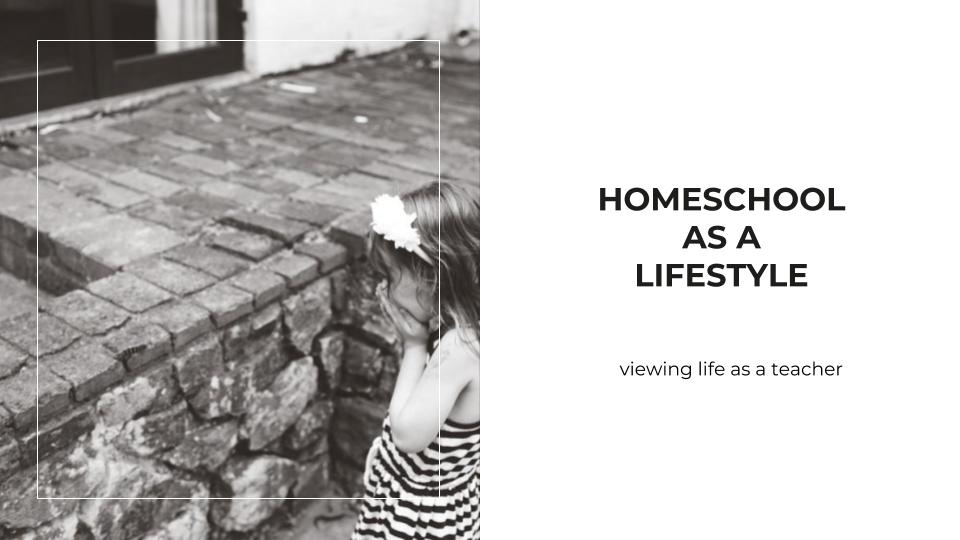 In contrast, Homeschooling as a Lifestyle is:
not using a curriculum out of the box, or no curriculum at all, or pulling from a variety of different curriculum
involving children in your life, introducing them to your interests
following their interests
taking time to answer questions as they come up and researching them if needed
introduce them to activities you think they may be interested in
view yourself and life as a teacher all the time
recognizing teachable moments throughout the day
can involve lessons
entrepreneurship
travel, near and far
viewing yourself and your children as lifelong learners
Part of the way I think of myself when we homeschool is that of a resource finder. If my children show an interest in a subject or if there is something I am personally interested in I like being able to find resources and experiences for us to pursue the area a little farther.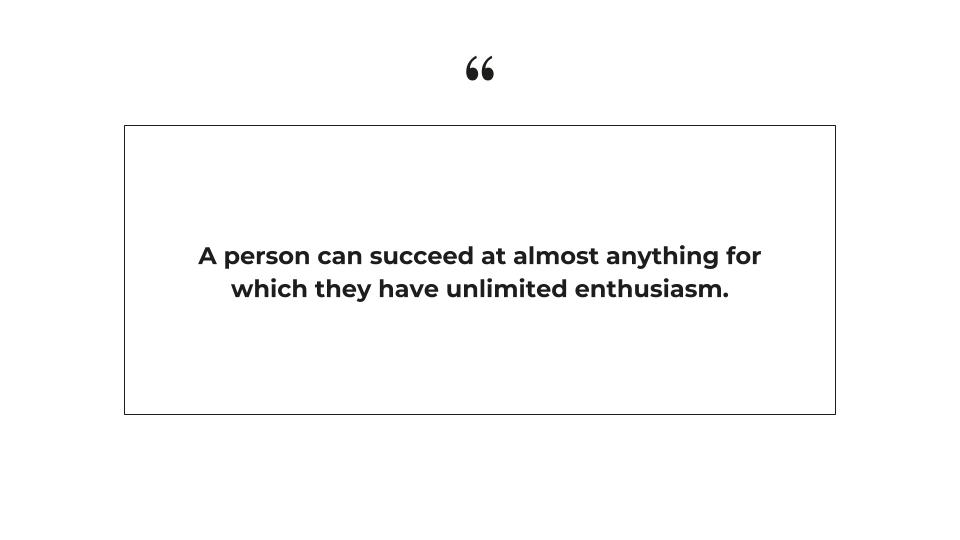 ---
Why View Homeschooling as a Lifestyle?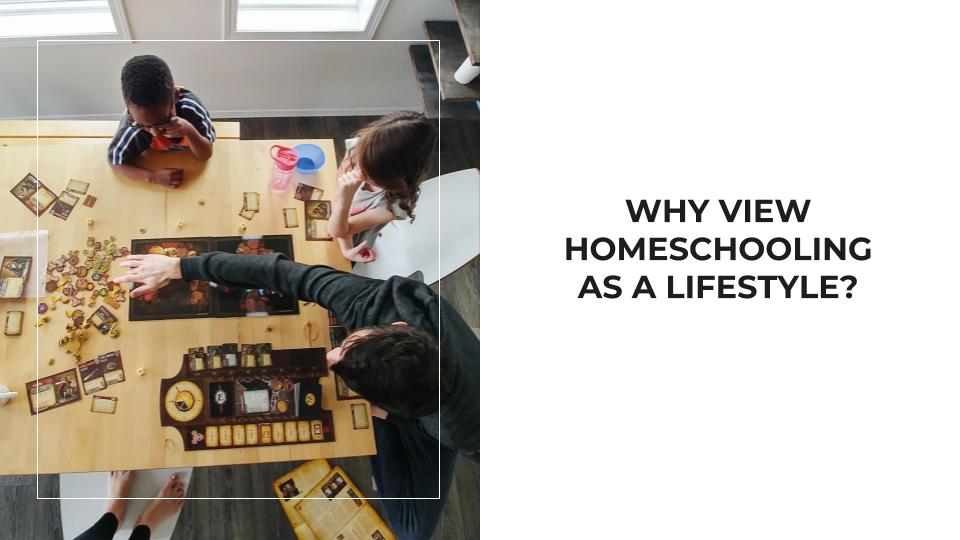 When we started homeschooling it looked a lot more like school at home than it does these days.
Raeca had only gone to school for kindergarten, a full day every other day, but she already had this idea of needing to sit down and "do school" each day, preferably in a desk.
Even though I went to school from kindergarten through grade twelve, one year of college and a few years of university I had dreams of curling up on the couch and reading good books.
But the ideas of having to "do school" were still in my mind as well.
So we tried to follow what our ideas of school were like for awhile and very slowly they kept evolving until I woke up one day and realized how far we had come from our ideas of what school needed to look like and how good that change was for our family. That change took us from doing school at home to homeschooling as a lifestyle.
Why I love Homeschooling as a Lifestyle:
it's how I personally learn
it fits my personality (rebel all the way)
it has proven to be a good choice for our family, there is less whining and learning has become more enjoyable because it's something we want to do
it suits a minimalist lifestyle – I am trying to reduce the amount if stuff we have in our home and I feel like homeschooling as a lifestyle meshes well with minimalism
Why are you interested in the idea of Homeschooling as a Lifestyle? Take a few minutes to jot a few ideas down, these are great to look back at on days when you are questioning what you are doing, those days are bound to happen no matter what method you use to homeschool.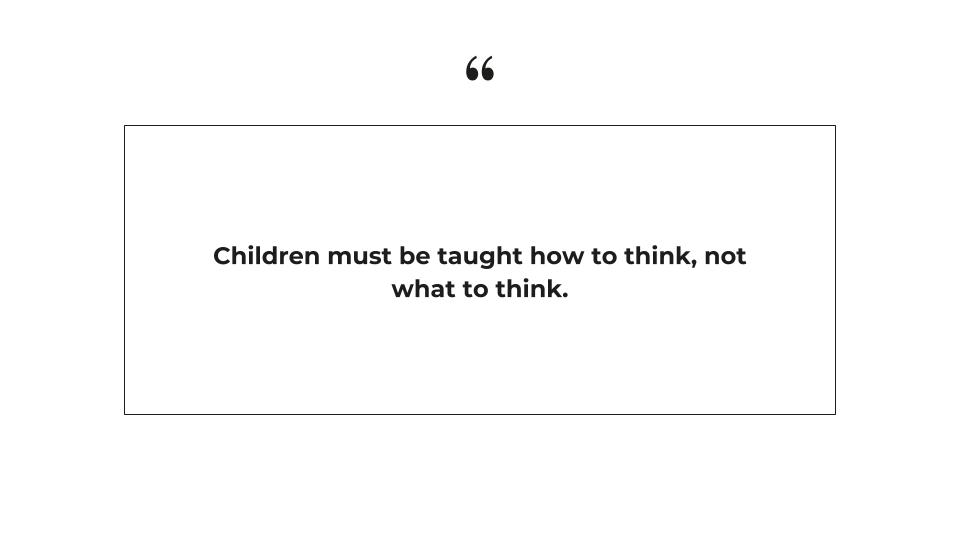 The above quote should be one of our main education goals as homeschooling parents!
---
Who Can Educate Their Children This Way?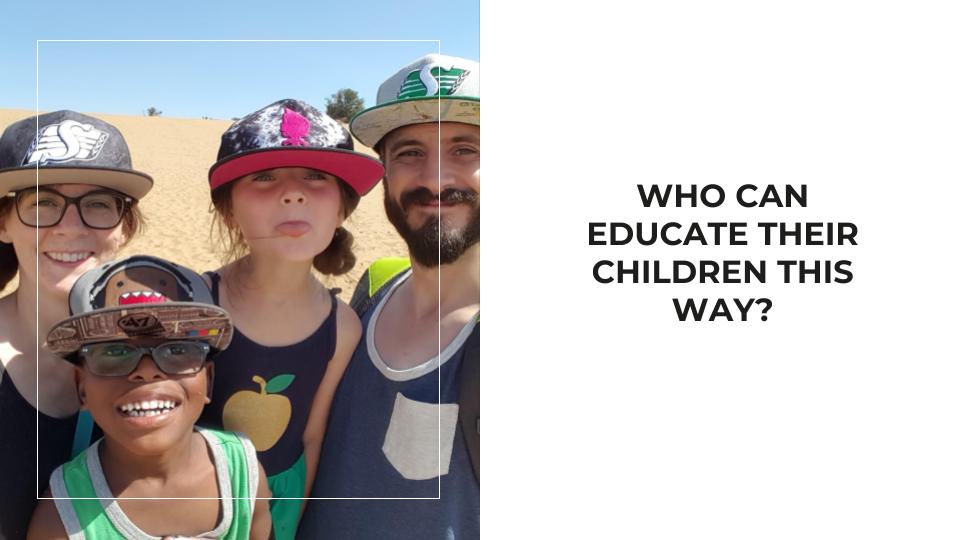 Seriously, anybody who sees themselves as a lifelong learner can homeschool this way!
Certain personality traits do make it a little easier:
the love for adventure
flexibility
having interests of your own
those who are okay with going against mainstream
the ability to capitalize on teachable moments
knowing how to find resources on topics of interest
I think the fact that you are taking this workshop right now proves that homeschooling as a lifestyle is a good thing for your family because it shows:
that it strikes a cord with you
you are not interested in following the mainstream idea of homeschooling
you are able to seek out resources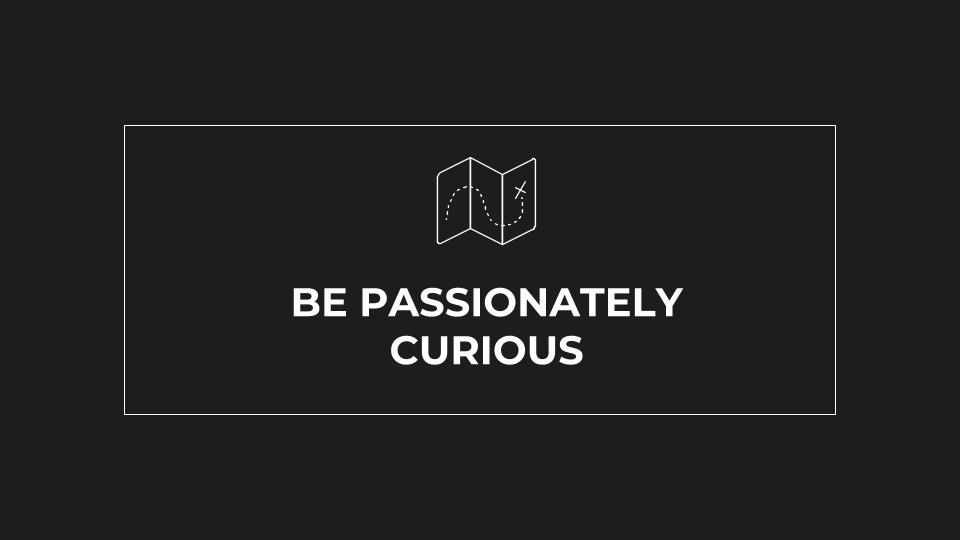 ---
Our Favorite Resources and Tools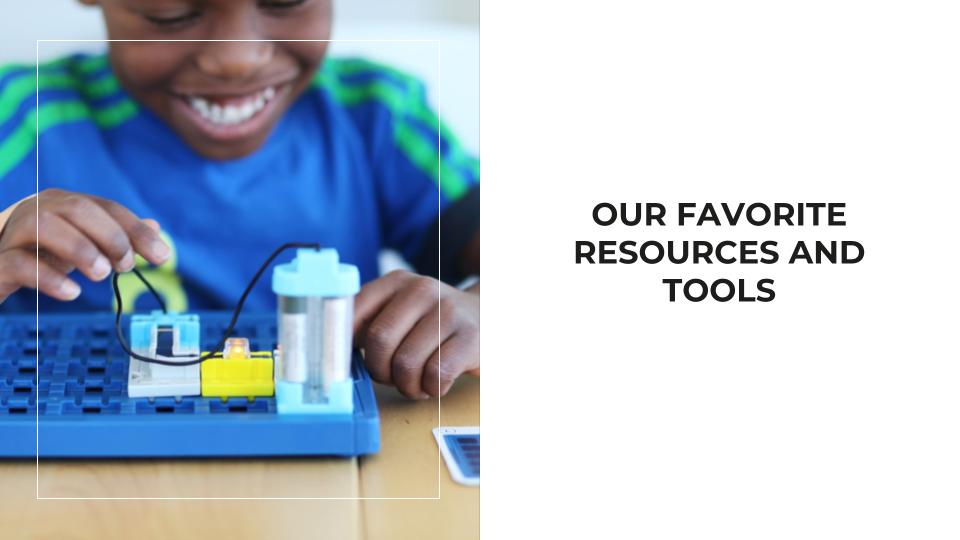 While we try to keep our homeschool supplies to a minimum there are still a number of things we enjoy and that enrich our learning experiences.
PHYSICAL RESOURCES & TOOLS
The Library
The library isn't just for books! Many also have audiobooks, games, create kits and more! Check out how we saved over $23,000 in one year thanks to the library.
Book Lists
We love learning from books, if you need book suggestions I have worked hard to create good book lists.
Games
We love playing games and our winters include a lot of game schooling. You can check out a full list of our current games here.
Art Supplies
Lego
Cameras
Memberships
Travel
WEBSITES & APPS
GeoGuessr is a fun online game that uses Google Maps to place you anywhere in the world and you need to "walk" around and try to figure out where you are. This is great for learning about landmarks, topography, languages, different cultures and more!
This is a free website that has volunteer recorded audiobooks from books in the public domain. One of our favorite readers is Kara Shallenberg.
These are both websites and apps that are great for the preschool and kindergarten ages that teach phonics, numbers, nursery rhymes and more. I always buy a subscription to one of them when my kids are between 3-5.
Teach Your Monster to Read is a good site (and app) for teaching phonics and reinforcing reading and spelling.
We've done a little bit of typing skill work in the past and will definitely be doing more in the future. If you are looking for a free and fun way to teach your kids to type the games on this site are pretty fun.
We are a fairly techy family and both my kids are using Code.org to learn basic coding.
Khan Academy is pretty much an entire curriculum online! While we don't use it for everything we do head over there every now and then. As someone who isn't the best at math, and even worse at explaining it I like to use their tutorial videos to help explain different math concepts.
While we don't follow the Charlotte Mason method, I do like to go to the Ambleside website at least once a year and get some good book recommendations and see what other resources they recommend.
National Geographic has such a good, long standing reputation and so it's not surprising that their site for kids is really great! You can also check out their regular site as well.
This is a great resource for learning about classical composers. They have biographies, music pieces to play as well as monthly activity sheets!
The makers of the famous TED talks have taken it a step further and created some great videos for kids!
YOUTUBE CHANNELS
There are amazing resources on YouTube, here are our favorite channels:
Fun and easy art projects for kids. My kids have started with these videos when they were about four.
A fun info show on all sorts of topics, our favorites are the invention videos.
Another info show with videos on topics from specific animals to science topics to history.
Another info show! This one is designed for adults so I tend to preview the content ahead of time but we've learned about some great topics from here.
A history show! Also geared more towards adults but my kids still love them. Some of the videos, like history, are a little morbid, but my kids (and I) find them fascinating. Some of our favorites have been their videos about the Bubonic Plague and witch trials.
He's got a variety of science videos, all in subjects that are normally way above my non-science brain but that's what makes his videos so great, oh, that and his creativity (playing card machine gun?!).
This channel is just that: random, but so informative!
A deeper look into games, history and science fiction!
Crash Course offers different "courses" on different topics. You can check out their playlists for a list of current and past courses.
From the makers of Crash Course comes a channel for kids all about grade school science!
One of my favorite channels and yet there is so much I don't understand. If anything this channel teaches me how much I don't know. Somehow he takes rather boring subjects and makes them interesting.
It can be pretty hard to find resources on Canadian history but Historica Canada has been going for years, I remember their commercials being on TV from when I was a kid. I'll forever know that the smell of burnt toast may be a sign of a seizure.
We use the Bible Project Bible reading plan each year and their videos, especially their book intros are incredibly informative and the kids really enjoy watching them too.
Another kids art channel, he uses shapes and letters to draw different characters.
Seeing things in slow motion is really cool. Oh, and how about slow motion kittens? (Be warned, we got a kitten just a few months after watching this video, thanks Slow Mo Guys.)
Bright Side has a diverse variety of videos, we've watched a number of them, their tests on topics such as personality and mental age are some of my favorites. This video about introverts and extroverts was fun to watch with the kids since I have one of each.
Over at Night Hawk In Light you will see all kinds of intense science experiments that you wouldn't want to try at home but are awesome to watch someone else do!
These guys like to turn things into planes. Think: Ikea chair, Little Tikes car and Lego, they've flown it all!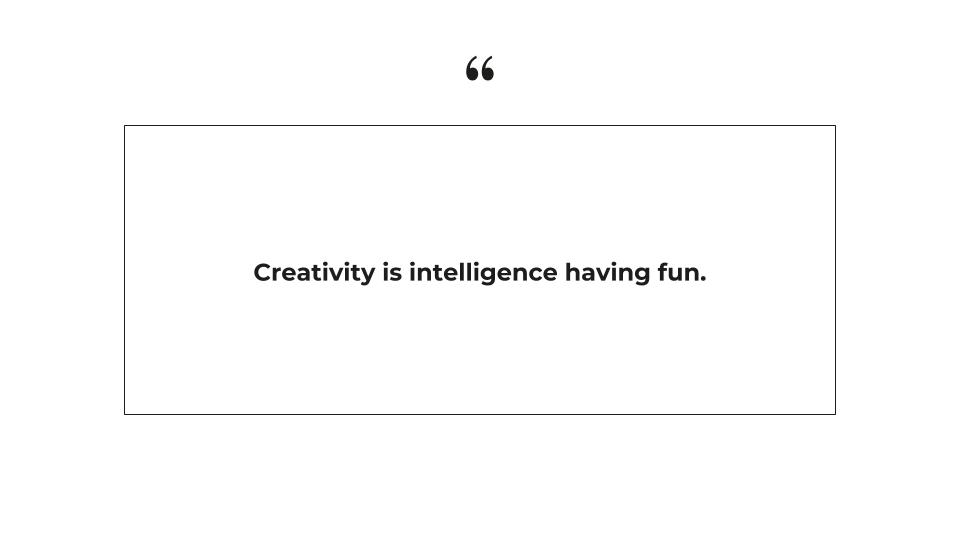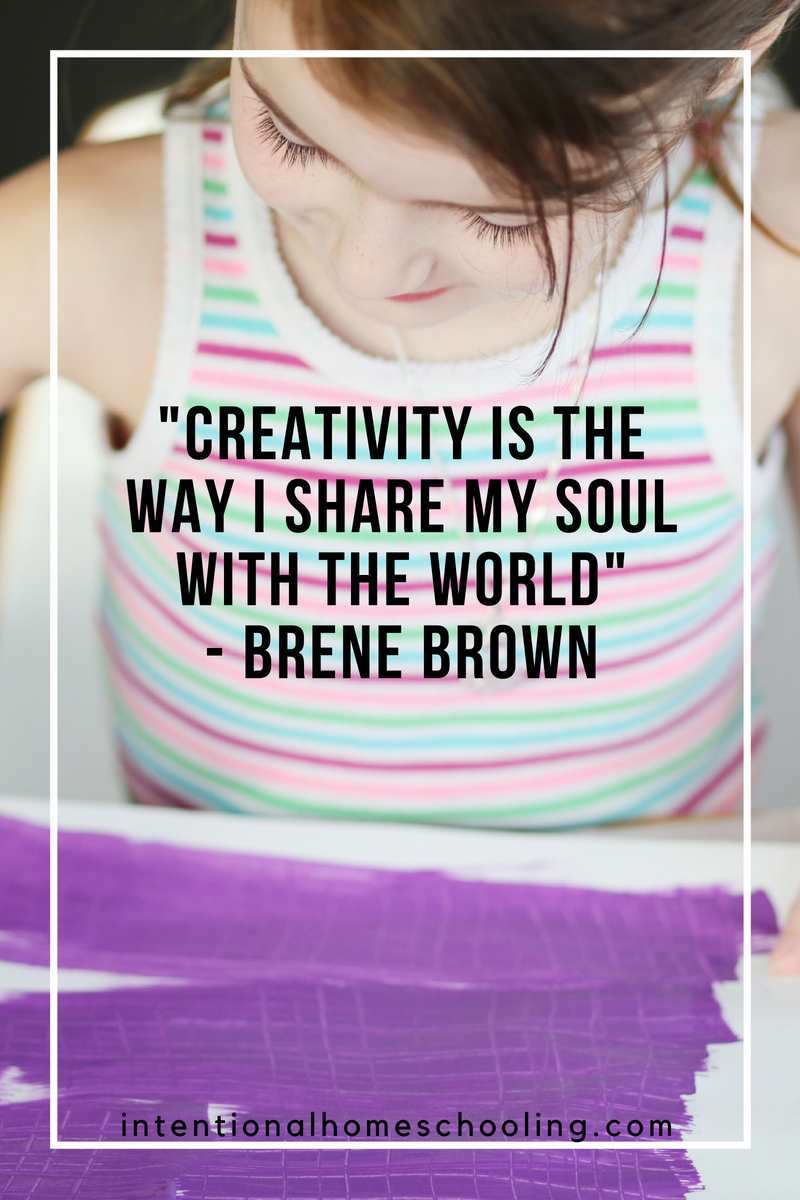 While it is not a resource or tool you can purchase, creativity and imagination are possibly the best resources you can have! I do think that children can be taught to develop an imagination and creativity and they really are priceless.
I think that part of the process of developing an imagination is allowing our children to be bored and not own every toy, with less they become more creative.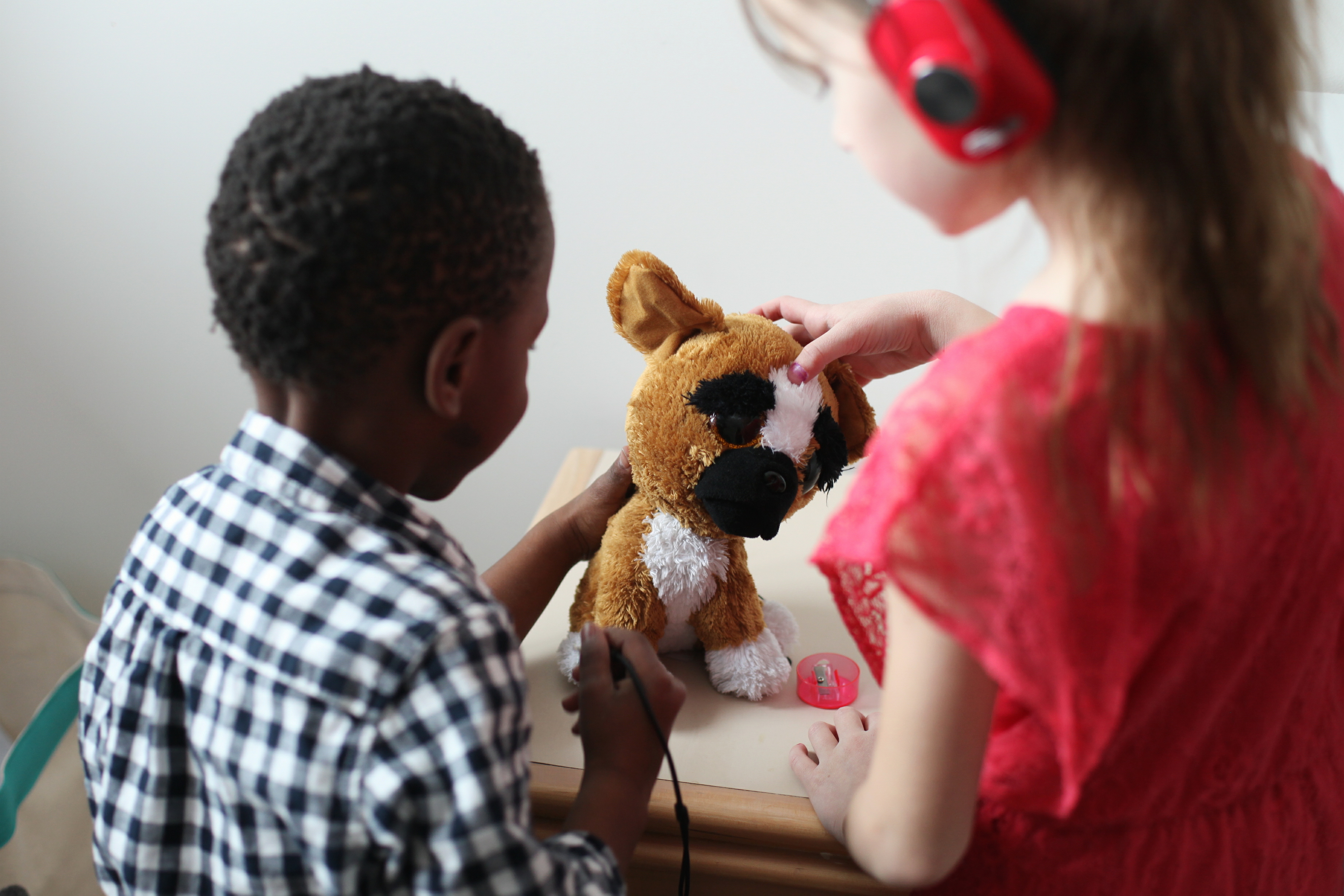 ---
Why We Still Have Workbooks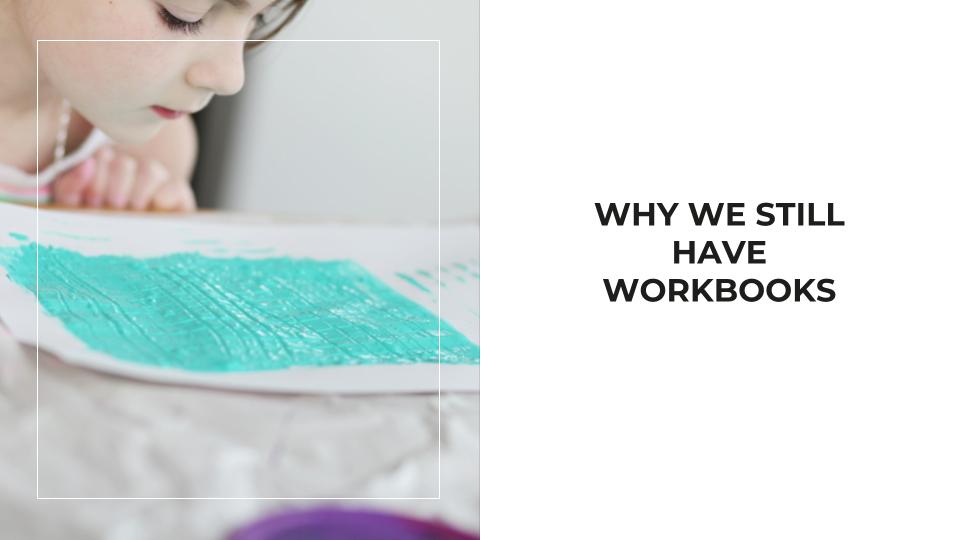 It's true, we still own workbooks and get them out periodically!
I like to buy one workbook for each kid at the beginning of the summer or school year and try to get a "complete curriculum" book for their current grade.
We do fill out some pages as they are but often just use the workbooks for topic inspiration, or there for the odd time the kids feel like doing a few pages out of the workbook.
The key here is: we make the workbook work for us.
We don't follow the workbooks completely but on days when we want to work on some math facts I find it handy to have the workbook there ready for us. I don't have to waste time going on the internet finding relevant pages to print, plus if we are going to print a bunch of pages anyway purchasing the workbook ends up being cheaper.
As for inspiration, I usually try to find the curriculum book that includes science, math, English and social studies. I personally have subjects that I am weaker at (science and math) but that my kids enjoy, so I can flip through the science section and see that one of the suggested topics to cover is solids, liquids and gases and we may or may not fill out the workbook pages but it is easy for me to then go and create some experiments where we can see the concepts in action or search on Pinterest for a corresponding experiment.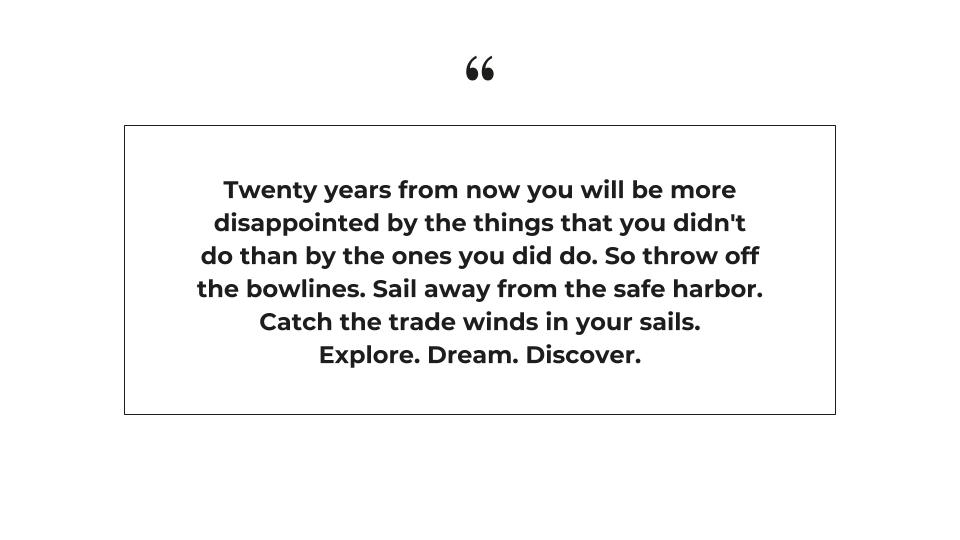 ---
How We Structure Our Homeschool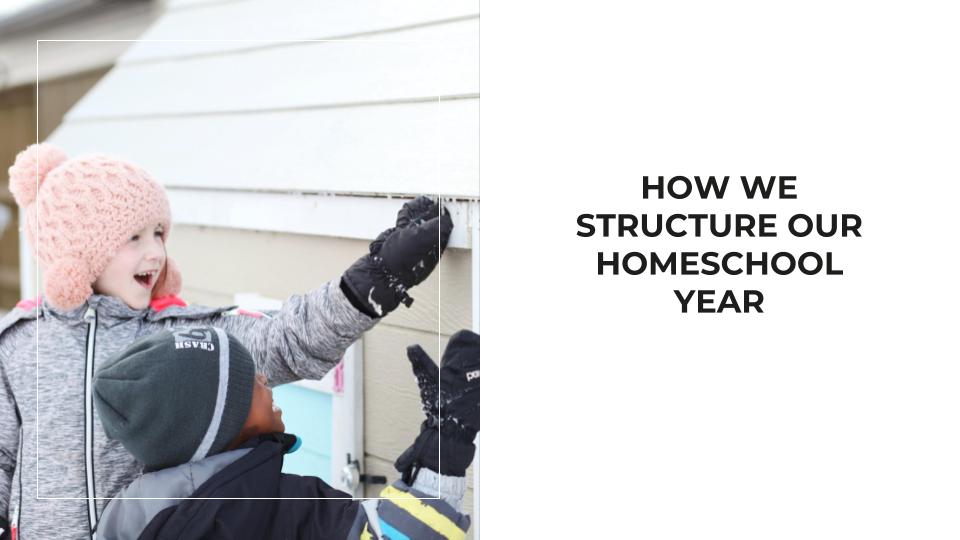 If you are someone who enjoys goals and plans and feels like that contradicts your nature to want to ditch the curriculum, no worries, I am exactly the same way. In this section I will share a little about how I plan for the homeschool year and how I "schedule".
At the beginning of each school year I set a few broad homeschool goals for each child. I've kept a list of the goals each year, you can download our goals for pre-k to grade 3 here.
I also ask each of my children to tell me a couple of things they are currently interested in or would like to learn more about.
The last time I took time to think about my children's current interests and asked them what they liked to do and would like to learn more about here were the lists they came up with:
Raeca (seven):
Anne of Green Gables
Minecraft
making videos
Lego
reading
listening to books
making crafts
creating games
Hawaii
Ephraim (four):
Minecraft
Snap Circuits (and all things circuits)
tanks
putting things together with real tools
Usborne lift the flap and see inside books
Lego
Based on those current interests I can figure out some areas to dive deeper in, like picking up some books about tanks from the library for Ephraim and looking for opportunities for him to do some handywork around the house with tools. For Raeca I found her an abridged copy of Anne of Green Gables and we plan on starting to watch the new CBC Anne show soon (it's on Netflix Canada) and she has been creating some games, both on her own and with her dad.
Then, during the school year I "reverse schedule" – which just means that I write down what we actually do instead of writing down what I intend for us to do. You can see a sample of a week of "reverse scheduling" in the upcoming "Tracking Your Learning" lesson.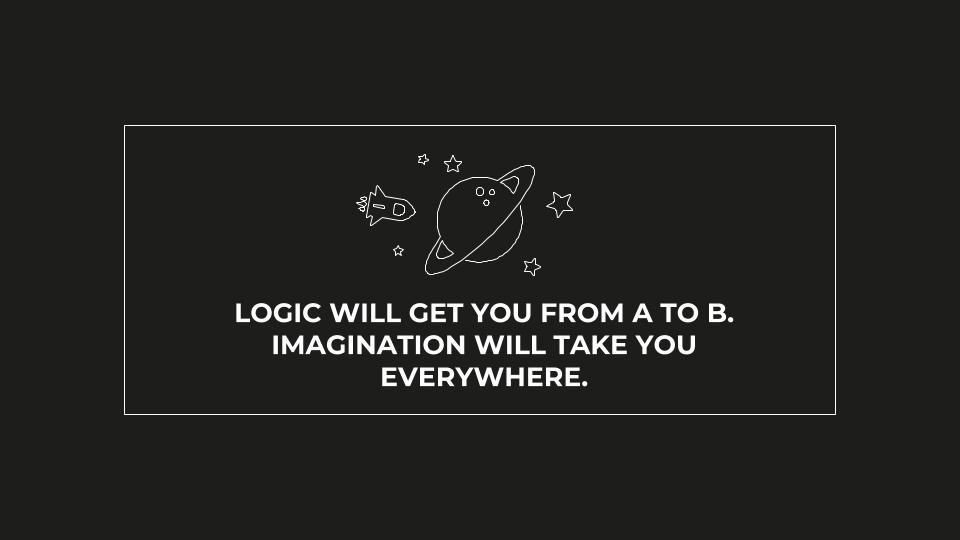 ---
What it Looks Like in Our Home
I thought I would give you a brief look into what Homeschooling as a Lifestyle looks like in our home and some ideas of how I want it to look in the future.
On a typical day you may find us at home reading good books, playing Minecraft, cooking, playing games, and just following our interests (currently: creating board games for Raeca and electric circuits for Ephraim).
No two days look the same and I love that. Currently our only routine we have that we are pretty stuck on is listening to an audiobook at lunch.
In summer we make sure to spend as much time outside as possible, sometimes that means just hanging out in our backyard and sometimes that means intentionally seeking out adventure.
As for the future and our priorities . . . I have dreams of taking an extended trip to Europe with my family and learning as much about history and geography as we can during that time. I can picture us exploring castles and historical landmarks and just walking down beautiful old streets. I was an au pair in England after high school and I have visions of taking my family to explore England and Scotland like I did.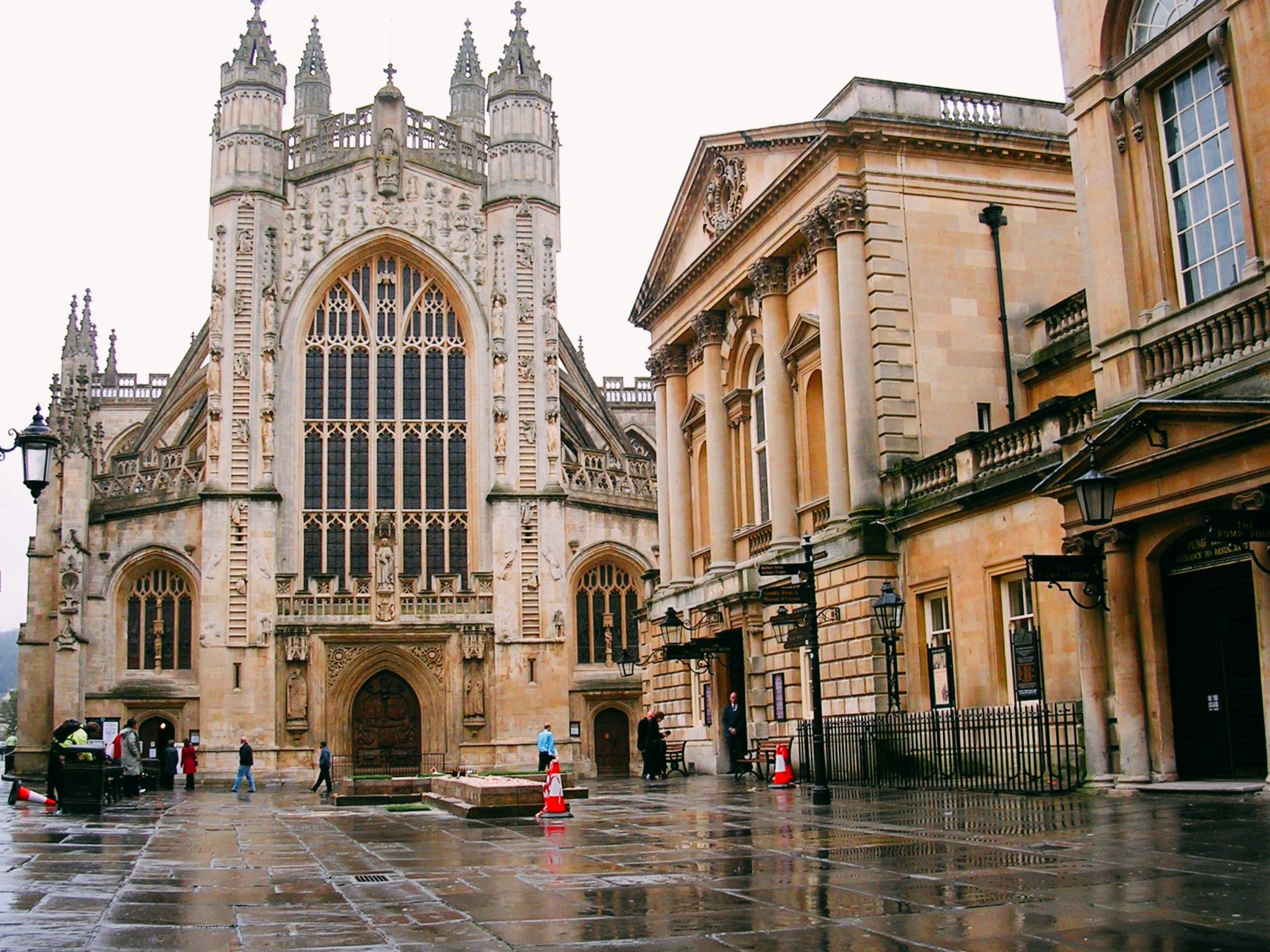 Bath, England
Not that one needs to go far to go on adventures, some of my favorite adventures have been close to home, but I have found that for me, a good day involves an adventure, which means kicking my introverted self, and the rest of my family, out of doors.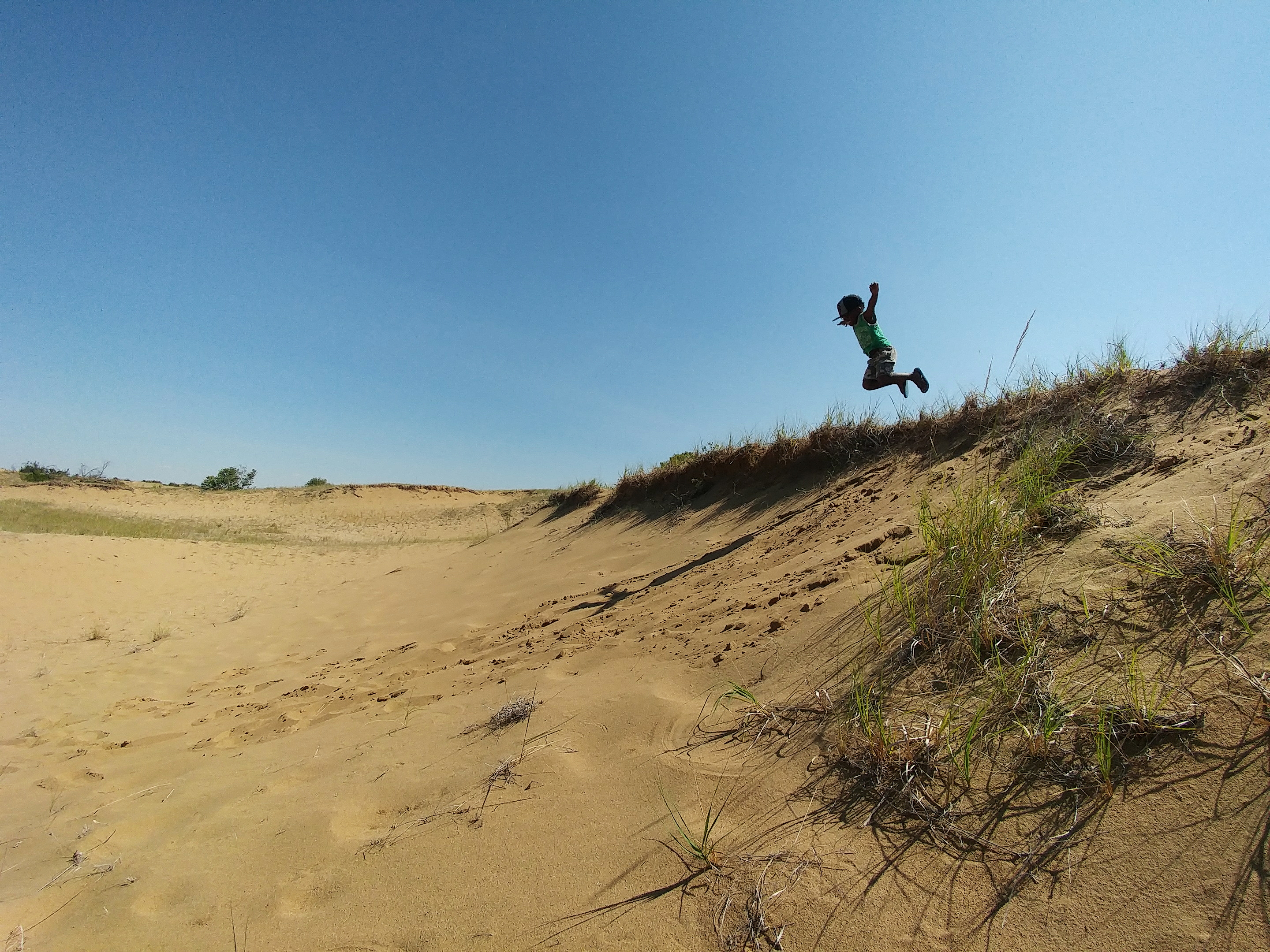 Jumping around in sand dunes a few hours from our house.
So, obviously adventure is one of our priorities. Another big one is literature. We always have an audiobook on the go and own a number of books so there is always reading material available.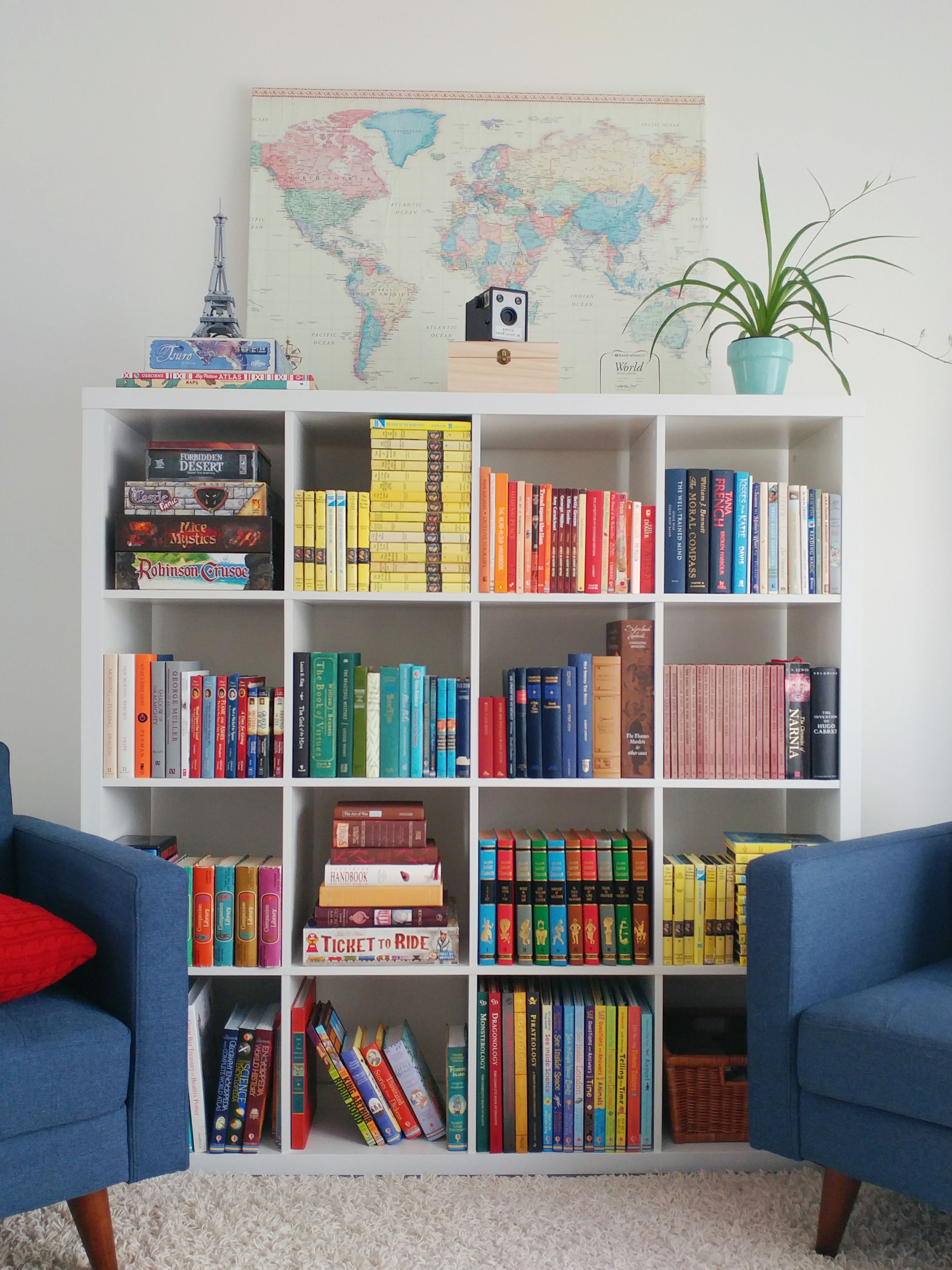 Because of the fact that we don't follow a routine it's hard to describe what homeschooling as a lifestyle looks like in our home, no two days are the same and no two weeks are the same.
I thought about including a sample week in the life but I didn't feel like that really encompassed our lifestyle, I think it would need to be a year in the life!
So, what I thought I would do instead is share a few examples of my children following interests and some teachable moments that have come up in the last while.
---
WHAT HOMESCHOOL AS A LIFESTYLE
LOOKS LIKE IN OUR HOME
When the kids were little we started the teachable moments by pointing to letters on signs to help them recognize the letters of the alphabet. That eventually evolved to telling them the sounds the letters made and then to sounding out the entire sign. Teaching reading while out in the world!
Awhile ago my husband made a cardboard castle with the kids and went on to make a trebuchet out of cardboard and random pieces of metal, it resulted in a whole discussion about trebuchets and catapults. Plus the physics of how they actually work and reading about medieval times and the purpose of moats, drawbridges and more!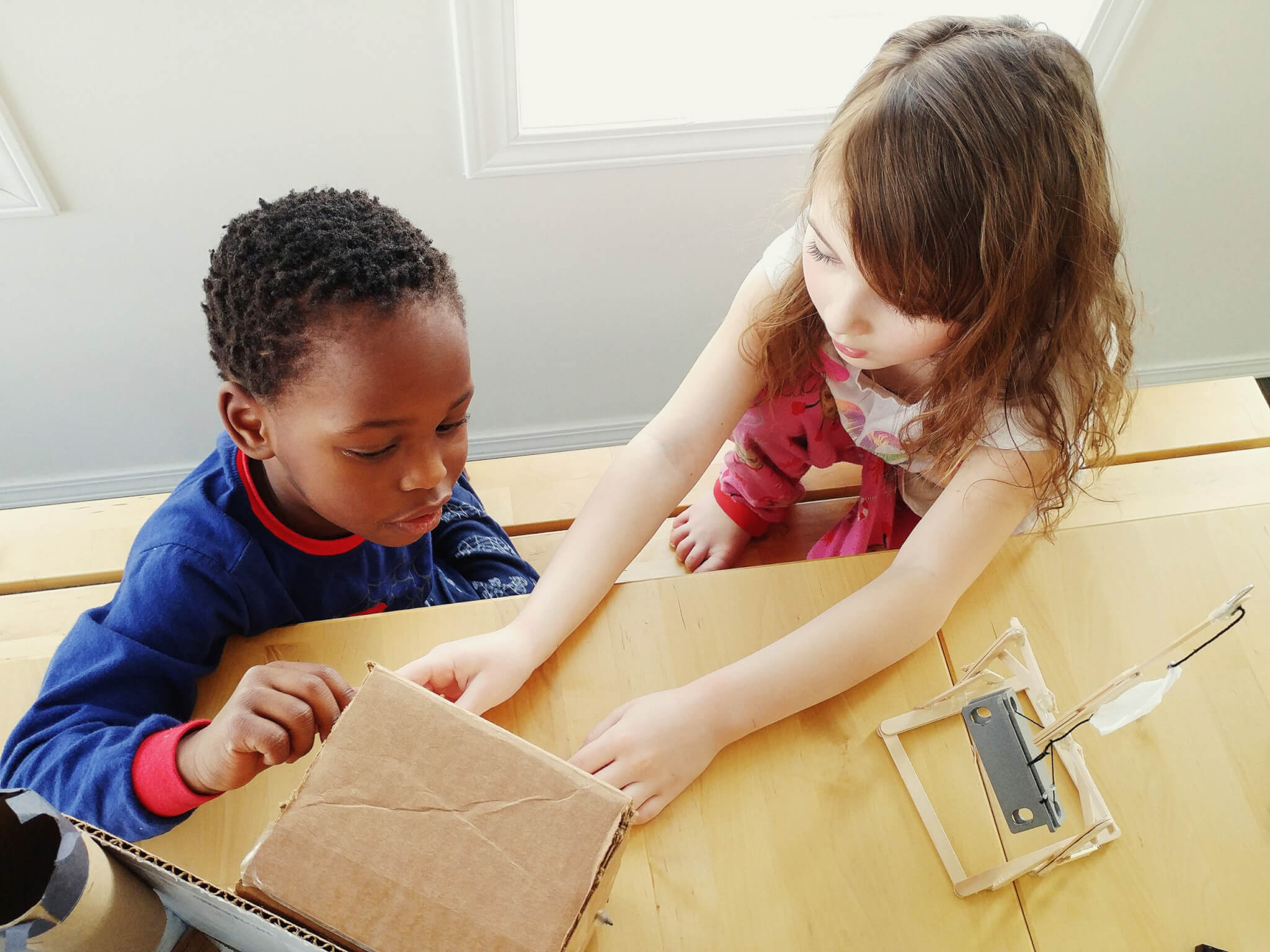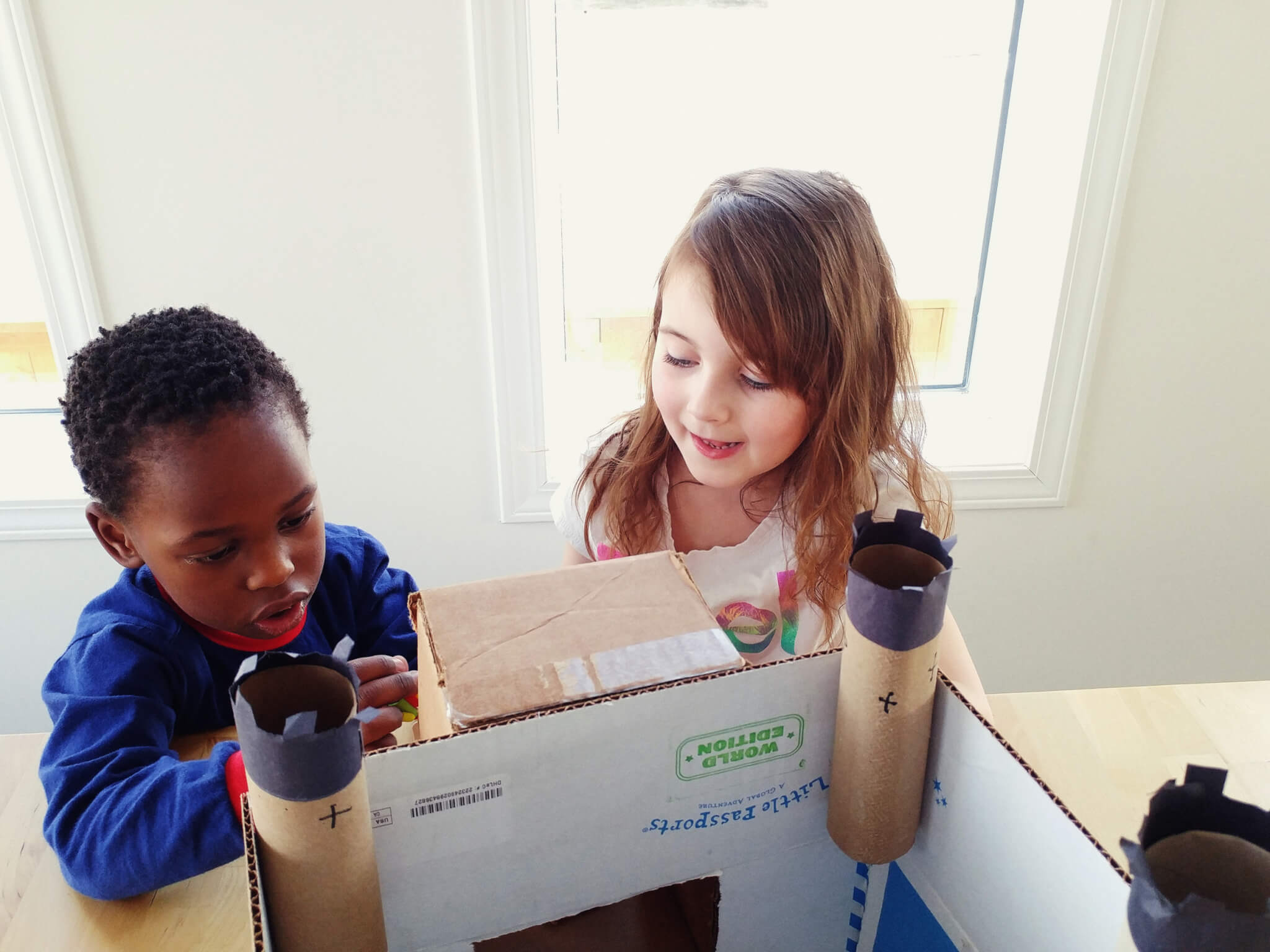 Raeca likes to make up her own games. She recently made one up after reading a book about Anne Frank. The point of the game was to try to stay alive without letting the Nazi catch you. After play testing a few times other elements were added in, like needing food, getting wounded, the Nazi being able to steal food and being invisible in the secret annex.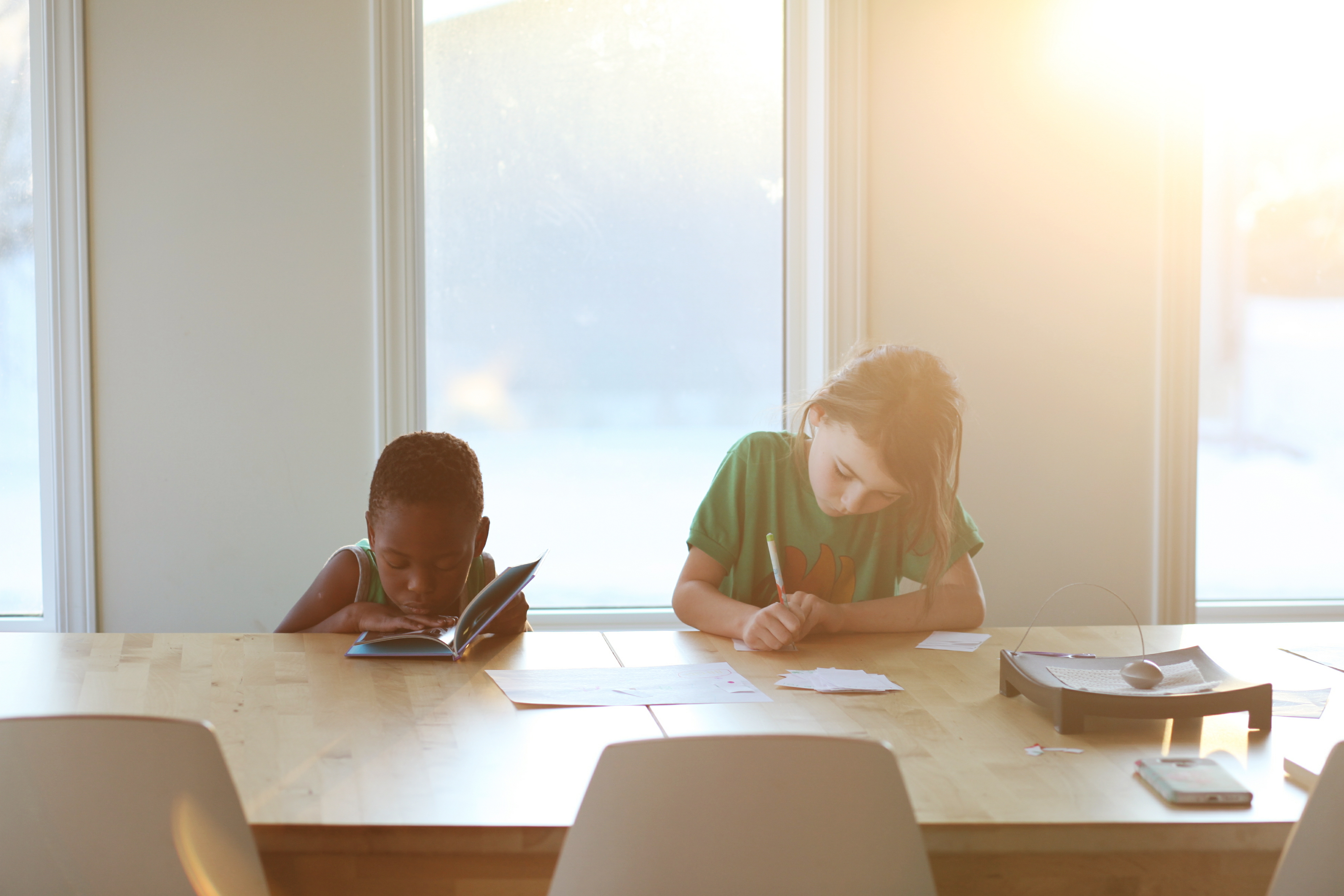 Because Ephraim can't quite read yet he will often ask questions as he is flipping through books. Sometimes when he asks questions about what he is looking at I just read what the page says but other times his interest is peaked and it involves pulling out more books on the same subject or watching videos about it.
A simple eye doctor appointment can be a great learning opportunity. This time we learned how to take care of our eyes, what the inside of our eyes look like and how blurry the world can look for those who need glasses but don't have them.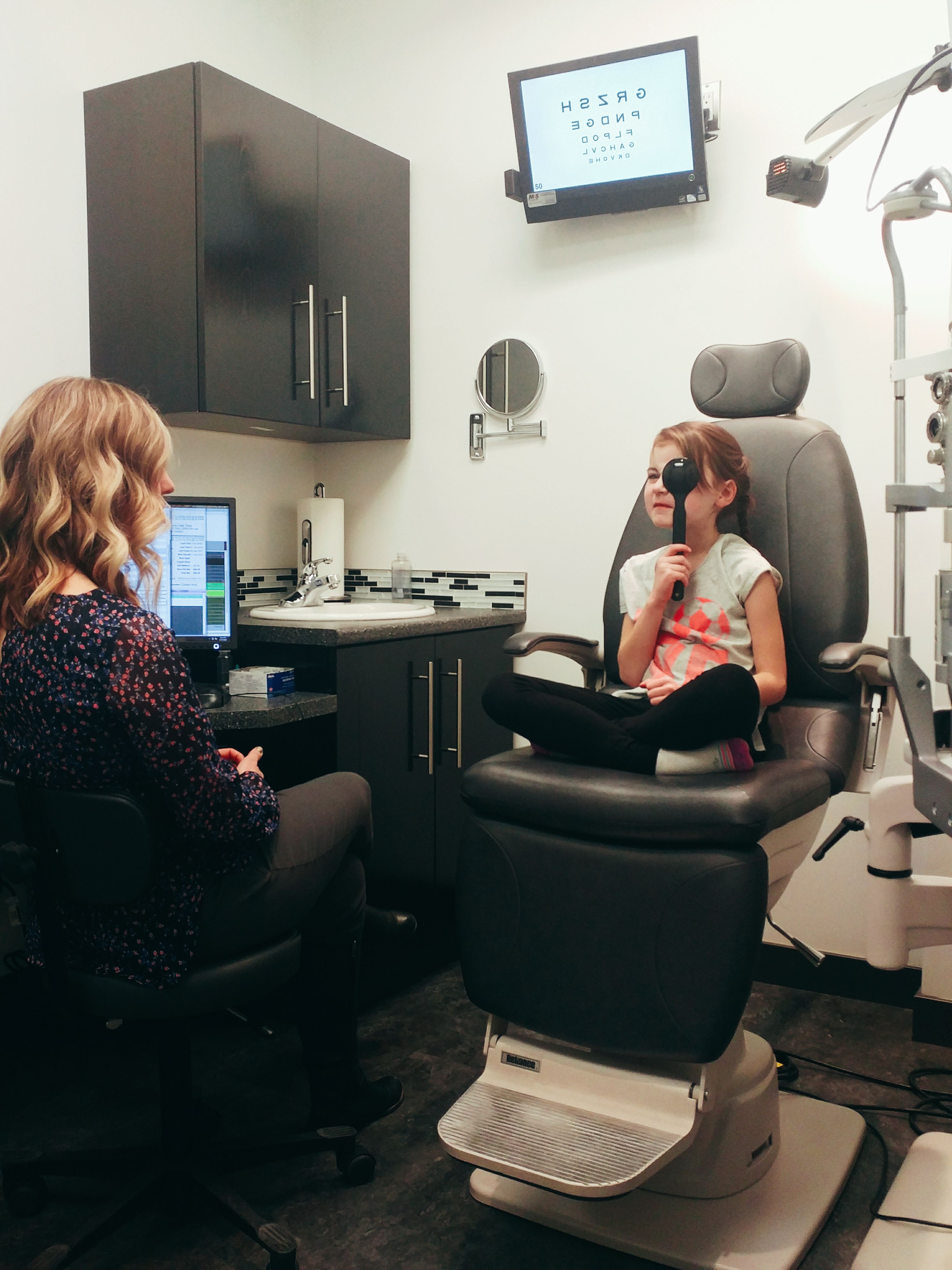 The kids, like most kids their age, really like Minecraft. It's amazing how much they have learned from the game, everything from what mutton is (sheep meat), to what you use to make glass (sand). There have also been amazing benefits for my anxiety ridden child who would have small panic attacks when they first started playing in survival mode, and now that same child is the first to suggest they play in survival.
Just going into our backyard is always a great learning opportunity. From looking at icicles in winter to watching ladybugs in summer there is always something to discover and learn about!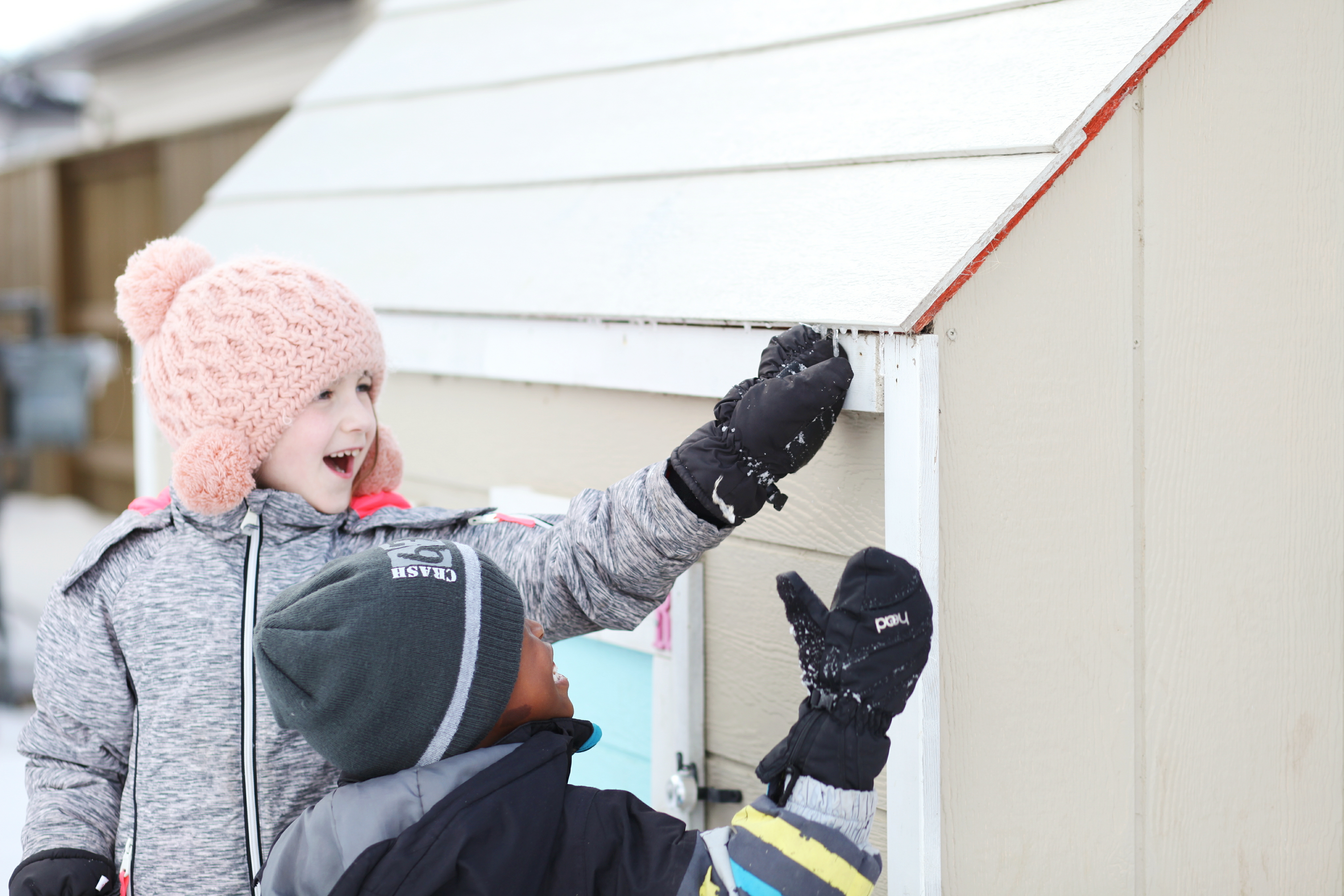 Last year I needed to have a liver biopsy and then a follow up scope (an ERCP: Endoscopic Retrograde Cholangio-Pancreatography). The kids were curious about it so we looked through some of our human body books and found out where the liver is in our body and the path the scope would take to go to my liver. We then watched some videos on liver biopsies (after I pre-watched them). Even I walked away knowing a lot more about my liver than I had before.
Like I mentioned before, Ephraim is really into all things circuits these days. He loves the game, Circuit Maze, and has recently been obsessed with Snap Circuits. He has learned a lot about electricity and currents this way. The other day after Sunday school he showed me how on the back of his paper he had drawn a battery and made a circuit out of his name. Honestly, I don't really even understand circuits, my four year old has me beat.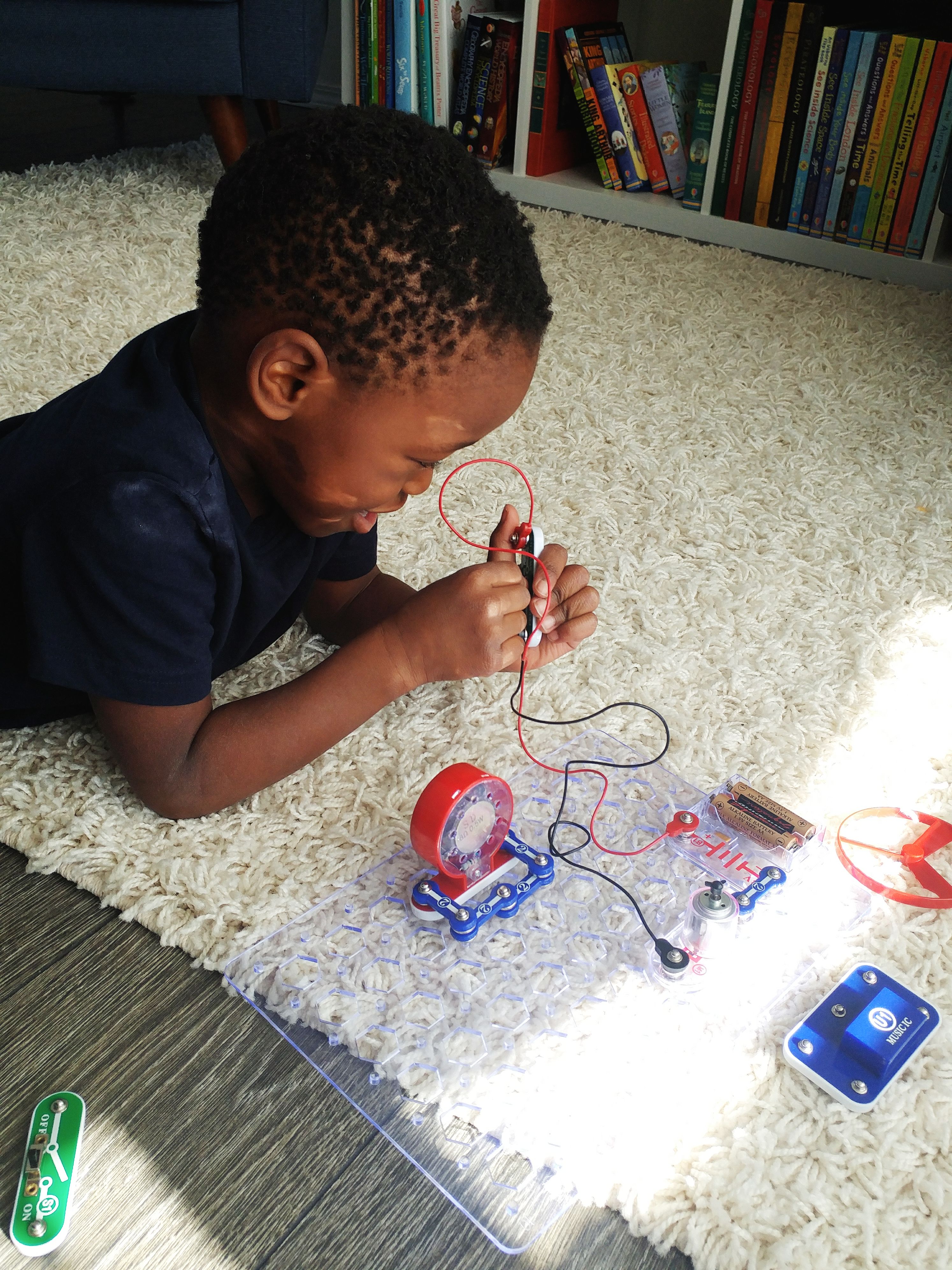 Raeca likes the idea of being an entrepreneur, well, not that she necessarily knows the word but she likes the idea of doing something to make some additional money. She isn't completely set on one way of doing this, though she recently decided to finger knit a scarf to sell. So once the scarf was complete we set up an Etsy account for her and she officially has her own little shop. In the process we talked about how much money she wanted to put it up for, taking into consideration the cost of yarn and how long it took her to make. We also discussed the cost of shipping, the initial expense to list an item on Etsy and the probability of selling anything there. We've also chatted about the idea of doing a local craft show and how much product she would have to have ready for that, it's something she is not yet ready for but she is thinking about.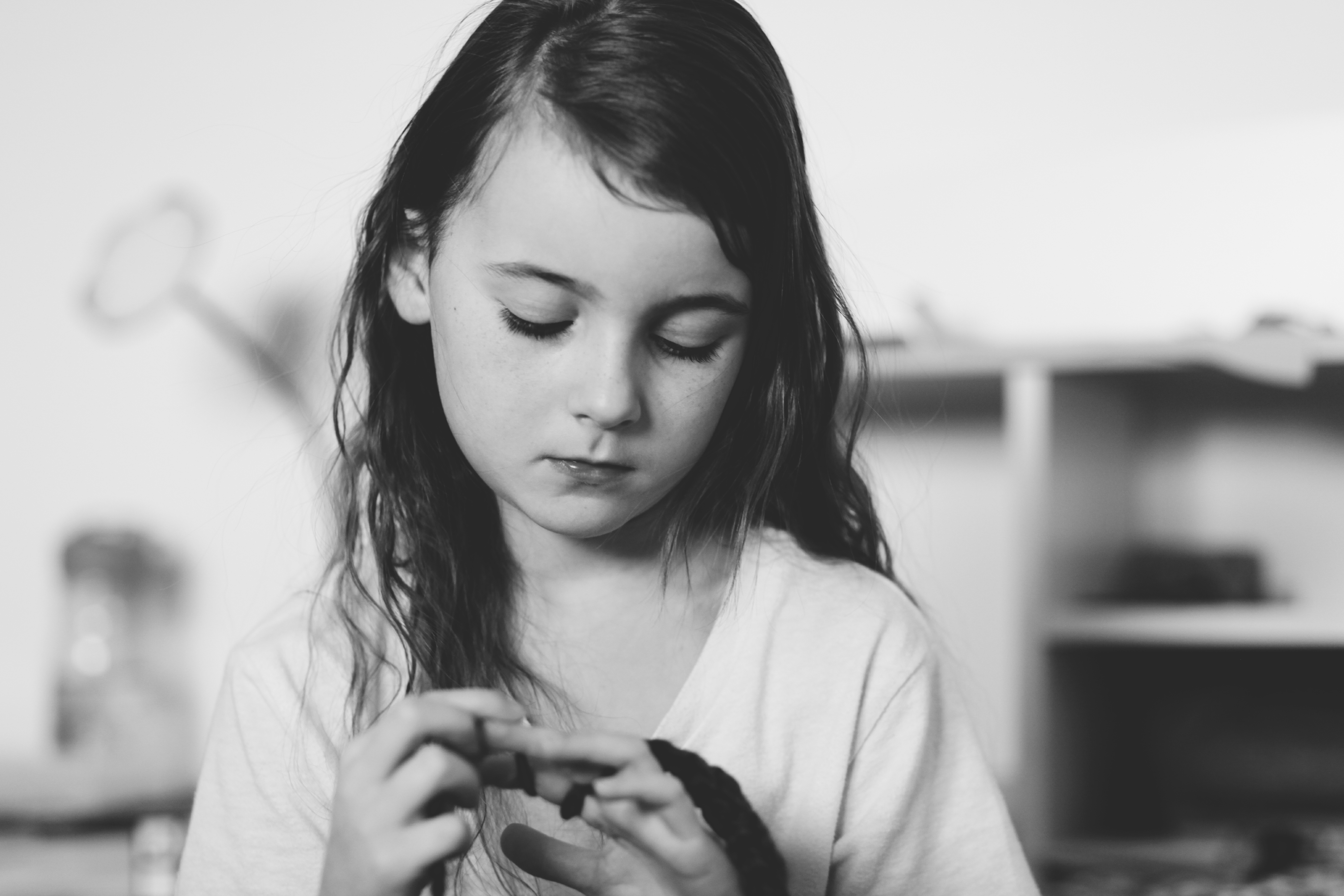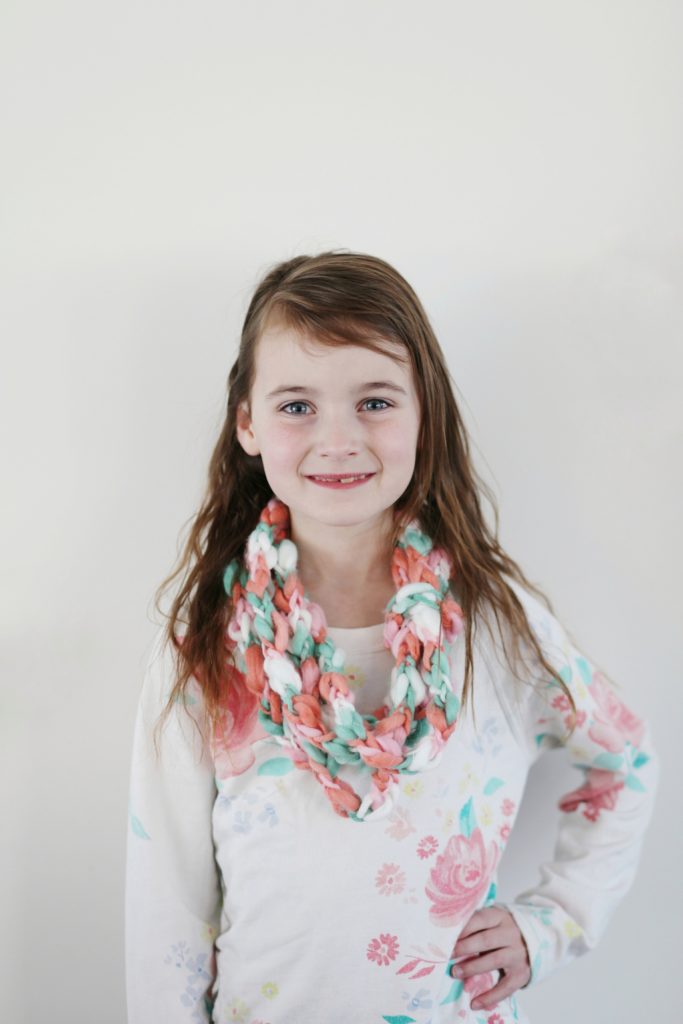 ---
As you can see, it's nothing revolutionary. When we are at home we are just living life, doing what we are interested in. Some weeks it looks more like unschooling than others.
A big part of homeschooling as a lifestyle is making sure children have time to follow their interests, that is one of the reasons we try to keep our days fairly open instead of always having lots of commitments.
The summers are filled with a lot more adventures and outdoor time than our winters, it's just a fact of life when living in a place that is winter for almost half of the year.
When it is winter and we have less adventures I usually spend more time planning adventures for when the weather warms up, or even adventures further in the future, like an extended European adventure.
---
Relaxed Notebooking
A few weeks ago two things happened at the same time that has made a fairly big shift in our homeschool, and it's been a good shift, so I wanted to share it with you.
I was working on Raeca's homeschool portfolio for the year, it's not really a big deal, there isn't a whole lot for me to do but I realized this year that we really didn't have much physical evidence of our homeschool year. This has been a bit of a struggle for me because I really like the idea of notebooking but my daughter balks at being told to write, plus, while we are working on fine motor for my son, notebooking is still a ways off for him.
Then one morning when I was scrolling through Instagram I came across the idea of a "one-pager" apparently this is used in school quite a bit but I never really came across it in my time in the school system (though maybe it just wasn't called that so it didn't stick out to me).
With those two things happening at the same time it hit me: what if we took our own approach and started doing what I've now called relaxing notebooking. The change may be subtle to some but for me this has shift has changed the focus in notebooking from being on the writing and is more about the feel of the page as a whole and it is now something my daughter sees not only as attainable, but actually enjoyable!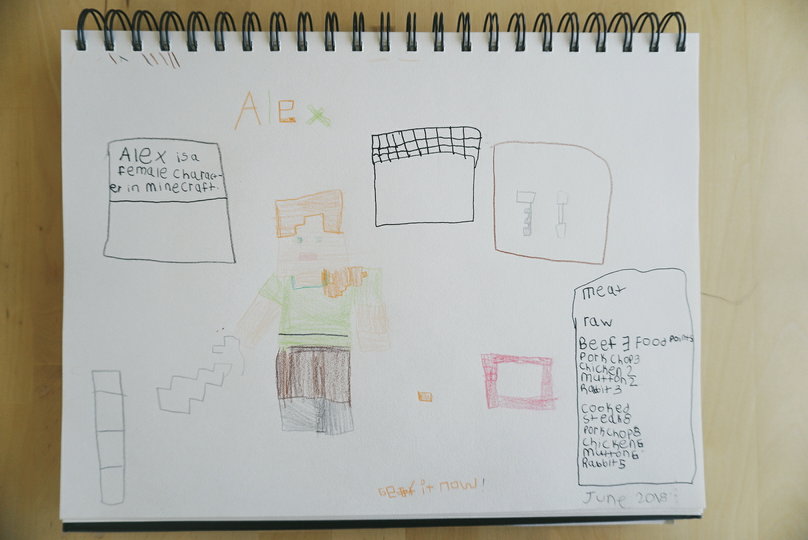 Now, once at the beginning of the week I ask each of my kids what they want to learn about and we spend some time learning about the topic and then work on our relaxed notebooking page. I've actually gotten involved to and am making my own relaxed notebooking pages. As someone who has hated drawing for as long as I can remember this has been a huge deal for me as well!
I just refused to hand art projects in from grade six until grade nine when I took my last art class, which I almost failed because of this refusal to make an effort, which, for the record, was not done out of teenage attitude but was fully because of my insecurity in my artistic ability.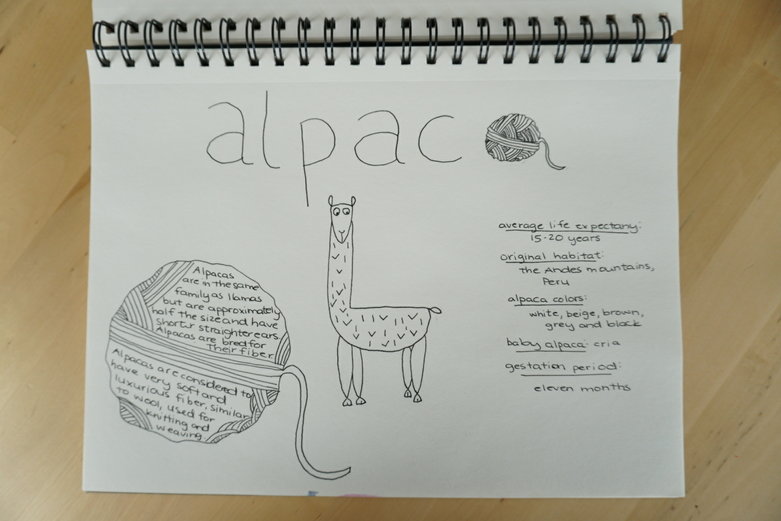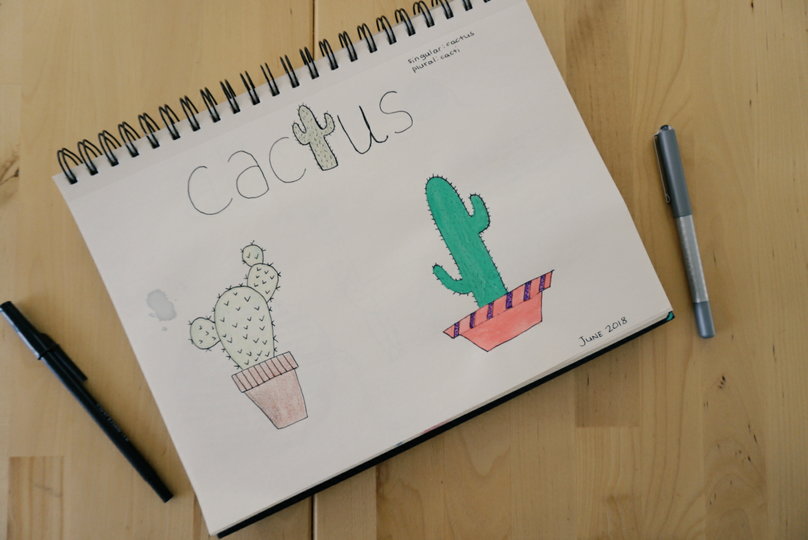 Lately Mondays have been very low key for us as we recoup from the weekend. I am usually working for the morning and then kids just play together and then in the afternoon we'll go for a bike ride to the spray park and then bike home and do some quiet time stuff.
Then on Tuesdays we each pick our topic and start researching. If we have books on the subject we'll refer to them or other resources we have but if not, and actually even if we do have resources on the topic, we'll watch a few kid-friendly videos on YouTube. I have been making playlists on YouTube on topics we've already done or ones I hope to do in the future.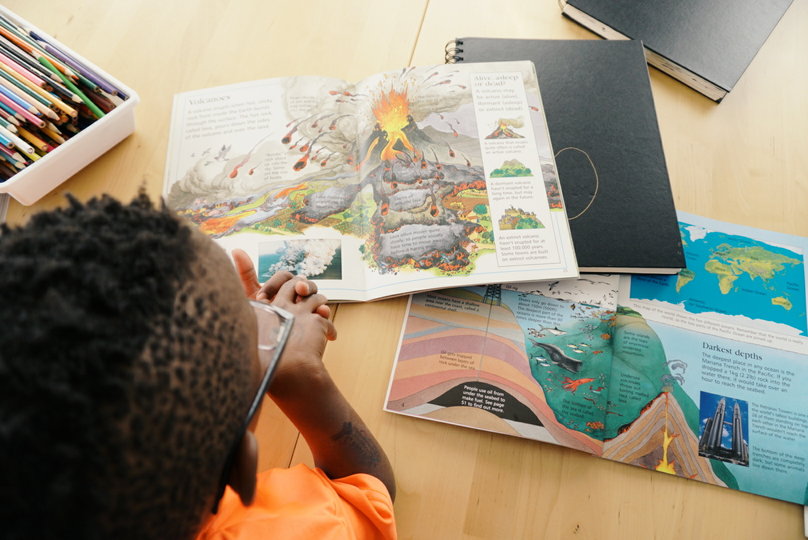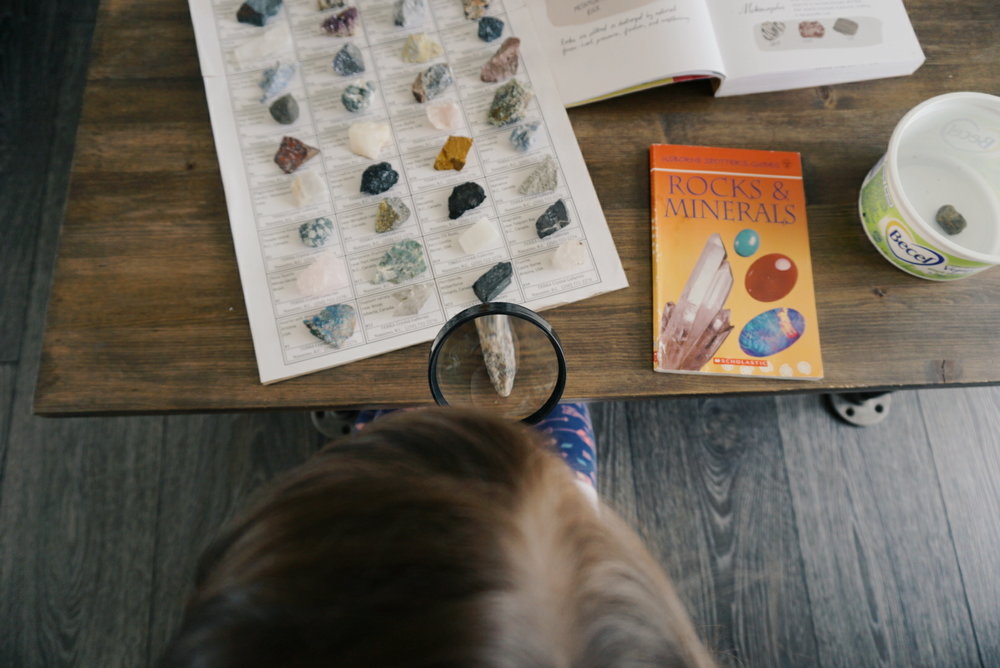 So far I've been letting my kids pick their own topics but I'm sure down the road I'll pick some for them on subjects I want to cover or if I notice they are stuck on some surface-y subject for awhile but at this point they've been doing a good job with diversity in their picks.
After we've done our research we start with our relaxed notebooking page. Generally this means starting with the title, sometimes we use an element of our topic for the title to make things a little more interesting. Then we go on to the picture. We usually get that done the first day and then the rest of the week is writing some facts and adding more drawings and visual interest.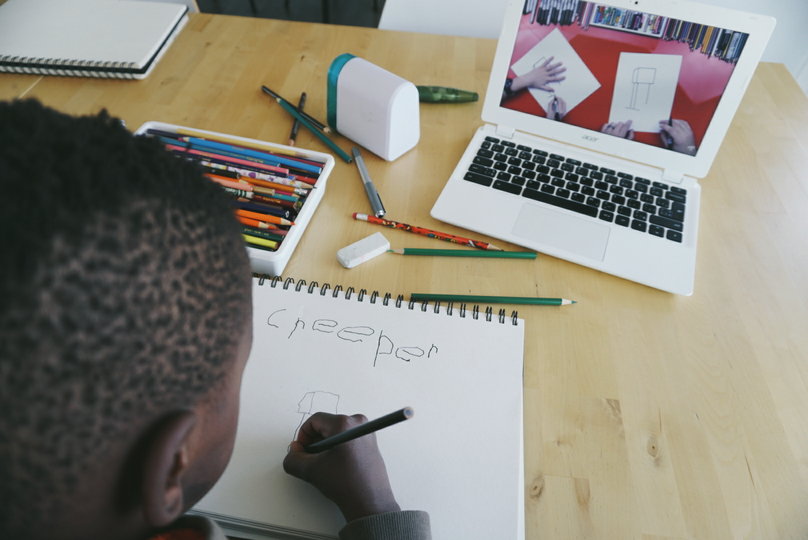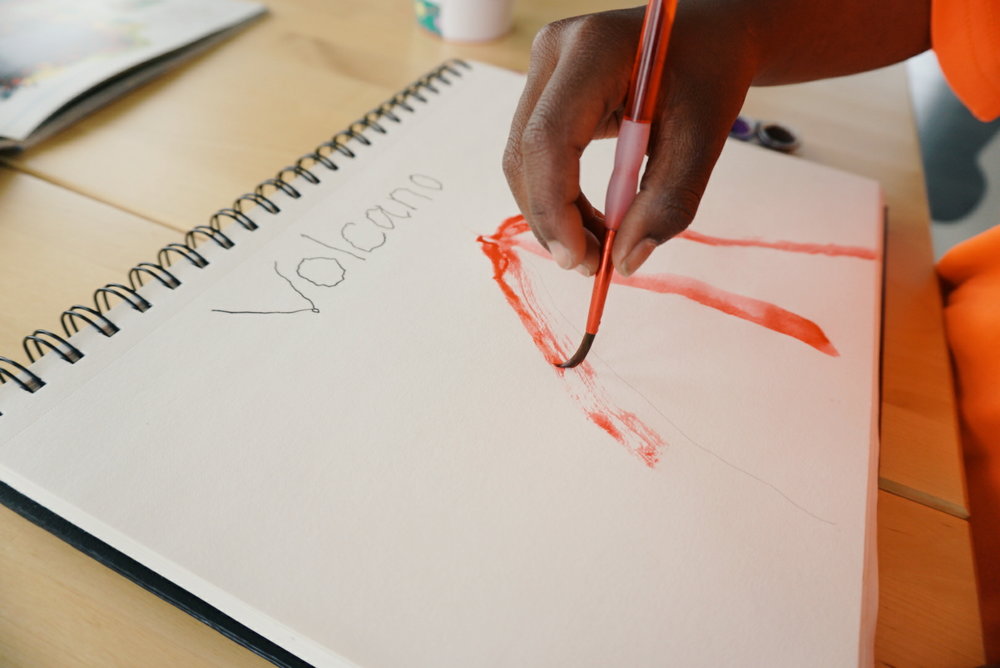 My requirements for our notebooking pages are that it have: a title, a main drawing and some information. Because writing has been such an issue in the past with my daughter I don't require a certain amount of writing. She seems to enjoy it so much more when expectations aren't put on her and that's more important to me at this point.
This has been working really well with our relaxed homeschool style while still giving a little bit of direction and intentionality into our weeks, plus some tactile proof of our studies for our portfolio next year. 🙂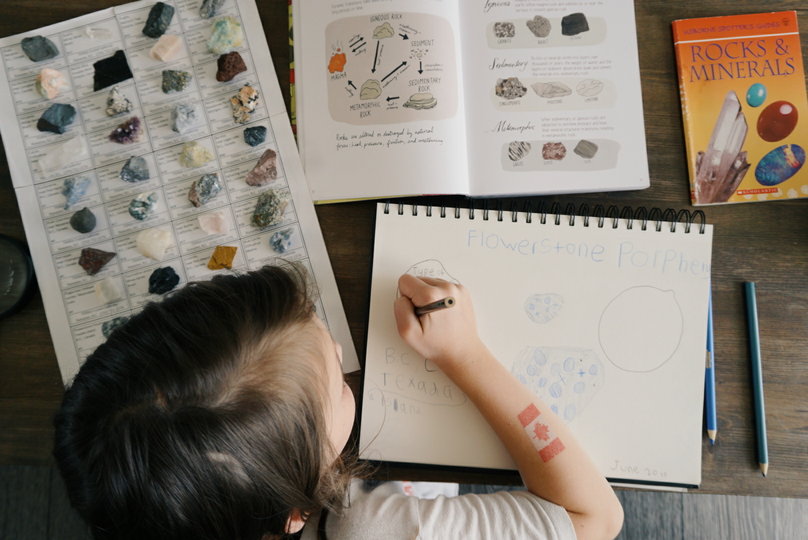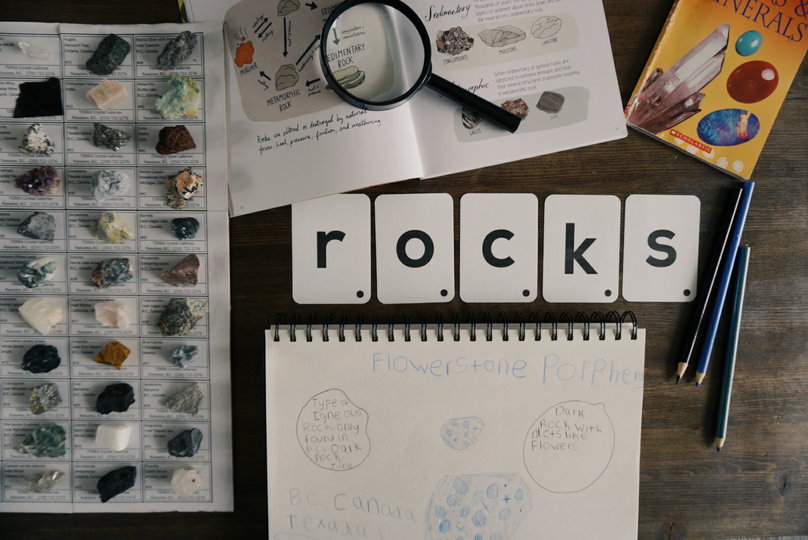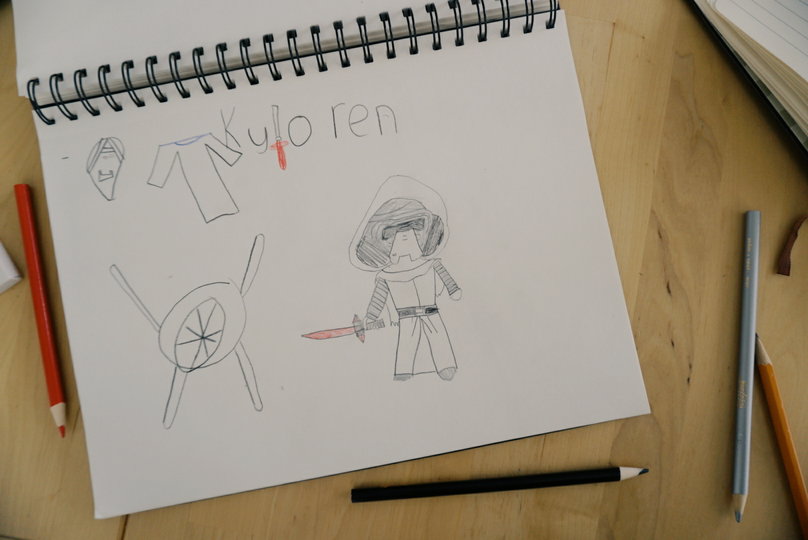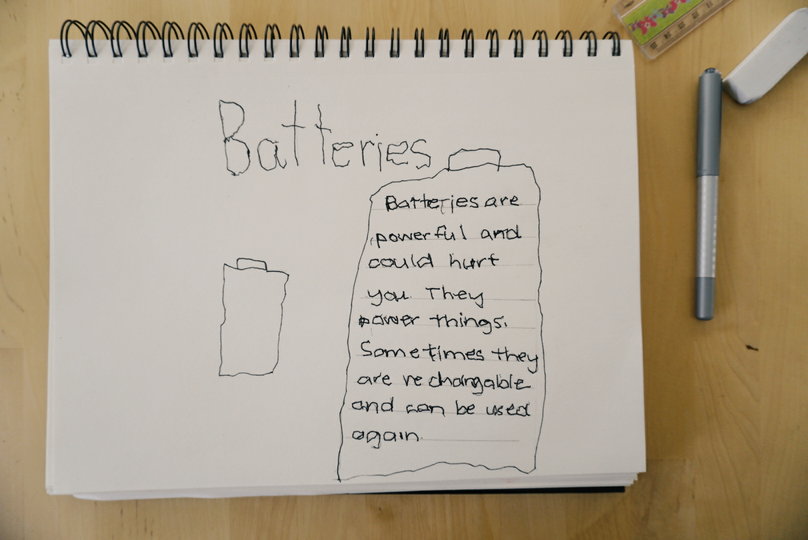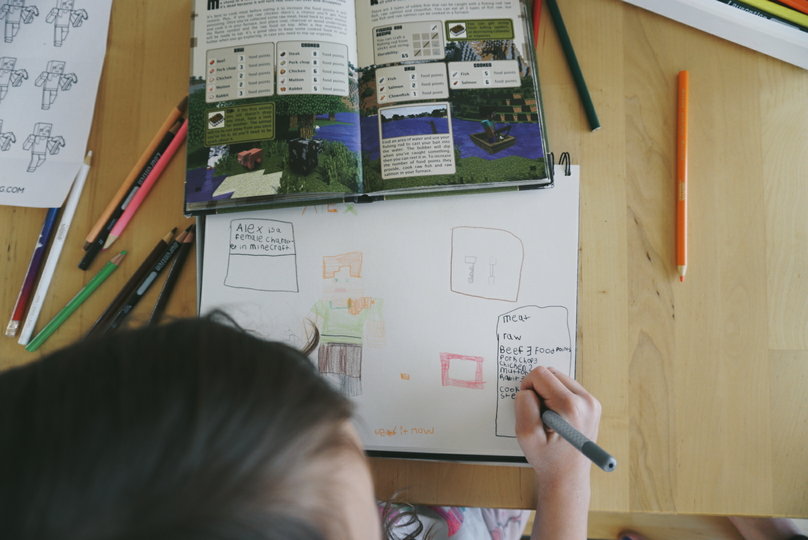 ---
How to Get Started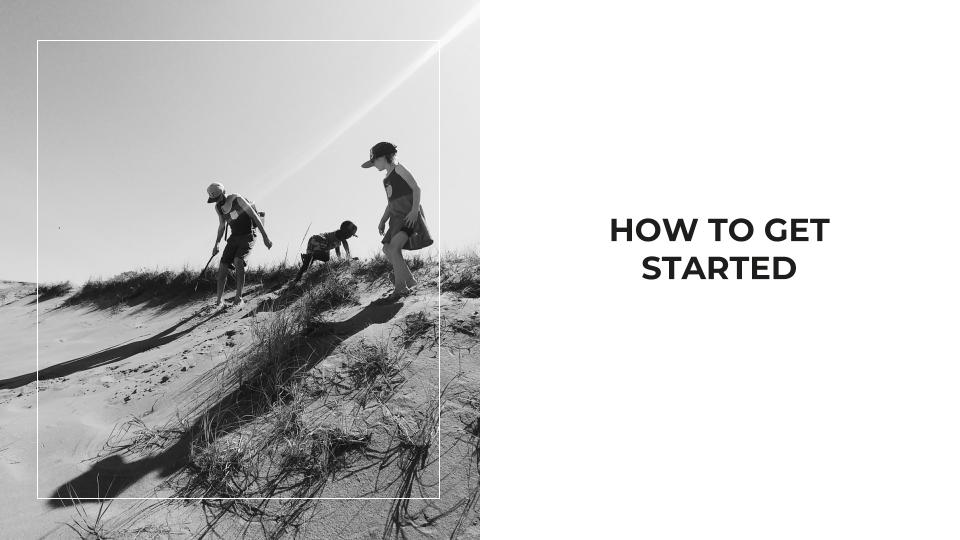 If you are loving the idea of Homeschooling as a Lifestyle and want a little kick start to get you going I've created a journaling workbook for you to print off and start filling out. Don't worry, there are no right or wrong answers, the workbook is just here to help to you discover the homeschool lifestyle that works best for you.
Included in the workbook are pages to write:
your family's interests, values and priorities
your broad homeschool goals
resources to check out
adventures to have
monthly pages to keep track of your reverse schedule
a book log (feel free to use this for individual people or a monthly list)
Take some time to print out and go through the workbook to help figure out how homeschooling as a lifestyle is going to look for your family.
If you don't like printing out workbooks you can just read through the workbook and write down your answers in a notebook.
If you have children in pre-kindergarten through to grade two you may want to look at my broad homeschool goals list when you get to that portion of the workbook.
---
Tracking Your Learning
Whether you need to keep track of your learning for your school division or province/state or even if you don't, I personally still like keeping a record of what we have been learning about.
One simple way I do this is by taking lots of pictures. I even have some friends who have set up separate Instagram accounts for their homeschool so they can keep track of what they have done.
But the main way I keep track of our learning is through what I call "reverse scheduling". Instead of writing a plan of what we are going to accomplish, at the end of the day (ideally) or at the end of the week I look back and write down all that we did.
I have just used an ordinary composition notebook for this for the last few years but I am planning on making myself some weekly printables where I already have a few things filled in (like the date, and a spot for the books we read aloud, etc), hopefully I'll get those made soon.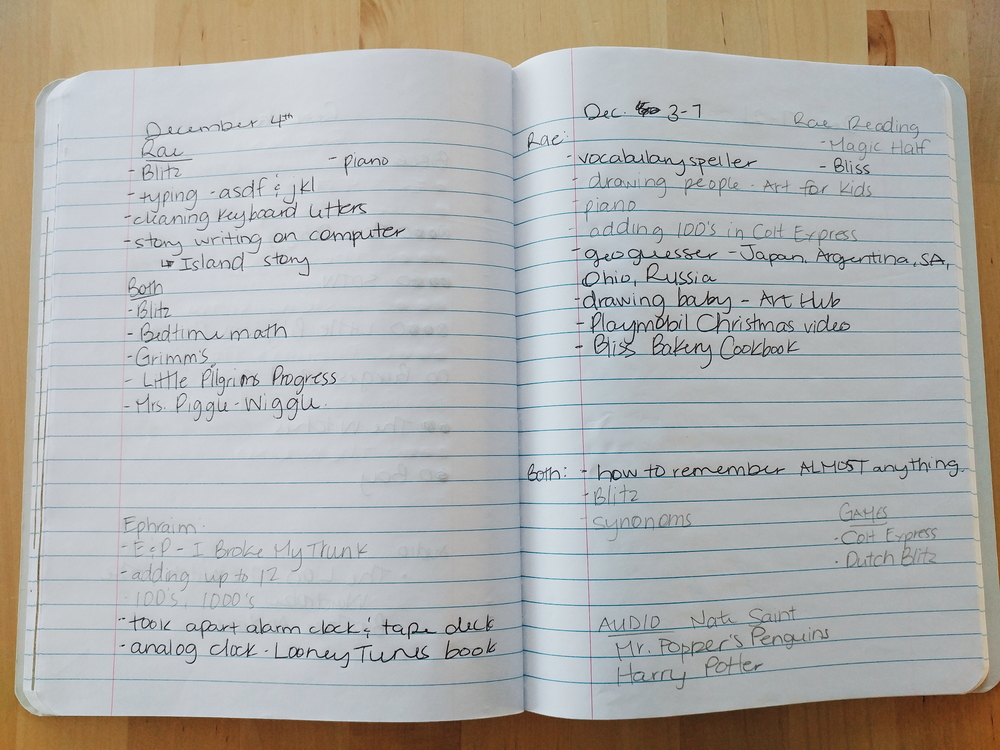 As you can see my documentation is nothing pretty and it usually consists of some notes that only I will understand.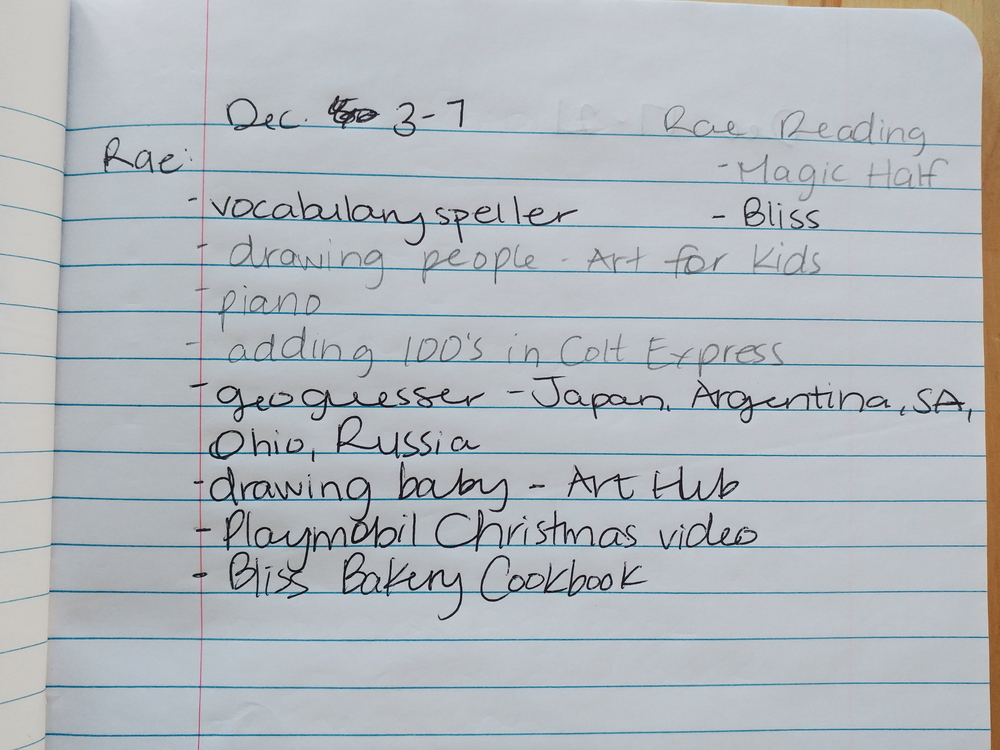 While we do a lot of our learning together there are some things the kids do separately, I try to keep track of both the stuff we do together and the stuff they do separately.
For Raeca this particular week mostly included playing games and doing Art for Kids Hub videos. She also put on a Playmobil Christmas play for me which I videoed (and need to put together) and then she was inspired to make her own funny magic cookbook thanks to one of the books she was reading.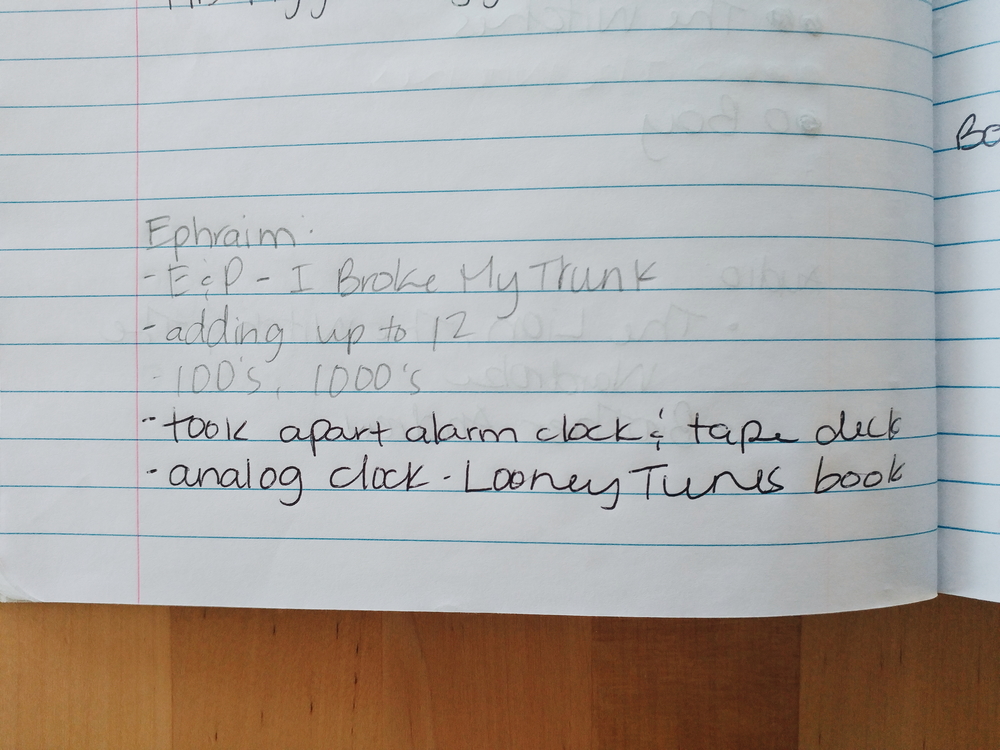 Ephraim was reading some Elephant and Piggie books, doing some adding and work with 100's and 1000's and he took apart an alarm clock and tape deck, and we worked a bit on analog time.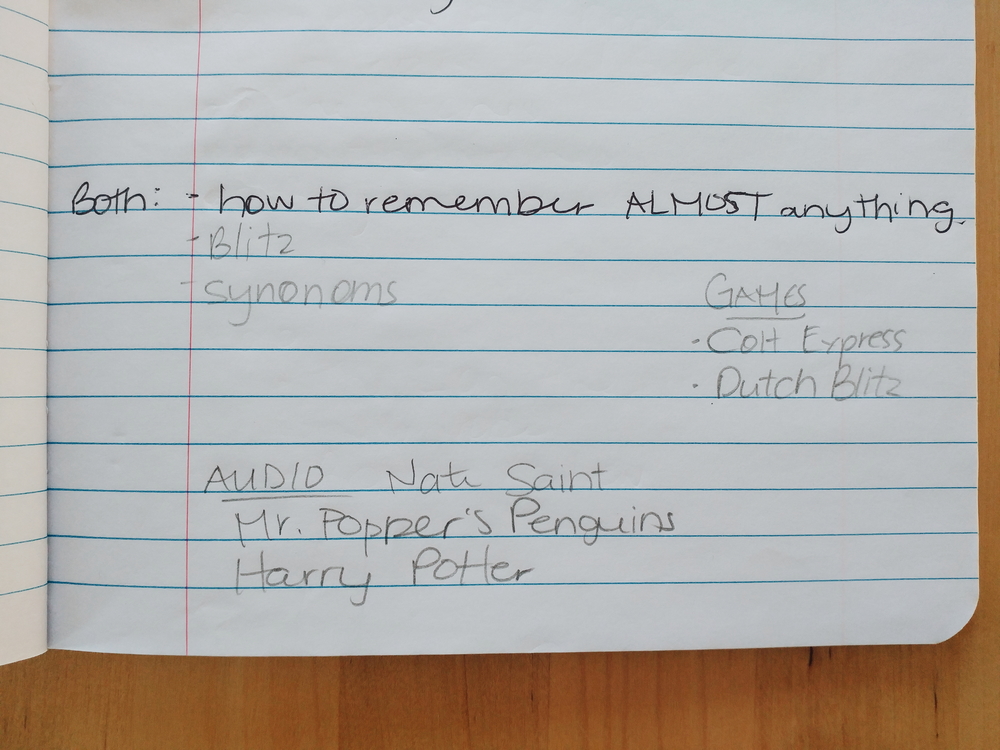 At the bottom of the page I kept track of the games we played that week as well as the books we listened to on audio.
I've been using this reverse planning method for the last year and a half and it has been working very well for us. Between writing jot notes each week and taking a bunch of pictures we have a pretty good record of what we have done.
One other thing I have been doing so far in 2019 is keeping a list of all the picture books that I read to the kids, although, this is really for my own curiosity.
If you have struggled with creating and/or sticking to a plan you've created I would highly recommend giving a reverse plan a try!
---
Creating a Learning Rich Home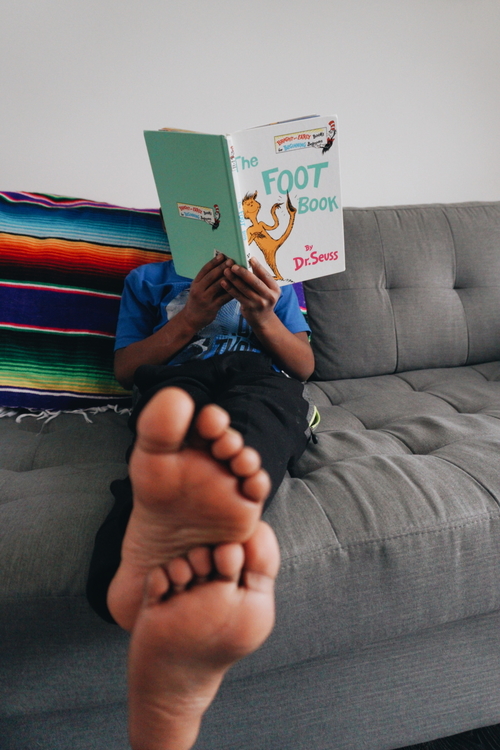 THE ENVIRONMENT
A big part of homeschooling as a lifestyle is creating a learning rich environment right home. I've heard some people mention that in order to create a learning rich environment you need to create a designated space for learning. I actually completely disagree with this.
I feel like creating a specific space for learning (or a designated homeschool space) gives the impression that that space is where learning takes place and it removes the idea that learning takes place everywhere.
I prefer to use our common living spaces as the places we learn. You'll often find us curled up on the couch with a good book, sitting at the table playing a game, lying in someone's bed Googling the latest question they've asked that I don't know the answer to and in the kitchen trying out a new recipe we just found on Pinterest.
The biggest thing to keep in mind when creating a learning rich environment at home is not how it looks but rather, your willingness to take time to answer questions and learn alongside your children.
STREWING
You've probably already come across the idea of strewing in homeschooling before, it means "sowing or scattering things to spark the interest of our children."
Simply put, strewing is just the idea of leaving out resources you think may interest your kids and allowing them to pick them up at their leisure.
I do this all the time after I've been to the library. Because our local library doesn't have much for selection I find myself putting 99% of our books on hold and then just picking them up, so the kids don't usually know what I've picked up for the for that week. When we get home I'll pick a few that I think will catch their eye and put those out on the coffee table.
I will do this for games, coloring or activity books, craft projects and other things as well. These generally end up strewed on the dining table or on our pipe shelf that is between our living room and dining room.
Taking things that we've had for a long time, like a game, that the kids have forgotten about, or has somehow made it's way to the bottom or back of a closet are my favorite things to strew because it doesn't cost anything and since it's been awhile since they've seen it it's like it's new again.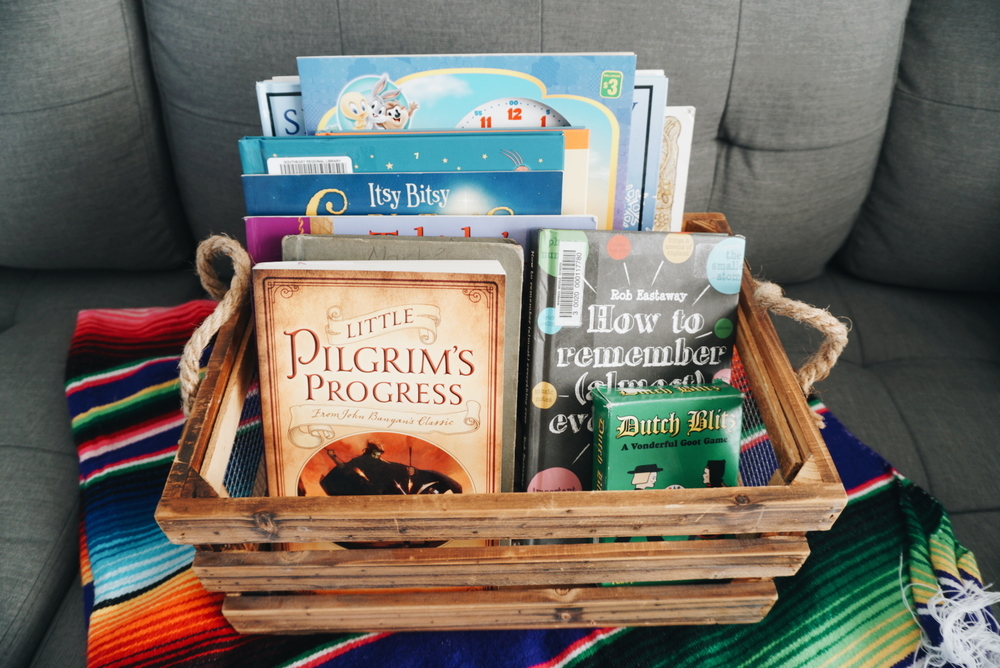 BRAIN BOX
Most recently we have created what we call "Brain Stain" where we use our "Brain Box", it is sort of like the idea of a morning time but less rigid and hardly done in the morning. It's kind of like a cross between a morning basket and strewing because I'll often pull out materials that we haven't used in awhile that I think will be interesting or applicable for the month.
I make a point of leaving our Brain Box out in the open and the kids flip through it and grab stuff out of it frequently.
When it comes to creating a learning rich environment in your home, make it work for you and your family. Display things they (and you) are interested and have fun learning together!
---
Modeling Lifelong Learning
Obviously a big part of homeschooling as a lifestyle is to make sure that you are constantly growing and learning as an adult and modeling that for your children.
One of my goals for this year for myself is to spend more time learning about things. I have a list of ways I plan on going about that this year and I thought I should share that list with you.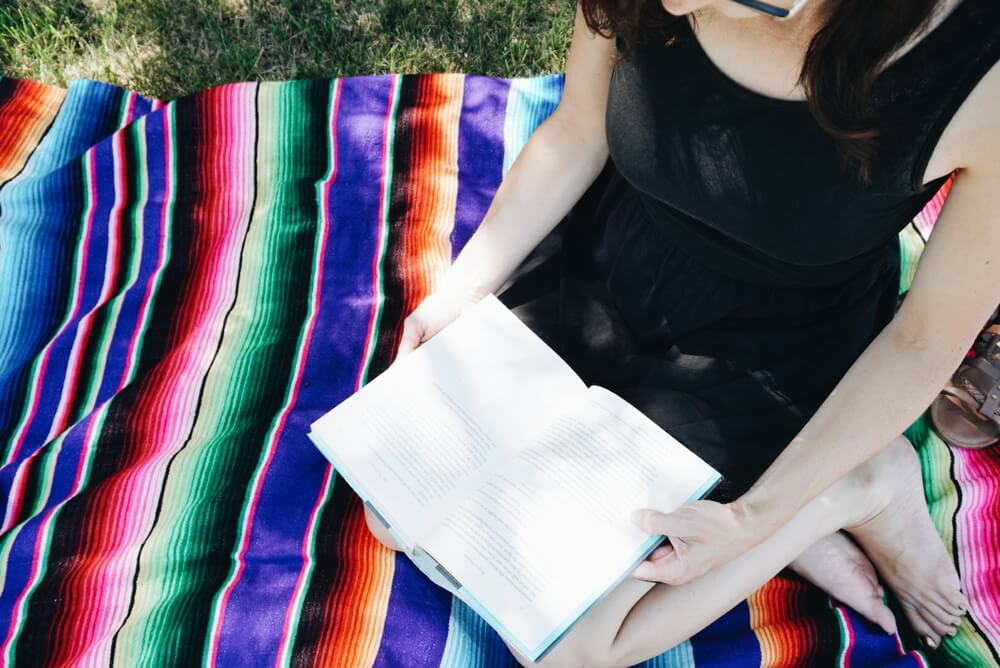 READING
It should come as no shock to you that reading is the first item on this list, although, to be more specific, this year I plan on reading mostly non-fiction and classics. I've written my to-read list for this year, I'll share it at the end of this lesson.
WATCHING
I generally do not gravitate to watching things but I think this will be the year of the documentary for me. Between Netflix and Curiosity Stream I already have my queue pretty full.
SIGHTSEEING
I wasn't exactly sure what to call this category but I would like to see more of the world this year and also check out a few different museums.
HOBBYING
This year I plan on starting a new handicraft hobby or two. I'm going to start with cross-stitch and hopefully also do some candle making and then possibly learn how to crochet. I would really love to know how to crochet but no matter how many times I try to learn I give up pretty quickly because I find it so tricky. I need to find a friend to teach me, or else I should just ask my mom.
GOOGLING
I couldn't write this list and leave off one of my best friends: Google. When in doubt, I look things up. This has been the norm for quite awhile and a habit I plan on continuing.
SCHOOLING
I also hope to take a class or two this year (probably online), I currently don't have a topic in mind but I am sure some ideas will come to me soon. I love taking online courses directly from someone I admire but for right now I am taking a couple of classes from SkillShare. The classes I'm currently taking cover a wide variety of topics including drawing, color grading (for video), writing, photography and more! (P.S. If you sign up for SkillShare with this link you'll get two months free!)
MY TO READ LIST
I like to create a list of books I want to be (my TBR) each year. For 2020 I picked just a few books that were my top priority even though I knew I would read a lot more. Some years I make a TBR that is so long that I don't prioritize the books so I wanted to make sure I did things different for 2020.
Also, for 2020 I have been choosing a TBR list every month. I've made it into a bit of a game and have a lot of fun choosing my pile every month. I've been videoing the process and you can see that here.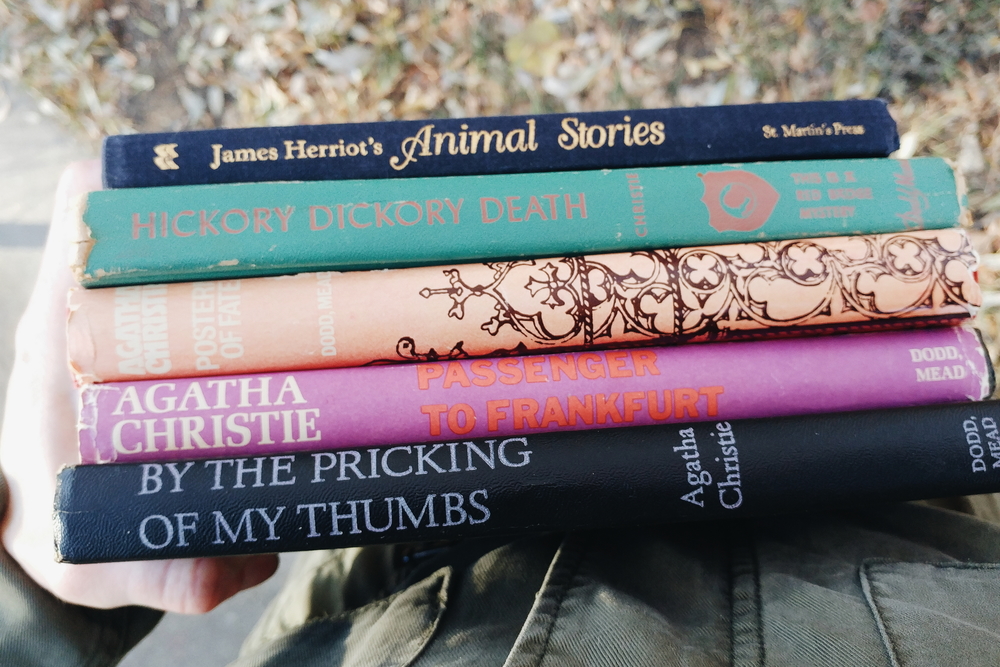 ---
How to Follow Your Kids' Passions When They Aren't Yours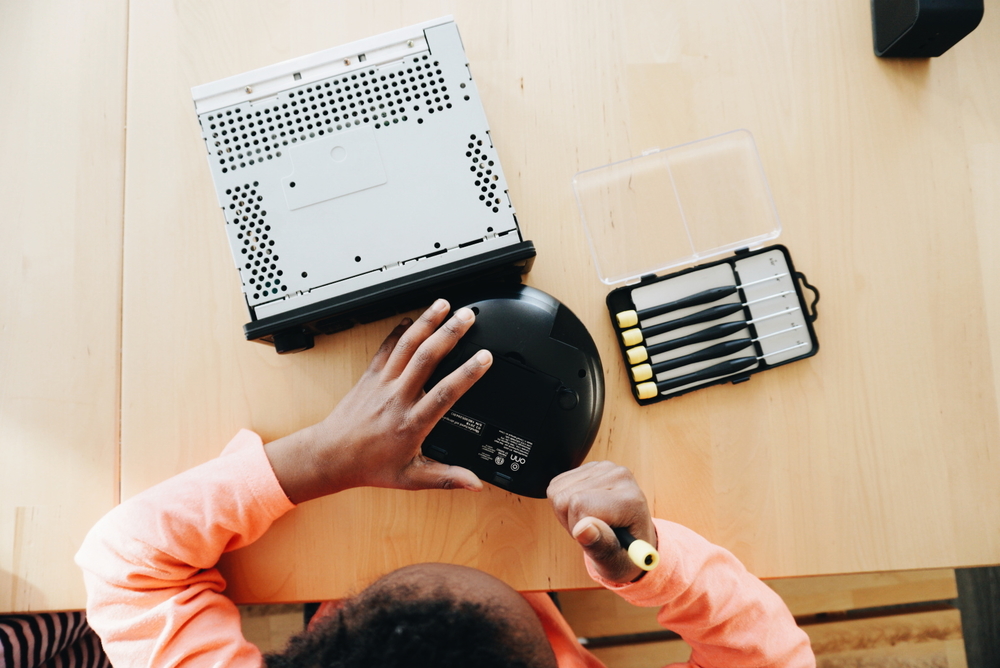 I will be the first to admit that I have one child whose interests are very similar to mine (reading, writing, etc) and the other child favors interests that are so above me: all things STEM related. At first I was a little worried about how I would teach him all things science when that is not my area of knowledge (or interest, really) but then I realized a few secrets . . .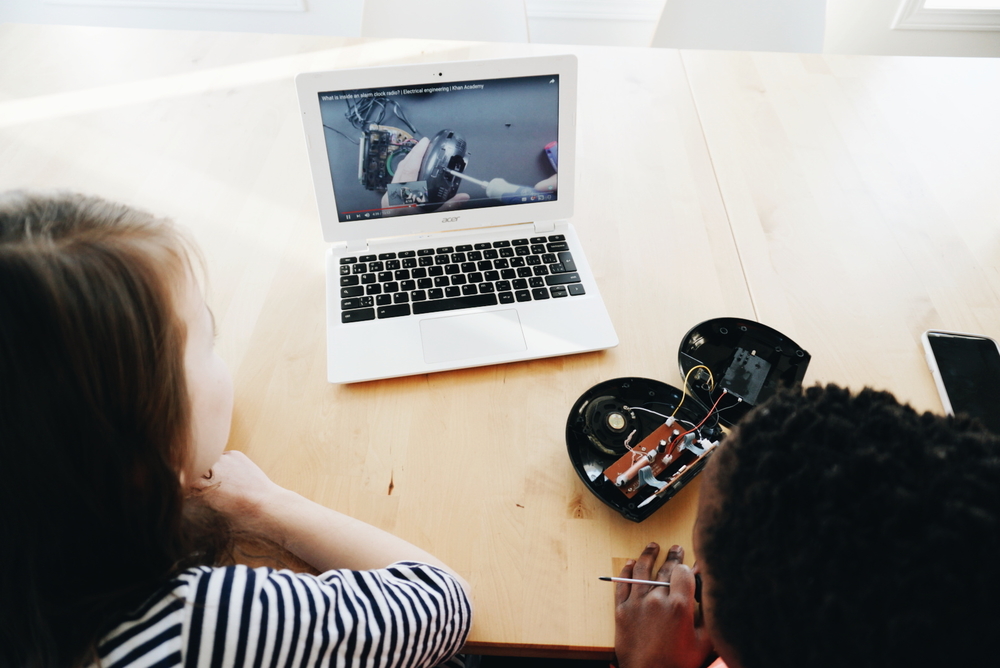 PROVIDE RESOURCES
The first thing I decided to do was to provide him with some STEM related resources. This included:
books (always books)
old things from the thrift store he could take apart (starting with an alarm clock and and old car tape deck)
videos on the topic (thank you YouTube!)
field trips (things like going to the science center and taking him other places of interest to him)
If your child has an interest that is not one of yours, think about similar resources you could provide for them.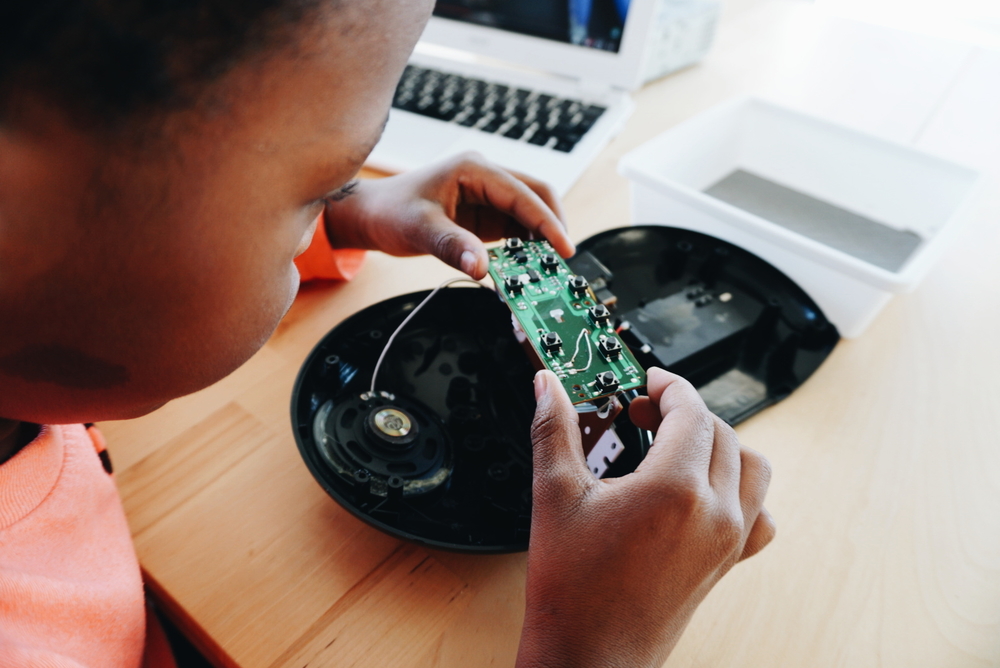 OUTSOURCING
I know I'm not the only homeschool parent who feels like they have to be their child's sole teacher, but great news, we don't have to be! Outsourcing some of their education is a great thing, it helps them to learn from professionals who could teach them a lot more than we can.
One of the ways we outsource is piano lessons. While I technically could teach my kids the basics when it comes to piano they are way better off learning from someone who is gifted in that area and their love for piano is contagious.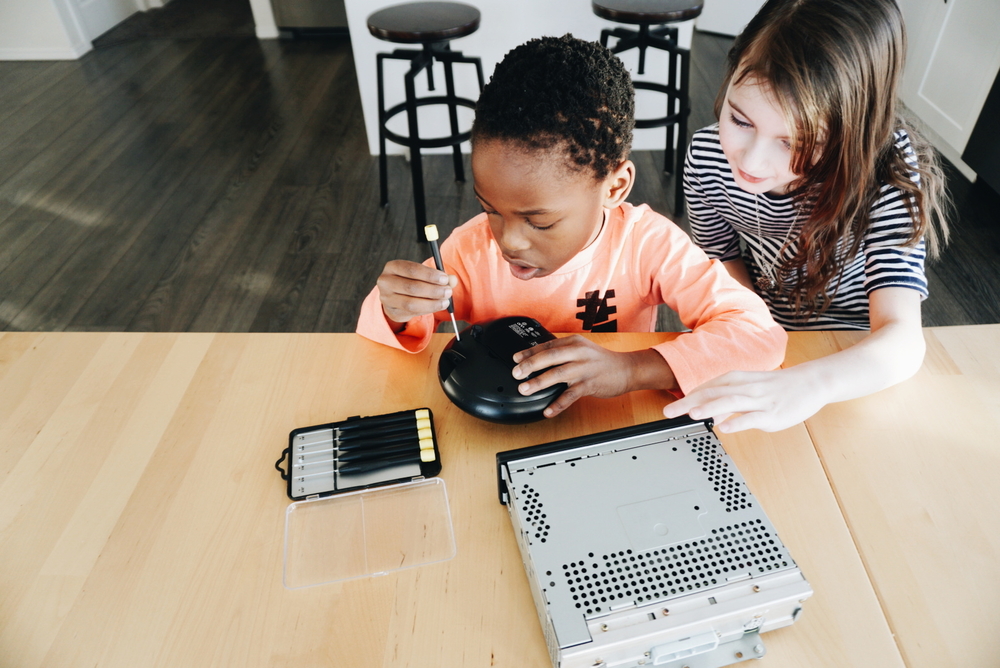 LEARN WITH THEM
One of the biggest things to remember when following your child's passions is learning with them! It models lifelong learning and you get to learn about topics you probably otherwise wouldn't have.
I know way more about electric circuits now thanks to my five year old than I ever learned by taking science in school.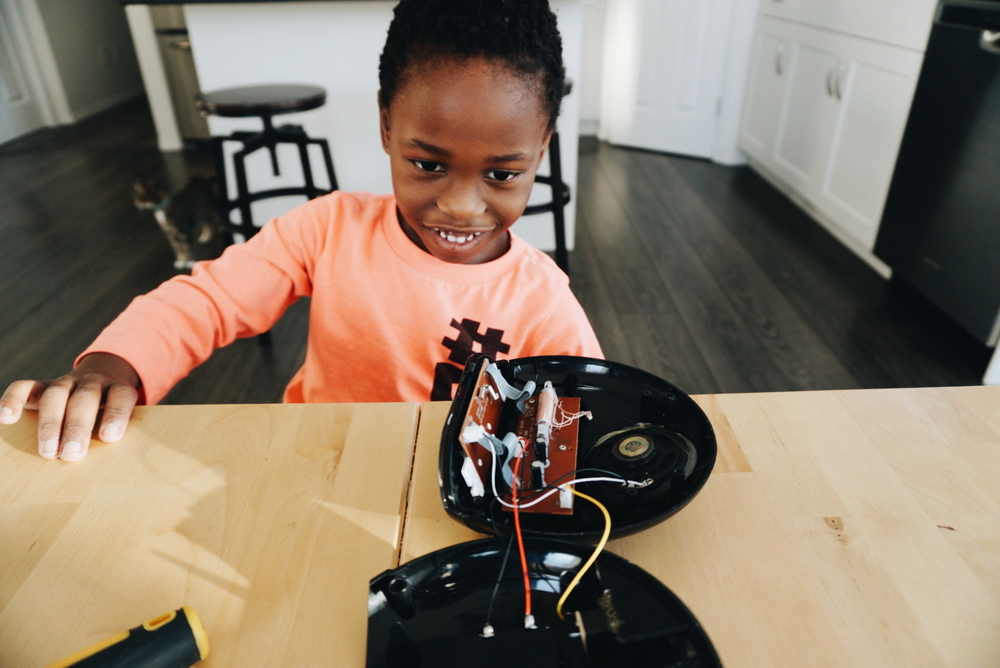 While is great to have a child with the same interests having one with completely different interests can actually be more educational and also a great bonding experience.
---
But What About College?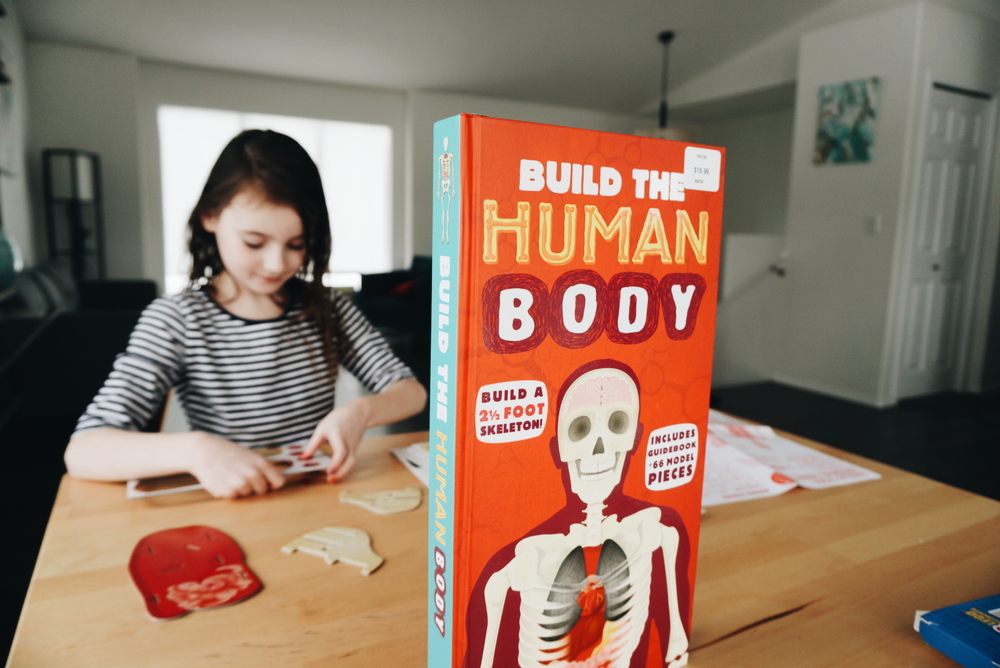 When it comes to homeschooling, especially when you follow a more relaxed approach people always want to know what you are going to do about college.
My kids are 5 & 8 and to be honest, I haven't thought a whole lot about college yet, I'm actually trying to enjoy these moments that I have while they are young.
That being said, I have thought about the topic a bit and have a few thoughts to share.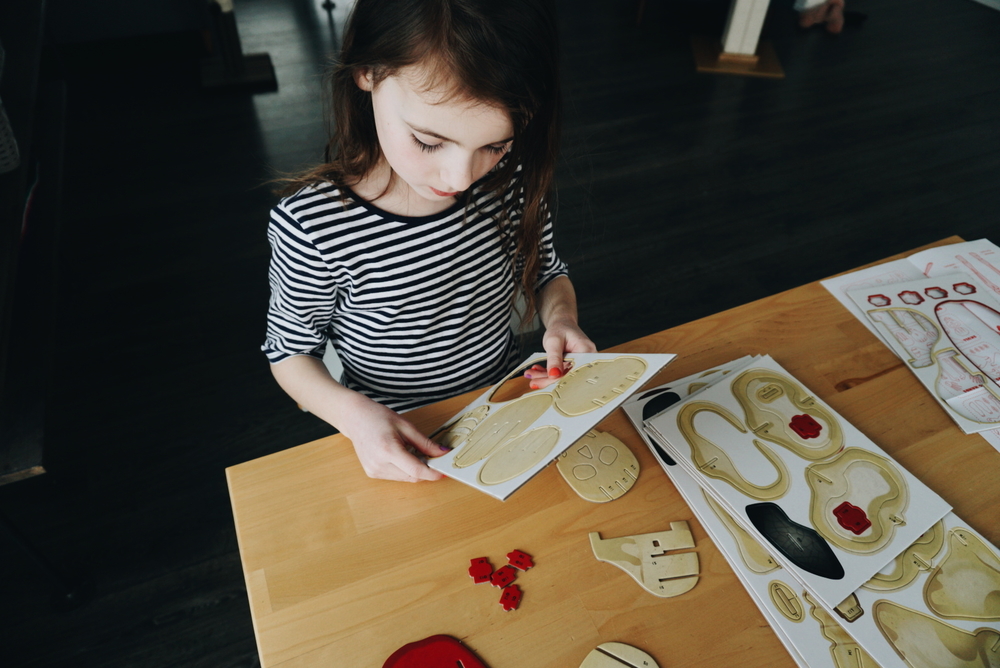 First of all, I personally don't think college is as big of a deal or step up these days as it used to be. I won't stop my kids from going to college or university but if they don't need a degree for what they want to do for a career I don't see the benefit of them attending.
I would prefer for them to get the hands-on skills from their future careers by having an internship with someone already in the field, or learning the skills in another way.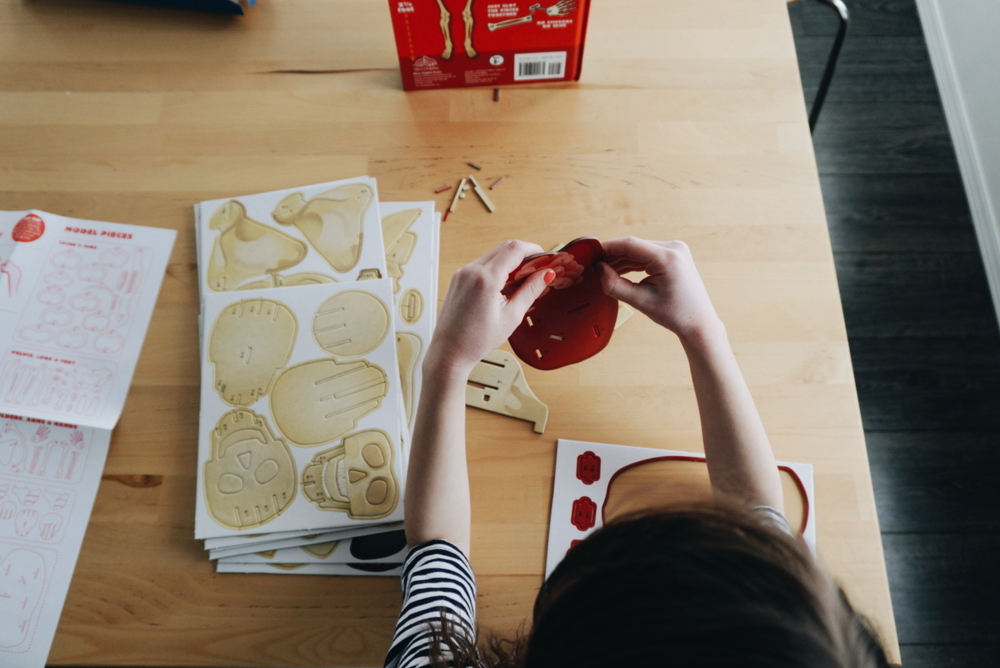 If they choose a career that needs a degree that's fine. I just don't like the idea of going if it's not needed. I went to college and university and graduated with a diploma and degree, neither of which I use now or plan on using in the future (though I did use them for a few years).
Recently Raeca has declared that she wants to be a pharmacist when she grows up. Whether or not that will actually happen I don't know. I could see her doing that job and being really good at it, but she's eight, so we have some time to figure that out. In the meantime, we are diving in and learning about the human body and doing a little introduction to chemistry: the basics of what a pharmacist would need to know.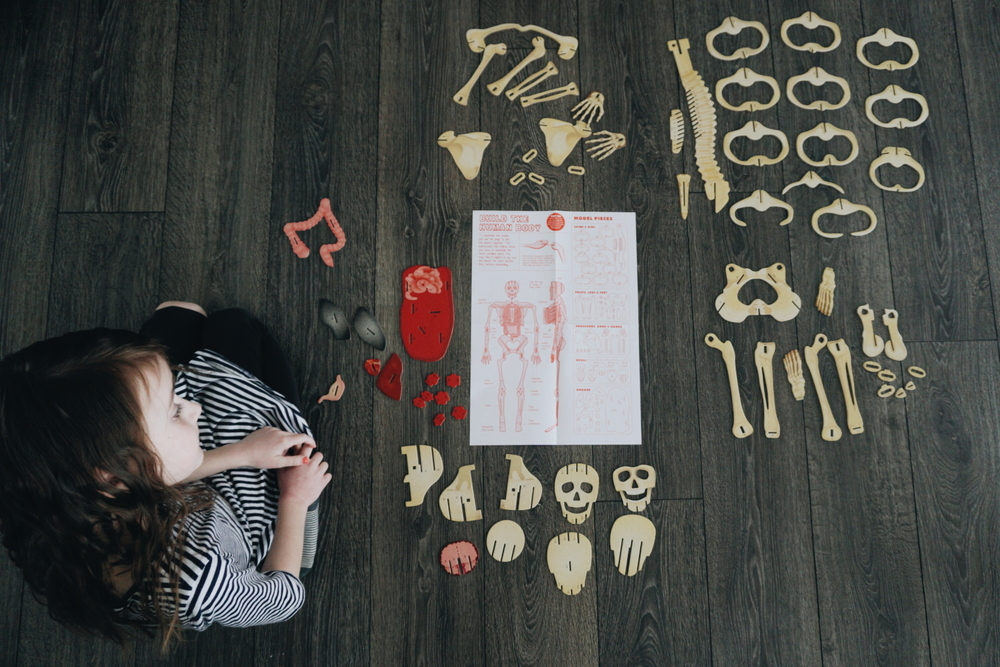 If she does decide for sure that this is the route she wants to go we'll figure things out and make sure she is ready for university. We can look into enrolling her into college courses when she is in high school and we'll do what it takes to make sure she gets the classes she needs.
Just because we homeschool without using a curriculum does not eliminate college and university as an option, I would actually argue the opposite. If this idea of being a pharmacist continues she will have about ten years where she can be learning exactly what she needs to know to get into the pharmacy program. She'll be able to be a lot more focused in her studies than students who are in public school or even those who are homeschooled but are following a curriculum.
Want a second opinion? A really good resource that shares quite a bit on this topic is Marla Taviano's book: An Unschooling Manifesto, I would highly recommend reading it.
---
Common Questions
Through everything we've talked about chances are you still have questions or run into others who question your homeschooling decisions. Here are some common questions (and answers) for homeschooling as a lifestyle.
BUT WHAT ABOUT MATH?
Math is the most common question when it comes to homeschooling. For some reason people don't seem to think that math can be learned anyway except by going in order with a textbook and filling out worksheets.
We come across math in our every day all the time. Everything from the calendar and telling time to measuring when baking to counting down to days we are looking forward to. Sure we may never get to the quadratic equation unless one of my kids ends up loving math but how many people actually need to use the quadratic equation in their everyday? I graduated from high school, college and university and I couldn't even tell you what the quadratic equation is.
WHAT ABOUT KNOWING ABOUT X, Y OR Z?
We enjoy reading the Little House books and it has really stuck out to me how school back in Laura's day was all about memorizing facts. The students that were the best at it went on to be teachers. That's not how life works these days. Back then it was a lot harder to look things up than it is now, they needed to memorize facts because they didn't have free access to the number of books we have today, or our trusty friend, Google.
If we find we miss touching on something that we think is important we'll find the resources we need to learn about it. Like I've said before, I think one of my most important jobs is to teach my children how to learn so they can continue learning about the world long after we are done "homeschooling".
WON'T YOUR KIDS JUST WANT TO PLAY VIDEO GAMES ALL DAY?
Just because you homeschool as a lifestyle doesn't mean you don't have any rules in your house. Some people will have screen time limits and others may not, that falls on family preference. I will say though, I have been experimenting with loosening my screen time rules in the past and it turns out that even given the option my kids don't always want to play Minecraft. Sure they still enjoy it and went heavy on the playing at first but they have other interests that they split their time between.
---
And so the Adventure Begins . . .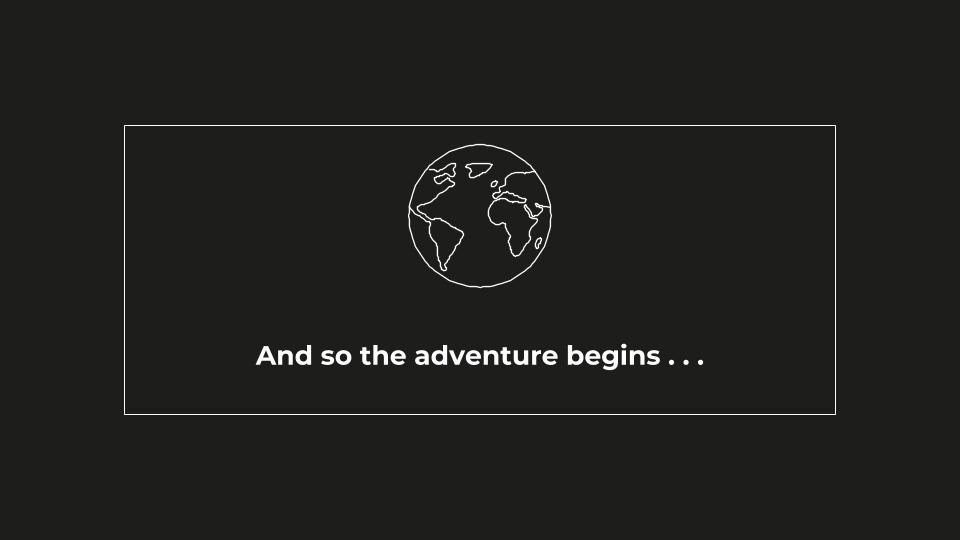 I am excited for you to be freed from the pressures of homeschooling and start your adventure in Homeschooling as a Lifestyle!
I hope that it is as freeing and fun for your family as it has been for ours!